Thank you to Better Homes and Gardens at Walmart for sponsoring today's post about how to create a cozy guest room retreat. All opinions are 100% mine, and I am committed to sharing only terrific products that I truly love! This post contains affiliate links.
Welcome guests into your home with a well appointed guest room filled with essentials to make their visit a cozy, memorable experience. Today, I'm sharing my 5 best tips for how make any guest room space a true retreat with affordable, stylish products from Better Homes and Gardens at Walmart.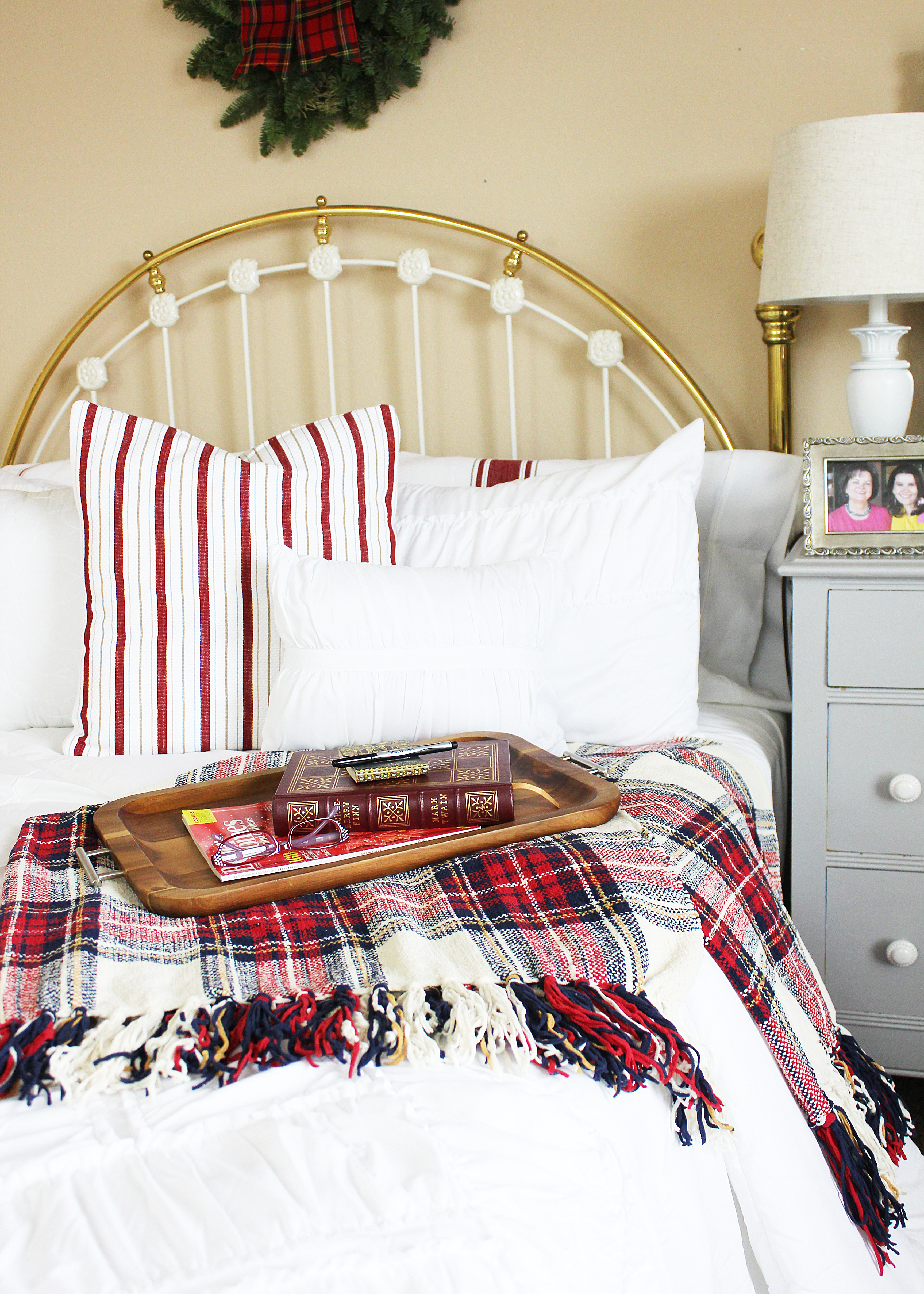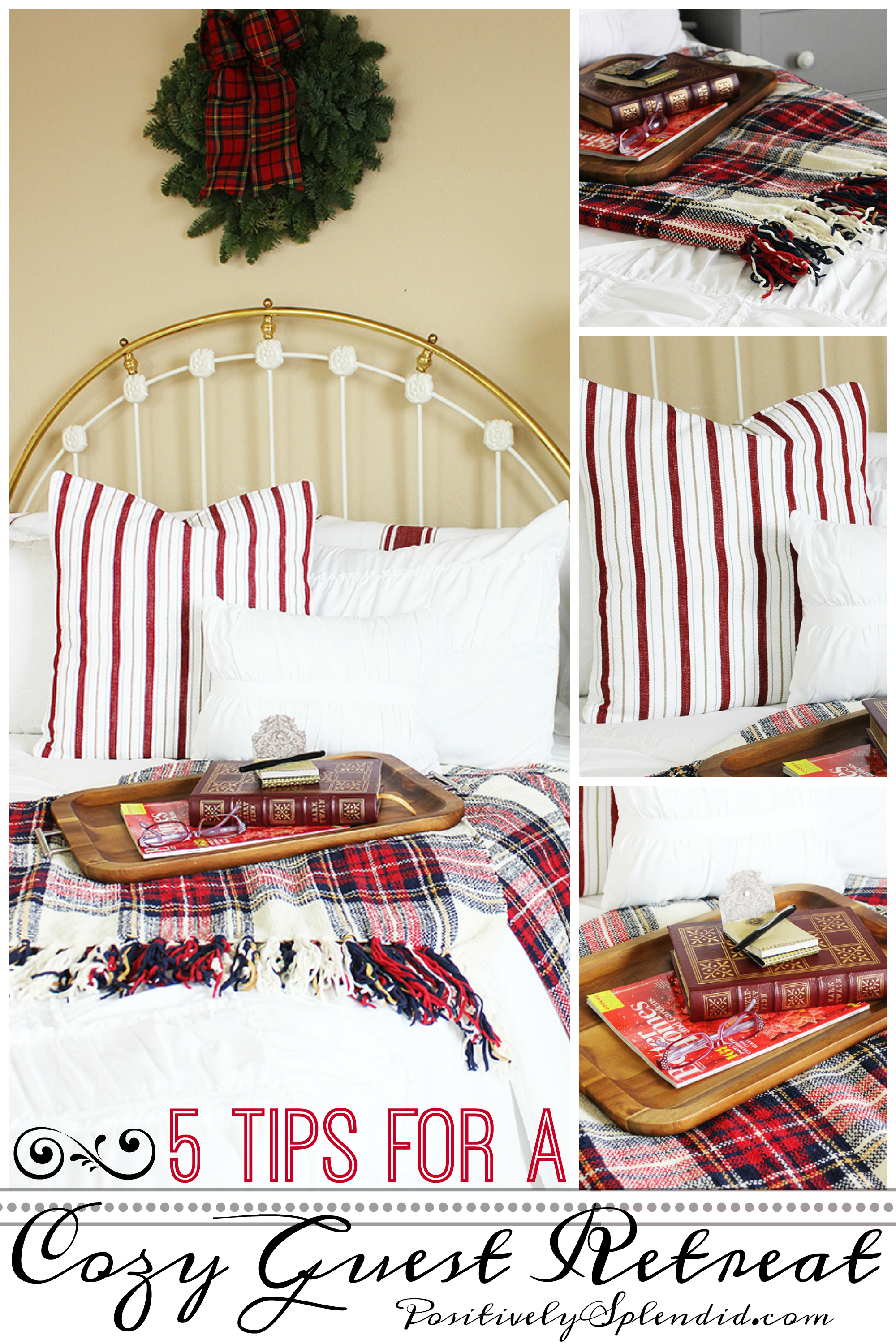 5 Tips for Creating a Cozy Guest Room Retreat
Tip #1: Start with Plush Bedding in a Neutral Color Palette
In a guest room space, especially, it is nice to have a soothing, neutral color scheme. Plush, cozy bedding in a shade of white or grey is a perfect place to start in creating a retreat to make any guest feel pampered and welcome during their stay in your home.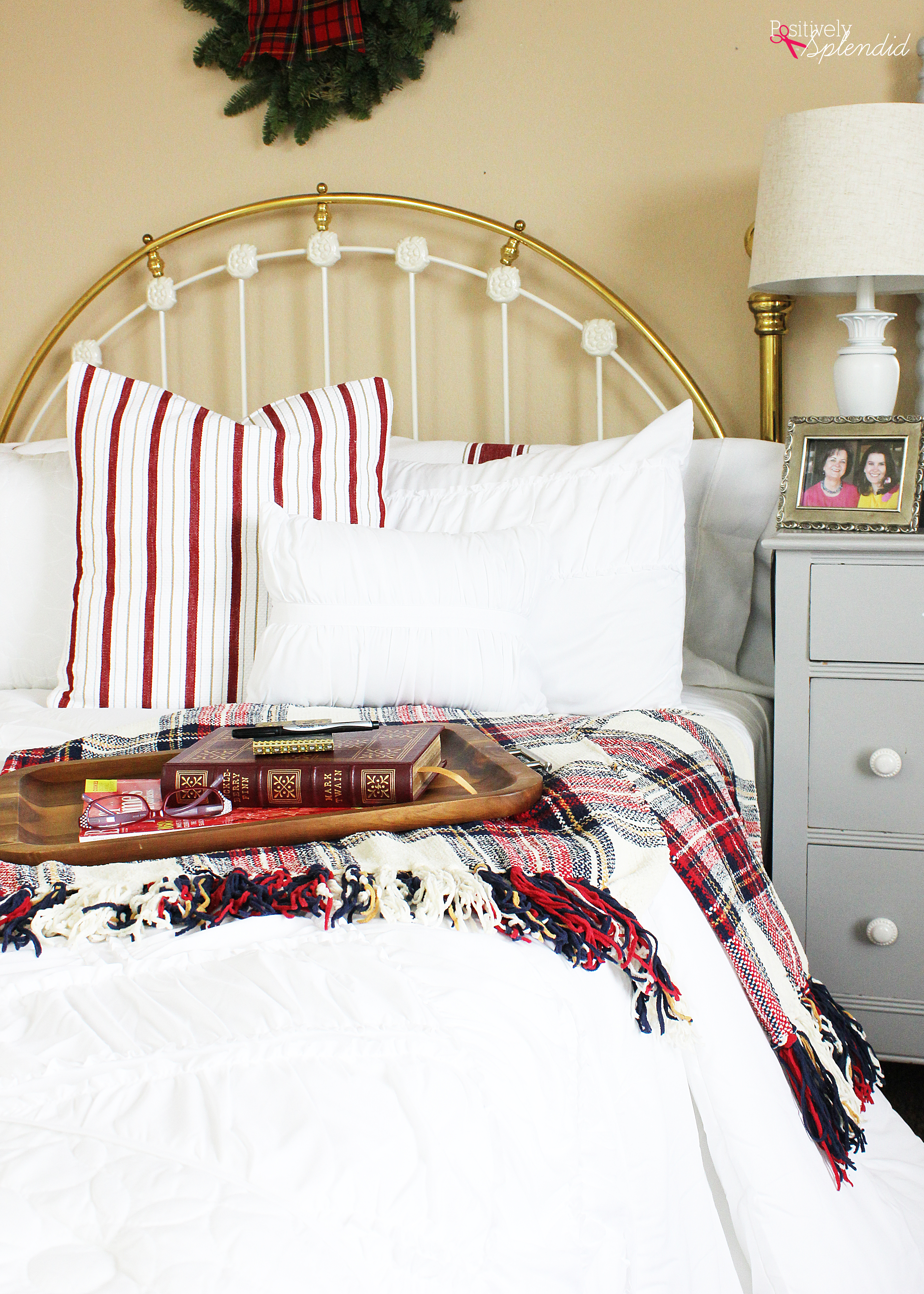 This Better Homes and Gardens Textured Classic 5-Piece Bedding Comforter Set is absolutely gorgeous, and I love that it amplifies the impact of the standard white bedding with plenty of texture: rouching, tufting and quilting, all in one comforter! Included with the set, too, are two matching rouched pillow shams and two throw pillows. And did I also mention it's washable, too? (Hooray for washable bedding!) Priced at less than $60 for the full/queen size, this set is an incredible value.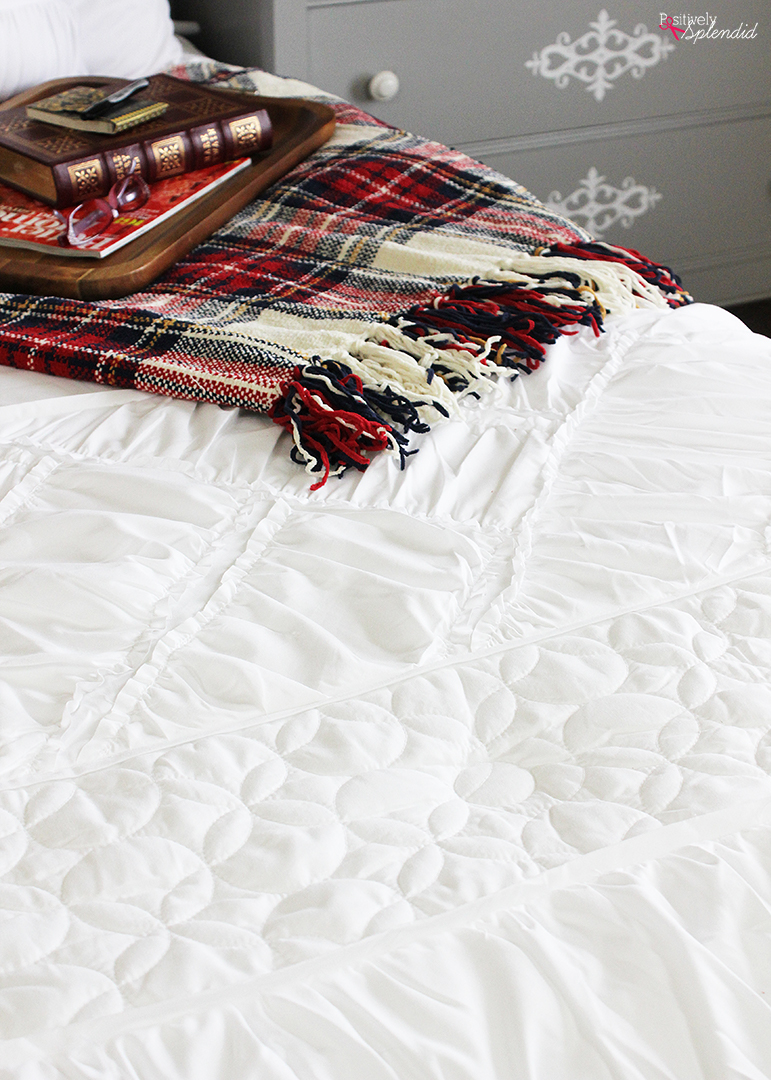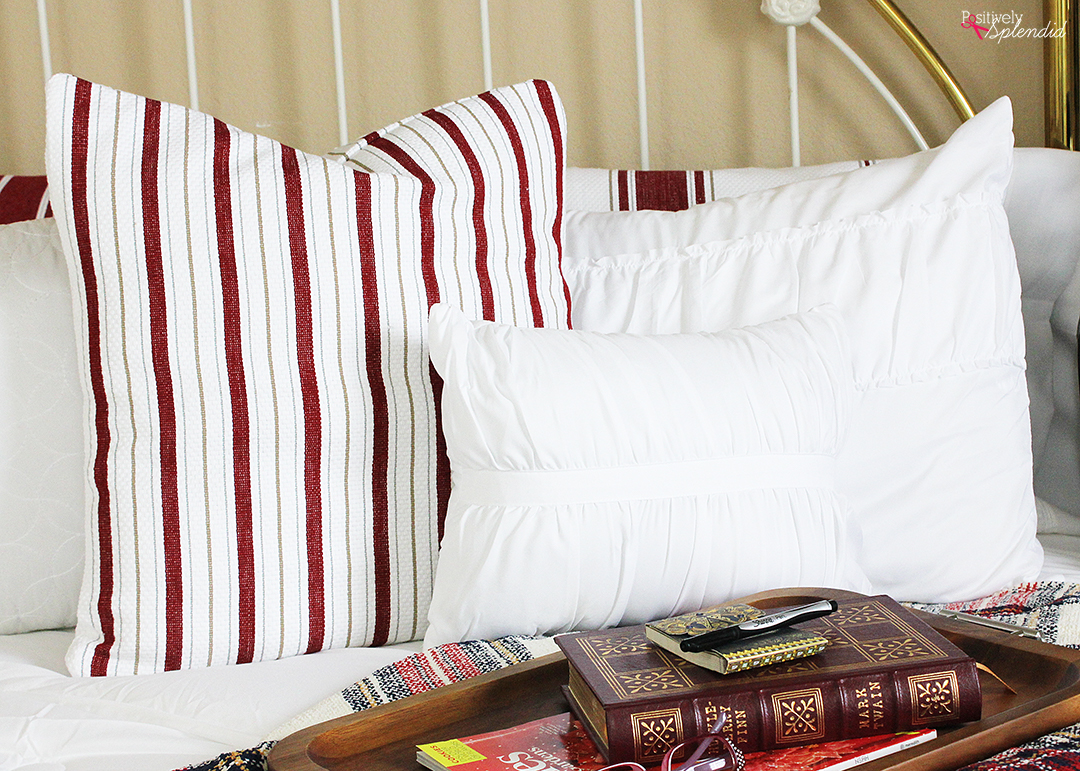 Tip #2: Don't Skimp on the Sheets!
Nobby sheets are a sure-fire way to make a guest's night's sleep less than enjoyable. Investing in a nice set of sheets that will only be used in the guest space is a must in creating an accommodating retreat. A great wrinkle-free sheet made of 100% cotton is my recommendation, because really, who has time for ironing sheets? For our guest space, I love this Better Homes and Gardens 300 Thread Count Wrinkle-Free Sheet Set in Arctic White. The crisp white sheets pair beautifully with the white bedding, and (most importantly!) they feel wonderful, too!
Tip #3: Add Pops of Color
The beauty of starting with a neutral color scheme is the many options this gives in decorating and accenting for different seasons and guests. My two favorite ways to do so: pillows and throws. Y'all, the selection of throws from Better Homes and Gardens at Walmart is a bit of an obsession for me, and their chenille throws, especially are one of my must-haves for just about any room in my home. This lovely plaid Better Homes and Gardens Chenille Throw is such a classy way to add a pop of seasonal color to this guest room, all with a soft, cozy feel guests will be happy to wrap up in. All for less than $20!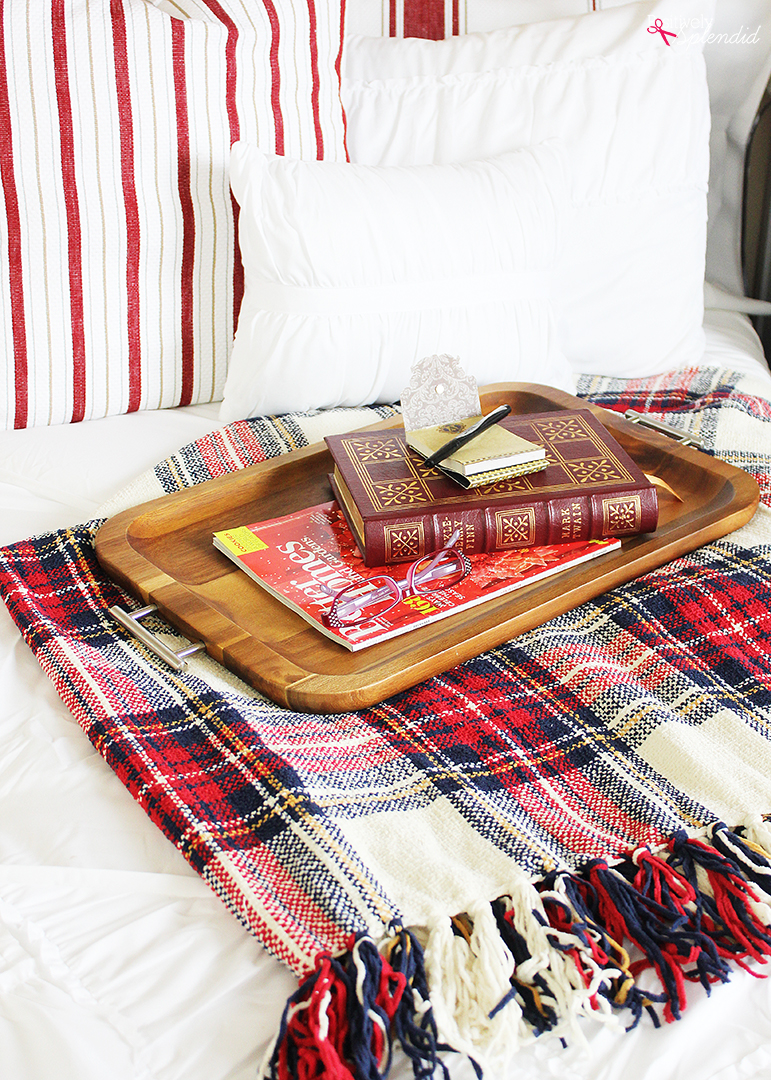 Another of my favorite budget decorating hacks: tea towels! For less than $5, I turned a 2-pack of Better Homes and Gardens Kitchen Towels into a festive pillow cover to add a vibrant burst of red to coordinate with the chenille throw.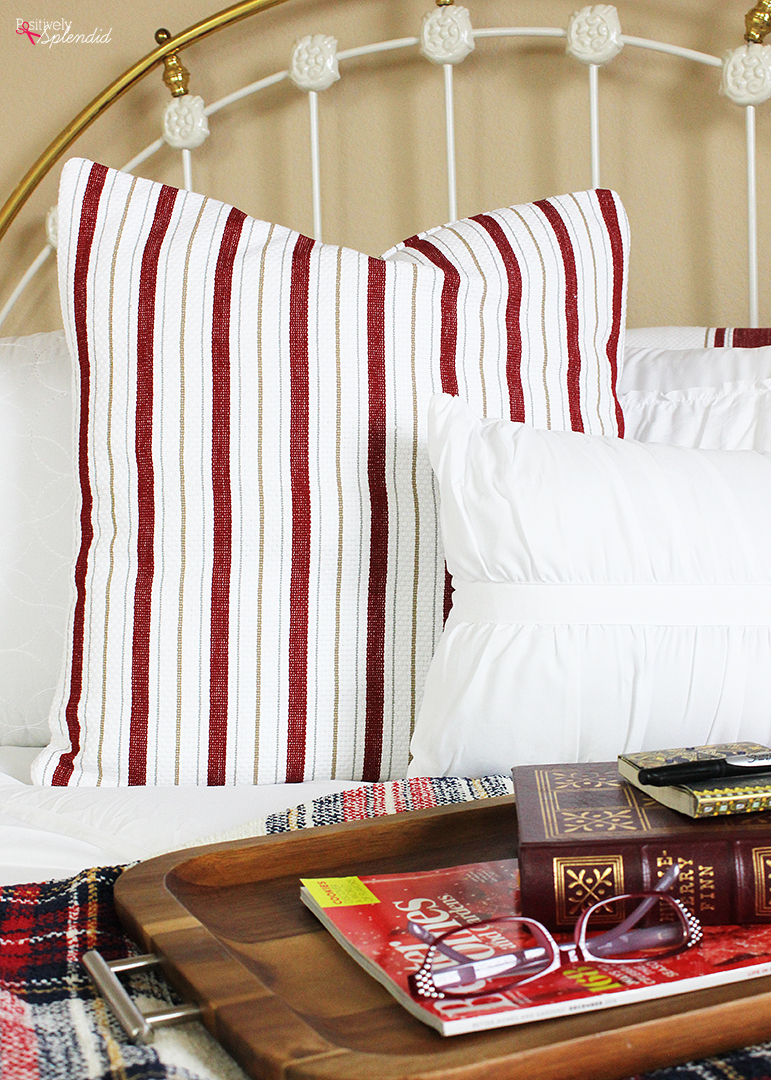 Here's how to make a 20-inch pillow cover from a set of 2 (2ox28″) tea towels:
Starting at one of the corners on the short end of one of the towels, fold the corner up so the short edge of the towel is aligned with the adjoining long edge. Trim away the excess fabric above the short edge to form a perfect square. (The extra rectangle of fabric can be discarded or set aside to use for another project.)
Fold the second tea towel in half width-wise, and cut along the fold to form two equal rectangles.
Place the square panel face up on a work surface. Place one of the trimmed rectangle pieces face down on the square piece so that the cut long edge of the rectangle is aligned with the bottom edge of the square, making sure all corners and sides are even. Pin into place.
Align the raw edge of the remaining rectangle panel with the top edge of the square piece, making sure all corners and sides are even. Pin.
Machine stitch all the way around the perimeter of the pinned pieces to form a square. Remove pins, turn right-side out, and slip cover onto a 20-inch pillow form.
No-Sew Method: Use fusible web tape to form the seams instead of machine stitching!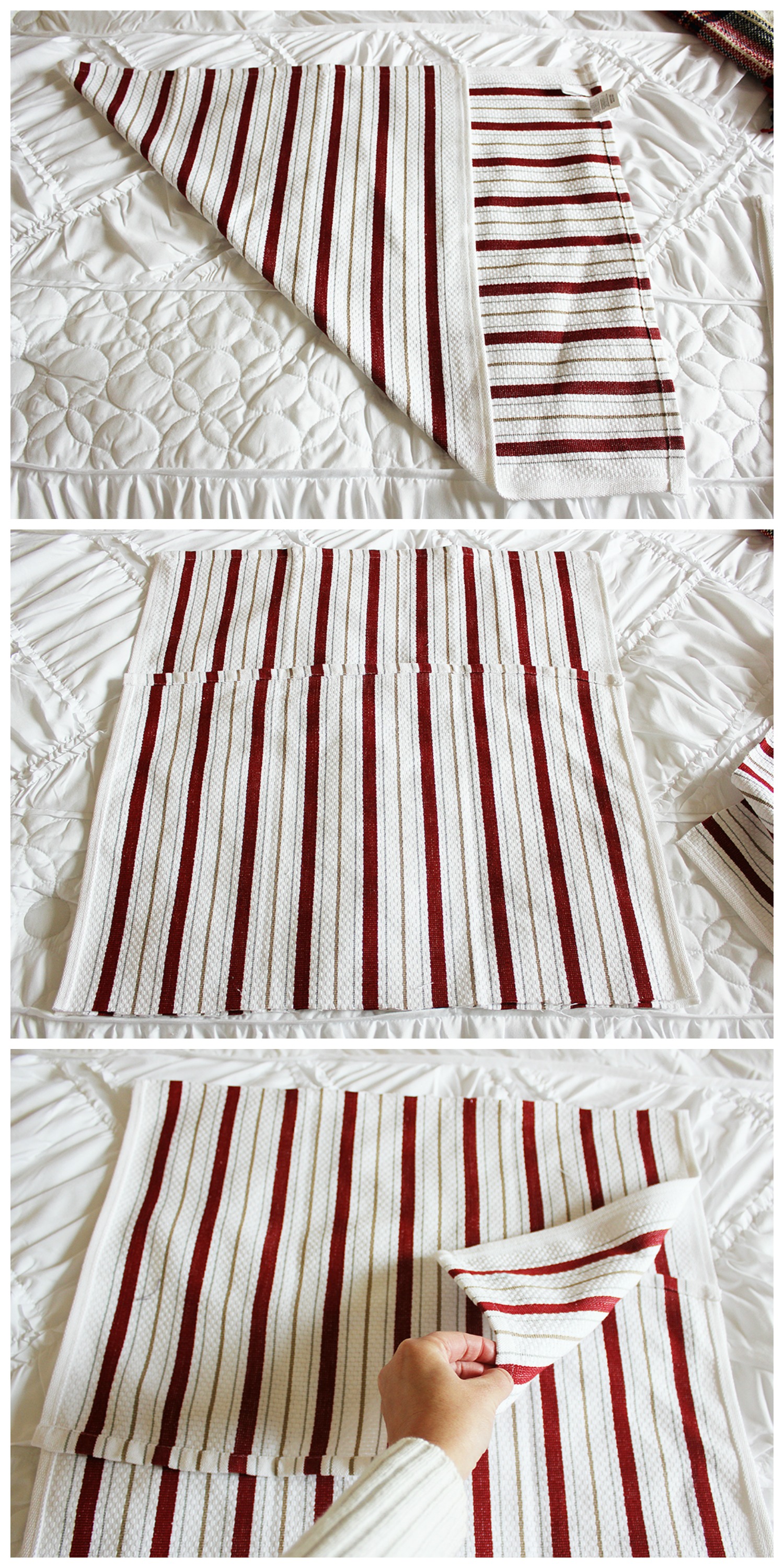 This method creates an envelope-back pillow that can be swapped out at just about a moment's notice and on even the tiniest budget. When you see how easy it is to make a pillow cover like this one from a tea towel, you'll never look at a kitchen towel in the same way!
Another tea towel hack that I love to use is to simply drape matching towels over the pillow cases for a subtle pop of texture and color that takes literally seconds.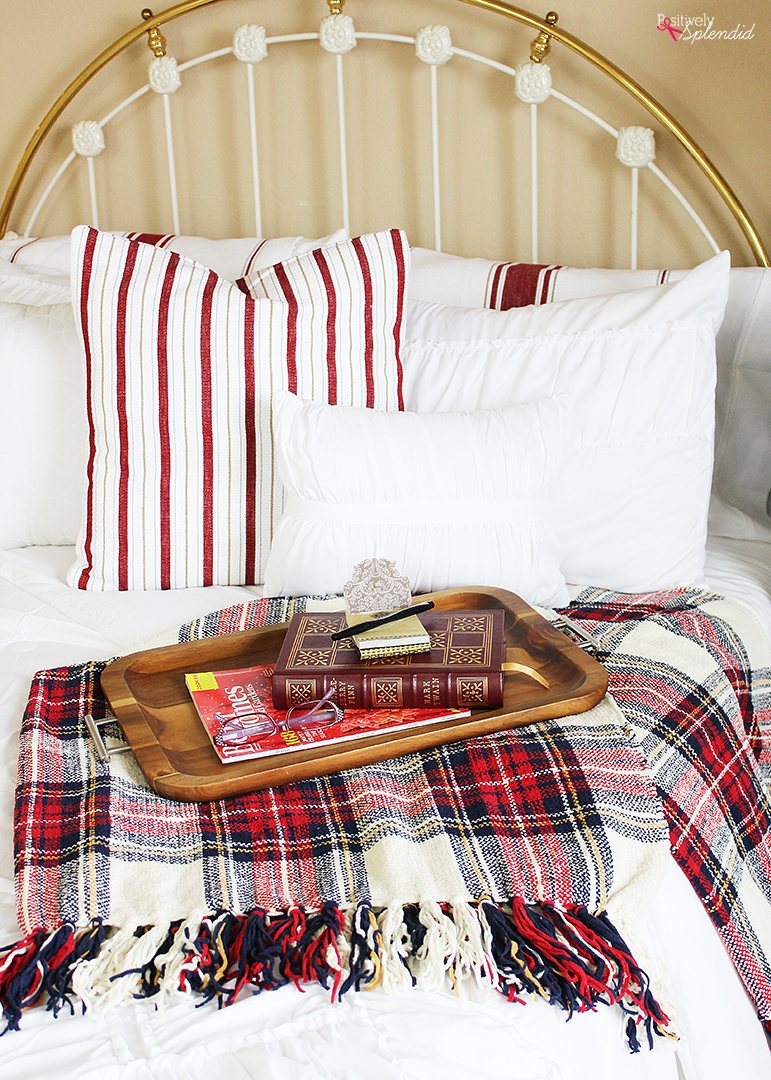 Tip #4: Make Subtle Seasonal Changes
I love to change out the decor for season-specific options as the holidays come and go. Hanging a pretty wreath in a guest space around Christmastime as I've done here is one of my favorite ways to do so. Framing a photo of a guest from a particular season or event is another fun, expensive idea to impart a personal, meaningful touch.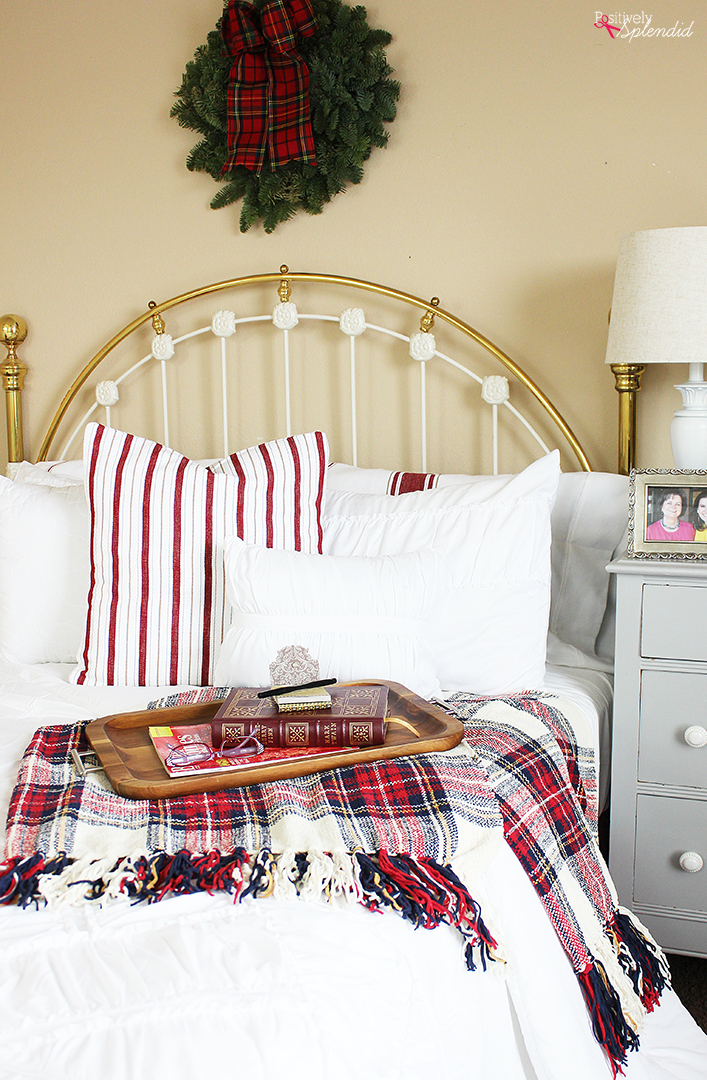 Making small, subtle decor changes keeps a space feeling fresh and vibrant, and it is a great way to update the feel of a room without a huge investment of time or money.
Tip #5: Appoint the Room with Guest Essentials & Favorites
Appointing a room with a few essentials and extras is the final touch for any inviting guest retreat. I love to start with a pretty tray like this Better Homes and Gardens Acacia Tray and fill it with items like magazines, favorite books, a pen and notepad, and other handy items. It's also a great idea to provide the wi-fi password in this spot to simplify signing on during their stay. If you know a guest loves a particular pre-bedtime treat (think a cup of tea or a soak with bath salts) this is perfect place to provide the items needed for those rituals, as well.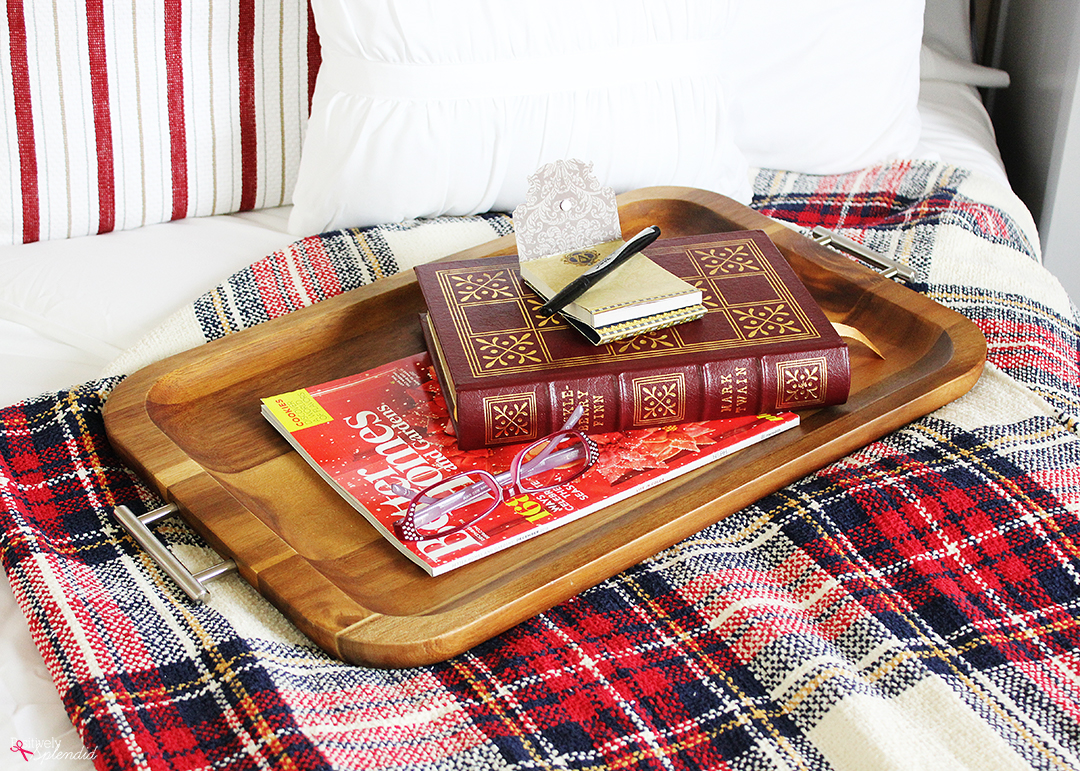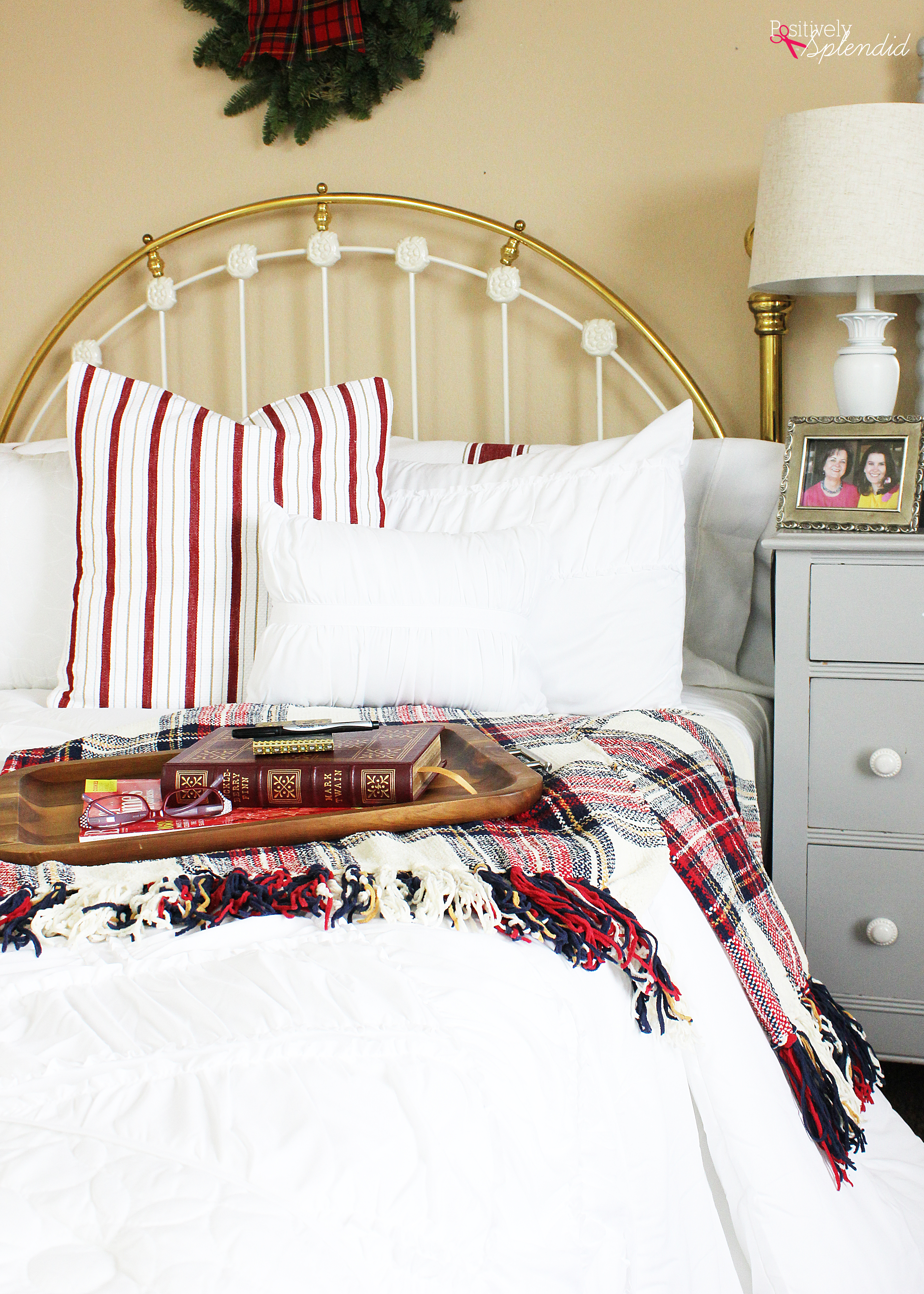 All of the fabulous Better Homes and Gardens products featured in this post are available exclusively at Walmart, both in stores and online, and you can find a terrific assortment of other products online by visiting Walmart.com/BetterHomesandGardens. With just a click, the styles, colors and sizes you need are right at your fingertips!
FOR MORE INSPIRATION, VISIT BETTER HOMES AND GARDENS LIVE BETTER ON FACEBOOK, TWITTER, INSTAGRAM AND PINTEREST!
Having grown up in a home brimming with sewing notions and paintbrushes, Amy has a deep love for all things creative. On any given day, you'll find her knee-deep in her latest creative endeavor, with projects ranging from sewing and crafts to home decor and kid-friendly ideas. Amy believes that everyone, regardless of skill level or experience, possesses the ability to create something beautiful, and Positively Splendid was born of her passion for helping others harness their innate creative potential.