Did you know it is possible to take any piece of your child's artwork and turn it into a custom canvas at home for pennies on the dollar of what you would spend to have it done by a photo service? Today, I'm sharing a little hack I recently learned to do so, with the help of Mod Podge Photo Transfer Medium. This method can be used to create canvases of any size, but I find it really fun to make miniature versions and turn them into magnets for the fridge. What a fun, meaningful gift idea for grandparents, teachers and more!
Today's post is brought to you by Plaid. All opinions are entirely my own.
To make a custom photo transfer canvas, you will need…
A photocopy of a favorite piece of art, made on a copier with instant dry toner (not an inkjet printer)
Scissors
7-Piece Mod Podge Tool Kit: Brush and Squeegee
Canvas
Magnets and heavy duty adhesive (optional)
To begin, select a piece of a child's art, and then make a color photocopy of it. (An image printed from an inkjet printer won't work for this project.) Use a piece of art with a bold design that is full of bright colors, as artwork with a white background and/or intricate details don't tend to transfer as well.
Helpful Mod Podge Photo Transfer Tip: For images with wording or a directional design, be sure to print a mirror image of the design, so that it will be the correct orientation once it is transferred onto the canvas.
Use scissors to trim to the photo so it is just slightly smaller than the canvas.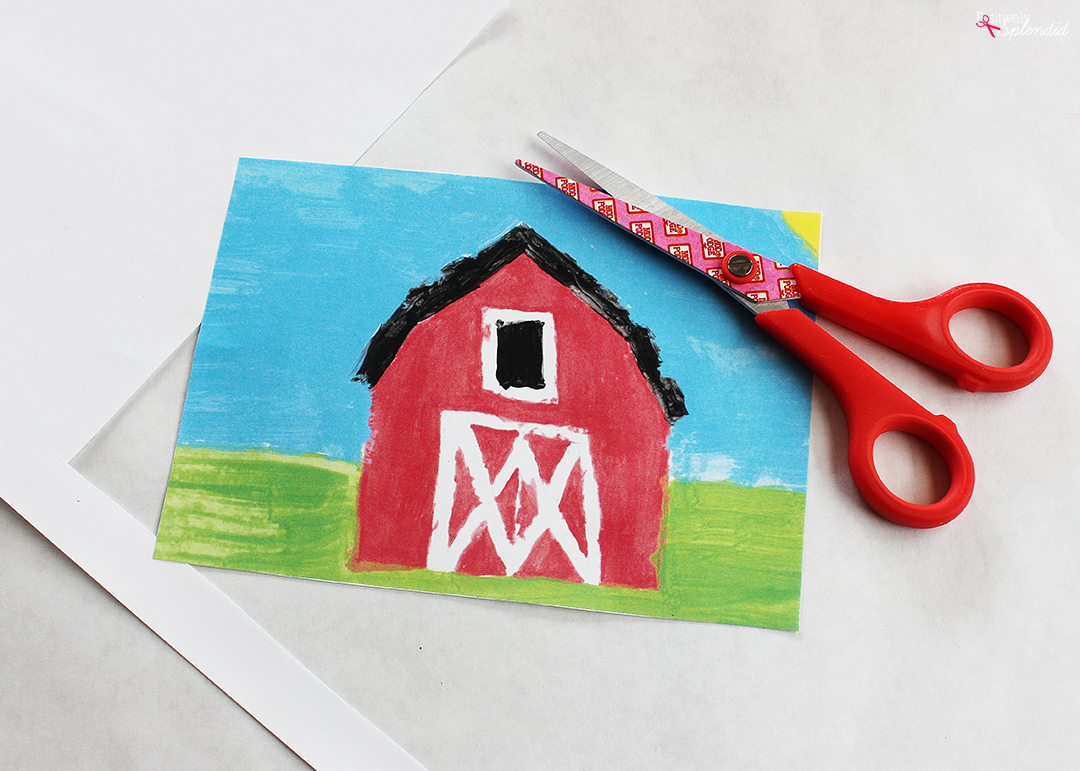 With the photo laying flat, use the brush to apply an even, smooth layer of the Mod Podge Photo Transfer Medium directly on top of the photo. Apply enough of the medium so that the original image is barely visible through the medium.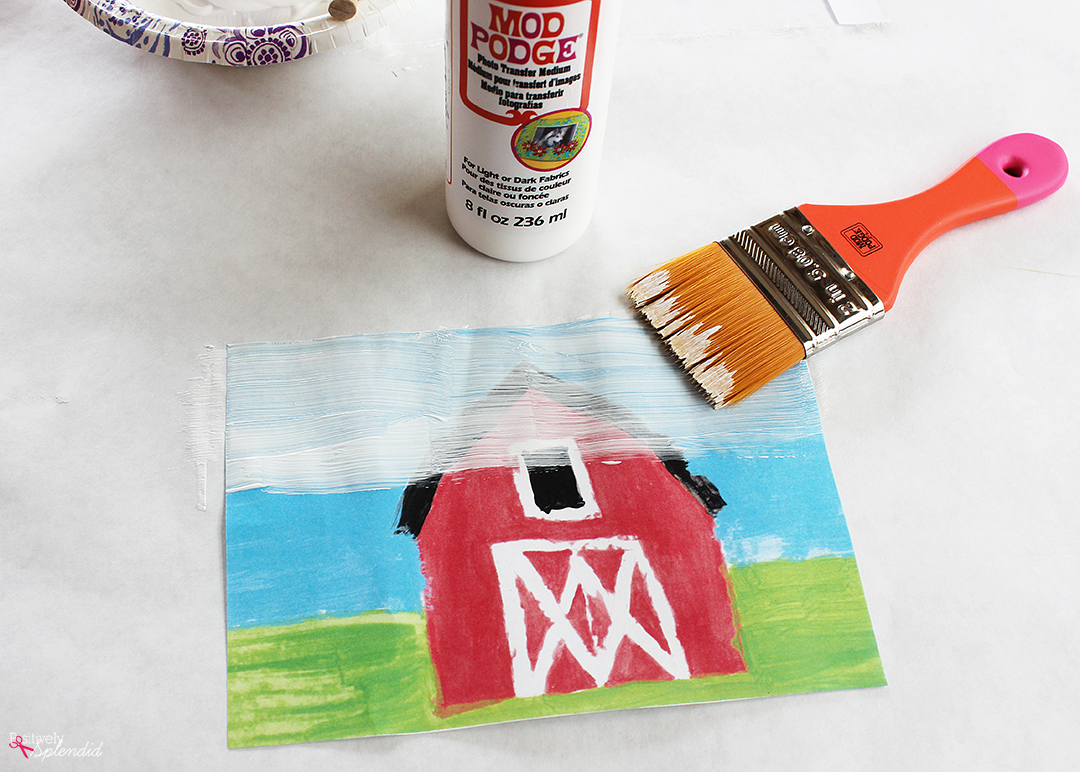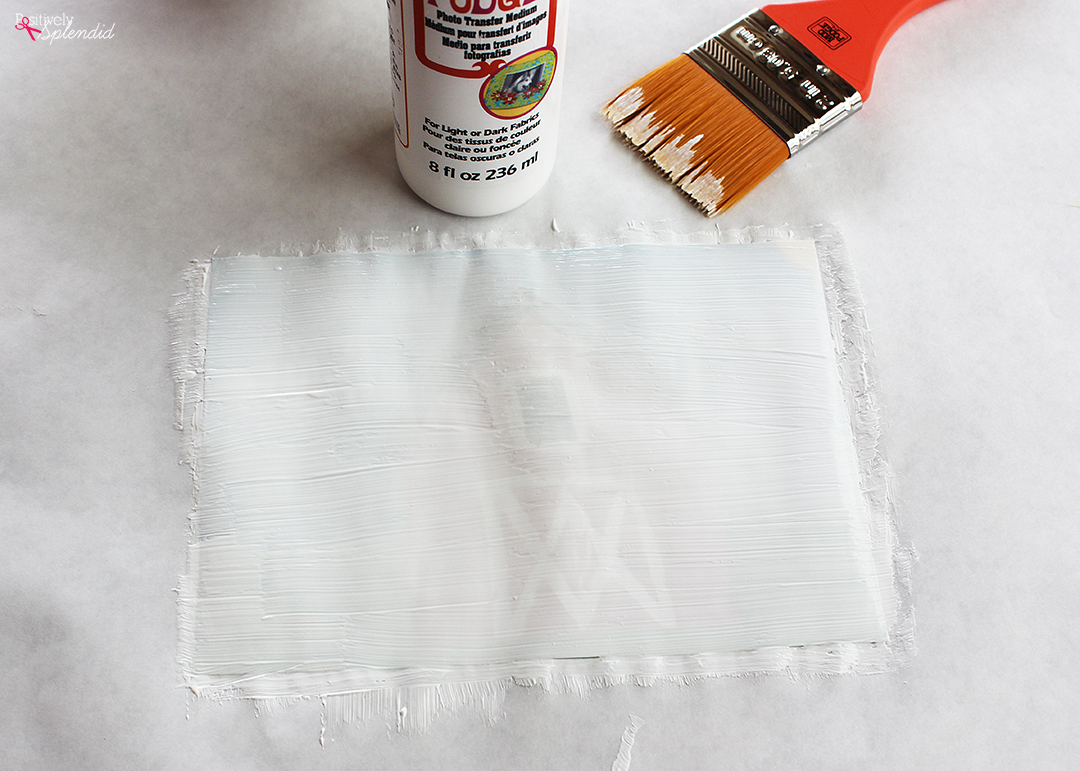 Helpful Mod Podge Photo Transfer Tip: Be sure to cover your work surface with a protective covering like freezer paper or wax paper. This process is messy!
Use a fingernail or tweezers to pick up one corner of the coated image. Working very carefully, invert the image onto the front side of the canvas, positioning it so that it is completely centered on all sides.
Helpful Mod Podge Photo Transfer Tip: If you have to smudge off a bit of the medium on the edges of the image as you position it, use a small brush to re-apply medium to any smudged spots to ensure the entire image is transferred in the finished project.
Use a brayer to smooth out any bubbles between the paper and the canvas. This will ensure there won't be any un-transferred portions of the image in the finished project, so don't skip this step! Set the project aside to dry for at least 24 hours.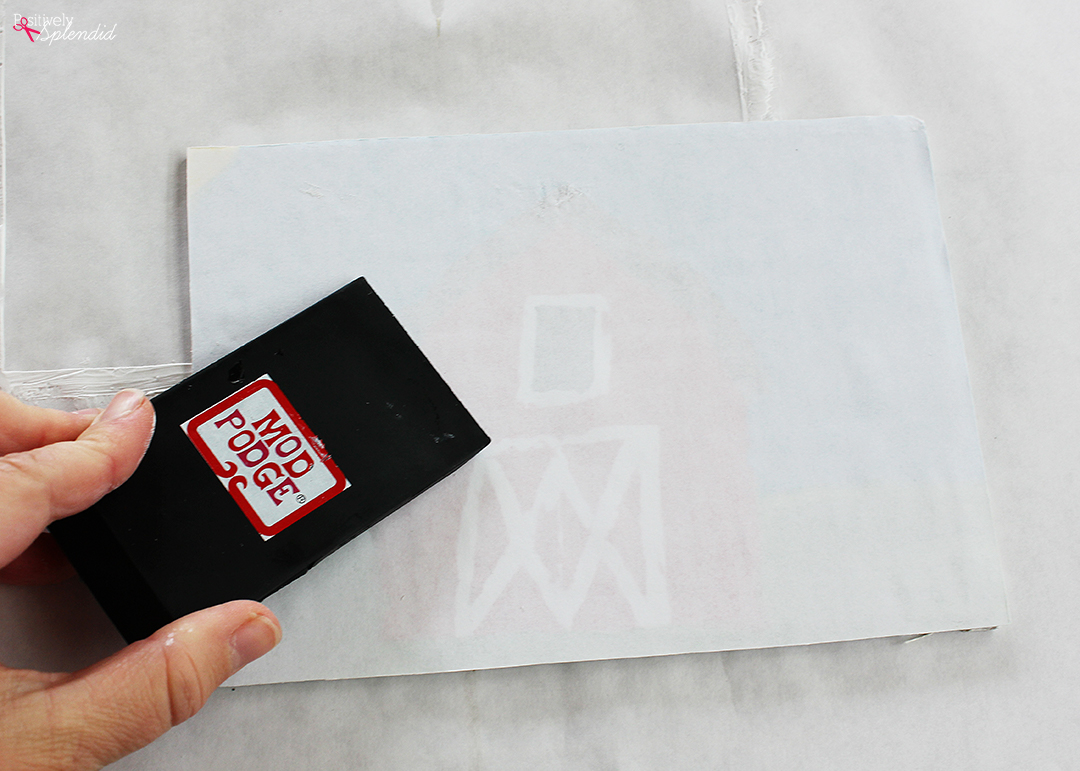 Helpful Mod Podge Photo Transfer Tip: DO NOT "cheat" and try to remove the paper backing before the 24 hours have elapsed! The medium has to have at least that length of time to cure.
After the 24-hour period, wet a sponge with water, and carefully wipe it over the surface of the paper.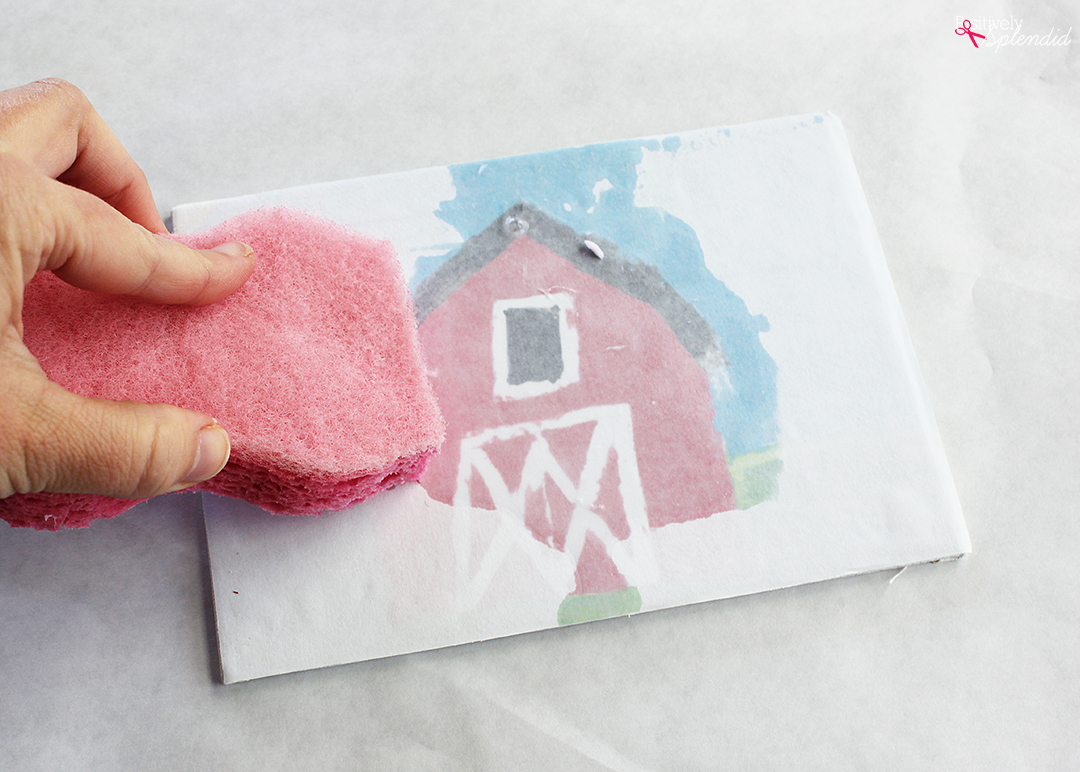 Rub the sponge gently over the surface of the paper, dipping it in more water as needed, until you start to see the paper peeling away, leaving the transferred design underneath.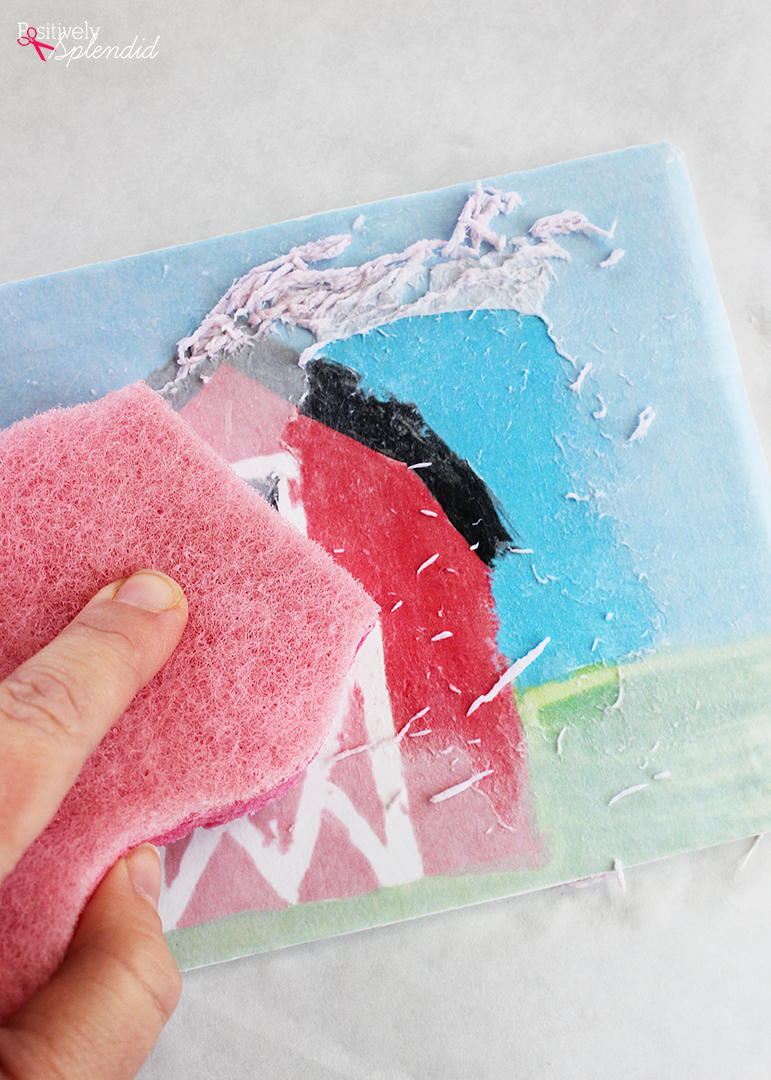 When you have removed as much of the visible paper as you can, set the project aside to dry for 30 minutes, at which point you can use the damp sponge to rub off any of the paper that remains. Continue this process until all of the paper is removed.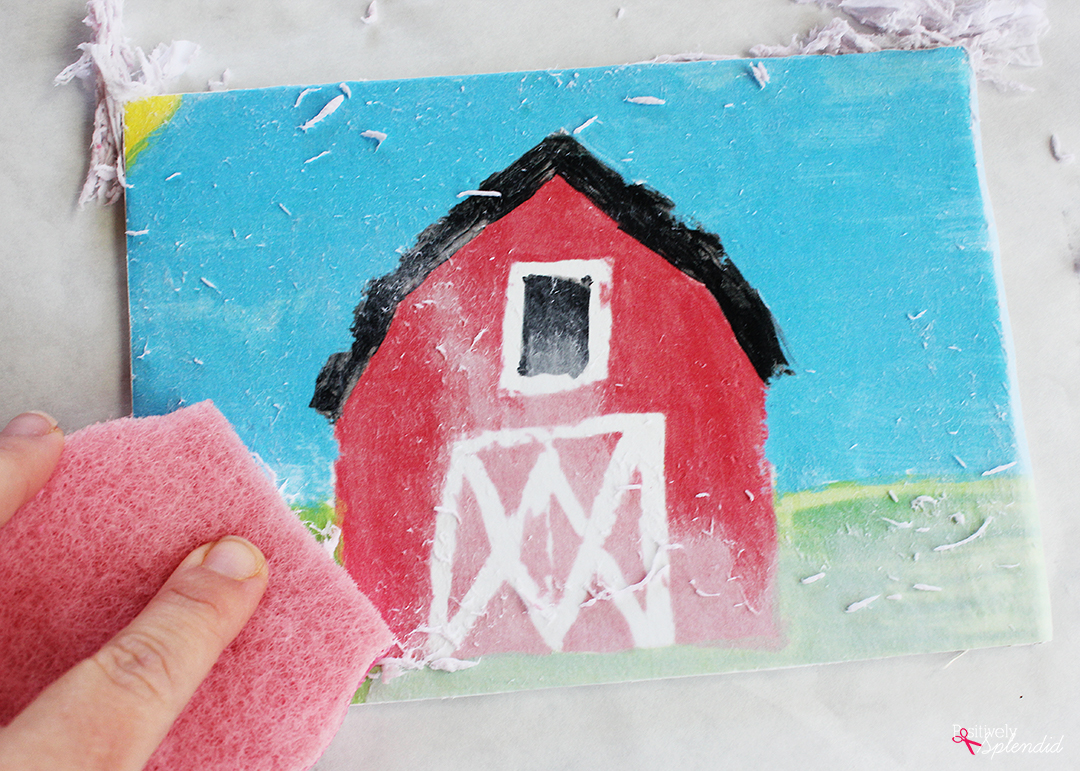 Helpful Mod Podge Photo Transfer Tip: Work gently with the sponge! Rubbing too vigorously can cause the transferred design to come off with the paper.
If desired, use the heavy duty adhesive to apply a magnet to the back of the canvas at each of the corners to create a custom artwork magnet.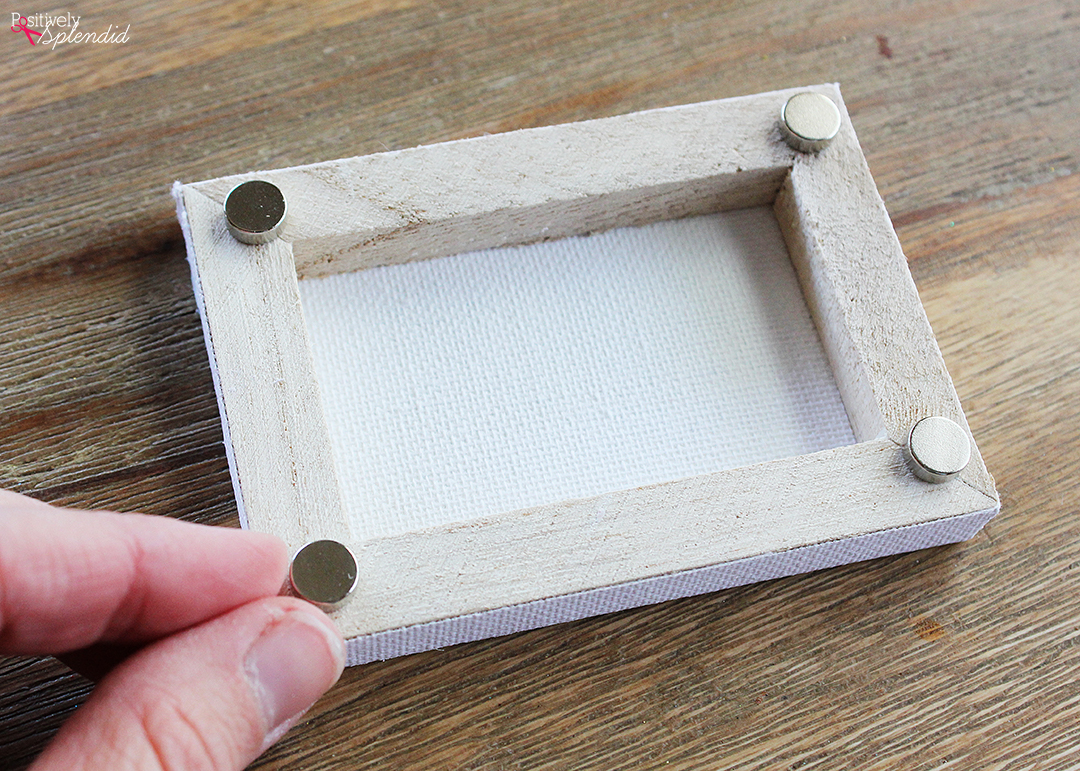 In just the span of a day, you can create a number of these custom kids' artwork canvases to give as gifts or display throughout your home!
Thanks so much for stopping in!
Having grown up in a home brimming with sewing notions and paintbrushes, Amy has a deep love for all things creative. On any given day, you'll find her knee-deep in her latest creative endeavor, with projects ranging from sewing and crafts to home decor and kid-friendly ideas. Amy believes that everyone, regardless of skill level or experience, possesses the ability to create something beautiful, and Positively Splendid was born of her passion for helping others harness their innate creative potential.