With Halloween right around the corner, Kim from Today's Creative Blog is here today to share a project that reminds us to take time out of our Christmas prep to celebrate the spookiest day of the year! Take it away, Kim!
***
While Amy is enjoying a bit of family time with her new baby, she asked me if I would guest post for her. I am usually so pressed for time that I normally turn down such requests………but have you met Amy? Seriously………..you could not find a sweeter person…….and she's pretty……..and I could just hear her asking me in her slight southern drawl. AND she was having a baby………HOW could I possibly say no?
Swell Noel may sound Christmasy to you, but I'm still on Halloween. I just can't be like the department stores and skip ahead to holidays.
I've received a special die from a special company that will be released to you on Black Friday…..but shhhh, it's just a little sneak peek. These were mixed with a few my favorites and so versatile.
Halloween Treat Box
I love the little bakery boxes and thought what cute little Halloween favors they would be for a few of my favorite little goblins.
I kept them simple, because who am I fooling? You know they'll just rip them open to see what's inside. I doubt anyone will take them home and place them next to their soccer trophies. I'll be ok. It's the moment that matters. Hopefully their parents will see it first and think I'm the coolest house on the block. 🙂
I'm planning on stuffing chocolate gold coins in side…..and if they're aren't as impressed as I am, I'll also hand them a snickers. If you head over to TCB on NOV 15th, you'll get a special discount code.
I can't wait to do a few of these for Christmas too. They were so easy to put together.
 Thank you Amy for having me.
Kim in the owner and editor of Today's Creative Blog, where she features a creative blog almost daily. TCB was ranked #5 in Babble.com "Overall Best Craft Mom Blog"
Need inspiration? Head on over.
***
Who doesn't love Kim and her blog? And aren't her treat boxes darling? I don't think there is any doubt that she will be the coolest mom on the block this year.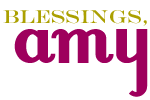 Having grown up in a home brimming with sewing notions and paintbrushes, Amy has a deep love for all things creative. On any given day, you'll find her knee-deep in her latest creative endeavor, with projects ranging from sewing and crafts to home decor and kid-friendly ideas. Amy believes that everyone, regardless of skill level or experience, possesses the ability to create something beautiful, and Positively Splendid was born of her passion for helping others harness their innate creative potential.