Many of y'all might have seen these sweet little candles I made for the Pennywise Presents Series over at Infarrantly Creative. Just in case, though, I wanted to share them here, too! 🙂
I

love coming up with ways to repurpose items I already have on hand to create something new. With the exception of a couple of supplies, everything I used to make these fun Sundae Candles was something I already had lying around the house. Very pennywise!
All set to see how I put these together? Let's get started.
For this project, you will need…
Glass containers that look tasty enough to hold a sundae (look for some that have lids for great presentation)
White candles
Crayons
Zinc-core wicks
An old microwave-safe container
Disposable paper cups
Disposable plastic forks, spoons, or knives
Large skewer
Kiss-shaped candy mold (available at places like Hobby Lobby and Michaels)
Non-stick cooking spray
Essential oils to scent your candles (optional) 
step

1

Use a sharp knife to very carefully chop your candles into fine pieces. (Take care to avoid the candle wicks as you chop.) Place your pieces in your microwave-safe container, and microwave on high in 1-minute intervals, stirring after each minute, until your wax is completely melted.
step

2

Finely chop a small portion of a red crayon, and place the pieces in one of your disposable cups. Pour a small amount of your melted wax over the crayon pieces, and stir to incorporate using one of your disposable utensils. Add a drop of two of essential oil to your prepared wax, if using. Spray your candy mold with non-stick cooking spray, and then carefully pour your wax into the mold, filling one space for each candle you plan to make. Place your filled  mold in the refrigerator to help it set up more quickly.
step

3 After about 10 minutes in the fridge, take your large skewer and poke a hole down through the center of each kiss shape. (This will be the hold you guide the wick through later on.) Allow the pieces to set completely before you remove them from the mold.
step

4

Cut a length of wick that is a couple of inches longer than the height of your glass container. Use a small dab of hot glue to secure it to the bottom center of your container, as shown. Wrap the excess wick around a pencil or a foam paint brush, and use this to hold your wick at the center of your candle in the next step by placing it as shown.
step

5

In the same manner you did in step 2, finely chop crayons in the colors of your choice, and place them in disposable cups. This is one time when white crayons are actually worth a hill of beans; they work great to create your top "whipped cream" layer! Pour melted wax over the color you want to be at the bottom of your candles. Mix well, add your essential oil (optional), then pour the wax into the bottom of your prepared glass containers. Place the containers in the fridge to set up for 15 minutes or so before repeating this process for your subsequent layers. Make sure your final layer is a white layer to give your sundaes an authentic look!
step

6

Once all of your layers have set up, unwind your wicks from their holders. Dab a small amount of wax onto the bottom of your cherry pieces, and then slip the wicks up through the center of these pieces. Push down gently so your cherry is affixed to your candle.
Now, tie a festive piece of ribbon to the lid of your completed candles. All done!
These candles would make terrific gifts for teachers, co-workers, neighbors, friends, and people from church. This is a marvelous project to do with little ones! A very sweet way to punch these up would be to add a little hand-written tag to your ribbon that says something like, 
"My life is sweeter because you're in it!"
Merry Christmas, everyone!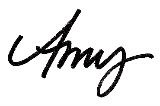 Linking this to…

If you enjoyed this post, subscribe to Positively Splendid 
to receive updates, and join us on Facebook and Twitter!





Having grown up in a home brimming with sewing notions and paintbrushes, Amy has a deep love for all things creative. On any given day, you'll find her knee-deep in her latest creative endeavor, with projects ranging from sewing and crafts to home decor and kid-friendly ideas. Amy believes that everyone, regardless of skill level or experience, possesses the ability to create something beautiful, and Positively Splendid was born of her passion for helping others harness their innate creative potential.