The moment I snapped this photo two and a half years ago, I knew it was to be one of those iconic snapshots with the power to transport you back in time.
It was January. Unusually warm, enough even to don the shorts that had been relegated months earlier to the top of the closet. Jack had just turned two; Charlotte was 5 months. We ventured out as a family to the driving range nearby, a place straight out of a scene from Tin Cup. (Anyone married to a golfer has, I'm sure, seen that movie as many times as I have!) 
Jack was mesmerized. "Daddy hits the ball into the skyyyy!" he squealed. It was one of those everyday moments you don't realize is magical until time elapses and that 2-year-old toddler has become a little boy.
Matt and I have welcomed three children into our lives over the course of the last four and a half years. By his becoming a father, I became a mother. We embrace those roles – we covet them – but we have also managed along the way to preserve us, something I am grateful for each and every day.
Thank you, Matt, for being the father you are to our crew. For being the husband you are to me. Thank you for cooking. For wiping bottoms. For playing silly bedtime games. Thank you for teaching our children right from wrong, but knowing that those lessons should always be balanced with a steady provision of genuine love and affection.
Thank you for teaching all of us to always aim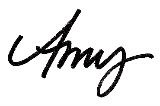 If you enjoyed this post, subscribe to Positively Splendid 
to receive updates, and join us on Facebook and Twitter!





Having grown up in a home brimming with sewing notions and paintbrushes, Amy has a deep love for all things creative. On any given day, you'll find her knee-deep in her latest creative endeavor, with projects ranging from sewing and crafts to home decor and kid-friendly ideas. Amy believes that everyone, regardless of skill level or experience, possesses the ability to create something beautiful, and Positively Splendid was born of her passion for helping others harness their innate creative potential.