I am a collector of ideas. Are you like that? I have about a gazillion different lists of must-try projects and tips that I am constantly adding to, and I have to say that my amazing Positively Splendid readers are quickly becoming my go-to source of inspiration for adding to my arsenal of ideas!
I posted in the spring about a simple solution for clogged drains. Although that method is certainly effective to produce immediate results, it does require repeated treatments to keep drains clear. Being the type of girl who would like to stay away from caustic products like Liquid Plumber at all costs, though, I had determined myself to just keep plunging. 😉 Enter this lovely tip from Melissa, a PS reader who also happens to be married to a plumber!
Melissa writes…
"Well as a plumbers wife, I can tell that this will work, but probably only in the short term, sorry. Another natural fix, baking soda. To keep your drains clear, you need bacteria that will eat the goop off the sides of your pipes, or the hair ball, or whatever you have put down the pipe. This bacteria can occur naturally or you can purchase it at your local home improvement store pretty cheaply (it generally comes in a liquid form you can just pour down the drain). Here's where the baking soda comes in, baking soda will turn something that is alkaline or acid to a neutral ph. Bacteria like a neutral ph. The baking soda will also help eat the clog in your pipes. This is not a quick fix, but more of a long term thing. Just mix a 1/4 cup baking soda with about 2 cups of water and pour it down your drain. (or you can do like I do, just shake it into the sink and rinse down the drain.) Also, NEVER EVER use Liquid Plumber. Liquid Plumber is acid pure and simple, it will eat your pipes and fittings, causing the walls of the pipes to thin and making it very easy for the pipes to split or break (trust me, this is a HUGE mess!!). Also, if you have a septic system, Liquid Plumber will kill all the good bacteria in the septic tank, which can cause back ups to occur because there is no bacteria to break things down. Also, Liquid Plumber almost never works anyway. Hope this was helpful!!"
Thanks so Melissa for sharing this helpful information! Bacteria and humble baking soda – who knew?


Enjoy this day!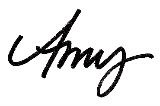 If you enjoyed this post, subscribe to Positively Splendid 
to receive updates, and join us on Facebook and Twitter!





Having grown up in a home brimming with sewing notions and paintbrushes, Amy has a deep love for all things creative. On any given day, you'll find her knee-deep in her latest creative endeavor, with projects ranging from sewing and crafts to home decor and kid-friendly ideas. Amy believes that everyone, regardless of skill level or experience, possesses the ability to create something beautiful, and Positively Splendid was born of her passion for helping others harness their innate creative potential.