Adding wall decor to a house is a way to instantly make a place feel like home, and nothing achieves that personal, meaningful effect more than hanging a gallery wall of family pictures. Admittedly, hanging large groupings of art or photographs on the wall can be daunting, so today I am sharing photos of my new family gallery wall above our stairs, plus 6 of my best tips for hanging a gallery wall that is sure to impress.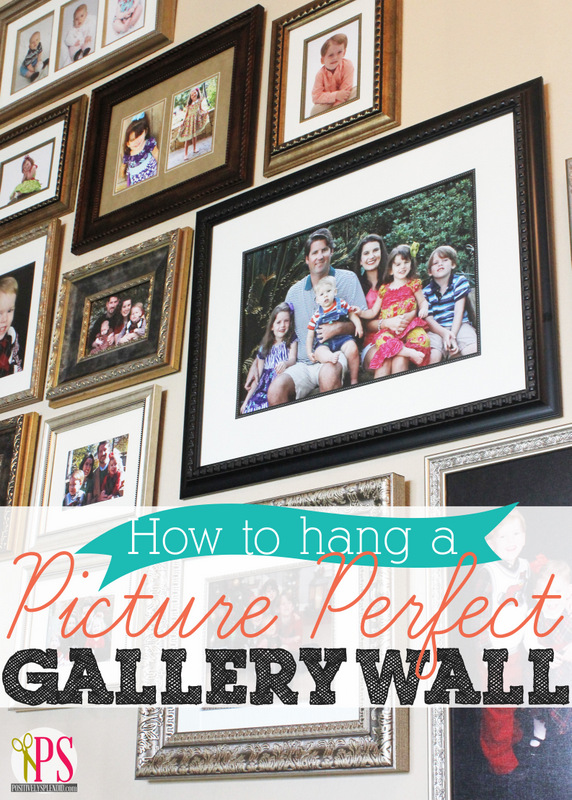 Having just moved into our new home, I knew one of my first orders of business was to hang pictures on our bare, lonely walls. With four children, we have an impressive collection of precious family photos and portraits that we have accumulated over the years, and I have always dreamed of having them all displayed over our staircase. My dream has now come to fruition!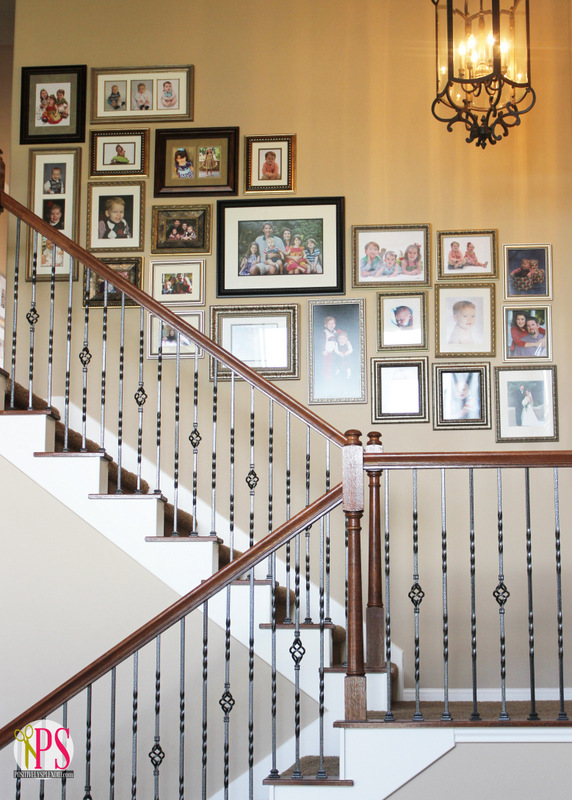 This was a project that did take me a number of hours to complete, but I am so pleased with how it turned out. I love how the photos are arranged in a way that I will easily be able to add more frames to the grouping as needed (read my tips below for more on that).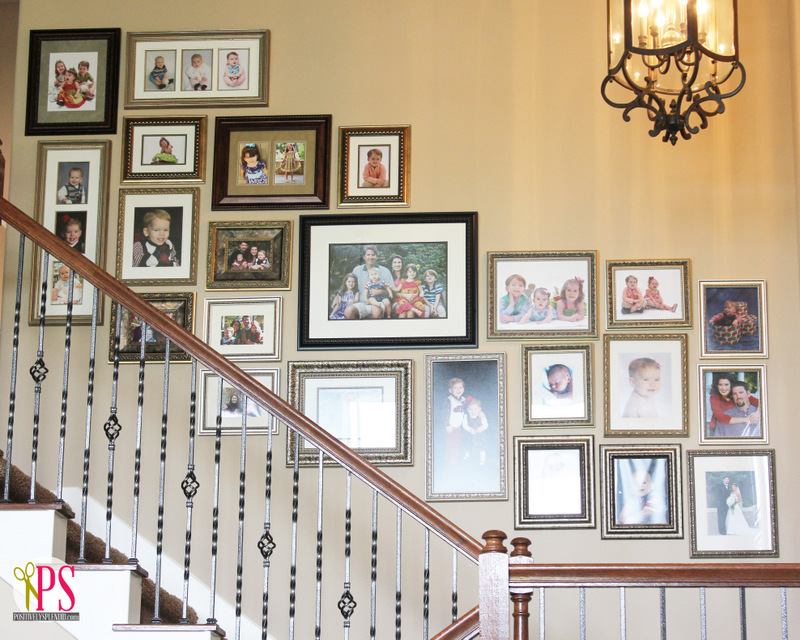 The best part of all, though, is that this grouping that constitutes so many priceless memories is now a focal point in our new home, visible from our living room and kitchen, too!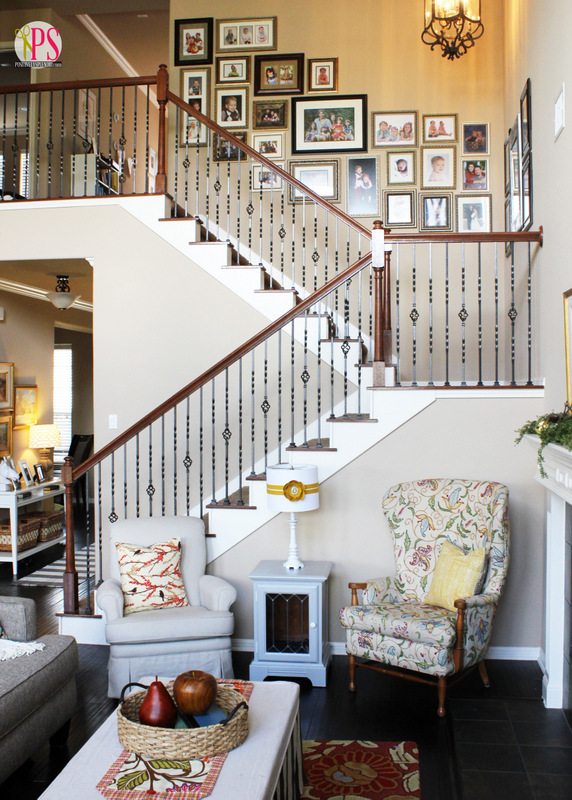 Now that I've shared my own gallery wall with you, I'm going to pass along some of the tips I learned along the way so that you can create one in your own home!
1. Don't worry if your frames aren't an exact match.
Having acquired many picture frames from many different places over the years, I have an eclectic collection of mismatched frames. Replacing the frames with an entirely new set of matching frames would be a sizable investment, to say the least! Having frames that don't all match gives the grouping a collected, organic feel that mirrors the way a family grows and changes over time. If, however, you would rather stick to one basic color scheme, consider painting mismatched frames the same color (spray paint works well) to have the same collected feel with a more uniform color palette.
2. Lay the frames out on the floor first.
When deciding the overall placement of a wall, arrange the frames first on the floor before you ever drive the first nail into the wall. When you have achieved a look you like, snap a quick photo to refer to as you hang the frames on the wall. An alternative to this that I have used before is to trace the frames onto wrapping paper, and then hang and arrange those templates on the wall until you find a look that you like best. (For a large grouping like my staircase gallery wall, I felt the tracing step for all of those frames would be too tedious.)
3. Start at the center and work your way out.
When hanging a particularly large grouping like this one, start at the center (which I did with the large family portrait at the center of my grouping) and then work to the left and right. This will ensure the frames are evenly distributed over the entire surface of the wall, and it will allow you to grow to add additional frames to the left and right sides of the grouping when needed (refer to #5 below).
4. When hanging over the stairs, follow the angle of the staircase.
To give an over-the-stairs grouping a sense of movement, hang the frames so that they form an angle that follows the upward angle of the staircase itself.
5. Allow room to grow.
If you plan to add photos to a gallery wall over time (which is usually the case with a family photo gallery wall), hang the frames in such a way that you can add more frames to the grouping over time. The best way to do this is to allow room to grow up (hanging additional photos above the grouping) and out (hanging new additions to the left or right of the current grouping).
6. Add picture-hanging wire to the back of every frame.
Many wall photo frames come outfitted with two hangers situated at either side of the back of the frame. Anyone who has ever tried to hang a frame with that setup can attest that leveling one out is nearly impossible! Save yourself the hassle of trying to do so by adding a wire hanger to the back of each frame. (I share details for how to do so in this post here.) That minimal investment of time will preserve your sanity, and it will save you from peppering your walls with misplaced nail holes!
Thanks so much for stopping in!
Having grown up in a home brimming with sewing notions and paintbrushes, Amy has a deep love for all things creative. On any given day, you'll find her knee-deep in her latest creative endeavor, with projects ranging from sewing and crafts to home decor and kid-friendly ideas. Amy believes that everyone, regardless of skill level or experience, possesses the ability to create something beautiful, and Positively Splendid was born of her passion for helping others harness their innate creative potential.