Might I just say that there is nothing, absolutely nothing I have experienced in my entire culinary life as divine as the farm-fresh items we picked up on Saturday from our first order through the Arkansas Sustainable Network Local Food Club? I cannot even begin to say what a thrill it is to be able to connect with local farmers through their online market. It makes purchasing locally-grown products as easy as the click of a mouse. Truly, anyone in the Little Rock area would be remiss not to take advantage of this amazing resource. Sure, the items are more expensive than what you find at your typical supermarket. But the quality is so superior that for us, it is worth sacrificing in other areas of our budget to accomodate the extra expense.
I do not like milk. I never have. But this milk, people. Ohmygoodness. It doesn't even resemble the milk found in grocery stores. It is mouth-coatingly thick in texture, and it has a rich flavor that can best be described as nutty. The kiddos have started calling it sweet milk, and for good reason!
We made our first entire meal using (almost) only local ingredients yesterday morning for Sunday brunch (we have started getting out the door for the early service at church, and with Sunday School ending at 10:15, that puts us home at the perfect time for it!). On the table: scrambled brown eggs (wow), bacon so thick it necessitated a knife (wow), grits (ok, so we cheated here and just used what we had on hand ;), and made-from-scratch buttermilk biscuits. The buttermilk was so thick, it was hard to even pour from the bottle. And it yielded the most sky-high, decadent biscuits I have ever put in my mouth, especially after they were drenched in fresh butter and honey made just down the road from here. Y'all hungry yet? 😉
You won't believe how easy these biscuits are until you try them for yourself. There is no pastry blender necessary; how nice is that? Just mix everything together with a spoon, knead a few times, and cut out as usual. Easy peasy! I adapted this recipe from one found in the February issue of Southern Living.
Almost-Too-Easy Buttermilk Biscuits
2 1/4 cups all-purpose soft-wheat flour
1 tablespoon baking powder
1 teaspoon salt
3/4 cup buttermilk
1/3 cup vegetable oil
Combine flour, baking powder and salt in a medium bowl and whisk to blend. Add buttermilk to mixture and stir gently to incorporate. Stir in oil just until incorporated. (Overstirring will cause the biscuits to be tough.) Turn dough onto lightly floured surface and knead 7-8 times. Shape into a 1/2″ thick rectangle, and cut out using your round biscuit cutter. (You can also use an empty vegetable can for this purpose if you don't have a cutter.) Place on a greased baking sheet about 1 inch apart and bake at 475 for 10-12 minutes. Serve warm, and expect to see lots of smiling faces like these as a result of your efforts. 🙂
And lest I forget, our menu for the week…
Sunday (yesterday) – Sunday Brunch and Italian Vegetable Soup
Monday – Pork Spare Ribs in White Wine with Polenta and Broccoli
Tuesday – Salmon with Leek Confit and Rice Pilaf
Wednesday – Veggie Soup Leftovers
Thursday – Spaghetti
Friday – Spaghetti Leftovers
Saturday – Takeout
Enjoy!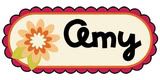 Having grown up in a home brimming with sewing notions and paintbrushes, Amy has a deep love for all things creative. On any given day, you'll find her knee-deep in her latest creative endeavor, with projects ranging from sewing and crafts to home decor and kid-friendly ideas. Amy believes that everyone, regardless of skill level or experience, possesses the ability to create something beautiful, and Positively Splendid was born of her passion for helping others harness their innate creative potential.