If you've got a car trip planned for Labor Day, this post will be perfectly timed for you! Make car travel trays for your kiddos to make on-the-go meals easy peasy!
***
Hi – I am Athena from www.thestuffofsuccess.com and I am thrilled to be guest posting at Positively Splendid today.  The Stuff Of Success is dedicated to all the things in life I am passionate about – my family (including our three huge dogs), crafts, sewing, upcycling, furniture refinishing, and most importantly – accidental learning opportunities for our kids and whatever else seems important in life at the moment!  My goal is to help others live life well yet inexpensively.
We spend so much time in vehicles with our youngest children, (often with the dogs also).  It never fails – when we eat in the car there is always an issue with kids not being able to handle their food and drink.  Some if not all ends up on the floor (hopefully not on the seat) requiring clean up afterwards.  Hmmm – if only there were only a solution?  Not waiting for someone else to solve my problem – I went to Benny's (a locally owned hardware store) and walked around every aisle looking for inexpensive items to make my own.  This is what I came up with:
I didn't end up using the window cup holders but I bought them just in case – and they were only $.49.  I figured if I didn't end up using them for this project I would definitely be able to use them simply for their intended purpose.  The small plastic pots were $1.00 each (and not breakable or heavy) and the small size painting trays were $1.29 each.  I didn't care for the black coloring for the travel tray but felt that was safest since the tray may end up having uncovered food sitting on it – and I didn't want food sitting on a painted surface.  In the end I left the tray black and primed and painted the pots glossy black with Rustoleum Spray Paint.
Once the pots dried (24 hours), I glued the pots onto the painting trays with E600 glue.  The pots are not to drink out of, they are to place a cup in – a cup holder. 
The pot holds the cup/drink; the middle section holds the sandwich and the right hand side allows french fries/hash browns etc… to stand up and be eaten. No, we don't eat like this all the time but on the road we sometimes have little choice.  I am not talking about the 15 minutes down the street – our trips are often 3-5 hours each way.
So, check it out in action – it all fits perfectly!
Just so my kids have variety (although I do like the travel tray above the best) – I have created two other versions.  The first is a cheap pink plastic tray with a plastic pot glued into it – all pink.  A little more girlie and no paint.  Each of these are designed so a soft drink cup or bottle of water or milk can sit nicely in the drink holder.
This next one I made just because I could for less than $.50.  It is a deeper Tupperware container with just your basic plastic tumbler to hold drinks.
I must say my kids' favorite design is by far the original version.  That tray is deep enough for the food yet shallow enough that they can carry a small notepad, put crayons in the cup holder etc… and use it as a travel desk.  I hadn't thought of that but they spend enough time in my company that "thinking outside the box" is the norm for them!  I can't wait to see what they determine it is useful for next.   
Terrific idea! I also love the fact that these can be used as art trays, too! Thanks so much to Athena for stopping in to share this useful idea with us.
A couple of announcements…
With the next season of
Crafting with the Stars
just around the corner, Tam at
Sew Dang Cute
is giving YOU the opportunity to pick the stars this time around, and I am in the running! I would be tickled pink if you would head over to cast your vote for me!!
I've been in a visiting mood again this week, with guest posts at
A Little Tipsy,
where I'm sharing about our new summer butterfly-raising tradition in Michelle's Make a Memory series, and 
Tip Junkie,
where I'm wrapping up my Boredom Busters series with a fun philanthropic project to do with your kiddos. I hope you'll venture over to see each one!
Happy Weekend Eve, friends!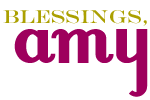 Having grown up in a home brimming with sewing notions and paintbrushes, Amy has a deep love for all things creative. On any given day, you'll find her knee-deep in her latest creative endeavor, with projects ranging from sewing and crafts to home decor and kid-friendly ideas. Amy believes that everyone, regardless of skill level or experience, possesses the ability to create something beautiful, and Positively Splendid was born of her passion for helping others harness their innate creative potential.