He came into our lives in the wee hours of a snowy December morning. 
At precisely 2:31 a.m., I became the mother of a bouncing baby boy.
At precisely 7:15 a.m. this coming Monday, that same boy will embark on his first step of many in spreading his wings to ultimately leave our little nest:
He's starting kindergarten.
Where has the time gone?
It's been devoted to the bleary-eyed days I thought would never end just after we brought him home, rocking and nursing and watching around the clock.
It's been given to the days of coaxing and encouraging him through those early milestones – rolling, crawling, walking – and meticulously documenting every single one.
To the days we never got out of our pajamas, building blanket forts in the living room and reading his same favorite books over and over and over again.
To the days when his accomplishments made me immensely proud – amazed, even – and to the ones when his antics made me want to abandon ship the moment Daddy got home from work.
To the days, even just yesterday, when he asked to stay with me during naptime, and he reached out his hand to hold while we both drifted off to sleep.
I never used to understand the mothers who went into mourning over seemingly small events like a first day of kindergarten. I am not an overly sentimental person. Truly. But motherhood – oh how it changes things. 
For five sweet years, he has been all mine. 
And now slowly, surely – in incremental steps that would be imperceptible to all but a mother's heart – I'll begin the bittersweet process of letting him test the foundation I've been diligently laying for him since that early December morning when he was first placed in my arms.
1 month
10 months
20 months
3.5 years
5 years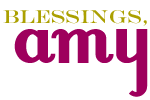 Having grown up in a home brimming with sewing notions and paintbrushes, Amy has a deep love for all things creative. On any given day, you'll find her knee-deep in her latest creative endeavor, with projects ranging from sewing and crafts to home decor and kid-friendly ideas. Amy believes that everyone, regardless of skill level or experience, possesses the ability to create something beautiful, and Positively Splendid was born of her passion for helping others harness their innate creative potential.