Here with some crafting inspiration today is Allison from It's Toile Good! What a fun way to make a quick accessory for your favorite summer outfit!
***
Hello and howdy to all the Positively Splendid folks!  I am tickled pink to be here sharing some crafty fun with you today!  Thank you so very much to Amy for this kind opportunity.  My name is Allison and I work on a blog called
It's Toile Good
.  ITG is where I reconnect to the women I was before I became a wife and mother – a place I make time for the self that enjoys being creative!  I craft, create, sew, hot glue, re-purpose, learn, try, fail, and laugh through the blog in an effort keep my identity as a creative person alive and 
sane
 well.
Today I'm going to share with you a super simple, made-from-scraps-I'm-sure-you-have-around-the-house, Nautical Yo-Yo Necklace.  The inspiration for this project came from the 5 buttons I'm using on the necklace.  They were part of my mother's button stash and collected from outfits that our family has worn over the years.  I can only imagine the outfits (mine I'm sure!) these nautical buttons came from.  I also love the nautical summer fashions that are so popular this year and this necklace was my way of jumping right into that trend!
Gather yourself 8 small squares of scrap fabric, 5 buttons, an old broken chain necklace, a scrap of felt, needle and thread, scissors and your hot glue gun.  The first thing to make are the fabric Yo-Yo's.  If you've never made a fabric Yo-Yo, there's really nothin' to it.  Just follow these 6 simple steps…
Now repeat 7 times making a few larger and a few smaller in size.  (bigger or smaller circles)
Gather up your buttons, scrap of felt, and hot glue gun and start playing with the layout of the necklace.  I liked the blue layered over the white yo-yos and the red and white striped on their own.  Just hot glue the buttons and layers together.  Once you find a placement that you like, carefully glue it to the felt.
Cut the felt around each yo-yo to create a base for the necklace.  Make sure you cut it smaller than the yo-yo to hide the felt base.  Now the "statement" portion of your necklace is complete!
Now let's work on the preparing and attaching the chain.  Because I have a tendency of catching my necklaces on random things, I have several broken chains sitting in my jewelry box that are just perfect for this type of project.  In order to make it usable, I added a jump ring to the broken end and cut it in half to glue it to the necklace.
Now glue those chopped ends to either side of your necklace.  Secure with a bit of felt over the glued end.
(TIP: blast away those hot glue strings with your hair dryer to clean up your necklace before wearing.)
Try it on, channel your inner Popeye and AHOY!  You have yourself a Nautical Yo-Yo Necklace!
I am so thrilled to have had this opportunity and again, many thanks to Amy for "sharing the mic" with me today on Positively Splendid!  I'd be pleased as punch if y'all stopped
over for a visit
so we can get to know each other!  Or if you're a
Twitter
-er, a
Facebooker
or a
Pinner
, hit me up over there!
All the best,
***
Thanks so much, Allison, for stopping by! I adore a good scrap-busting project!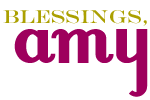 Having grown up in a home brimming with sewing notions and paintbrushes, Amy has a deep love for all things creative. On any given day, you'll find her knee-deep in her latest creative endeavor, with projects ranging from sewing and crafts to home decor and kid-friendly ideas. Amy believes that everyone, regardless of skill level or experience, possesses the ability to create something beautiful, and Positively Splendid was born of her passion for helping others harness their innate creative potential.