Welcome, everyone! I am so glad to be taking part in Angie's craft room tour today. There have been so many inspirational spaces shared throughout the week! Come on in and take a tour of my creative space, my favorite little nook in our home!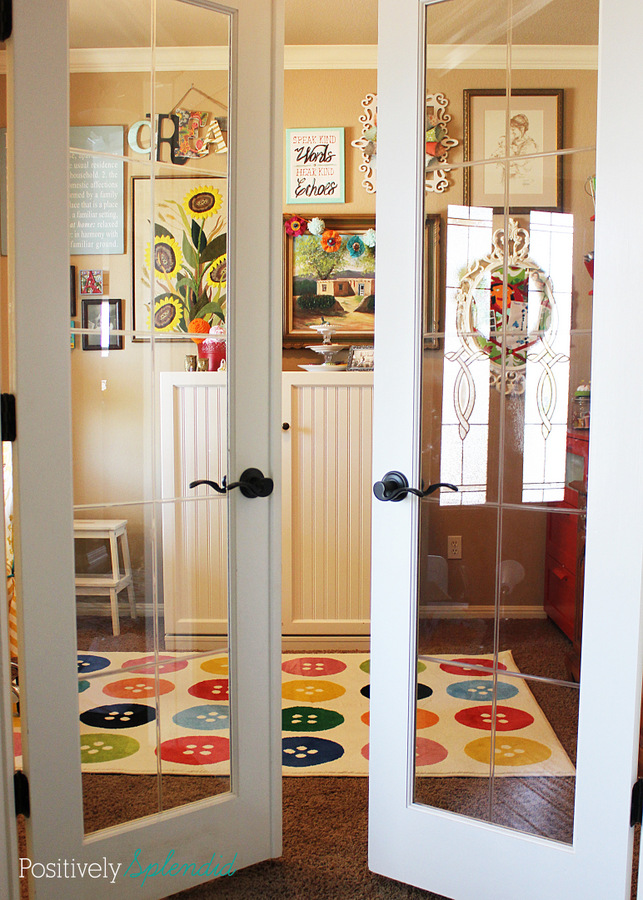 When we relocated from Tennessee to Texas last year, I was thrilled to have a dedicated space all my own, and since that time, this room has been a work in progress. My number one priority has been to make this space meaningful, filling it with things that inspire me.
The gallery wall, which is the focal point of the room, truly sets the tone for this space. I filled it with items connecting me with my creative roots and other items I find particularly inspiring and meaningful.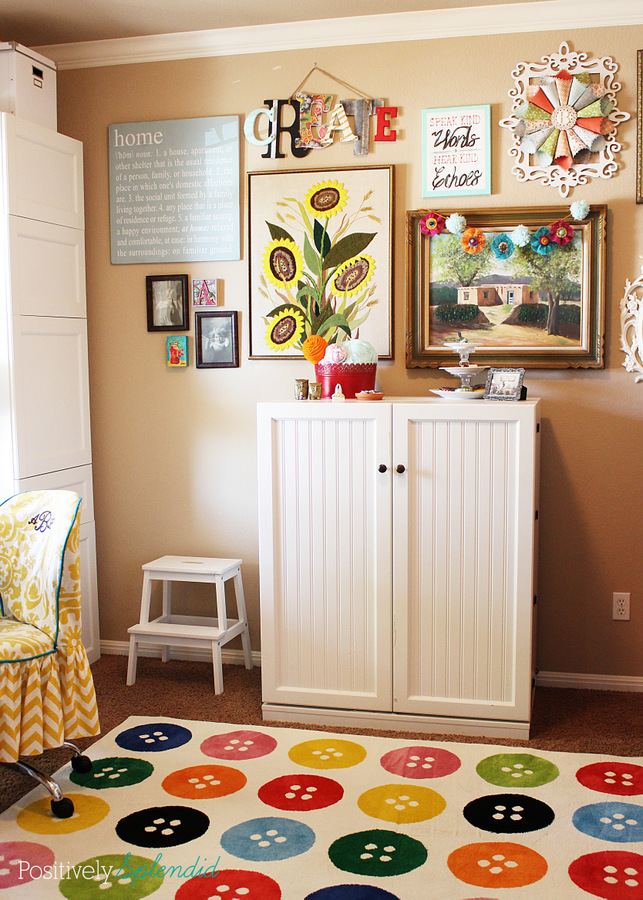 At center stage is a framed embroidery piece made by my late great-grandmother. I just love the vintage vibe of this piece!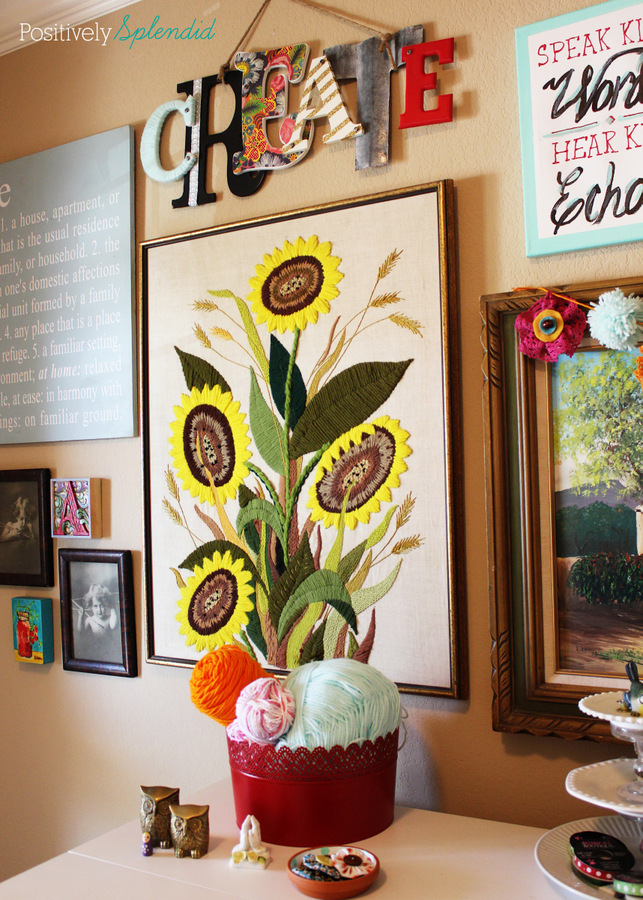 Next to the framed embroidery piece hangs one of the first paintings ever completed by my very talented father when he was not much older than I am today. He cringes when he sees this painting because his style has changed so drastically since his early days, but I absolutely love it. It really feels like there is a creative energy that radiates from these pieces, and it makes me happy to have them hanging where I work every day!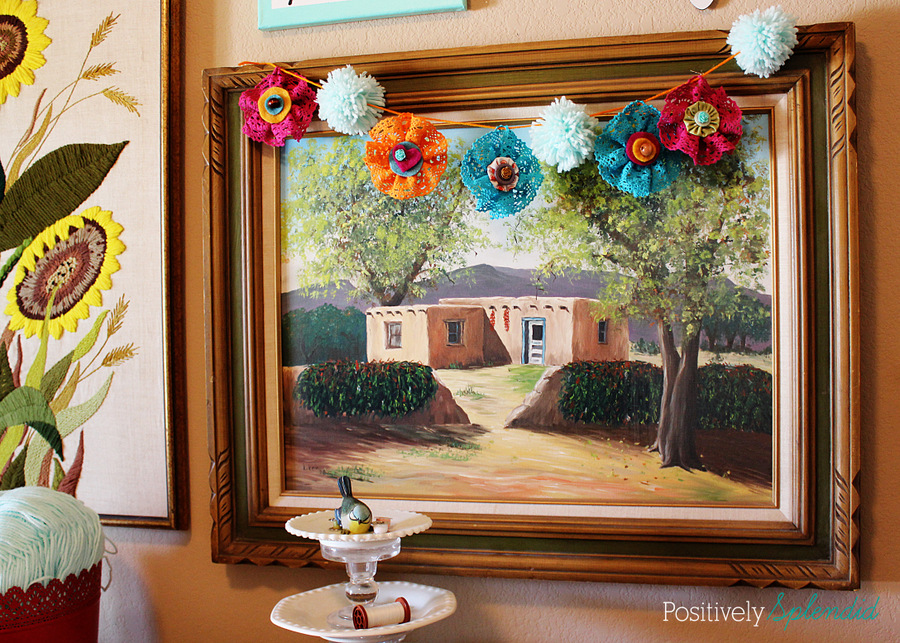 Rounding out the wall are two vintage angel prints that I can remember vividly having hung in my grandmother's living room when I was small, along with a fun stacked letter sign displaying the word "create," a rolled paper wreath, a sweet lace flower and pom-pom garland, and a sign I hand painted to showcase some of my favorite words to live by: "Speak kind words. Hear kind echoes." I also opted to include my tufted memo board from the holidays on this wall to display photos and other inspirations as the mood strikes.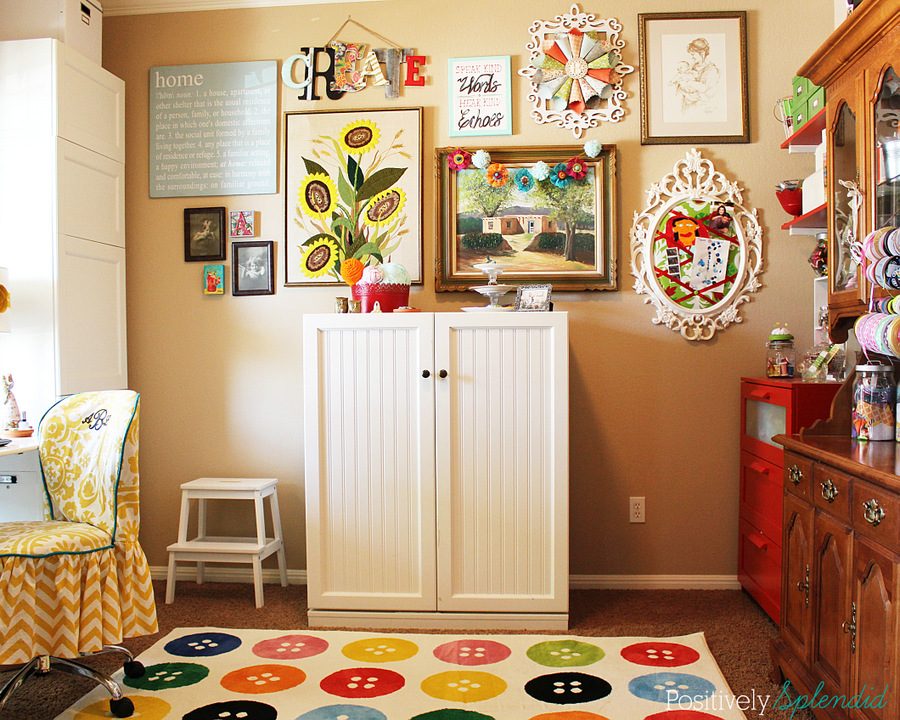 Without a doubt, the most functional, amazingly ingenious element in this space is my Sewing Box. From the outside, it looks just like a plain-Jane storage hutch, but when you crack it open…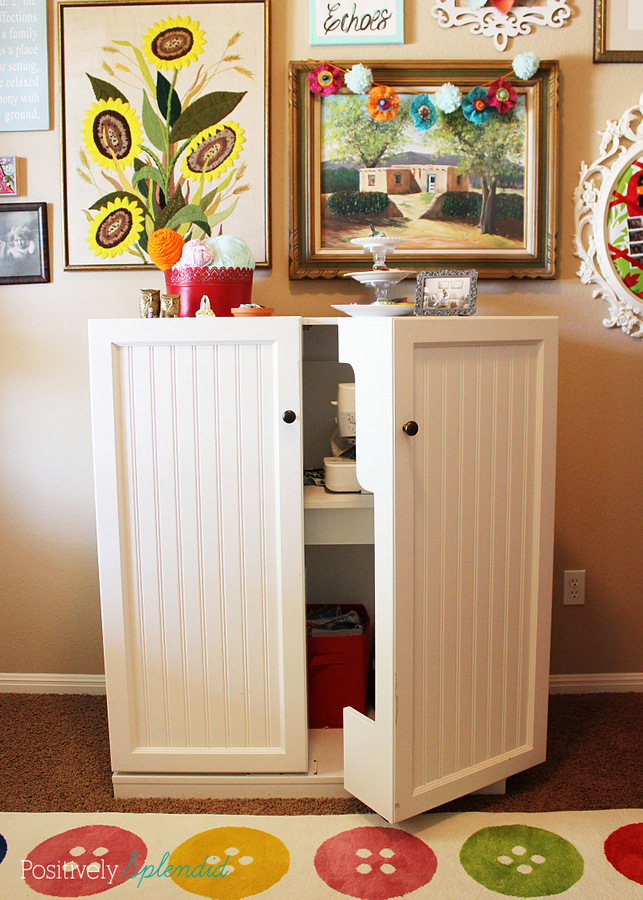 Pictured above: Tiered Plate Sewing Organizer
…it is almost magical! This beauty houses both of my sewing machines, as well as the majority of my sewing notions and tools. There truly is a place for everything.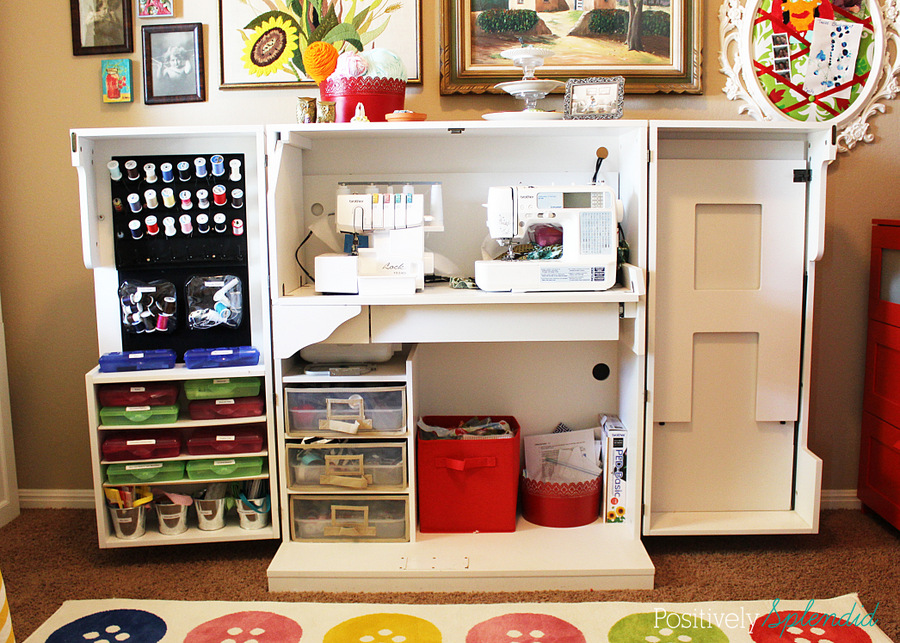 When open and set up, this desk is a veritable sewing command center, complete with a fold-out desk that provides ample workspace even for large projects. I couldn't live without it!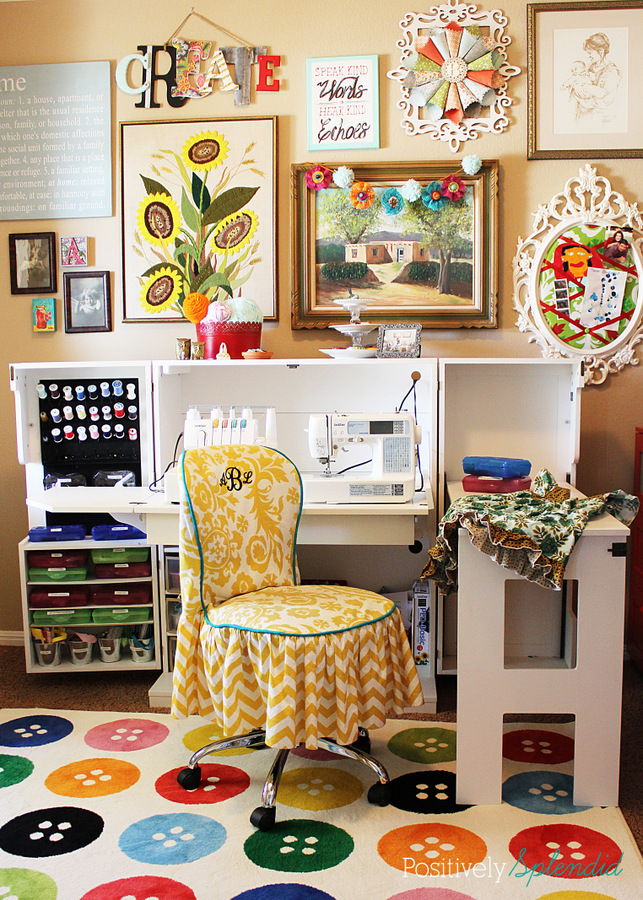 Moving to the opposite corner of the room, you'll find a framed pegboard, which I use to house my most-used craft tools. This is such an easy project to DIY, and it is so incredibly handy!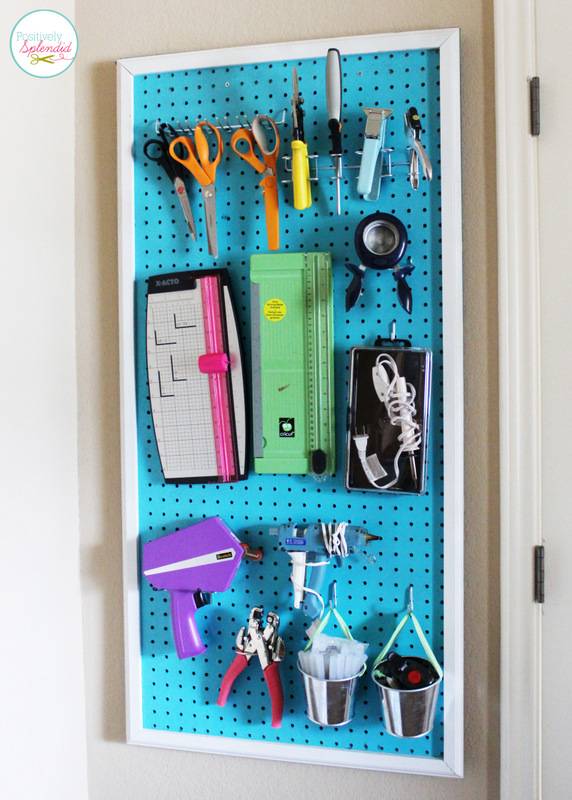 When my husband and I married, we inherited an old hutch from his grandmother, and after buying new dining furniture after our recent move, we didn't have a use for it in a traditional sense any longer. Instead of donating or selling it, I claimed it for my craft room, and I am so glad I did! There is so much terrific storage potential in this piece, and the top surface of the lower portion is perfect for working on craft projects.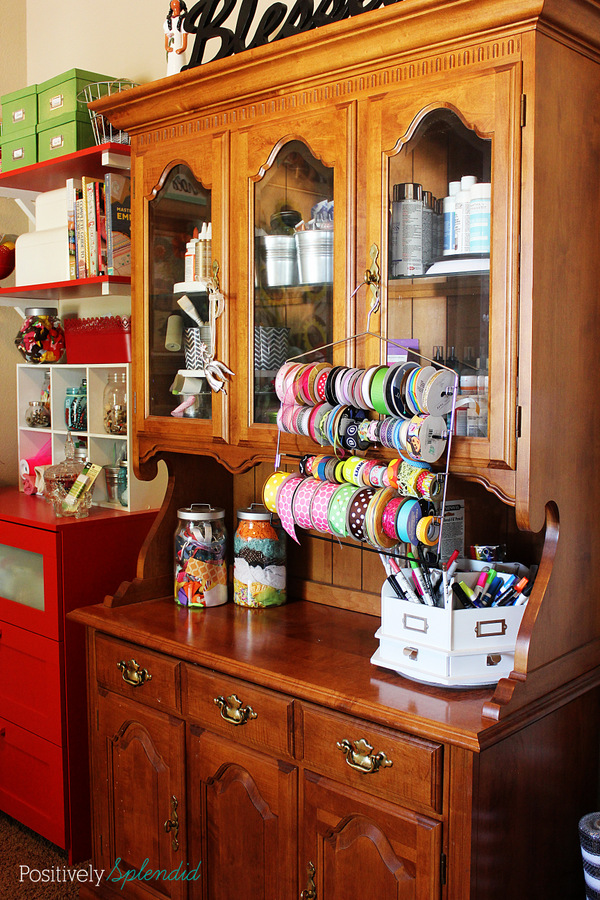 On one of the handles hangs a pant hanger that I use to store all of my ribbon and washi tape…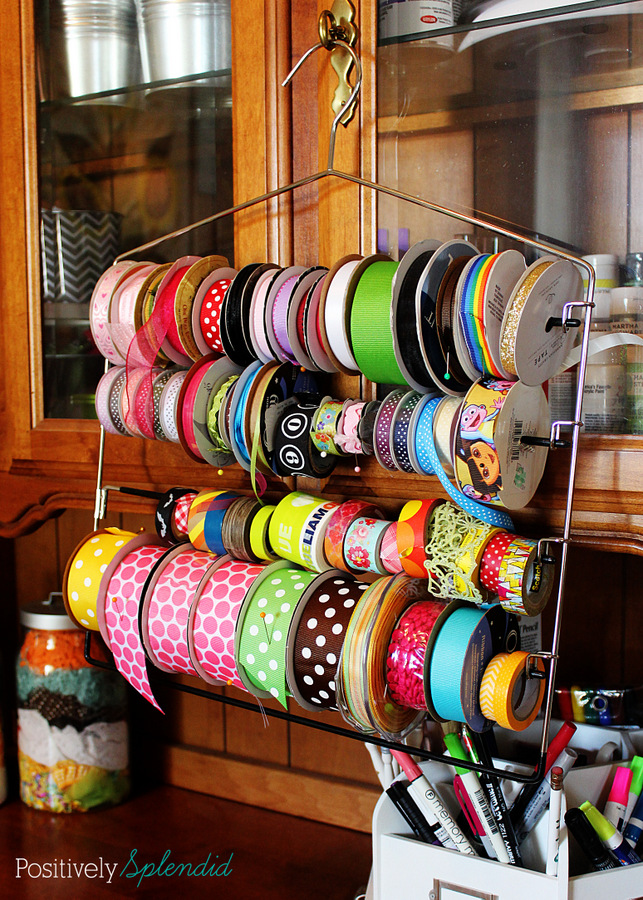 …and inside is an abundance of lazy Susans and tiered storage to keep all of my glue, brushes, glitter, paint and such all at arm's reach. I love this set-up! One of my short-term goals is to paint the hutch a kicky new color, so I'll definitely keep you posted on how that goes. 🙂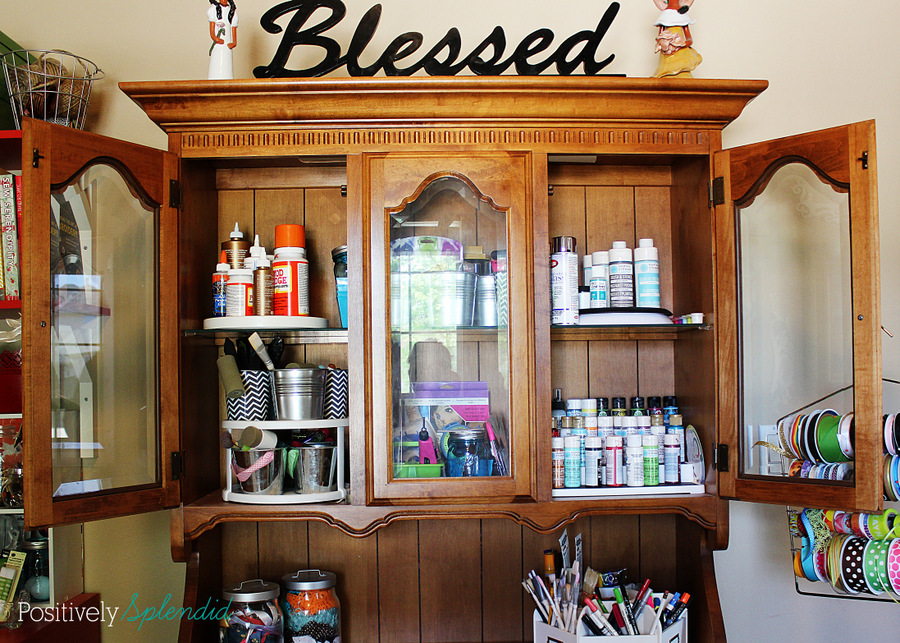 One thing is for certain: in setting up this room, I have sure been glad to live so close to an Ikea! Next to the hutch are some wall-mounted shelves I purchased there, as well as a bright red chest of drawers I use as a catch-all for miscellaneous craft supplies and fabric scraps. The handy storage cubes below the shelves are perfect for displaying jars and other clear containers that I use to hold beads, buttons and other small items.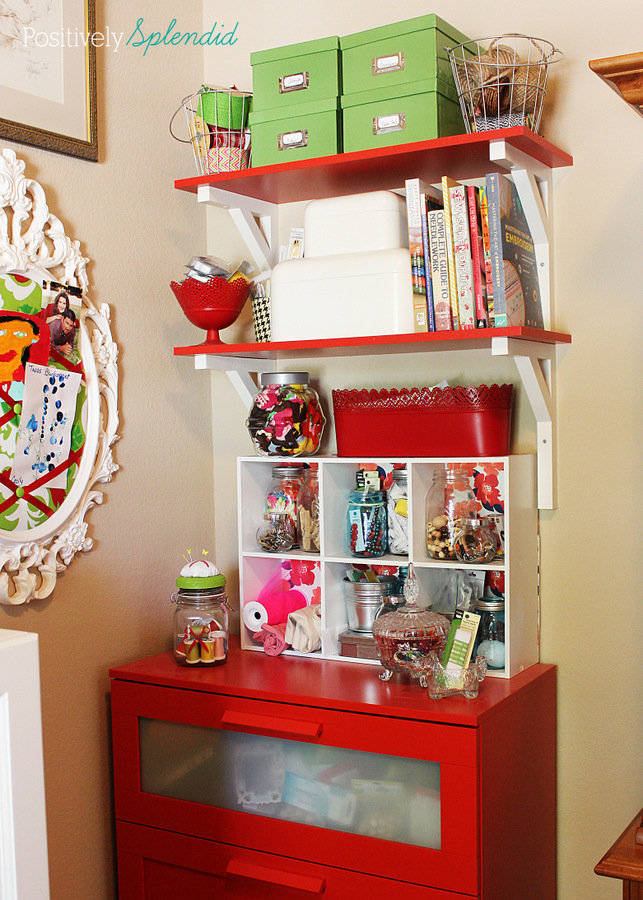 I have been blessed to inherit lots of vintage crystal pieces from my grandmothers, and instead of storing them away, I opted to use them in my room to store by button stash and other sewing notions. The little Scotty dog creamer is one of my favorites.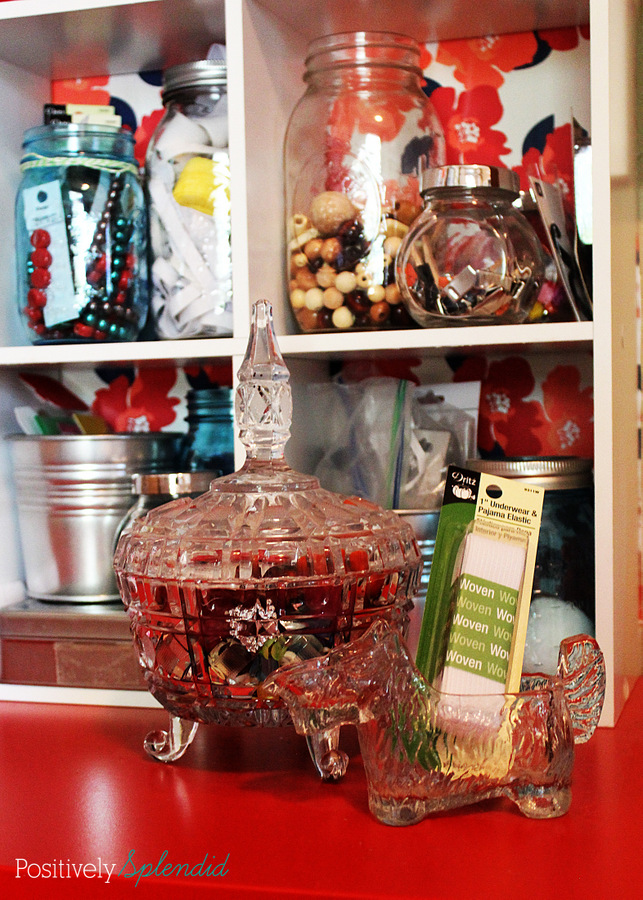 On the opposite side of the room, you'll find my desk, which is flanked by two tall storage cabinets I purchased at–where else?–Ikea.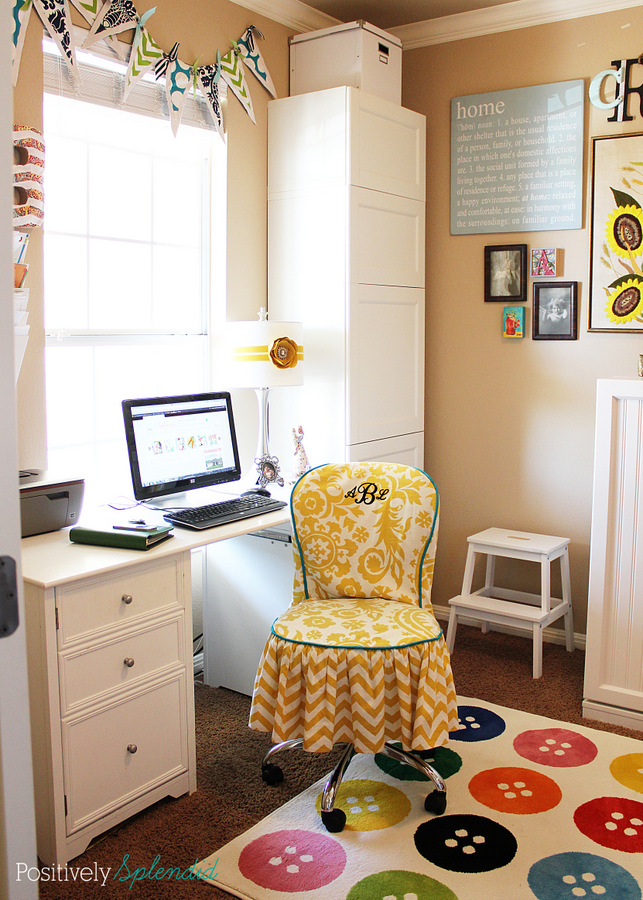 Pictured above: Office Chair Slipcover, Pennant Valance, No-Sew Felt Poppy Lampshade
I love everything about these cabinets, but I especially love how much storage they add to my space! Inside, you'll find my paper stash, magazines, fabric, cutting machines and all sorts of goodies.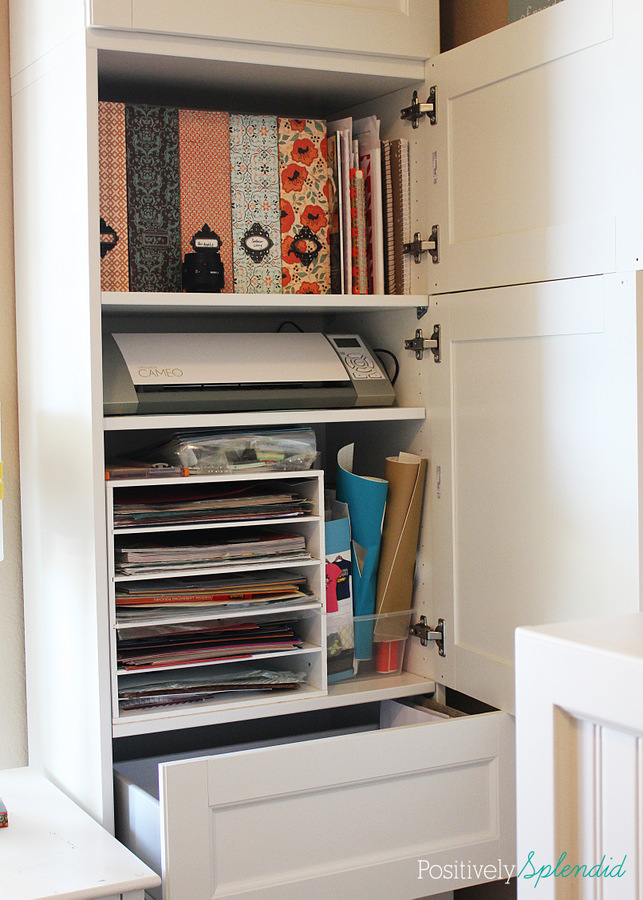 Pictured above: DIY Magazine Files
Thank you so much for stopping by to take a tour of my creative space! It feels so good not only to have not only a little space of my own, but also one that happens to contain so many items that inspire me to do what I love most: create!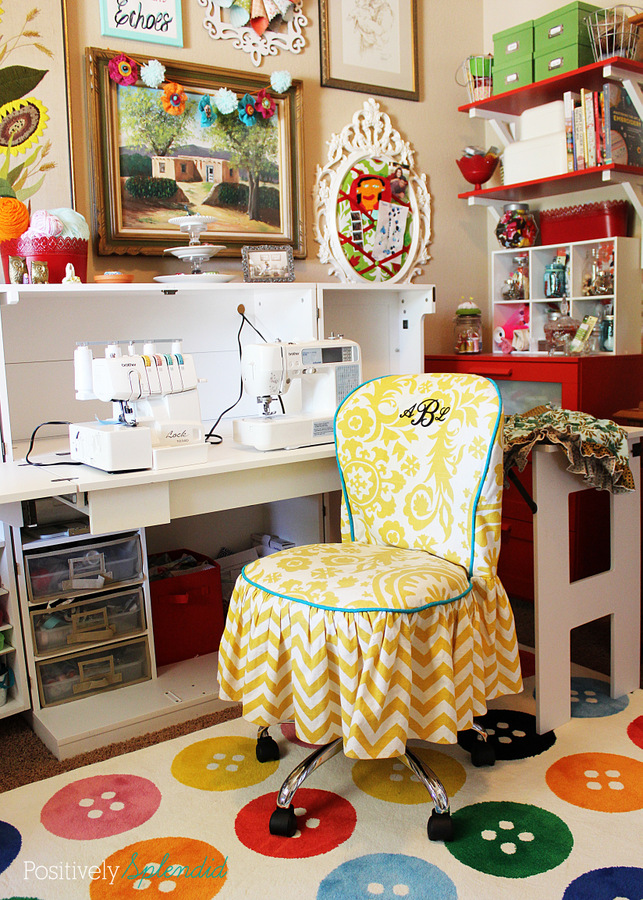 Thank you again to Angie for allowing me to participate in her fun craft room tour. I encourage you to check out each of the 30+ areas on the tour. There are so many fabulous spaces!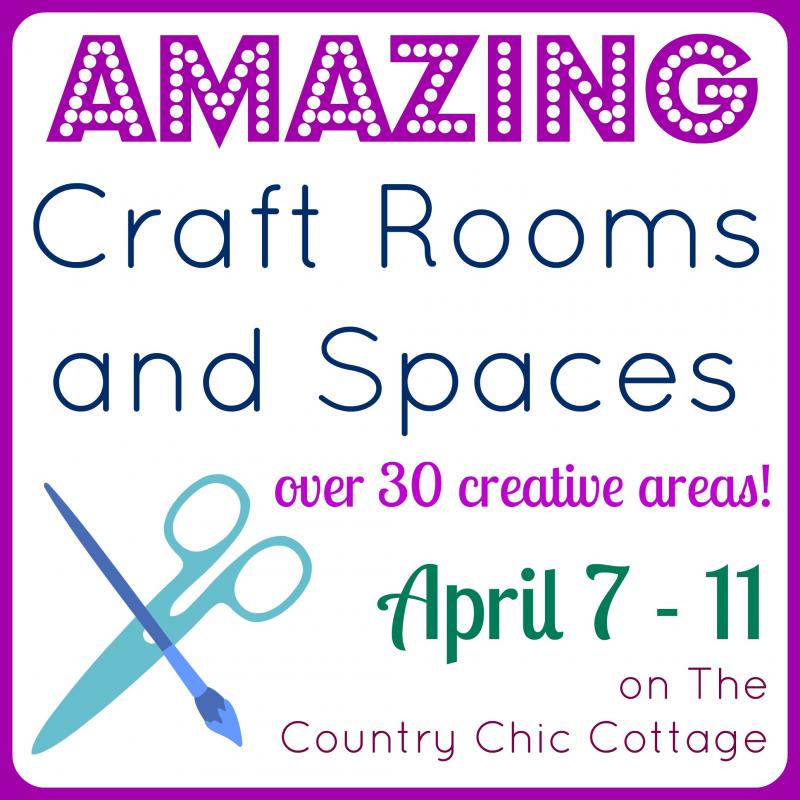 Resources:
Sewing Desk: The Sewing Box by the Original Scrapbox
Storage Cabinets: Besta by Ikea
Chest of Drawers: Ikea
Wall Shelves: Ikea
Rug: Ikea
Storage cubes: Target
Pant hanger: Target
Having grown up in a home brimming with sewing notions and paintbrushes, Amy has a deep love for all things creative. On any given day, you'll find her knee-deep in her latest creative endeavor, with projects ranging from sewing and crafts to home decor and kid-friendly ideas. Amy believes that everyone, regardless of skill level or experience, possesses the ability to create something beautiful, and Positively Splendid was born of her passion for helping others harness their innate creative potential.