Friends, I have a problem. Ok, so it's probably really not a problem, per se, so much as it is a conundrum. My kiddos love to help me out in the kitchen, and baking things together is not only a way for us to have fun together, but it is also a really good teaching opportunity for them. (Seriously! Think about the fractions used in all those measurements. There is math all around us, every day!) And the fruit of our efforts is always something delicious that we all enjoy.
So what could possibly be the downside to all that?
People, this is hard on a girl's waistline!! Somehow, the weight from baby #3 just isn't "melting off" like it did with the first two, and I have a sneaking suspicion these little afternoon baking projects might be partly to blame.
For now, though, I am going to ignore that completely, and I am going to urge you to do so, too, because this recipe I have to share with you today…
It. Is. So. Good.
There is absolutely no sweet treat more dear to my heart than a brownie. (The fudgy kind, thank you very much, and none of that cakey nonsense.) Last week during one of our afternoon bake-fests, I was thinking a pan of brownies was just what the doctor ordered, but while I was attempting to locate the recipe is my oh-so-organized disastrous recipe binder, I stumbled upon this recipe for blondies that Mama Reita (my mom) gave me just after Jack was born. I am not sure from whence it came originally, and I'm not really sure how close my version really is to the original since I couldn't read a couple of the smudged measurements (you have to love butter dribbles on a recipe card!), but I am absolutely certain of the fact that these, my friends, are simply divine. There is something truly magical that takes place when you marry the flavors of the brown sugar and butter at the beginning of the recipe, and the swirling in of the chocolate chips at the end is just icing on the decadent cake.
I never thought I'd be able to say this, but this is one treat that has almost surpassed my beloved brownies as the dessert most likely to accompany me to a deserted island if I could only choose just one.
Almost. 😉
(Almost) Nothin' Better Blondies
For those interested, scroll down for a printable pdf version of the recipe.
2 ¼ cups brown sugar
¾ cups (1 ½ sticks) unsalted butter
3 eggs
2 ¾ cups flour
2 ½ teaspoons baking powder
½ teaspoon salt
2 teaspoons vanilla
1/2 cup semi-sweet chocolate chips
1/2 cup chopped walnuts or pecans
Preheat oven to 350˚.
Place brown sugar and butter in a microwave-safe bowl. Microwave in one-minute intervals, stirring after each interval, until butter is melted and sugar is dissolved. Allow mixture to cool slightly. Stir in eggs.
Combine flour, baking powder and salt in a medium bowl; whisk to blend. Add flour mixture to butter mixture and stir to incorporate. Stir in vanilla and chocolate chips.
Spread mixture into greased 9"x13" pan. Using a butter knife, swirl the chocolate chips in your warm batter to create a marbled effect; sprinkle walnuts on top. Bake for 25-28 minutes, until center is set.
Enjoy!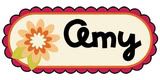 Having grown up in a home brimming with sewing notions and paintbrushes, Amy has a deep love for all things creative. On any given day, you'll find her knee-deep in her latest creative endeavor, with projects ranging from sewing and crafts to home decor and kid-friendly ideas. Amy believes that everyone, regardless of skill level or experience, possesses the ability to create something beautiful, and Positively Splendid was born of her passion for helping others harness their innate creative potential.