Ok. I know what many of y'all might be thinking when you read the title of this post.
Is she serious? Homemade laundry soap?
Isn't that a pain?
Aren't the ingredients hard to find?
Really, how much money could that save you in the long run?
And, perhaps most importantly,
Does the stuff really work?
I was skeptical, too. In fact, I purchased all of the ingredients to make my first batch last fall, but only just at the beginning of this year did I get around to making it. I had hang-ups about the amount of work it would entail and the overall quality of the fruit of my labor. After using this soap for a couple of months now, I can say without hesitation that of all of the harebrained home remedies I've tried, this has to be the one that surprised me the most. Not only is this process to make a batch incredibly easy, I was able to get my hands on the ingredients even in Small Town America, and the resulting soap costs only pennies to make. Pennies! And, this stuff really, truly WORKS! Case in point: I had a blood-stained shirt I forgot to stain treat before throwing it in the wash (the result of a spill Charlotte took during a recent walk to the library), and I was absolutely floored to discovered that the stain was completely removed even without the help of my beloved OxyClean. Suffice it to say, that little incident alone was enough to sell me on this stuff!
Ok. Sales pitch over. On to the nitty gritty of how to make a batch of your own!
You'll need:
1/4 bar Ivory soap*
1/3 cup Borax
1/3 cup Washing Soda**
Water
A big bucket or plastic storage bin to mix your soap in
Storage containers of your preference (see my note below)
Funnel (optional)
Grate your soap. I use my food processor to make quick work of it, but a box grater would do just fine. In a medium sauce pan, combine the grated soap and 4 cups water. Place over medium-high heat, stirring until soap is completely melted. To the pan, add Borax and the washing soda, stirring until all ingredients have dissolved completely and mixture is a whitish color. Pour the soap mixture into your plastic bucket. To this, add 1 gallon plus 6 cups of water, stirring thoroughly to combine. If desired, use a funnel to pour into the containers of your choosing.
Use about 1/2 cup per load.
*Many of the recipes I have found call for other, more obscure types of laundry-specific soap (Fels Naptha being one that comes to mind), but in doing this I wanted to avoid having to special-order any ingredients. The key here is to use a variety of soap that is as pure as possible, NOT greasy, and sans additives that boast "skin-moisturizing" qualities. The good news? The soaps that fit this bill tend to be very inexpensive!)
**This is not baking soda. I found mine at Kroger, where the stain-removing products are located.
A few more notes:
This soap will not produce suds like you are used to seeing with commercial laundry detergents. Rest assured, it is not the bubbles that clean you garments, so their absence shouldn't be any cause for concern.
This mixture will form a fairly liquidy gel, very unlike the homogenous type you are used to in standard laundry detergents. Again, this shouldn't be any cause for concern.
I have tried a couple of storage options, and I am actually finding myself gravitating toward storing the prepared detergent in a 20-quart plastic storage bin with lid rather than in the vinegar bottles I used initially (and which are shown in the photos above). Even though the bin takes up more space in my laundry room, I find it much easier to re-stir the soap as needed with my measuring scoop rather than attempting to shake and then pour from those heavy bottles. (The gel tends to separate a bit after it sits for a while.) But that is just a matter of personal preference, and you can find a storage system that works for you.
I probably do an average of 3 loads of laundry a day to keep up with the clothing/towel/etc. demands of my family of five, and the last batch I made using these measurements lasted me just shy of a month. Not bad, huh?
Please let me know if you have any questions at all. I am by no means an expert in this arena, but I will try to help you in any way I can!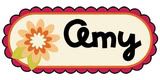 Having grown up in a home brimming with sewing notions and paintbrushes, Amy has a deep love for all things creative. On any given day, you'll find her knee-deep in her latest creative endeavor, with projects ranging from sewing and crafts to home decor and kid-friendly ideas. Amy believes that everyone, regardless of skill level or experience, possesses the ability to create something beautiful, and Positively Splendid was born of her passion for helping others harness their innate creative potential.