One thing I always love looking back on are the lists my children come up with for Santa each year. It still brings a smile to my face to remember my oldest son's 3-year-old list, which included a monster, a car and a bug. By creating a Christmas List Photo Ornament, you can create a memento to recall sweet memories like these each and every time your trim your Christmas tree!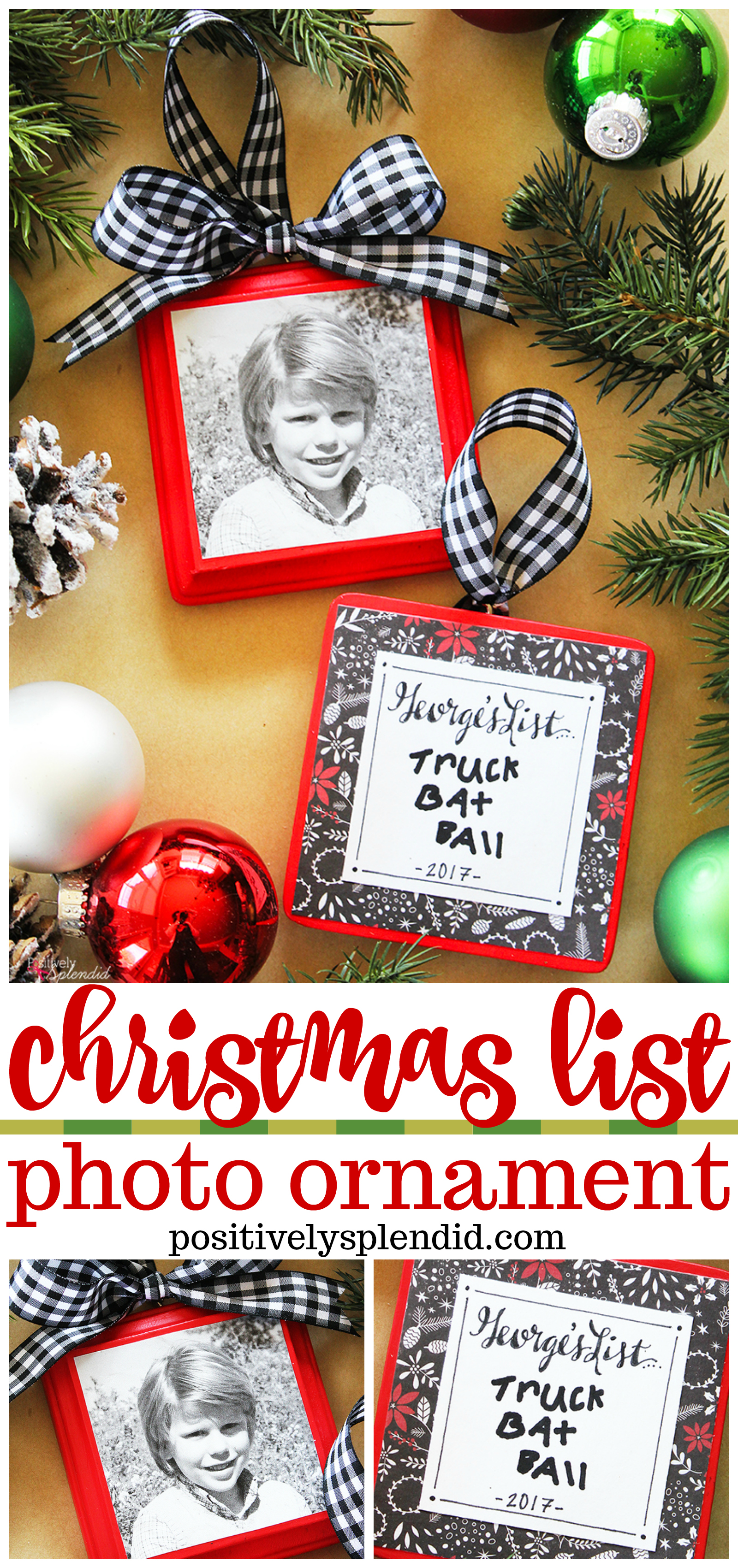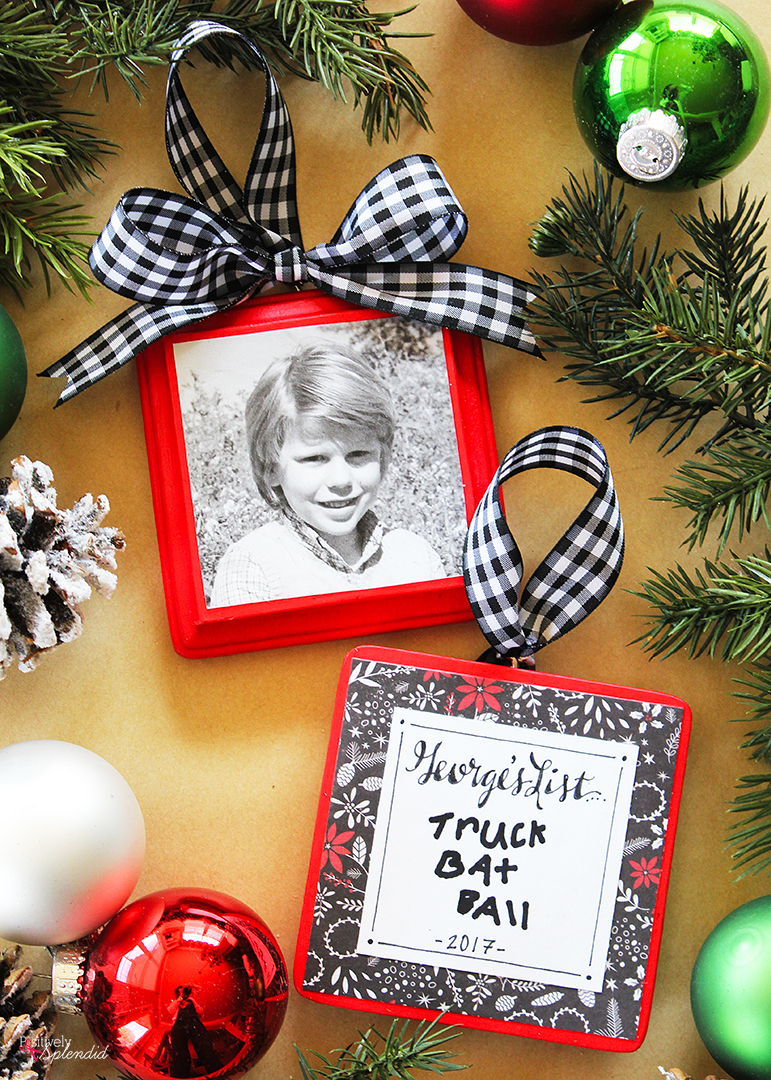 This post is sponsored by Plaid. All opinions are entirely my own.
Christmas List Photo Ornament Supplies:
---
4″ wood plaque
FolkArt Multi-Surface Craft Paint: color used here is Apple Red
Paint Brushes
FolkArt Clearcote Acrylic Sealer
Printed photo
Mod Podge 2-in-1 Smoothing Tool
Child's handwritten Christmas list (done in permanent marker)
Mod Podge Ultra Matte
Eye screw
Ribbon
Decorative paper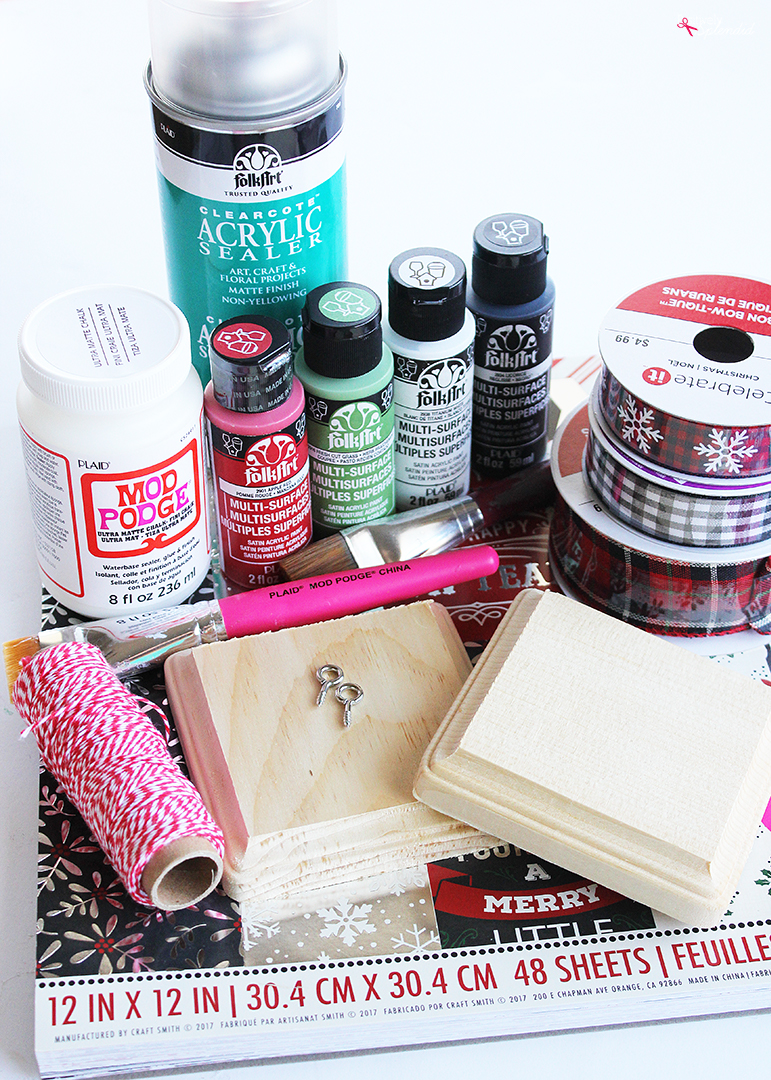 Use the paint brush to apply 2 even coats of paint to the front and back sides of the wood plaque, allowing 10 minutes of drying time between coats. Allow the piece to dry completely.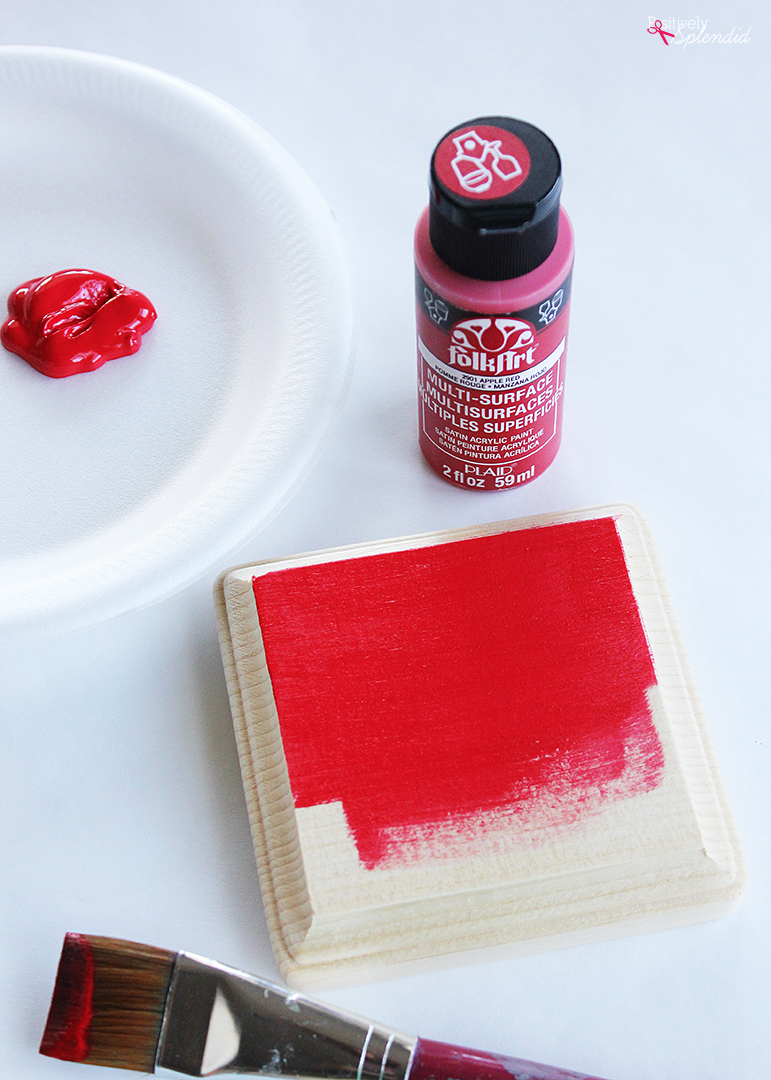 Because I opted to print my photos at home with my inkjet printer, I opted to seal my photos before applying the Mod Podge to prevent bleeding. (If your photo is printed with a laser printer, you can skip this step and move on to the next.) This was a tip I learned at Plaid Headquarters this summer, and it works like a charm! Simply apply an even coat of the
FolkArt Clearcote Acrylic Sealer to the printed photo, and allow to dry to the touch.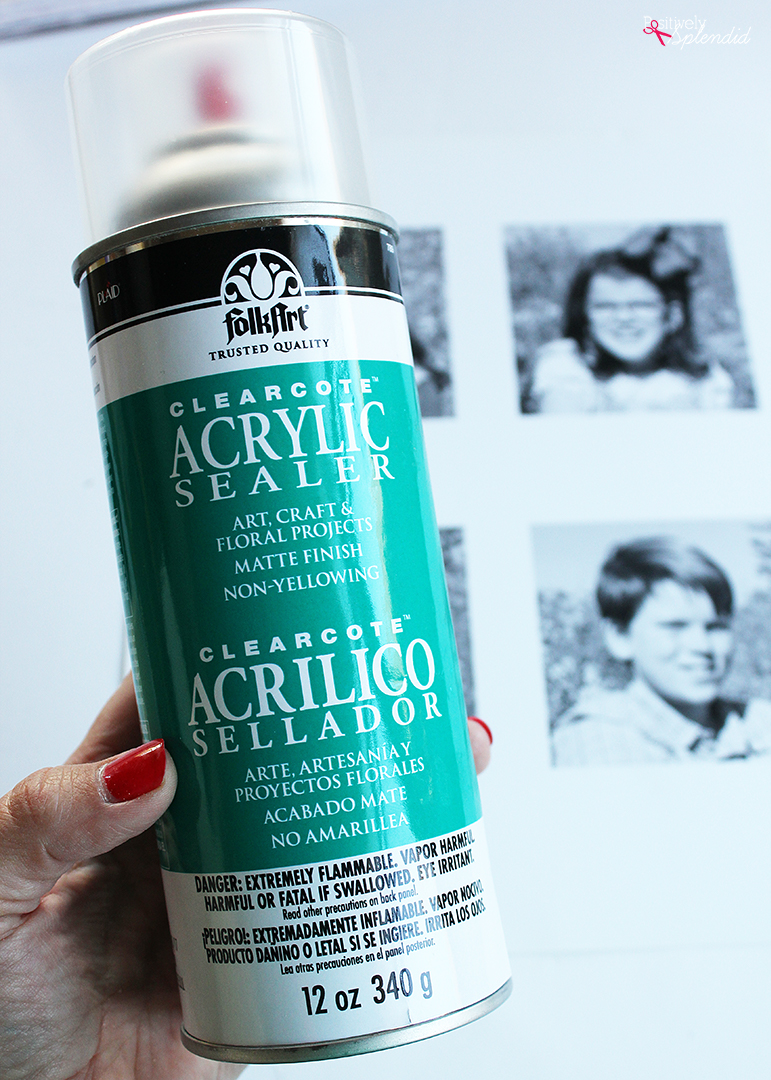 Trim the photo to a 3″ square. Apply a thin layer of the Mod Podge Ultra Matte to the front of the plaque, as well as another thin layer to the back of the photo itself. Applying the Mod Podge to both surfaces helps you get the smoothest possible result.
As an aside, I have to mention that I am completely, totally OBSESSED with the Mod Podge Ultra Matte formula, y'all. This formula allows you to adhere like you would with other Mod Podge products, but the Mod Podge finish is absolutely INVISIBLE in the finished project. So professional looking!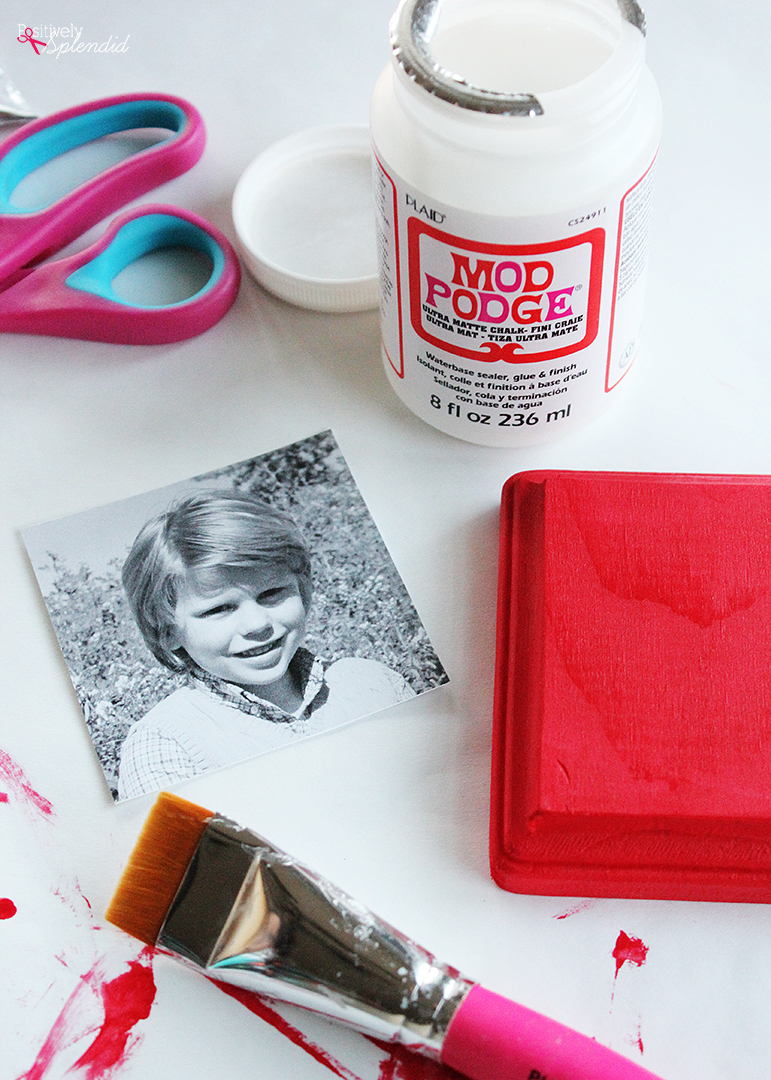 Carefully center the photo onto the plaque, smoothing out any bubbles with your fingers before using the 2-in-1 smoothing tool's roller side to roll over the piece to ensure it is evenly affixed at the center and along the edges. Apply another even layer of the Mod Podge Ultra Matte over the entire surface of the front side of the plaque directly over the photo. Allow to dry completely.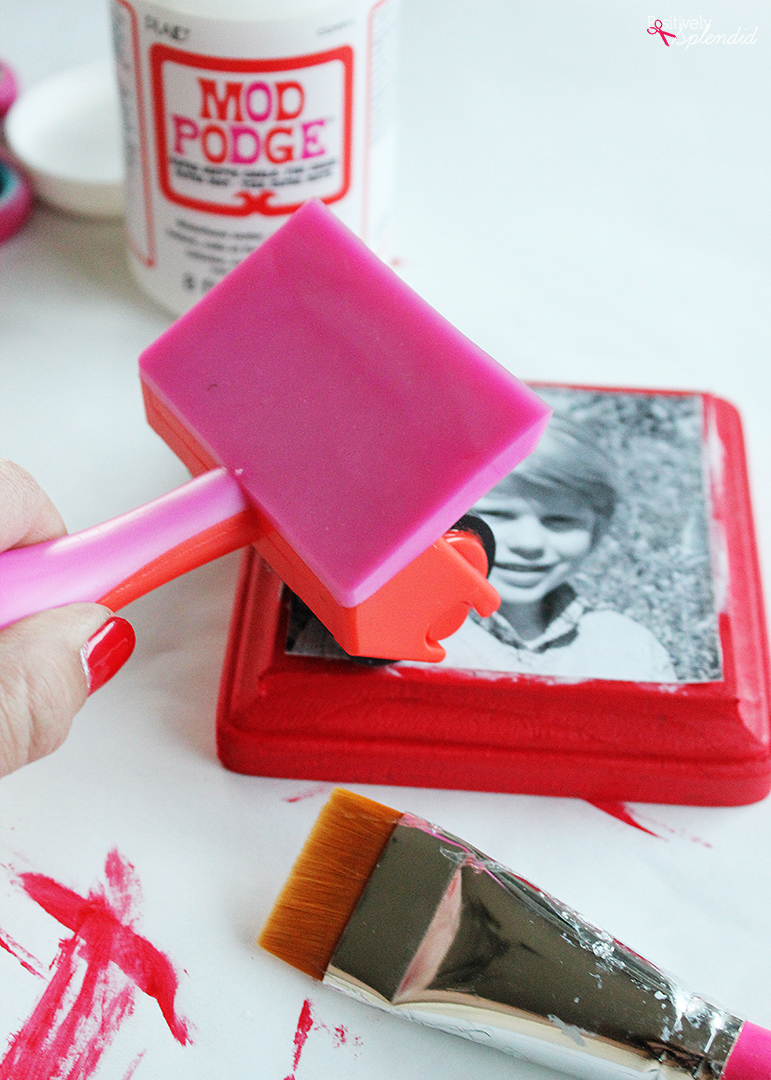 Trim a 3.75″ square decorative paper piece. Apply this piece on the center of the back side of the plaque by applying a thin layer of Mod Podge to the back side of the plaque and the back side of the paper piece, and then centering onto the wood piece and smoothing out as you did the photo in the previous step. Trim the child's list down to a 2.75″ square and affix it with Mod Podge centered directly on top of the decorative paper. Apply an even coat of Mod Podge over the entire surface of the back side of the plaque, and allow to dry completely.
Note: Because the front and back are almost entirely covered with the photo and decorative paper, you can choose to leave the center of the front and back of the plaque unpainted if you prefer, as you can see I did below.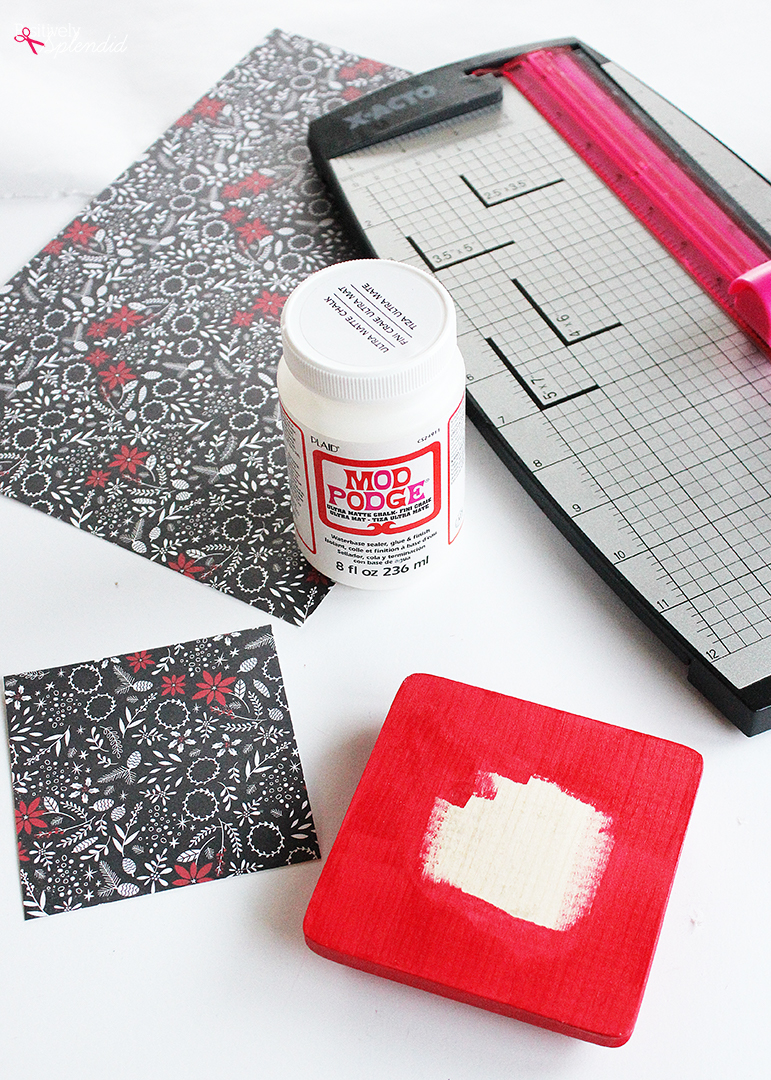 Insert an eye screw into the top of the plaque, as shown.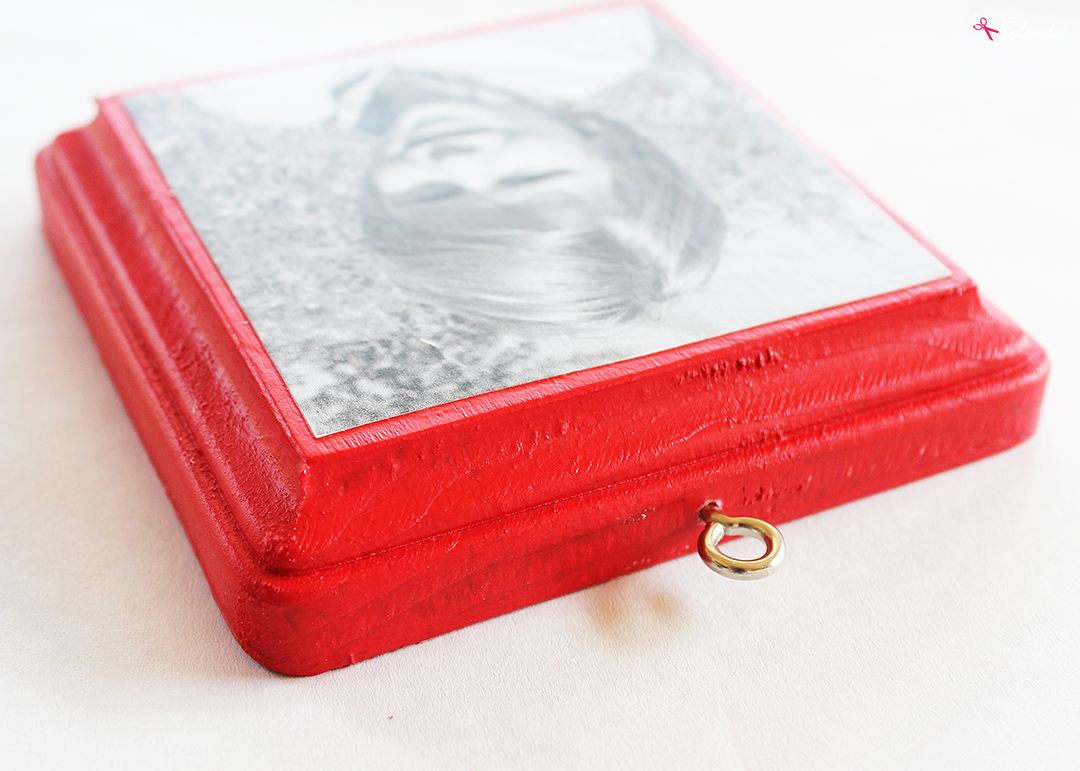 Loop a piece of ribbon through the hook and tie with a bow for hanging.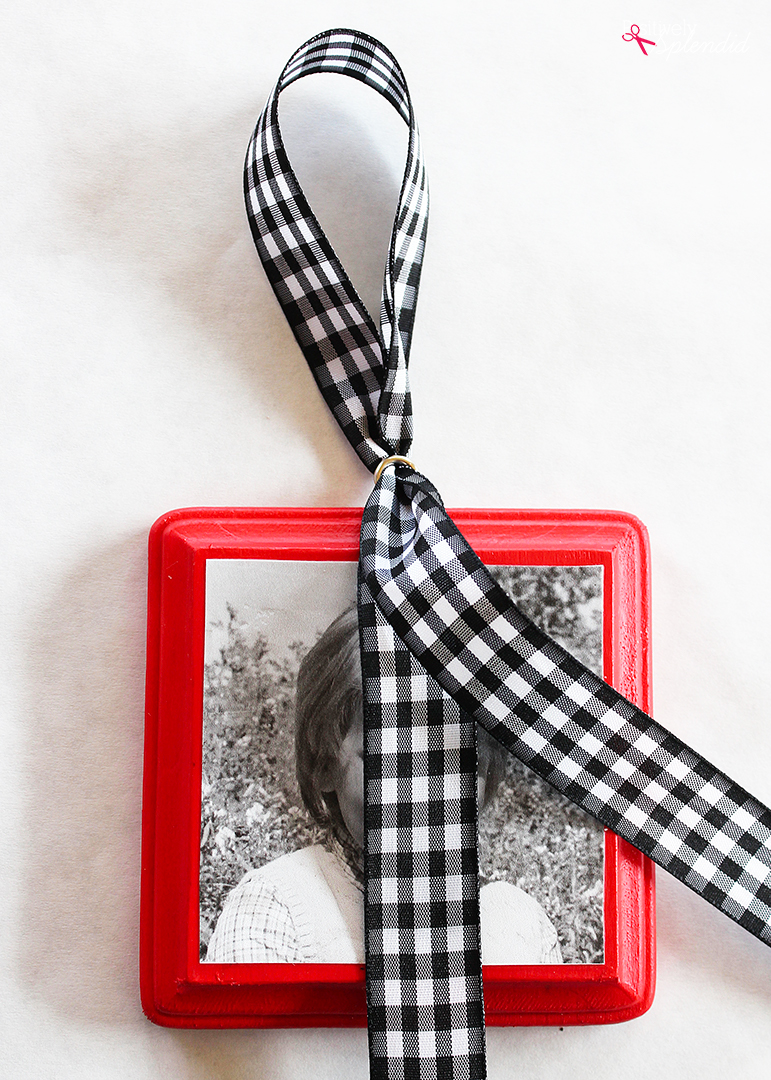 Watch me make this project below!
I love that this Christmas list photo ornament not only documents a child's wish lists for Santa, but it also includes a photo and the year to remember exactly what the child was like at the point in time the list was written!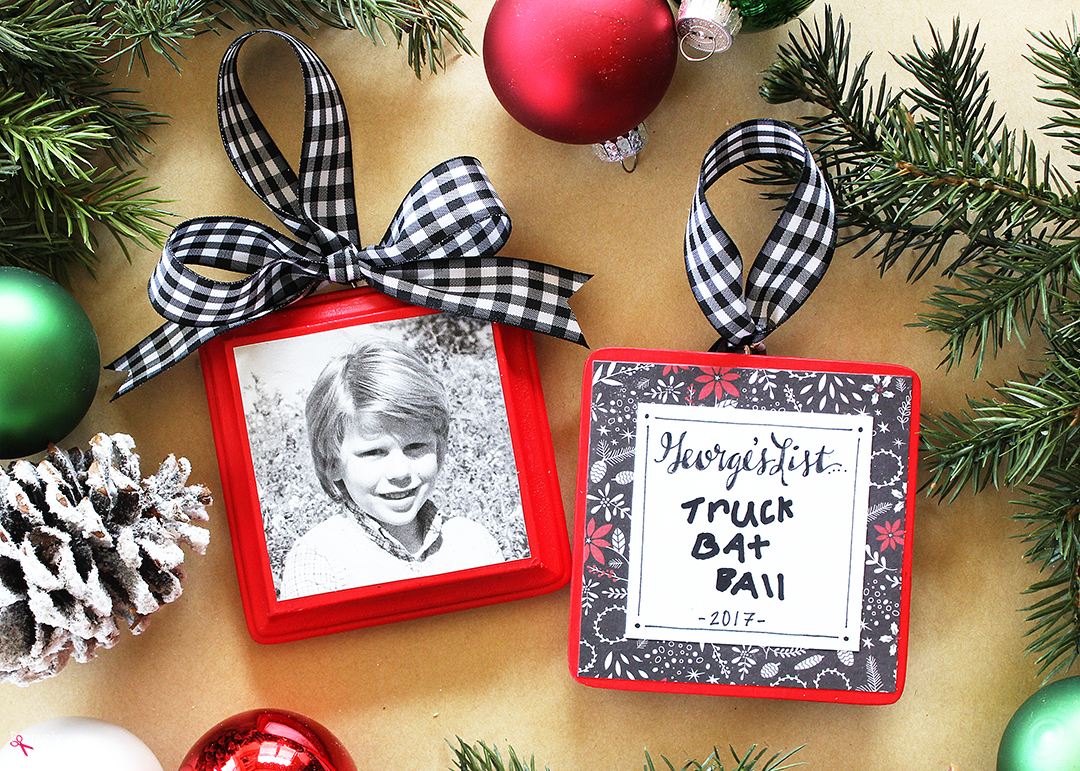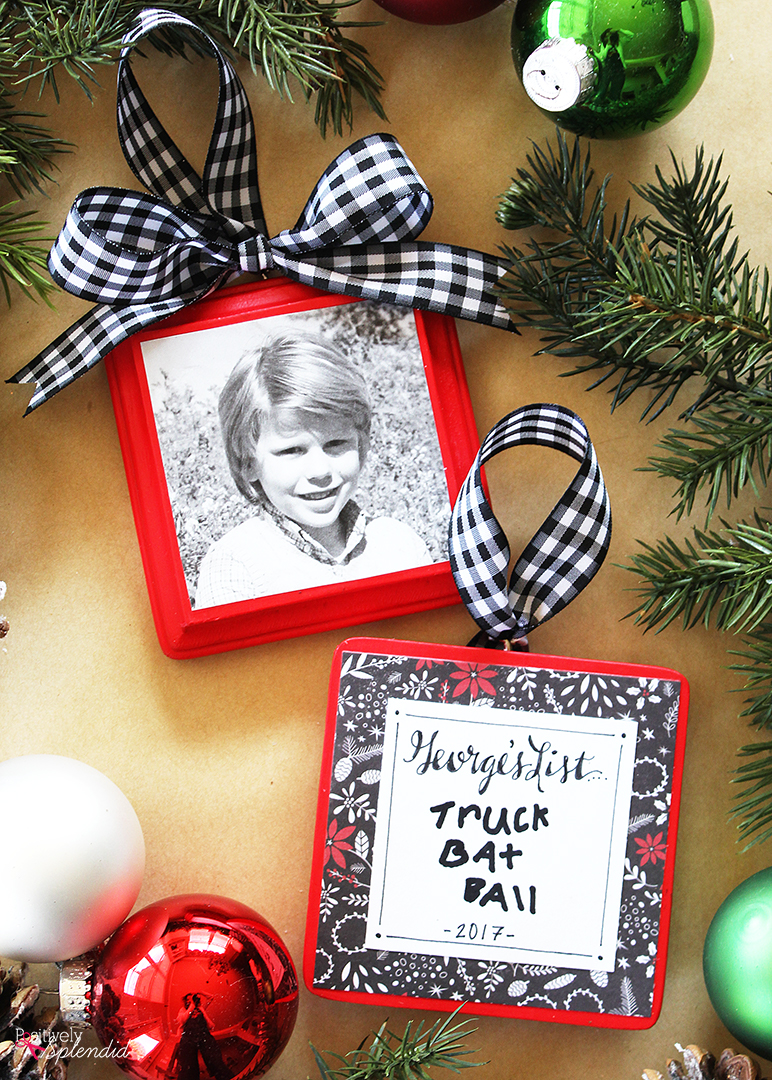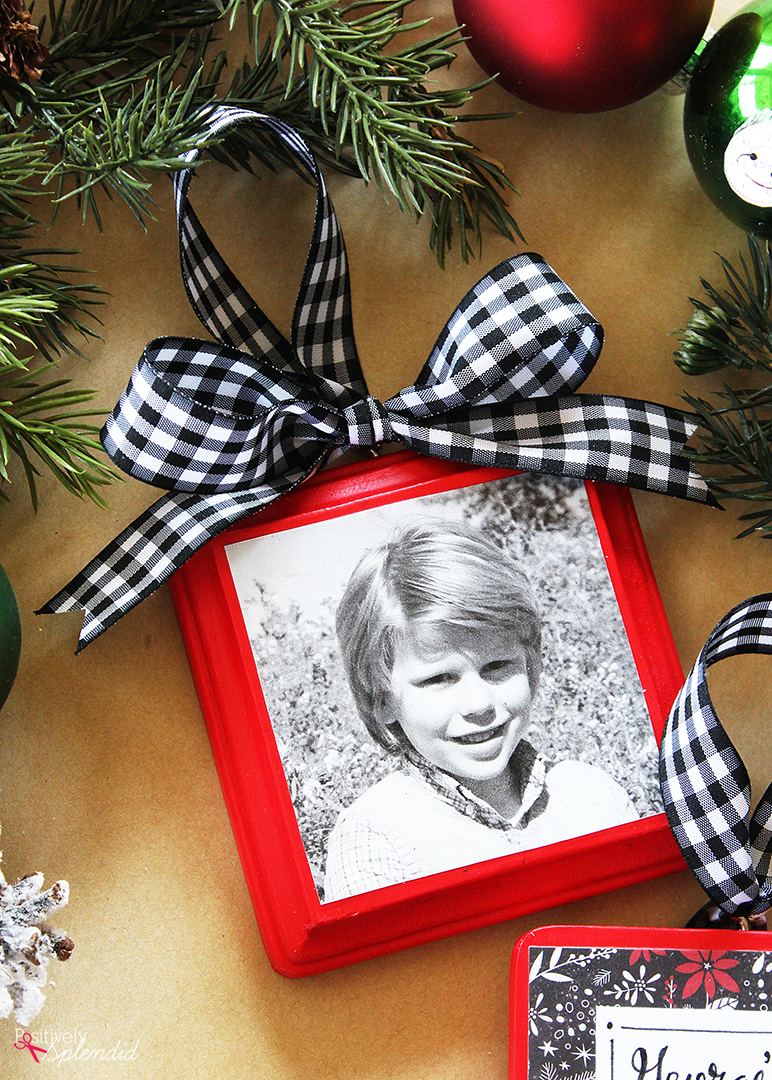 Truly, is there anything more precious than a child's sweet handwriting?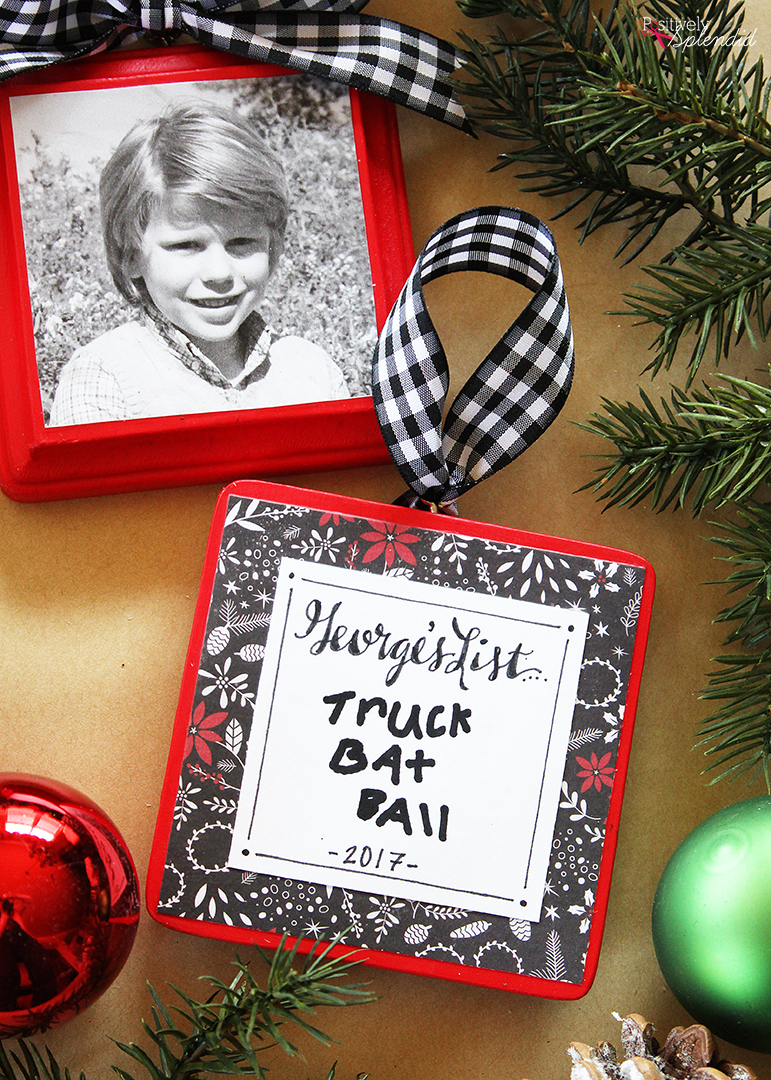 Plaid is offering 25% off of all orders of $25 or more on their site between now and December 31, 2017. Just use the code Positively to take advantage! This is such a great deal for kickstarting your holiday crafting season!
Giveaway time!!
---
Win a $200 gift card from Plaid Online to purchase supplies for all of your holiday craft projects! Woohoo!
Entries will be collected in the Rafflecopter widget below. Come back daily to increase your odds of winning!
And for more great holiday crafting inspiration, check out the ideas from my friends below!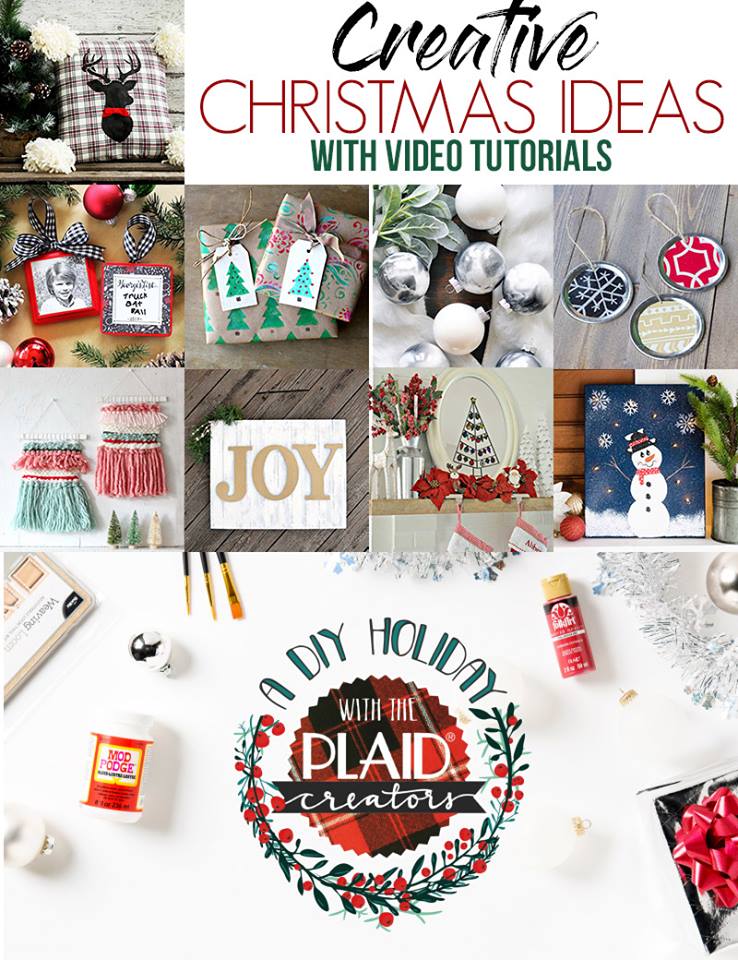 Having grown up in a home brimming with sewing notions and paintbrushes, Amy has a deep love for all things creative. On any given day, you'll find her knee-deep in her latest creative endeavor, with projects ranging from sewing and crafts to home decor and kid-friendly ideas. Amy believes that everyone, regardless of skill level or experience, possesses the ability to create something beautiful, and Positively Splendid was born of her passion for helping others harness their innate creative potential.