Always be prepared with this handmade portable first aid kit! Continue reading for this DIY tutorial for how to sew a small first aid kit to take on the go.
As a mom, I always try to be as prepared as possible for unexpected injuries and boo-boos, and I like to have a portable first aid kit to take with me on family outings. I can't begin to count how many times my small kit of first aid supplies has come in handy over the years! This easy first aid kit sewing tutorial is a great sewing project no matter your level of sewing experience, and it is a great project to use up fabric scraps from your stash.
I am always on the hunt for unique gift ideas for family members, teachers, friends, and more. This first aid kit roll is the perfect combination of function and style, as essential first aid supplies are stowed away in an attractive fabric organizer, complete with a pretty bow. Tucked in a glove box, brief case, diaper bag or gym bag, this is one gift that is sure to come in handy!
To make this portable first aid kit, you will need…
---
Fabric in two coordinating patterns
Light-weight fusible interfacing
Coordinating thread
Washable ink marker
Ruler
Ribbon
Basic sewing supplies: machine, shears, etc. (Check out my list of must-have sewing tools)
Rotary cutter and mat (optional, but recommended)
First aid supplies (see below for details on where I purchased all of the supplies for my kit)
List contains affiliate links
To begin, make your cuts:
1 outer piece, 1 main inner piece and 1 piece of interfacing that are each 6×11″
1 pocket piece that is 13×11″
2 pieces of ribbon that are 16-18″
Place your pocket piece face down on your work surface. Fold up one of the short edges 2.5″; press.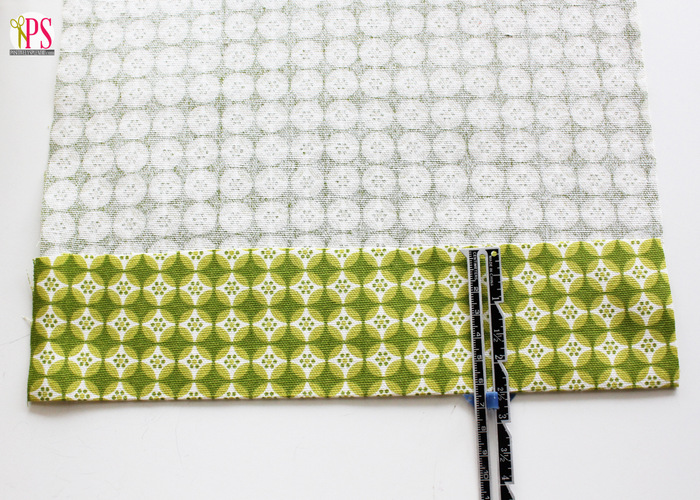 Fold up the opposite edge 4″; press. (The raw edges of each folded section should just meet.)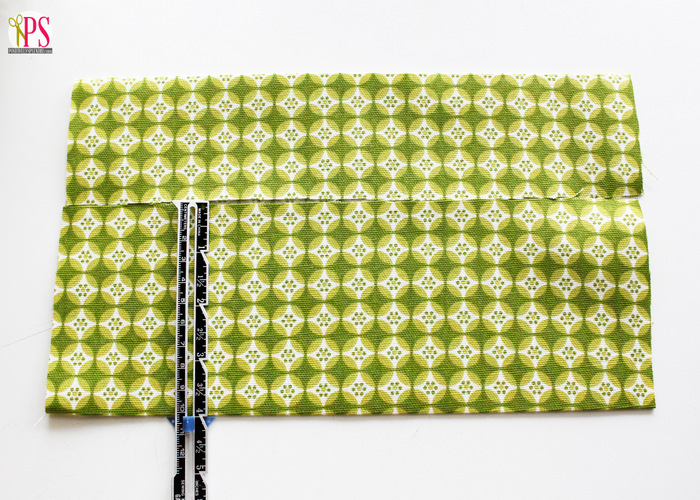 Now, fold the 2.5″ section up and over the 4″ section, as shown. Press. It's looking like we've got the makings of a pocket!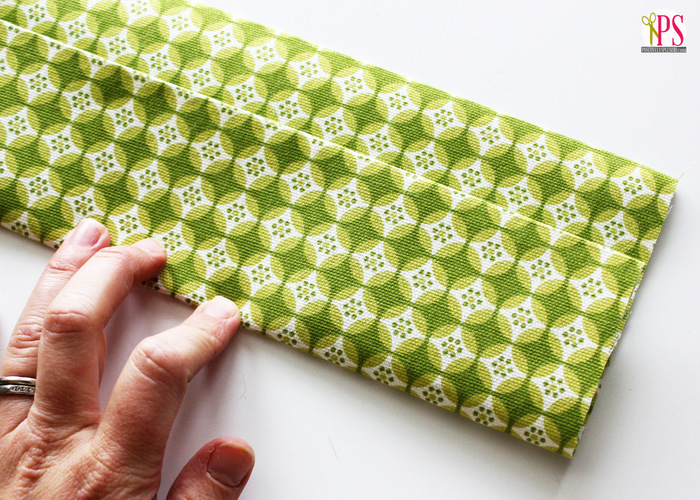 Grab your washable ink marker, and make a set of marks 2″ from the left edge of the narrow (2.5″) section of your pocket. Position the marks so that one is toward the top of the section and the other is closer to the bottom, as shown.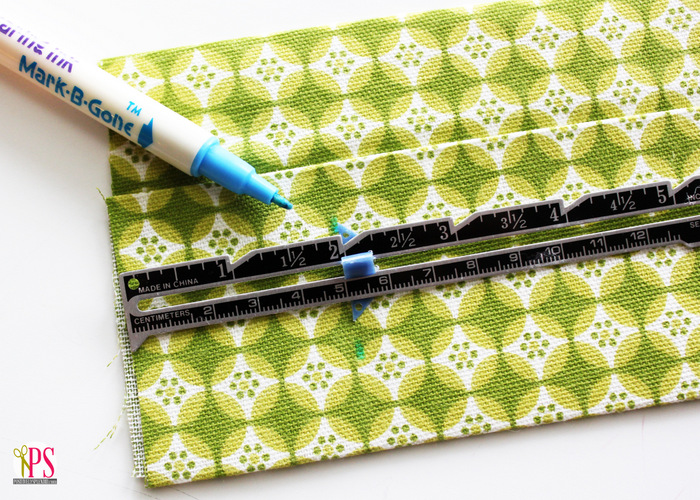 Make another set of marks 1.75″ from the first set. Make 4 additional sets of marks in the same manner, leaving 1.75″ between each set. There should be 2″ between the last set of marks and the right-hand side of your pocket piece.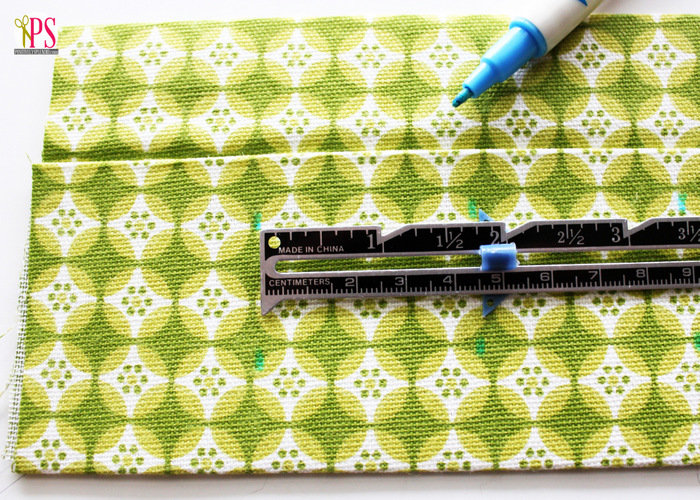 Use your ruler to draw lines to connect each pair of marks. You will have 5 lines total, which will divide your pocket piece into 6 sections.
Now, use your ruler to lengthen the 2nd and 4th marks so that they extend onto the wider flap of your pocket piece, as well.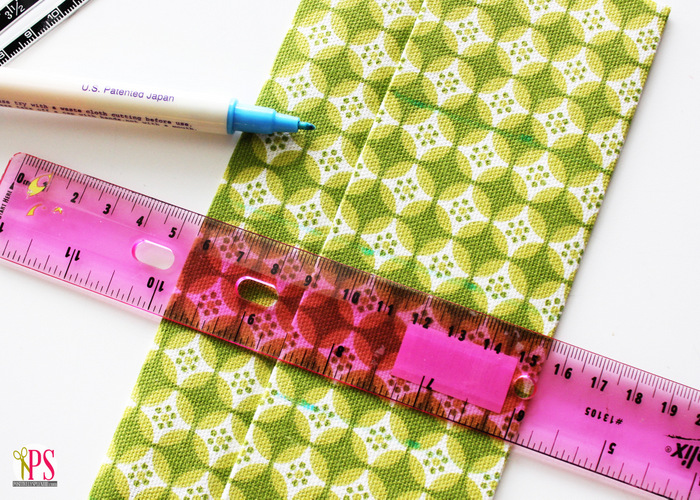 Open up your pocket piece. Edge stitch along both of the folded edges.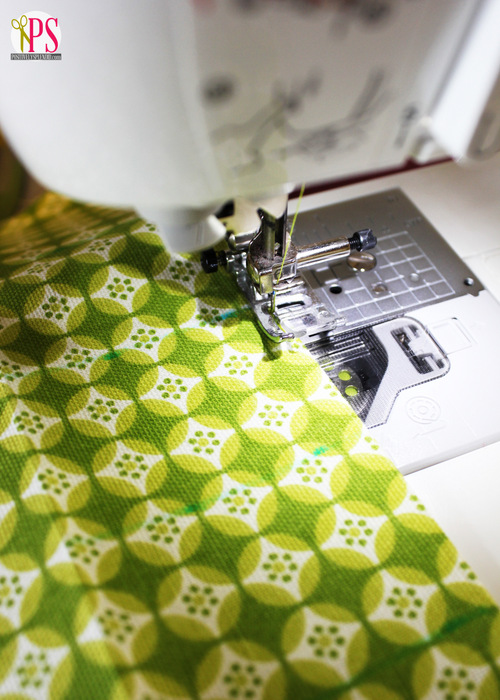 Refold the pocket piece so that the narrow flap is once again on top of the wider flap. Stitch down the 1st, 3rd and 5th lines from the top to the bottom of the narrow flap, using the lines you drew earlier as your guide.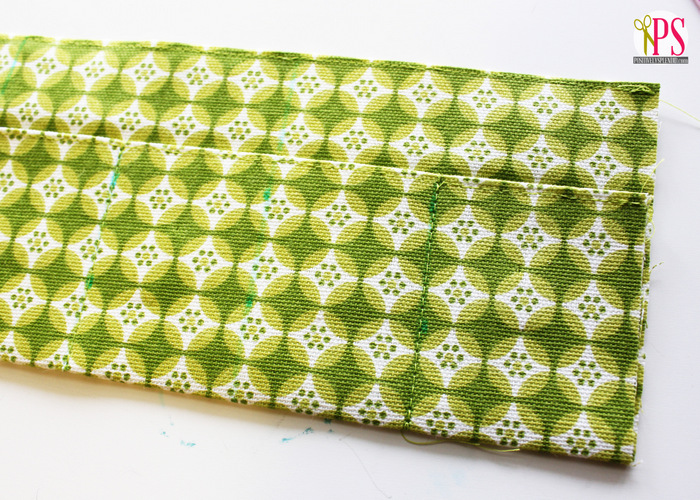 Place the main inner piece face up on your work surface. Position your pocket piece on top of the main inner piece so that the bottom edge of the pocket piece is 1/2″ from the lower edge of the main inner piece. Pin. Edgestitch along the lower edge of the pocket piece to secure it to the main inner piece.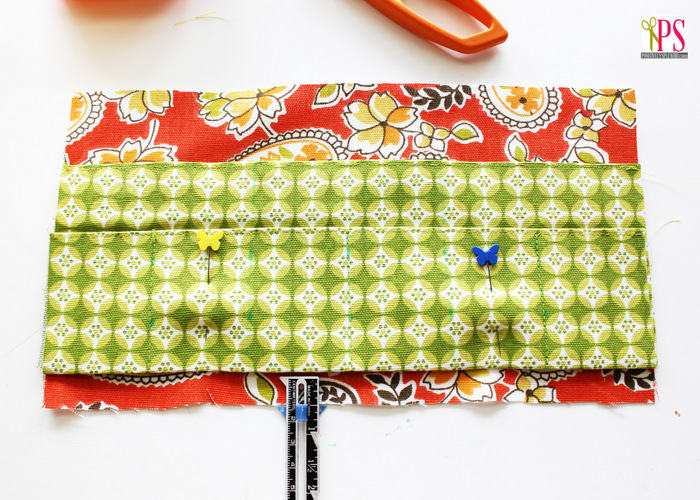 Now, stitch along the 2nd and 4th lines on your pocket piece, from the very top of the pocket (including the wider flap portion) to the very bottom, as shown.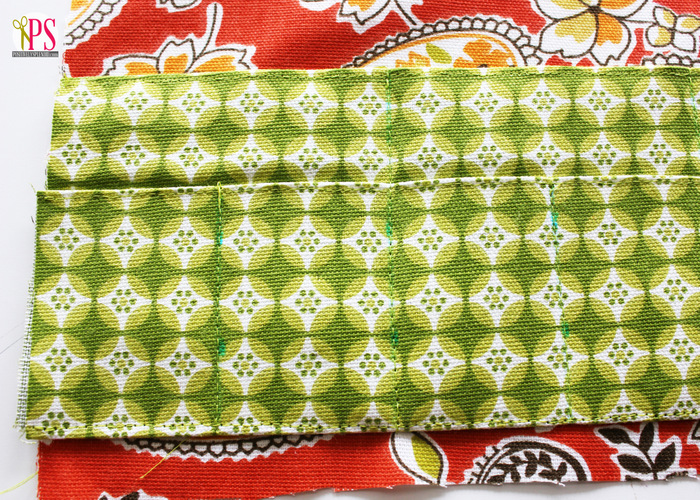 Stack your ribbon pieces, right sides facing, and pin them to the right edge of your inner piece. Baste 1/8″ from the edge to anchor them in place. Pin the tails of your ribbon pieces at the center of the piece, as shown, to keep them out of the way in the next step.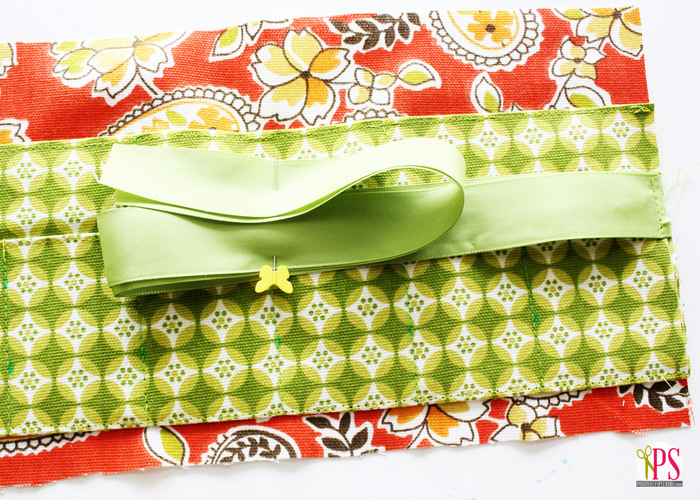 Fuse the interfacing to the wrong side of your outer piece.
Place the inside piece face up on your work surface. Place the outside piece face down on top of the inside piece, so that the right sides of each are facing. Pin.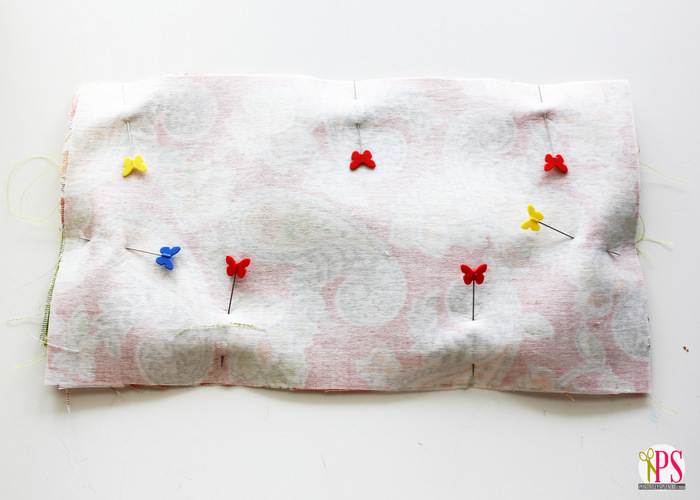 Using a 1/4″ seam allowance, stitch around the perimeter of the joined pieces, leaving a 3″ opening at the bottom for turning. Snip corners and turn. Helpful hint: Remove the pin anchoring your ribbon strands and gently pull the ribbon through the opening to help you with this process.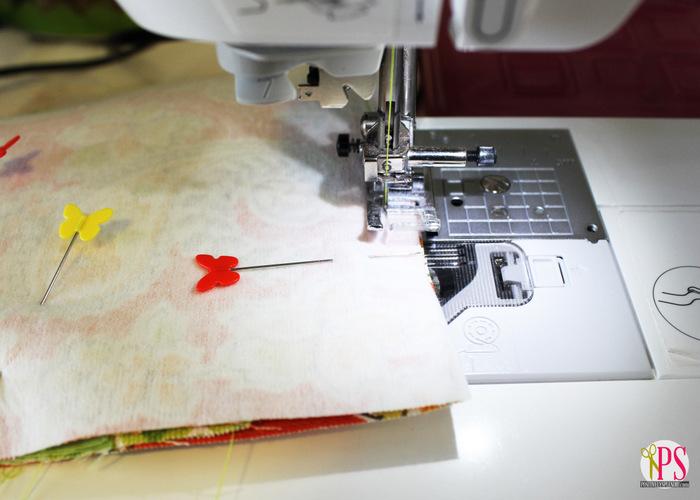 Press the assembled organizer flat before edgestitching around the perimeter of the piece, closing the 3″ opening you used for turning as you go.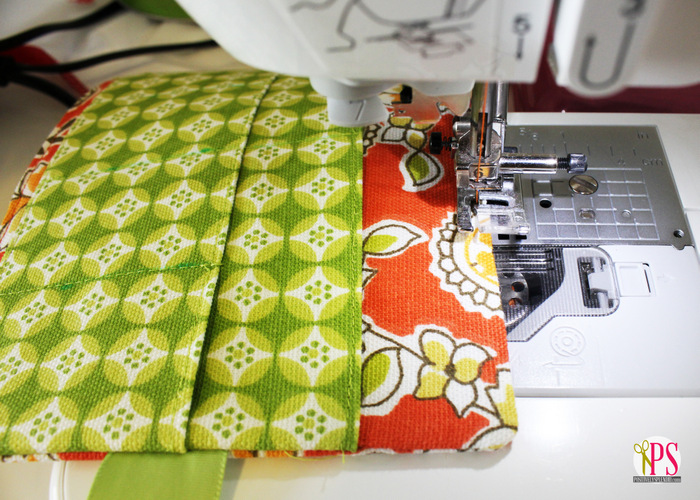 In no time at all, you've whipped up a portable first aid kit to take along anywhere!
The pretty, feminine appearance of this roll…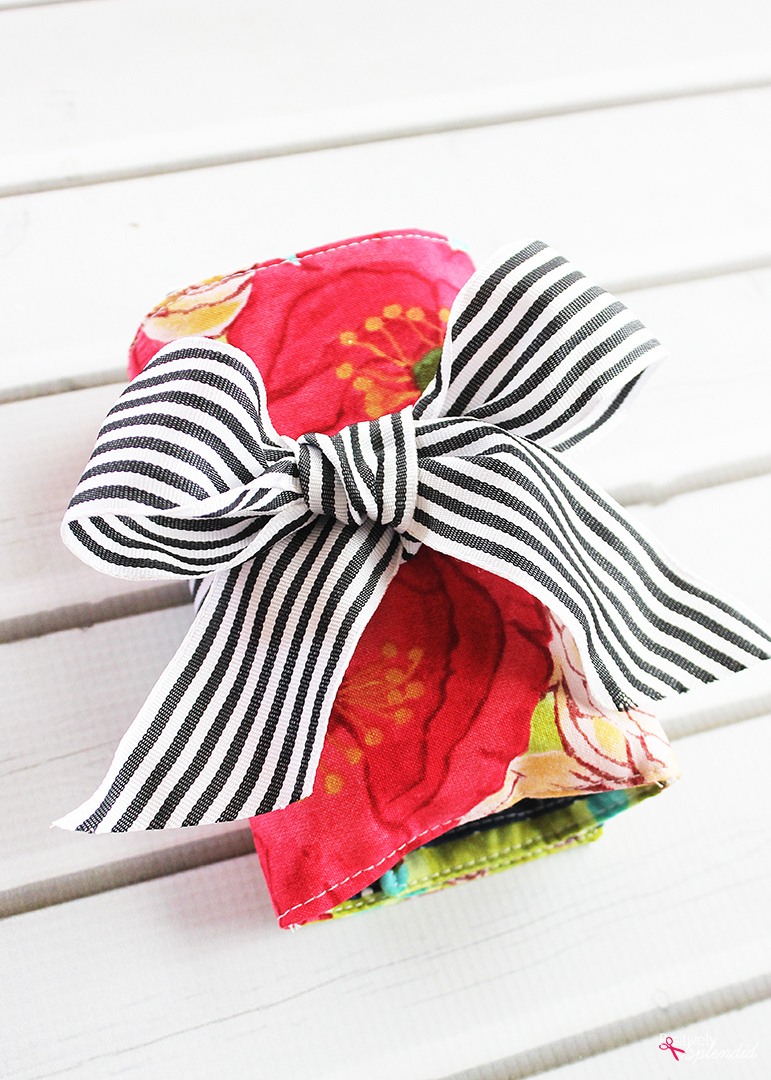 …belies the fact that it is a veritable first aid command center for on the go!
I filled my portable first aid kit with the following supplies:
Gauze squares, alcohol wipes, band-aids
Pocket-size Kleenex
Chapstick
Antibiotic ointment
Tweezers
A lollipop (Because anyone knows a lollipop can make even some of the worst boo-boos feel better.) 😉
Of course, you could also fill the kit with any of your other essentials like Motrin/Tylenol, allergy medicine, etc. There is ample space to work with!
Hint: Wanting to make a more masculine version of this kit for a man in your life? Use leather cording, found in the jewelry section of most craft stores, instead of the ribbon. A portable first aid kit would be great tucked in a golf bag!
Please remember that all of my patterns, including this portable first aid kit, are for personal, non-commercial use only. You may not use this pattern to make items to sell, but you can feel free to use it to make as many gifts or kits for personal use as you like. Thank you!
Having grown up in a home brimming with sewing notions and paintbrushes, Amy has a deep love for all things creative. On any given day, you'll find her knee-deep in her latest creative endeavor, with projects ranging from sewing and crafts to home decor and kid-friendly ideas. Amy believes that everyone, regardless of skill level or experience, possesses the ability to create something beautiful, and Positively Splendid was born of her passion for helping others harness their innate creative potential.