Spruce up your holiday decor with this adorable candy cane rag wreath! Rag wreaths are so easy and fun to make with fabric scraps you might already have on hand. This tied fabric wreath is made with red and white fabric and then embellished with cute candy cane-themed accents. Continue reading to learn how to make this project to decorate your own home this holiday season!
This post contains affiliate links.
Candy Cane Rag Wreath Supplies
---
Red fabric, approximately 1/2 yard (I used a red polka dot quilting cotton)
White fabric, approximately 1/2 yard (I used a white cotton duck cloth)
Decorative accents: signs, ornaments, etc.
Candy Cane Rag Wreath Instructions
---
Cut each color of fabric into 9×1″ strips.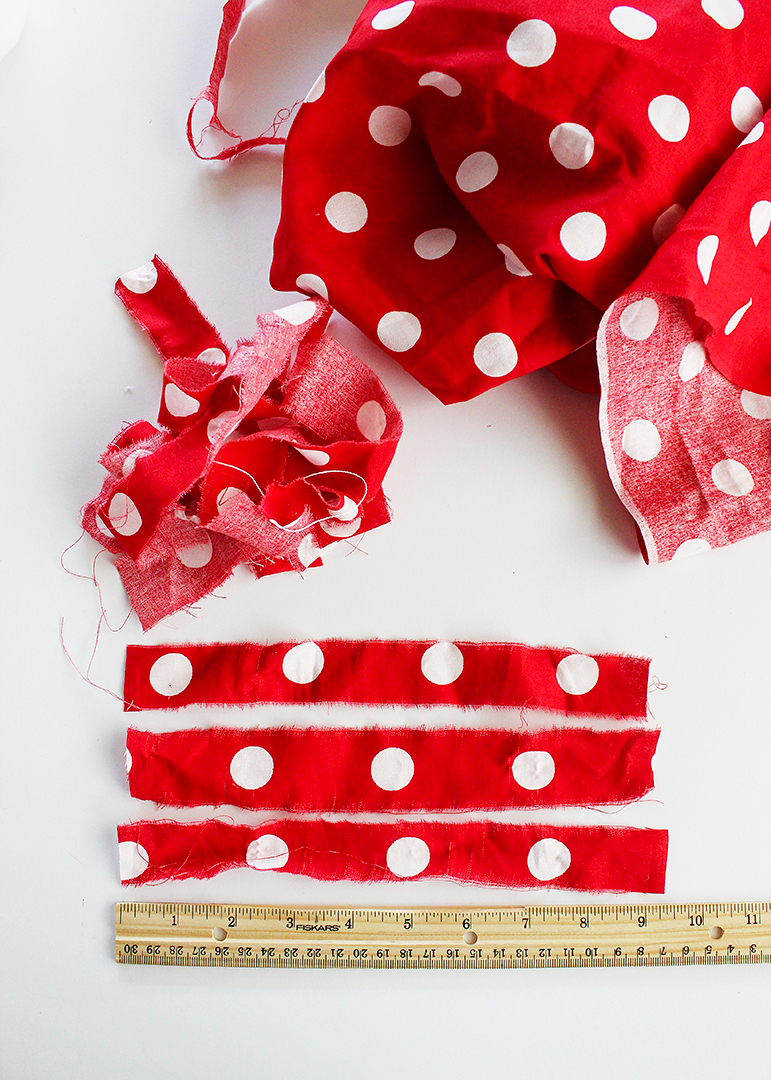 Helpful Hint: For my 12″ wreath, I created a total of 5 sections of each of the red polka-dotted fabric and the white fabric, with each of those sections containing a total of 15 tied strips. So, I cut 75 strips of red fabric, and 75 strips of white fabric.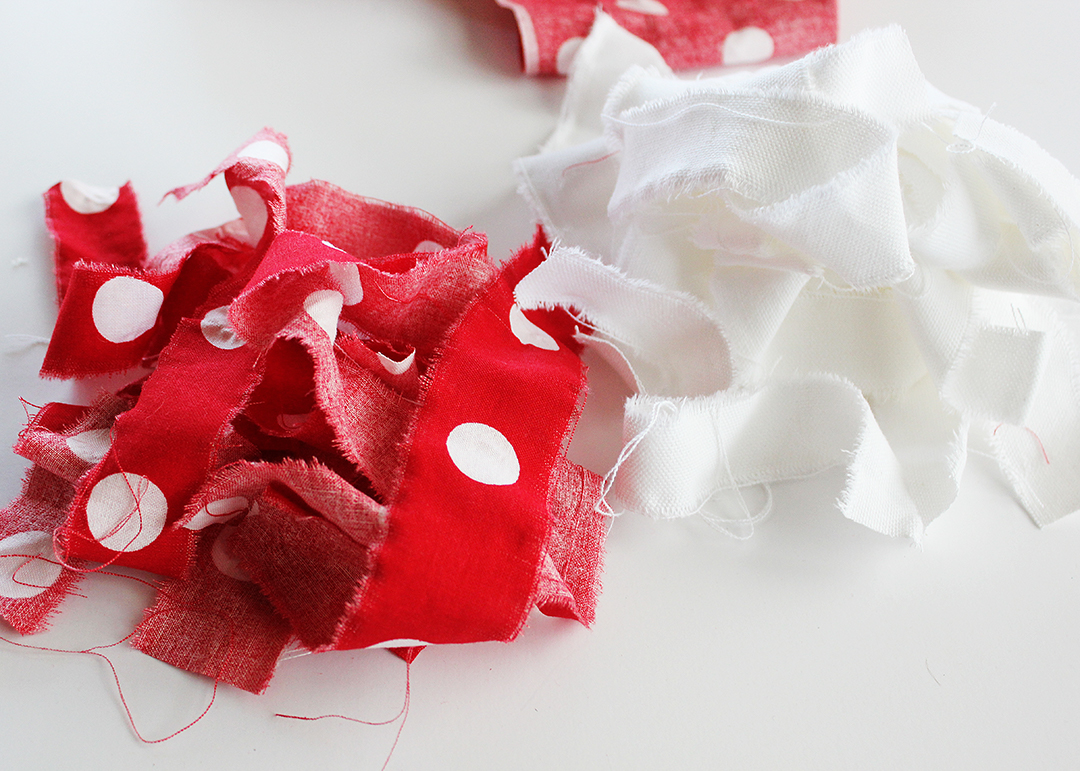 Starting with the red fabric, take one of the fabric strips and tie it in a knot around the two innermost rings of the wreath frame, as seen below.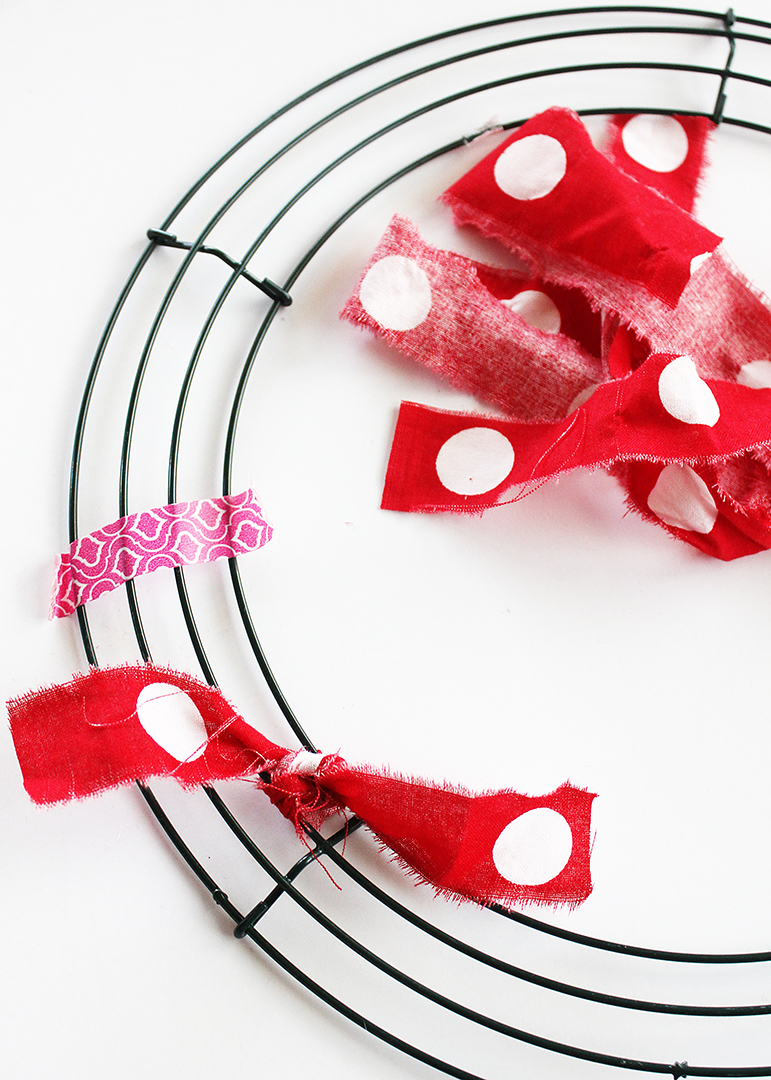 Tie another of the red fabric strips in a knot around the two outermost rings of the frame.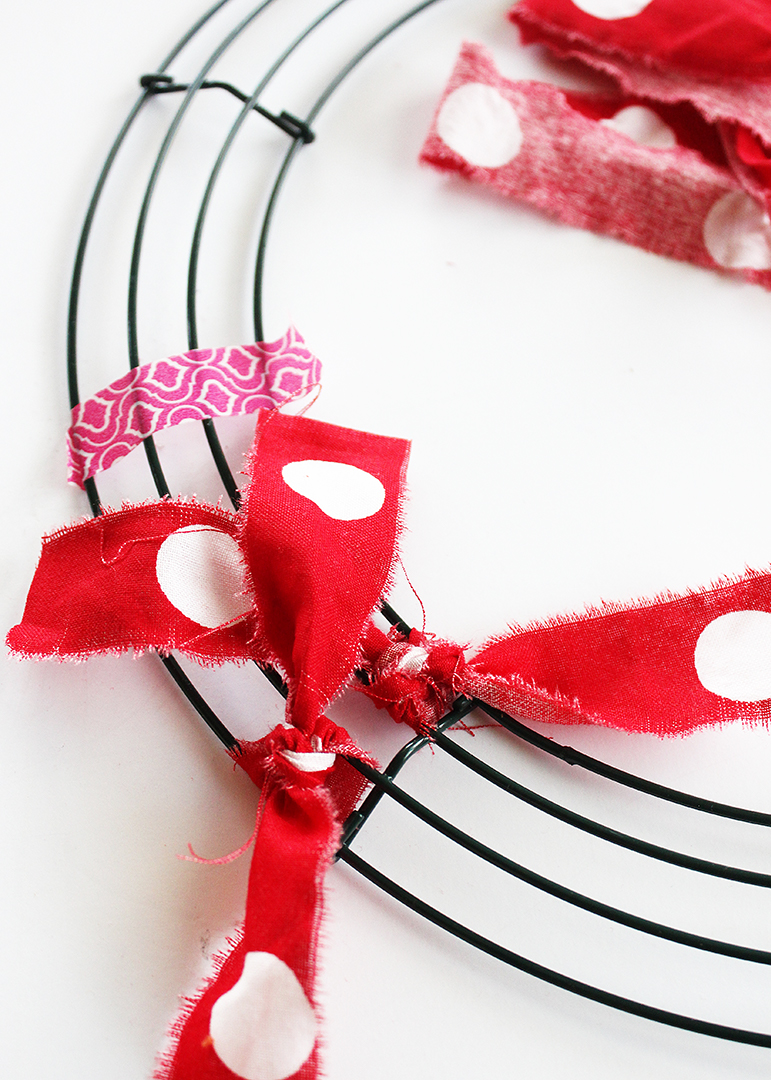 Now, tie another of the red fabric strips in a knot around the two innermost rings of the wreath frame.
Pro Tip: You might find it helpful to mark the point where you want to begin the bordering white section of tied strips with a small strip of washi tape to help serve as a reminder to switch colors midway through each section.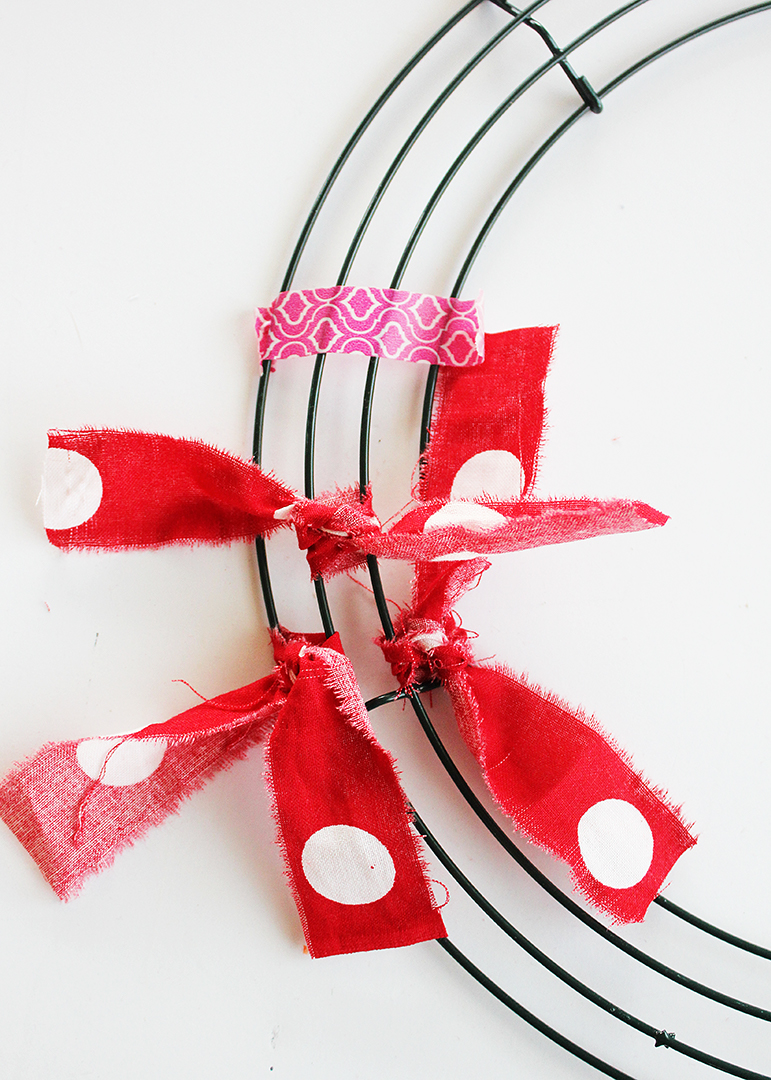 Below is what the back side of the wreath should look like after you gave tied on a few strips.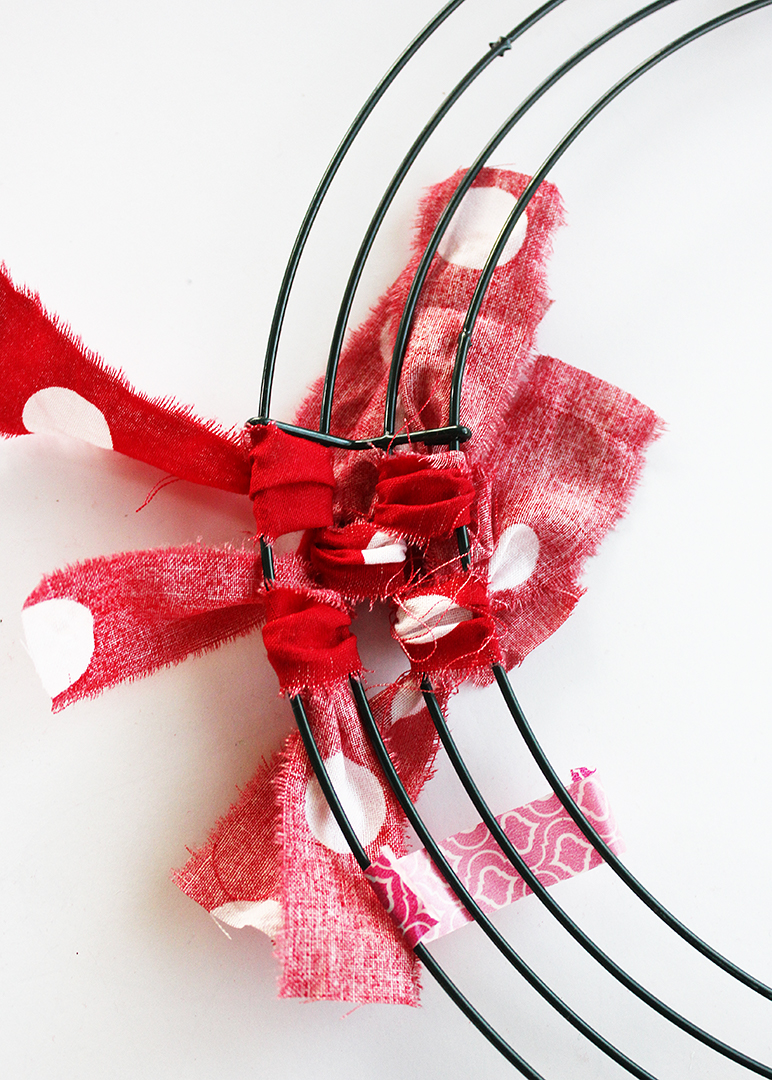 Continue tying on red fabric strips in this pattern (around the inner rings, around the outer rings, around the center rings) until you have tied on a total of 15 red strips. (Note that if you are using a larger wreath frame than 12″, you will need to tie on more strips of each color per section.) Then, tie on a section of white strips to border the red section using the same pattern. Continue in this same manner, alternating red and white sections, until you have covered the entire wreath frame with the fabric strips.
When you are done tying the strips onto the wreath, embellish your rag wreath as desired with decorative elements by affixing them to the wreath with hot glue. I found a sign and some miniature ball ornaments at Hobby Lobby that were perfect for my candy cane theme!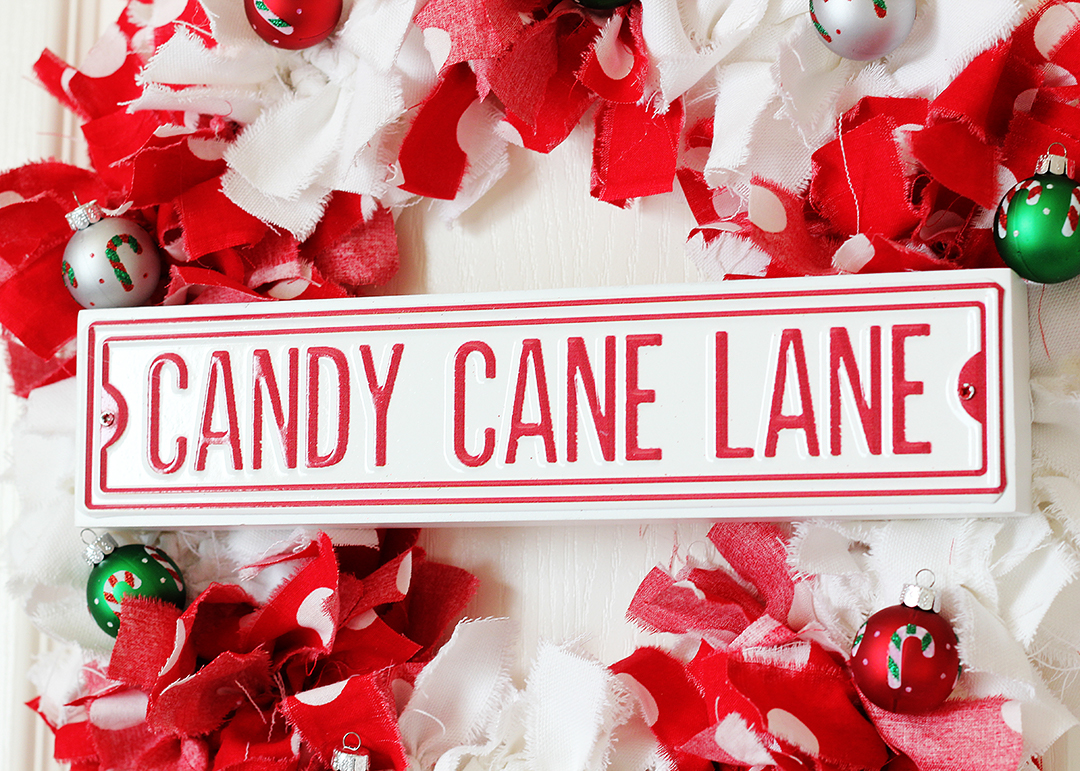 I love that my rag wreath used fabric scraps I already had in my stash to create something so downright adorable! The red and white candy cane theme is so perfect for my Christmas kitchen decor.
Rag Wreath Tips
---
This same method can be used for a larger (or smaller) wreath form. Just increase (decrease) the number of tied strips of each color in each section.
I have found that the best fabric to use for a rag wreath like this one is a quilting cotton, as the lighter fabric makes it much easier to tie tight knots onto the wreath frame.
The easiest way to cut the fabric strips for a rag wreath like this one is by tearing! Cut a 1″ notch along the selvage edge of the fabric, and then rip from one selvage edge to the other. This will result in a perfect 1″ strip that is the width of the fabric that you can then trim with shears into 9″ sections.
Rag wreaths are a great way to use up fabric scraps, so before purchasing new fabric, raid your scrap drawer to see what you might already have on hand.
Having grown up in a home brimming with sewing notions and paintbrushes, Amy has a deep love for all things creative. On any given day, you'll find her knee-deep in her latest creative endeavor, with projects ranging from sewing and crafts to home decor and kid-friendly ideas. Amy believes that everyone, regardless of skill level or experience, possesses the ability to create something beautiful, and Positively Splendid was born of her passion for helping others harness their innate creative potential.