I have received quite a few questions recently from readers, so I thought I would take today to answer a few of them.
What type of camera do you use?
I have a little red 

Canon SX200IS.

It is a point-and-shoot I purchased about a year and a half ago, and I love it. It has some great manual options if you feel like getting creative, and the lens is rated by many as the best you can get in a simple point-and-shoot camera. 
When it really counts, I always turn to my

Photoshop Elements

software. Being a PR major in college, I took many classes based around Photoshop software, so it is somewhat intuitive to me. That being said, if your budget doesn't allow you to spend that amount on software (or if you find Photoshop intimidating, which is totally understandable), I use

Picasa

for less detailed photo editing tasks, and I have always been pleased. Picasa is also terrific for keeping all of your photos organized, and it is free! 
Who did your blog design?
That would be yours truly! Everything I know about blog design, I owe to Google. Truly. There is so much amazing information available out there in terms of ways to add/change elements in Blogger. If you have any specific questions about how I did a particular part of my design, please let me know!
How long have you been blogging?
I started a family blog in October 2006, but I didn't start blogging at Positively Splendid as it is today until the spring of last year. It has been such a fun ride!
How do you find time to do it all?
Honestly? I don't. 🙂 I am constantly trying to achieve balance in my life, be it in blogging, housekeeping, parenting, or any other area. I do the lion's share of my posting on Sunday afternoons when my hubby is here to wrangle the kiddos, and my creative time is usually while my oldest kiddos are at school and the baby is napping, or else after everyone is in bed at night. I am so fortunate that my husband "gets" my need to create, and he is completely fine with a house that isn't perfectly tidy and laundry that never seems to be done. My number one piece of advice, which I have learned over time:

Learn to accept the fact that you absolutely cannot do it all. And that is okay.

Really – it is. During particularly creative times, you'll probably fall behind on the housework. (At least I do.) When you are dedicated to getting your house in order, you probably won't have that much time to create. It's all an ebb and flow.
Do you have any questions you'd like me to answer? Send them my way, and I'll be happy to answer them!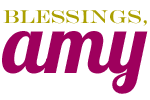 P.S. Don't forget that tomorrow is the big kick-off of the Summer Survival Guide! Stop in daily for simple ideas to make your summer truly special. I would love for you to grab a button (grab code in the sidebar) and help spread the word!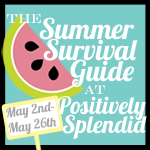 Having grown up in a home brimming with sewing notions and paintbrushes, Amy has a deep love for all things creative. On any given day, you'll find her knee-deep in her latest creative endeavor, with projects ranging from sewing and crafts to home decor and kid-friendly ideas. Amy believes that everyone, regardless of skill level or experience, possesses the ability to create something beautiful, and Positively Splendid was born of her passion for helping others harness their innate creative potential.