Welcome to the first post in the Summer Survival Guide series!
(You can head over to this post for a full description of what this series is all about.) 
With summer just around the corner, I hope this guide is a source of inspiration for you as you plan the next few months. There are so many great ideas in store in the upcoming weeks from so many talented bloggers.
To kick things off this morning, I am going to share the set of outdoor pillows I made this weekend to get the ball rolling for my summery front  porch decor. I have to say that I am downright addicted at the moment to freezer paper stenciling. It is so easy to do, and the results are so dynamic – and downright professional looking!
Curious to see how I put these darlings together? Let's get started!
For this project, you will need:
Heavy canvas fabric (I used fabric specifically for outdoor use)
White cotton twill (for the stenciled front patch)
 Cotton twill in the color of your choice (for the back of the pillow)
Coordinating thread
Two pillow forms
Freezer paper
Spray paint
A Silhouette machine
Basic sewing supplies: machine, shears, etc.
Prep Work
Cut out your fabric pieces. For each pillow, you will need three pieces, cut to the following dimensions:
1 main front piece cut from your heavy canvas fabric that is .5″ wider and longer than the length and width of your pillow form.
Example: My square pillow above is 17″, so I cut this piece to 17.5 x 17.5″.
2 back rectangle pieces from your cotton twill that are the same width measurement as your piece above. For the length of these pieces, divide the length of your piece above by two, and then add 2 inches to that number. 
Example: For my 17″ pillow, I cut two rectangles that were each 17.5 x 10.75″. (10.75 = 17.5/2 + 2)
1 front patch piece from your white cotton twill in your desired size. For my 17″ pillow, I cut a 13″ square, to ensure plenty of the bright main fabric would be easily visible in the finished product. You can choose to make your patch bigger or smaller, depending on your personal preference.
step

1

/ Cut four strips of freezer paper for each pillow in your desired width (mine were 2″) to form a border around your front patch piece. Iron these into place, with the shiny side of the paper face down. Use your Silhouette to cut out a citrus silhouette (I purchased the file for mine from the Silhouette online store, by searching for citrus) and the wording for your second pillow (the font I used is Leroy Brown) from freezer paper. Carefully remove the cutouts from your mat, and iron these into place. Now, evenly spray these pieces with your paint, working in 2-3 smooth, even coats. Allow your pieces to dry completely before removing and discarding your freezer paper pieces. (You are totally allowed to squeal with delight when you see how amazing your patches look when you remove the freezer paper. I always do. 😉
step

2

/ Snip a small notch from each of the corners of your patch piece, as shown. Carefully press the edges of the piece down 1/4″. Trimming the notch will keep your corners nice and tidy.
step
3
/ Position your patch piece onto the center of your main front piece, and pin it into place. Topstitch 1/8″ from the outer edge of your patch to secure it to your pillow front, as shown.
step
4
/ Fold one of the long edges of your rectangular pieces down 1/4″; press. Fold under another 1/4″, and press again. Stitch to secure this hemmed edge. Repeat with your other rectangle piece. With your completed pillow front face up on your work surface, lay one of your rectangle pieces on top, right sides facing, so that the corners and edges are all aligned and the hem you just sewed runs through the center of your front piece. Pin. Now, position your other rectangle piece one the bottom portion of your pillow front piece in a similar manner. Pin. 
Note: The hemmed edges of your rectangle will overlap by a few inches at the center of your pillow.
 Using a 1/4″ seam, stitch all the way around the outer perimeter of your pinned pieces. Clip your corners and turn your pillow cover right-side out.
Repeat all of the steps above for your second pillow. 
You are finished!
Be sure to stop back in this afternoon for Idea #2 in the series from one of my favorite bloggers. It's a real-life take on this same "freshly squeezed" concept. Yum!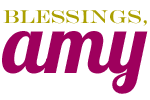 Linking this to…
Today's Creative Blog
Tip Junkie
The Stories of A to Z
Shanty 2 Chic
The CSI Project
Having grown up in a home brimming with sewing notions and paintbrushes, Amy has a deep love for all things creative. On any given day, you'll find her knee-deep in her latest creative endeavor, with projects ranging from sewing and crafts to home decor and kid-friendly ideas. Amy believes that everyone, regardless of skill level or experience, possesses the ability to create something beautiful, and Positively Splendid was born of her passion for helping others harness their innate creative potential.