If you haven't sashayed through the scrapbooking section during your latest trips to the craft store, you really are missing out. There are so many gorgeous, affordable patterned papers available these days, and the ways to use them go far beyond cardmaking, scrapbooking and other standard paper crafts! Today, I'm sharing a simple, beautiful way to put all of the lovely paper designs to good use: a rolled paper wreath. This craft project is as easy as can be, but the end result is a wreath perfect not only for home decor, but also for use as a unique decoration for weddings, baby showers and more.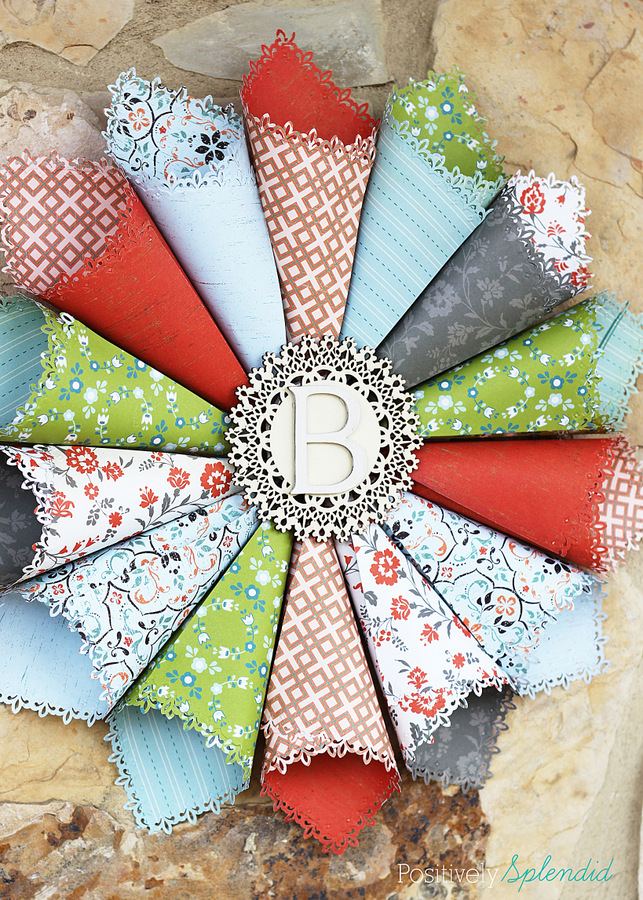 Behind the scenes here at PS headquarters, I am working on putting the finishing touches on my creative space, a project I will be unveiling this Friday. (Yay!) The focal point of the space has become a fun, eclectic gallery wall to display a number of pieces that are truly precious to me: one of my dad's very first oil paintings, an embroidery piece made by my great-grandmother when she was not much older than I am today, artwork that used to hang in my beloved Mammo's own creative space, and other priceless mementos that connect me to my creative heritage. In my efforts to add a variety of colors of textures to the wall, I decided to pull out some of the craft supplies I had on hand to create a simple and lovely rolled paper wreath.
When my oldest children were tiny, I was an avid scrapbooker, and I amassed quite a collection of patterned paper, decorative scissors, punches, and the like for that hobby. Now that I don't complete the ornate scrapbooks I did in the past, I love to use those old tools in fun new ways, and this wreath is a perfect example of that. It is likely you already have on hand a majority (if not all!) of the supplies needed for this wreath: paper, hot glue, scissors, and a couple of other basic, easy-to-find items. This is a terrific project to make with a few friends on a craft night, or with children of all ages.
For this project, you will need…
4 sheets of double-sided patterned paper
Paper trimmer
Scissors
Decorative scissors and/or edge paper punch
Hot glue
Paper plate
Small circular plaque and monogram* (or another decorative object for the wreath center)
Acrylic craft paint and foam brush
Ribbon
*I purchased these items at Michaels.
To begin, use the paper trimmer to cut each sheet of patterned paper into 6″ squares.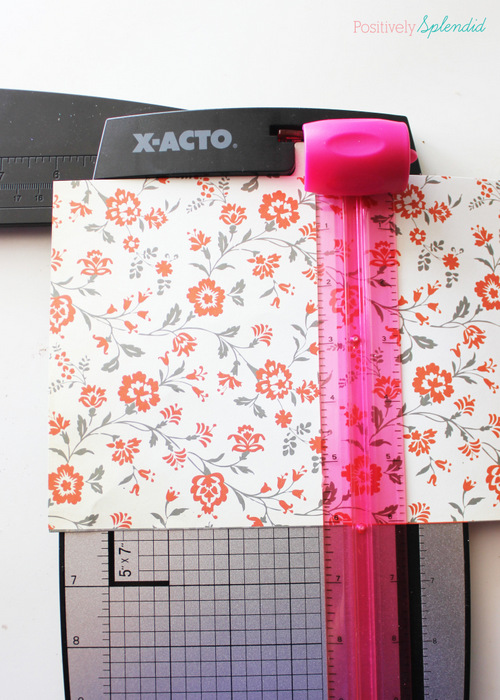 Use the decorative scissors or edge punch to add a decorative design to two adjoining perpendicular edges of each piece. (This step is optional, but it really does add so much character to the finished project.)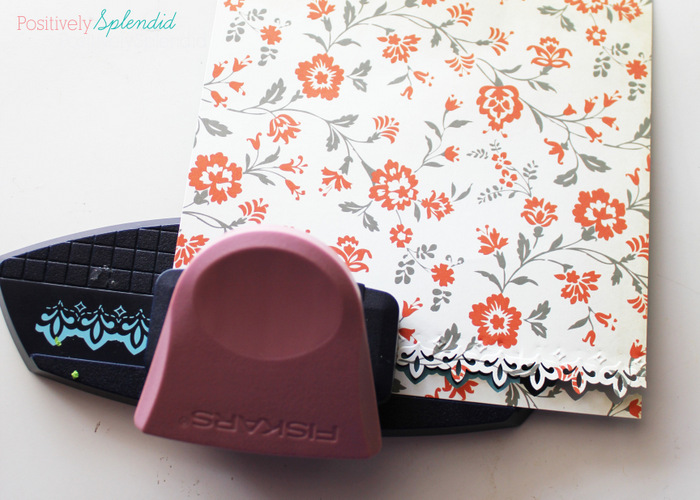 At the corner opposite where the decorative edges meet, fold each square into a cone, as shown. Secure each cone along the overlapping edge with hot glue.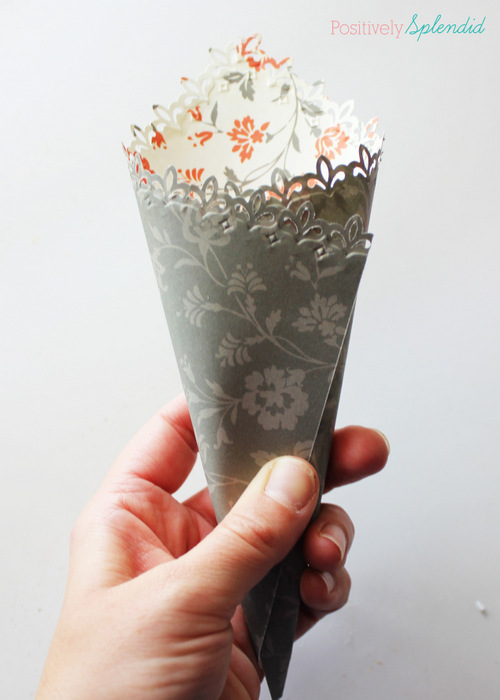 Use scissors to cut out the center circle portion of the paper plate to use as the wreath base. Use hot glue to adhere the rolled cones around the base, aligning the tip of each cone with the center of the circle piece, working all the way around the piece. (Depending upon how the pieces are positioned and how tightly you rolled your cones, you might have a couple of the cones left over.)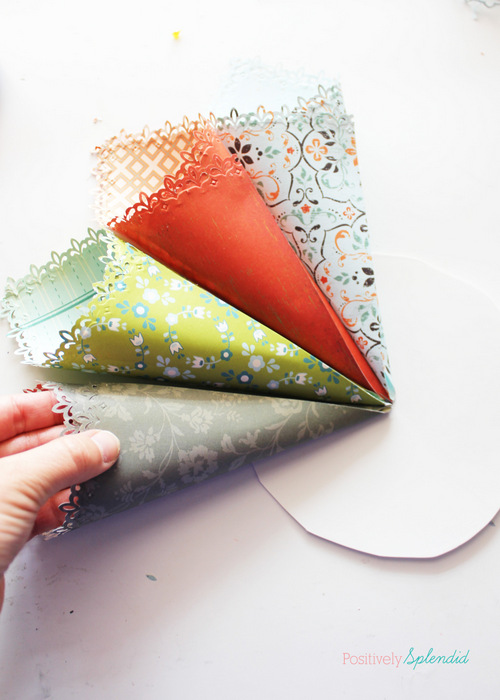 Adhere the decorative plaque to the center of the wreath with hot glue. I left my plaque unpainted, but you can paint the piece with acrylic paint before this step if you prefer.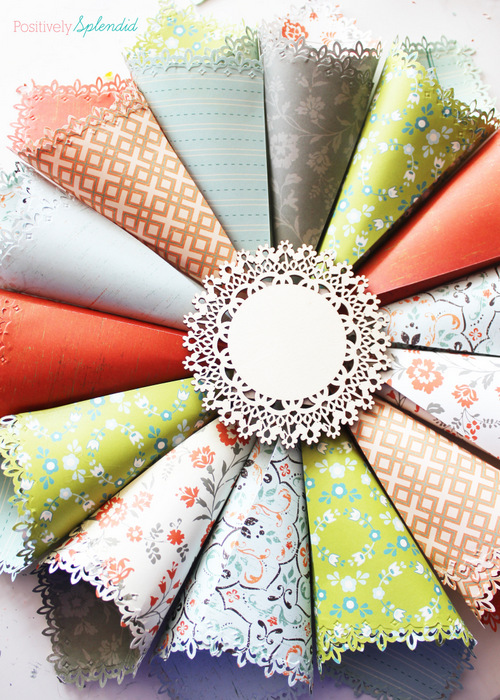 Use the acrylic paint and foam brush to paint the monogram letter, and allow it to dry completely before affixing it to the wreath center with hot glue.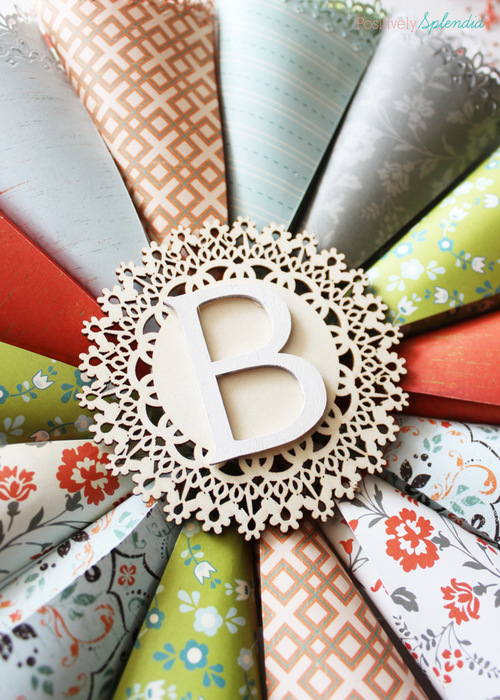 For the wreath hanger, tie a long loop of ribbon, and affix it to the back center of the cardboard circle with hot glue, as shown.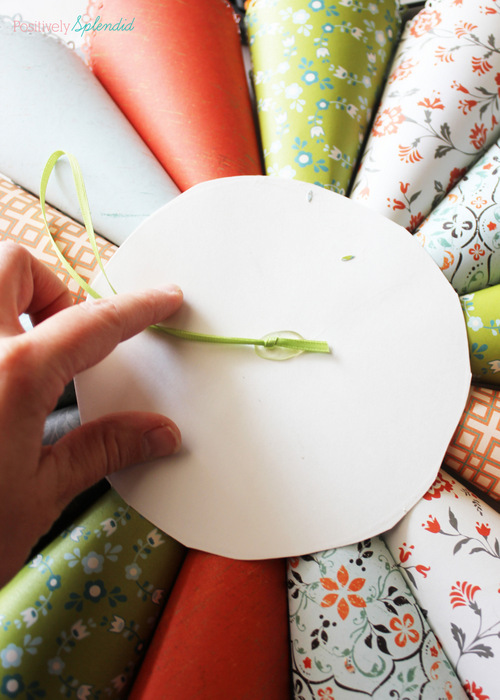 Cut a circle piece of cardstock to affix over the end of the loop for added stability.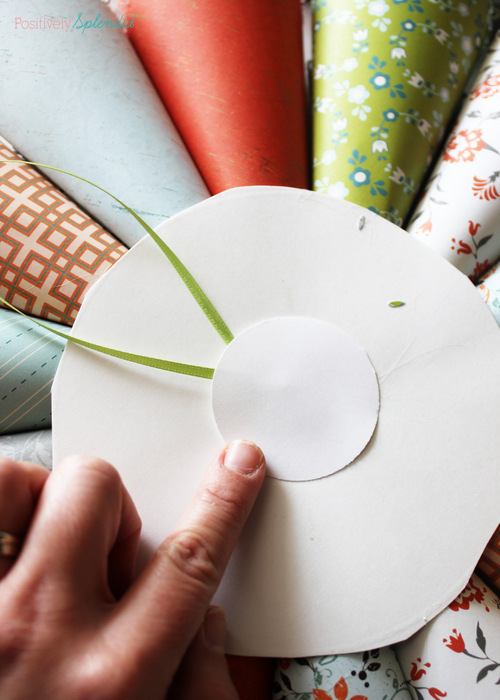 Your rolled paper wreath is complete!
I love how this project allows you to showcase both patterns on pretty double-sided papers.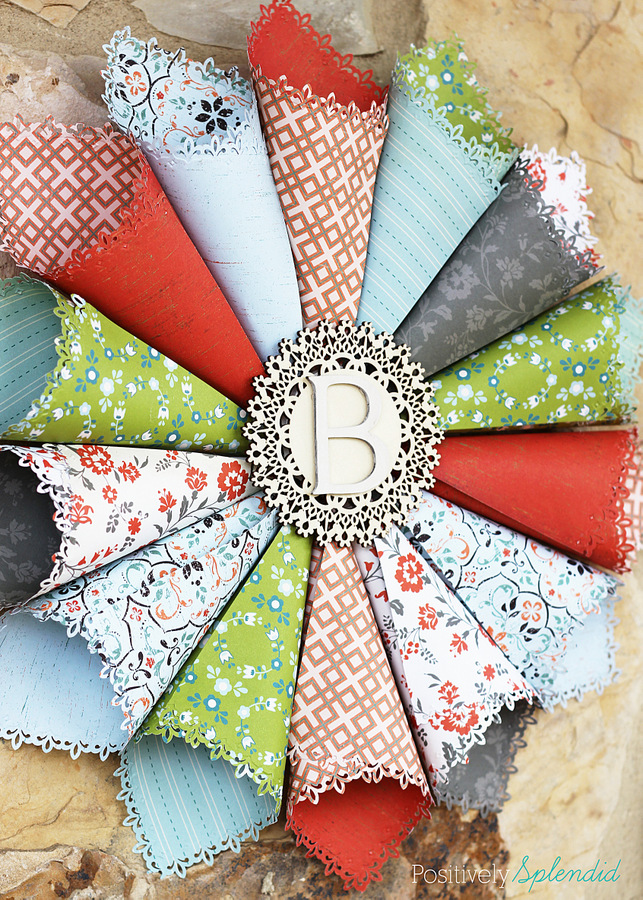 Using papers in a variety of colors and patterns gives this project an eclectic, homespun feel that I truly love.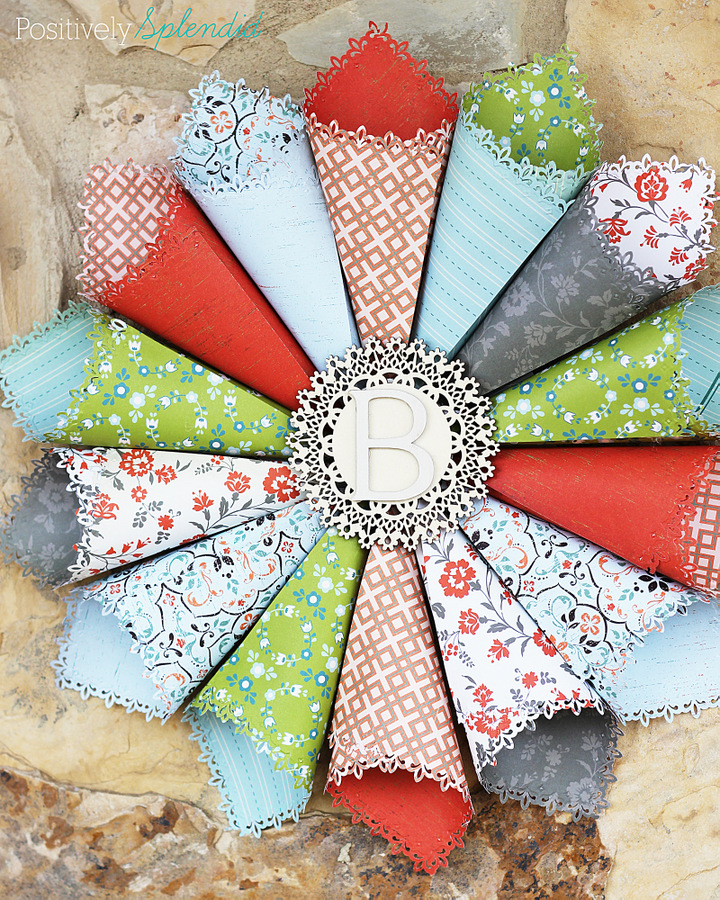 The decorative edge of each cone is such a pretty touch, too!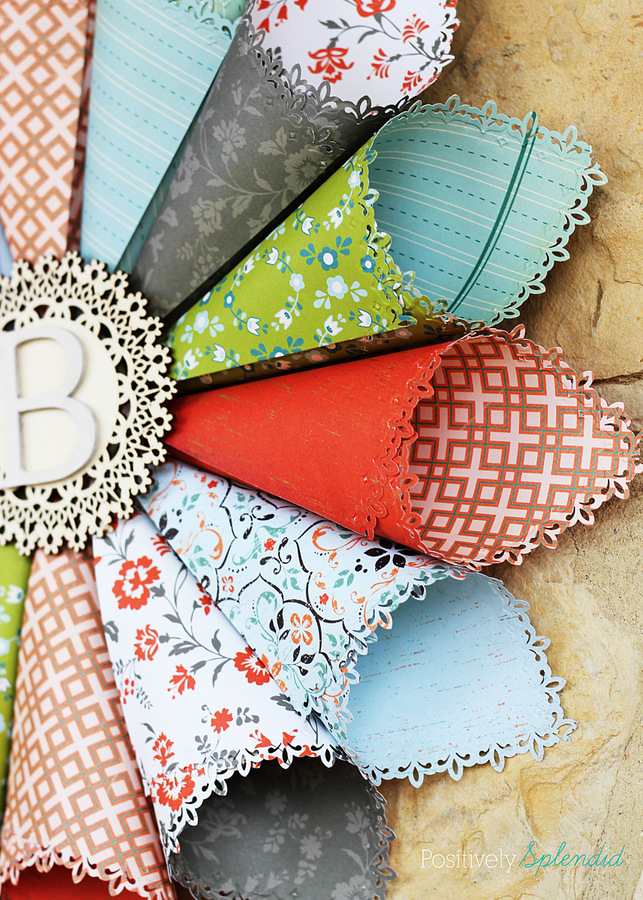 Looking for even more fun projects to use pretty patterned papers with panache? Check out the ideas below!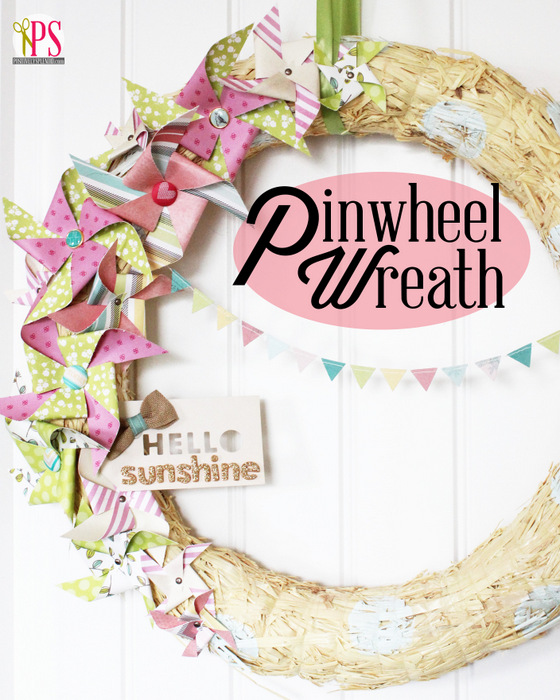 Thanks so much for making PS a part of your day!
Having grown up in a home brimming with sewing notions and paintbrushes, Amy has a deep love for all things creative. On any given day, you'll find her knee-deep in her latest creative endeavor, with projects ranging from sewing and crafts to home decor and kid-friendly ideas. Amy believes that everyone, regardless of skill level or experience, possesses the ability to create something beautiful, and Positively Splendid was born of her passion for helping others harness their innate creative potential.