Happy Saturday!
There are some weeks when I can scarcely wait until Saturday to share the phenomenal finds I've made, and this is certainly one of those! There are some busy, talented folks at work here in the blogging community, and it is my pleasure to point you in the direction of some of my favorite projects.
In case you're new to Positively Splendid, each Saturday I share seven of the ideas that have caught my eye during the last seven days. Whether it be a project, a recipe, an event, or something else entirely, if I love it, you'll find it here!
So, let's get right to it! Let me present (in no particular order) this week's
Saturday Seven!
No. 1
Paper Bag Lanterns @ Landee See, Landee Do
Growing up in New Mexico, we loved using outdoor paper luminaries (called luminarias in that neck of the woods) to punch up our party decor. I adore this fresh take on that concept. The accordion folds turn a plain paper bag into something truly fabulous!
No. 2
Pretty Little Lovelies Club @ Funky Vintage Lovely
April, the creative force behind the gorgeous shop that is Funky Vintage Lovely, is – I assure you – absolutely brilliant. Aside from creating some of the freshest, most alluring wearable goodies available from any artisan I have had the pleasure to come across, she also knows the heart of women, and she makes it easy to give them just what they want! Take, for instance, the Pretty Little Lovelies Club. Do you know a graduate heading for college in the fall? A new mom needing a pick-me-up during the bleary-eyed days of round-the-clock feedings? Sign her up for a membership in this club, and she will receive a sweet little package of handcrafted goodness every month for six months to let her know she's loved and appreciated. LOVE THIS!!
No. 3
Papier Mache Maracas @ Beauty All Around
Oh my word. How cute are these little guys? Bright and fun, these would be perfect for a kids' birthday party, or just as a way to add music to a lazy summer day! (Might I just add, too, that I love how she displayed them in this photo in the appropriate rainbow order? A girl after my own heart!)
No. 4
Summer Art Print @ The Ariel Rose Blog
The bunting on here…the quote…the colors. Everything is sheer perfection! Hop on over to download this beauty for free, and use it to enhance your summertime decor!
No. 5
Let's Go Bananas (School Is Out!) Party @ Crissy's Crafts
Can y'all tell I have summer on the brain? I haven't seen a cuter idea for a party in a very long while! What a fun way to celebrate the advent of summer!
No. 6
Covered Button Necklace @ Blue Cricket Design
Wanting to add some colorful whimsy to you summer wardrobe? You need look no further than Becca's tutorial! I love that this allows you to use up small pieces of fabric that might otherwise be relegated to the bottom of your scrap pile.
No. 7
Watermelon Waffles @ Random Thoughts of a SUPERMOM!
Sweet Ms. Kelli is at it once again, coming up with yet another wonderful edible goody to delight kids of all ages. Breakfast was never cuter!
***
We just got back from our first trip to the pool, and this afternoon we're grilling out fajitas to enjoy with homemade salsa and guacamole. Can't wait! 
So don those flip flops, slather on some sunscreen, and head out to enjoy this weekend! Summer is officially here! 🙂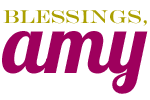 Having grown up in a home brimming with sewing notions and paintbrushes, Amy has a deep love for all things creative. On any given day, you'll find her knee-deep in her latest creative endeavor, with projects ranging from sewing and crafts to home decor and kid-friendly ideas. Amy believes that everyone, regardless of skill level or experience, possesses the ability to create something beautiful, and Positively Splendid was born of her passion for helping others harness their innate creative potential.