With warmer weather, I always get an urge to freshen up my look, and a few of y'all have shared some really great ideas for doing just that at
this week's Saturday 7!
one.
How to Color Chalk Your Hair @ Nest of Posies
Chalk as an accessory? You bet! Yet another fun, fresh idea from darling Ms. Kellie!
two.
Upcycled Earrings @ The Stories of A & Z and Little B
Spray paint + old, tarnished earrings = pure brilliance! Why did I never think of this?!
three.
Braided Belt @ Monkey See, Monkey Do
I have been wanting a new belt. Love this idea, and love that color!
four.
French Netting Headband @ Family Ever After
So elegant and pretty!
five..
What a fun statement piece! And, seriously, how cute is Allie?
six.
This is so pretty! And I love that it's even doable for knitting novices.
seven.
Oh how I love that she used a yellow zipper for a pop of color here! 
***
So many fabulous ideas have been linked up so far for this week's Saturday 7! If you haven't already, head over to inspire and be inspired!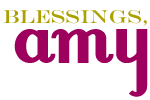 If You Liked This, You Might Also Be Interested In: