Today's installment of Simple Solutions covers something I'm sure we all are overwhelmed by at some point or another. With three small children, keeping up with laundry for five can often be a real frustration for me. I honestly feel as though the moment after I fold a piece of laundry, I find it wadded up in one of the hampers. Can you relate?
Last week, I asked for you to share some of your Simple Solutions: things that help make your lives easier in the midst of the daily grind. I was tickled when two lovely readers offered their laundry-tackling tips!
Brandy

from Gluesticks writes…
I have a tip that I have found to be a life-saver when it comes to putting my kid's clothes away and having them stay NEAT in their drawers! 
via Gluesticks
Brandy details on her blog in this post how she started lining up her children's clothes in rows instead of stacking them when she puts them in their respective drawers. What a brilliant idea!

I would be horrified if y'all caught a glimpse of the state of my kids' dresser drawers right now. I really need to try this!
***
Cathy

from Cackles and Berries writes…
As far as things that make my life simpler – well, having a good laundry routine is probably the biggest change I've made in my life. We have 5 kids and there was always a lot of laundry to be done – I never saw the bottom of the hamper. Then one weekend I spent the entire time doing laundry putting it away…and I've never gotten behind again. Several things I do different.
#1 – I do laundry almost everyday – throw a load in, in the morning first thing. 
#2 – Always empty the washer and dryer promptly.
#3- DON't carry your laundry into the living room and fold sitting on the couch – piling it up to put away later – LOL. I did this a lot and was always moving it later to find a place to sit. And what has made the biggest difference is – I've gotten in a great habit of folding it as I take it out of the dryer. Each child has their own basket that the laundry gets sorted in directly from there and then THEY take it to their rooms and put it away at the end of EVERY day.
Not only do I stay up on laundry but we don't need as many clothes as when I heard, "Mom, I'm out of underwear!" and we went to the store to buy more, when they were really just buried under the mountain of dirty laundry!
Happy Washing.
I love the idea of having a different basket for each child, Cathy! And you are so right: folding the laundry immediately as it comes from the dryer makes such a difference.
***
Have you ever considered making your own laundry soap? Doing so is a fabulous way to save a bundle, and the work required to make a batch is minimal! If you're interested in learning more about how to do so, check out this post from last spring about the recipe I have used in the past to make mine. 
***
Do you have a Simple Solution that you find particularly helpful as you deal with the daily grind? A time-saving tactic for cooking, crafting, or otherwise? If you think you have something that would work well for this series and you'd like to post about it here,
contact me.
I'd love for you to share your knowledge with all of us!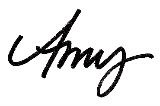 If you enjoyed this post, subscribe to Positively Splendid 
to receive updates, and join us on Facebook and Twitter!





Having grown up in a home brimming with sewing notions and paintbrushes, Amy has a deep love for all things creative. On any given day, you'll find her knee-deep in her latest creative endeavor, with projects ranging from sewing and crafts to home decor and kid-friendly ideas. Amy believes that everyone, regardless of skill level or experience, possesses the ability to create something beautiful, and Positively Splendid was born of her passion for helping others harness their innate creative potential.