Last week in
my inaugural Soul-Feeding Sunday post,
I shared that I am striving to slow down and take in as much of this precious time with my kiddos as possible while they are small. I was touched beyond measure when a lovely reader
(thank you, Sharlyn!)
posted the following poem in the comments in response to that post. The message of this poem resonated with me so deeply that I wanted to share it with y'all here today.
There are always dishes and laundry to be done. There are always going to be meals that need preparing or floors that need scrubbing. But if you happen to darken the doors of my home and discover things in a state of disarray, try first to find me in the nursery. Because, after all, those things will always be there. But sadly, babies don't keep.
May you be blessed by these verses as much I have this week!
Song for a Fifth Child
by Ruth Hulbert Hamilton
Mother, O Mother, come shake out your cloth,
Empty the dustpan, poison the moth,
Hang out the washing, make up the bed,
Sew on a button and butter the bread.
Where is the mother whose house is so shocking?
She's up in the nursery, blissfully rocking.
Oh, I've grown as shiftless as Little Boy Blue, lullaby, rockabye, lullaby loo.
Dishes are waiting and bills are past due
Pat-a-cake, darling, and peek, peek-a-boo
The shopping's not done and there's nothing for stew
And out in the yard there's a hullabaloo
But I'm playing Kanga and this is my Roo
Look! Aren't his eyes the most wonderful hue?
Lullaby, rockaby lullaby loo.
The cleaning and scrubbing can wait till tomorrow
But children grow up as I've learned to my sorrow.
So quiet down cobwebs; Dust go to sleep! 
I'm rocking my baby and babies don't keep.
Happy Sunday, friends!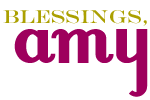 Having grown up in a home brimming with sewing notions and paintbrushes, Amy has a deep love for all things creative. On any given day, you'll find her knee-deep in her latest creative endeavor, with projects ranging from sewing and crafts to home decor and kid-friendly ideas. Amy believes that everyone, regardless of skill level or experience, possesses the ability to create something beautiful, and Positively Splendid was born of her passion for helping others harness their innate creative potential.