Turn an inexpensive IKEA bulletin board into a fun DIY decor idea for organizing any space with some fun FolkArt® Lily & Val stencils and FolkArt paint. This stenciled bulletin board is a project that can be completed in 30 minutes or less, and it is a perfect way to add a pop of personality to any space: classrooms, kids' rooms, dorms and more! Continue reading for the step-by-step tutorial.
I've teamed up with Plaid and the Plaid Creators team to bring this fun project idea to you. All opinions are entirely my own.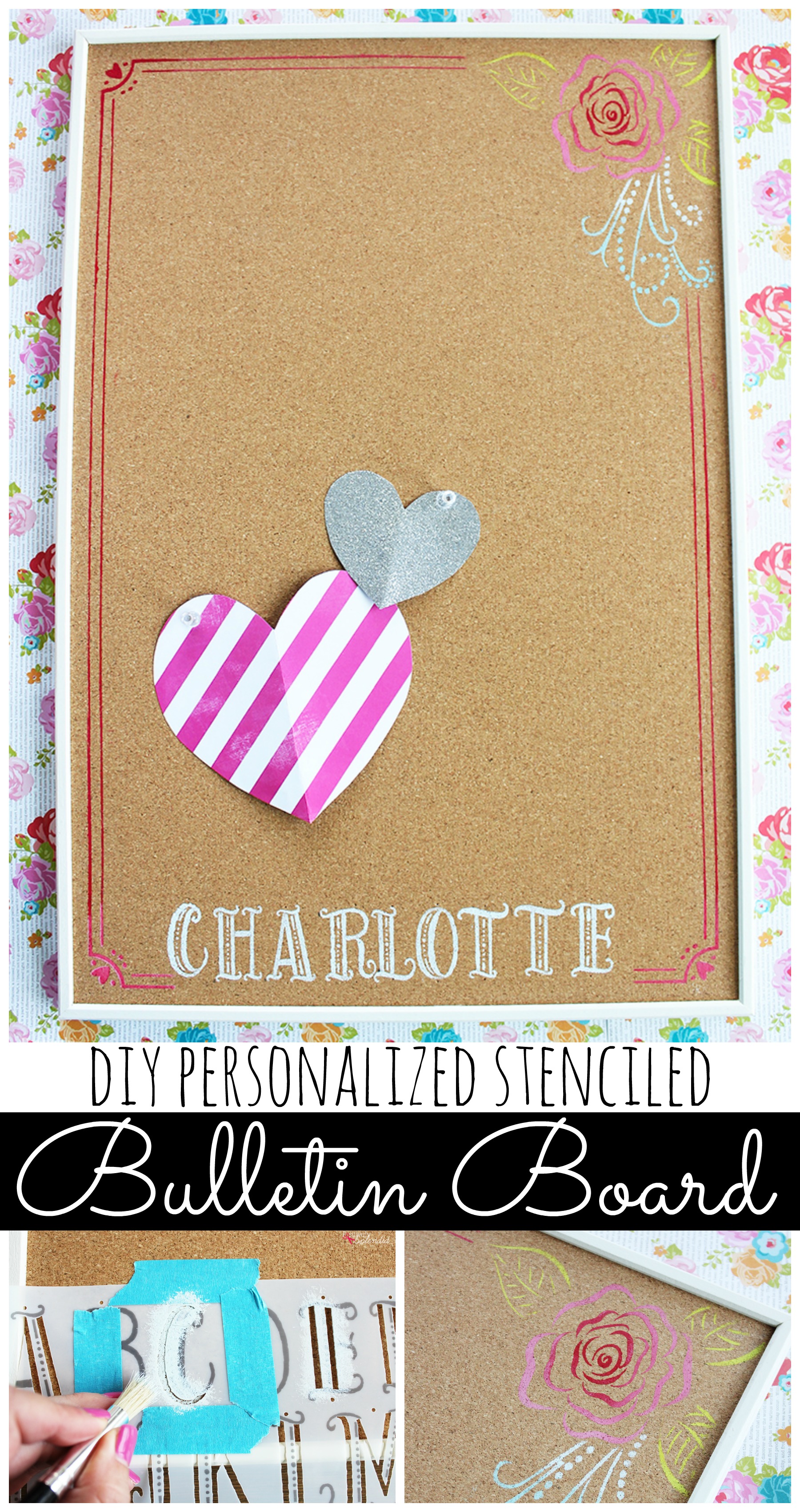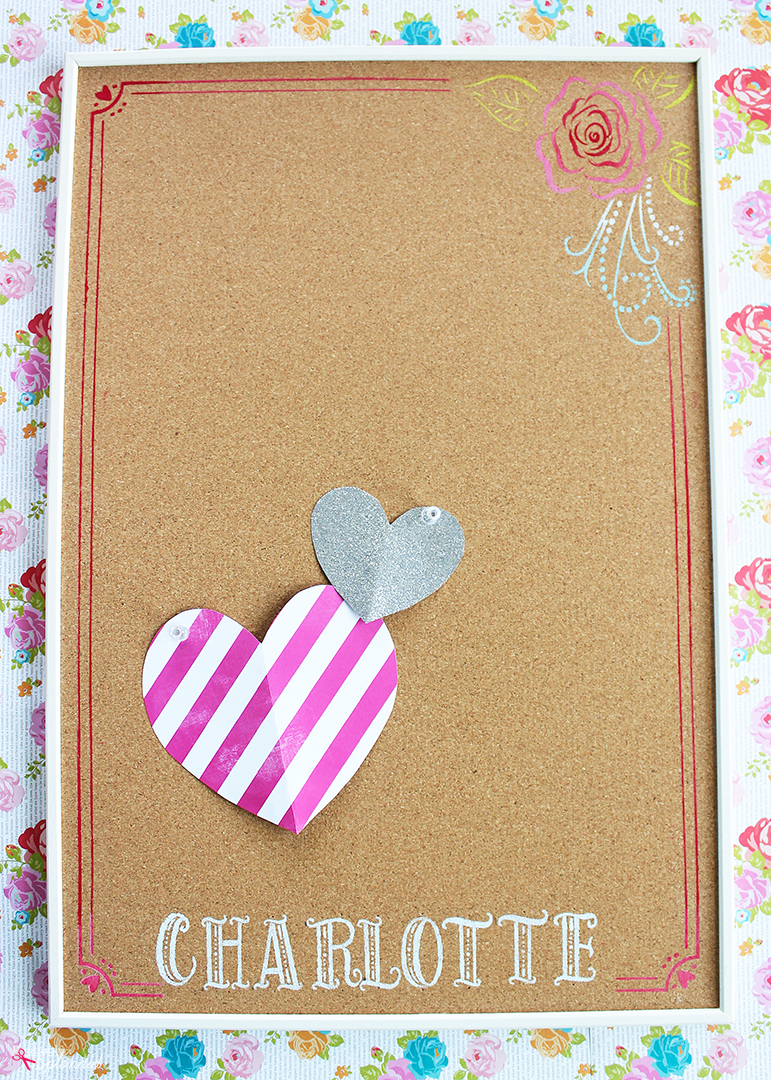 Stenciled Bulletin Board Supplies
---
Lily & Val Stencils (Welcome set used here)
Stenciling brushes
FolkArt Acrylic Paint
Pencil
Tape Measure
Stencil Tape
Paper Towels
Hair Dryer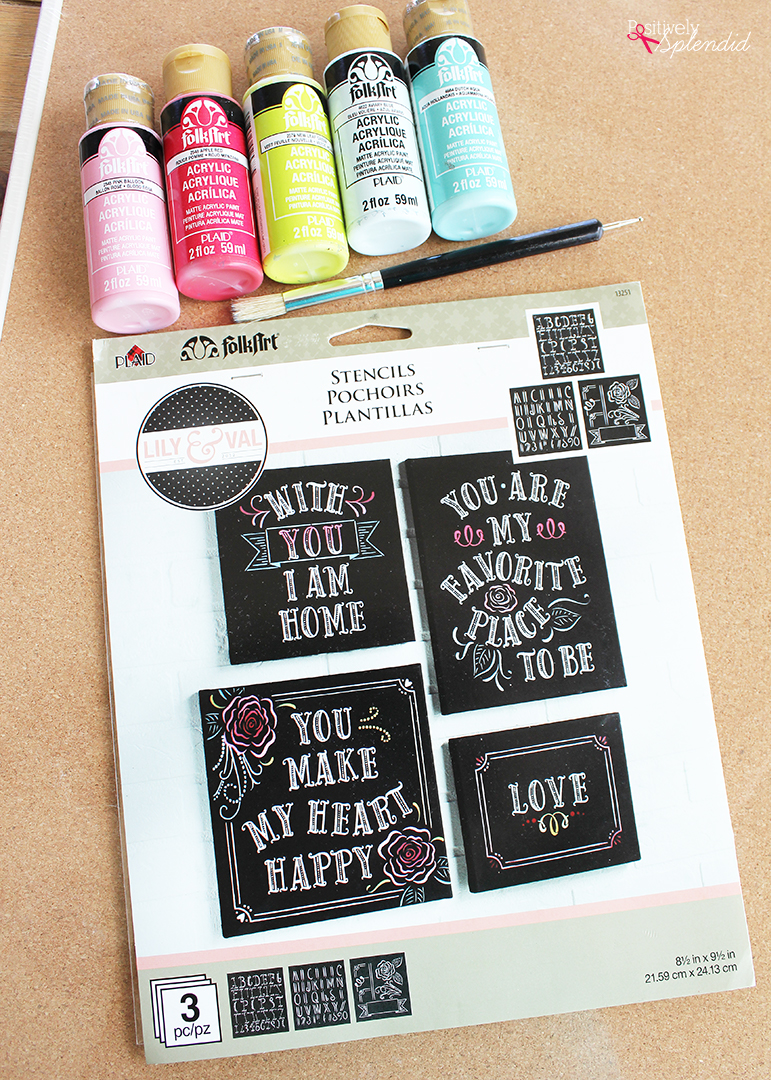 The letter designs in each Lily & Val stencil set have handy registration holes above and below each letter, which makes determining the placement for each letter a breeze. For a personalized bulletin board like this one, use a push pin to mark each of the registration holes on the bulletin board for each of the letters in your desired name/message, using a tape measure to ensure the letters are evenly spaced. These holes will serve as a guide for precisely where to place each letter when applying paint in the next step.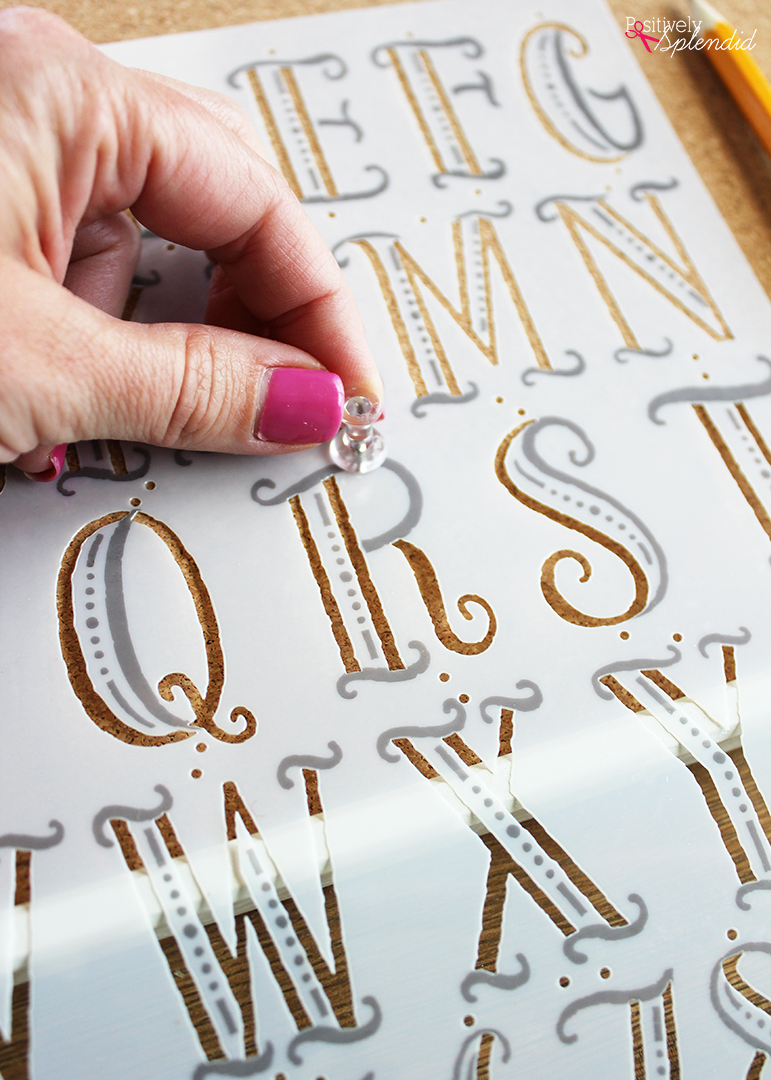 With all of the registration holes made for each letter, the painting fun can begin!
The Lily & Val stencils are truly ingenious! They were designed by chalkboard artist Valerie McKeehan to mimic the look of the chalkboard lettering that is so popular right now. There are four sets to choose from, and each set is made out of laser-cut mylar, which means they can be used again and again in any number of projects. The letter designs in each set come with two separate stencil components to give each finished letter a cool layered effect. All of the Lily & Val stencils, as well as an assortment of other fun new stencil designs from FolkArt, all are available at Michaels.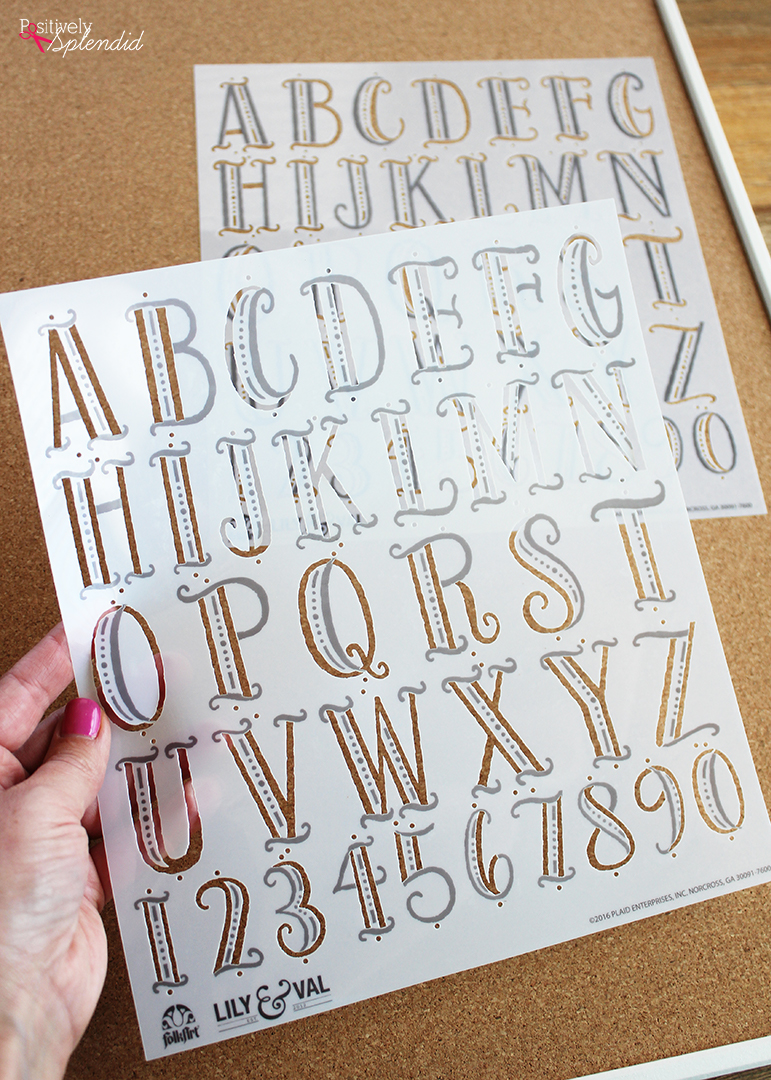 Working with one of the letter stencil sheets at a time (you can start with whichever of the sheets you like), line each letter up with its respective registration holes. Tape down the design with stencil tape (masking tape also works well for this) to anchor it is in place and cover up the registration holes in the stencil, as well as each of the neighboring letters. Use a stencil brush to apply paint within the boundaries of the stencil in an up-and-down dabbing motion. Remove the stencil while the paint is still wet.
I used to be intimidated by stenciling projects like this one, since I always seemed to have problems with the paint bleeding under the stencil as I painted. The experts at Plaid taught me the best technique to prevent that annoying bleed-through from happening! When stenciling, the brush should be as dry as possible with just enough paint to fill in the design. To load the brush, dip it in the paint, and then dab it onto a paper towel until only a very small amount of the paint remains. This works like a charm for precise stencil designs every single time!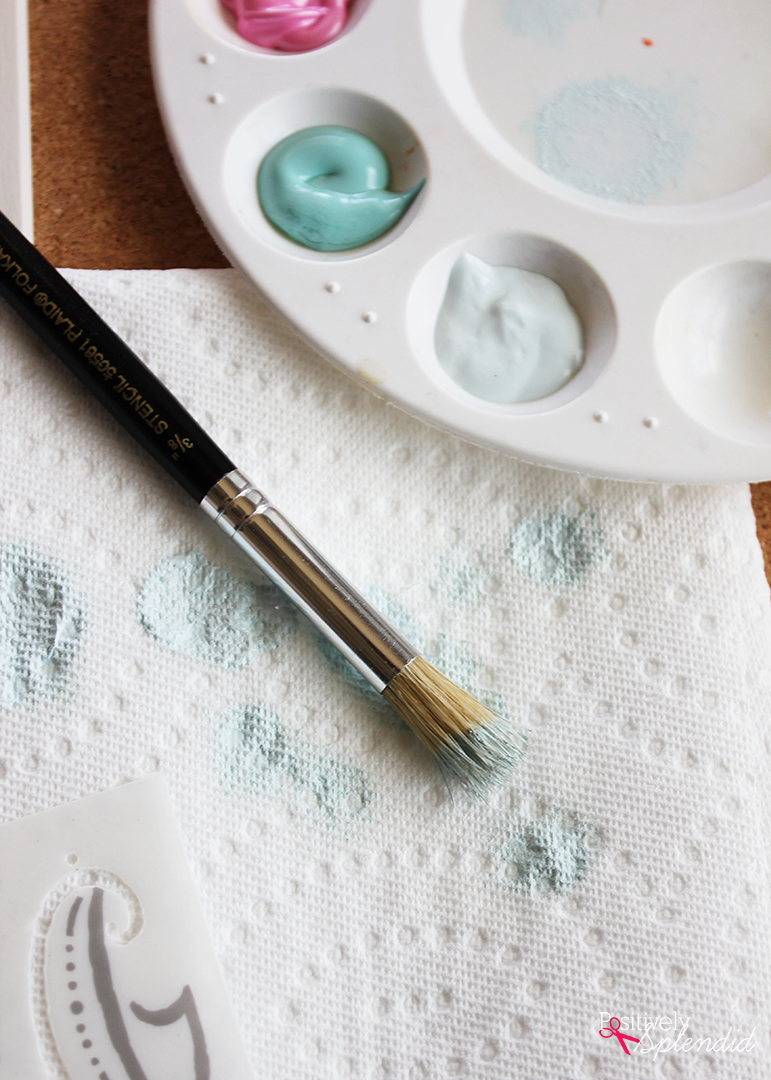 When the first letter is complete, hit the paint with a blow dryer on the lowest setting until it is dry to the touch before moving on to the neighboring letter. This will prevent the paint from being smudged as you work.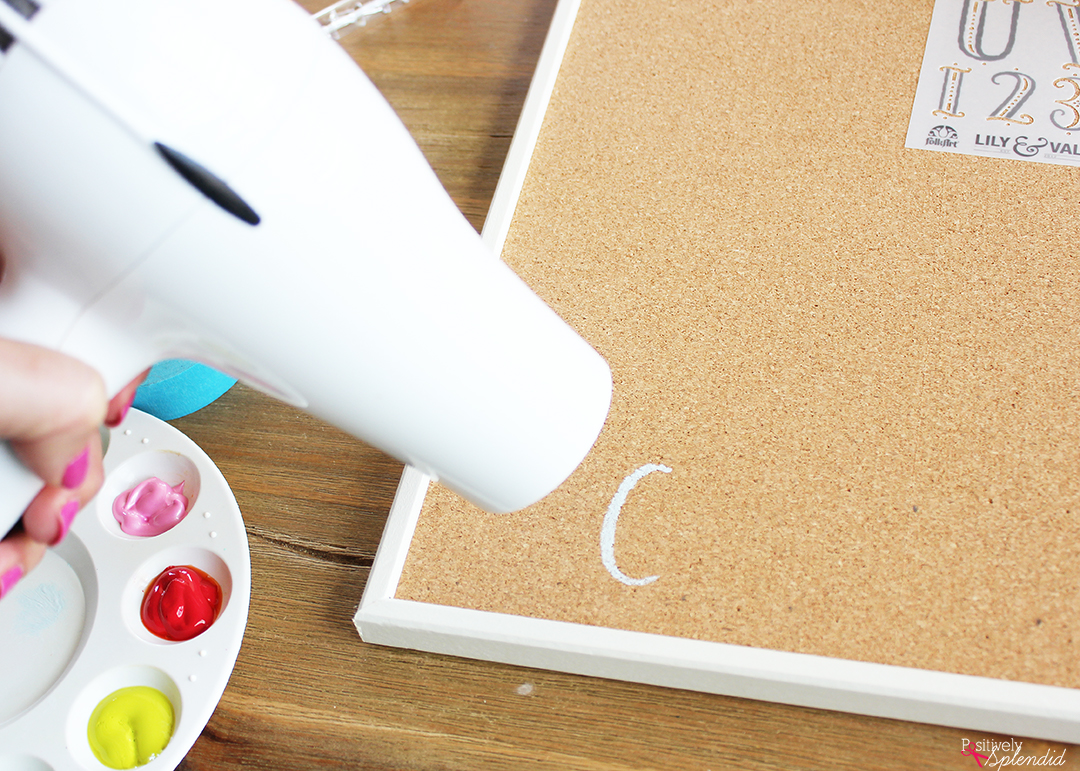 After working with one of the letter stencil sheets, your design will look something like this: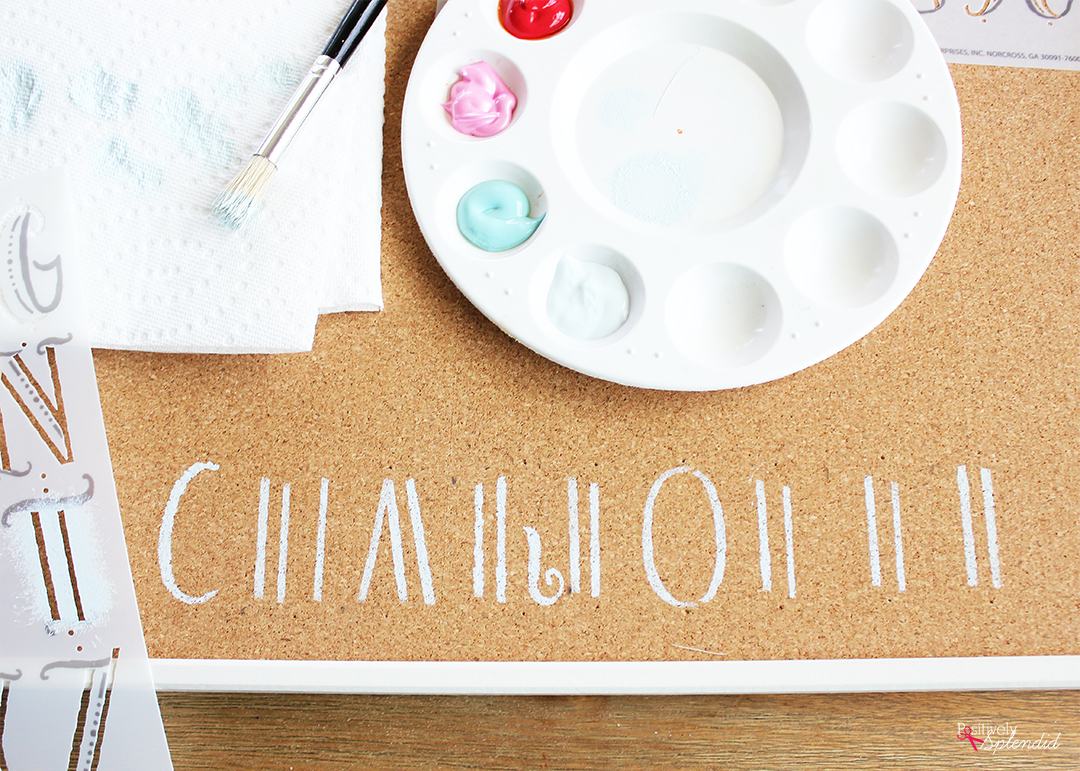 When that first round of stenciling is completely dry, use the second letter stencil sheet to complete each letter design by lining each letter up with the registration holes and stenciling as you did before. So pretty!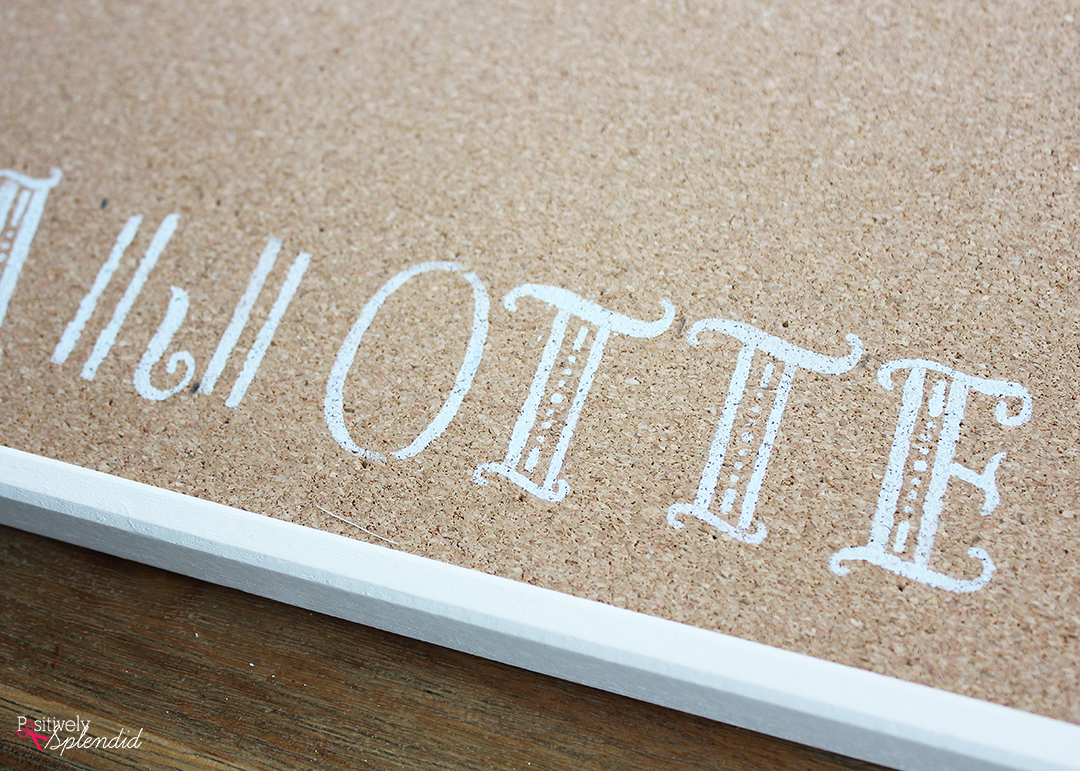 In addition to the letter designs, the Lily & Val stencils have some really pretty design elements. I love the rose in this particular set, so I opted to use the same basic stenciling process to paint that design in the right-hand corner of my board, along with a pretty border around the perimeter to finish things off. I just love how it turned out!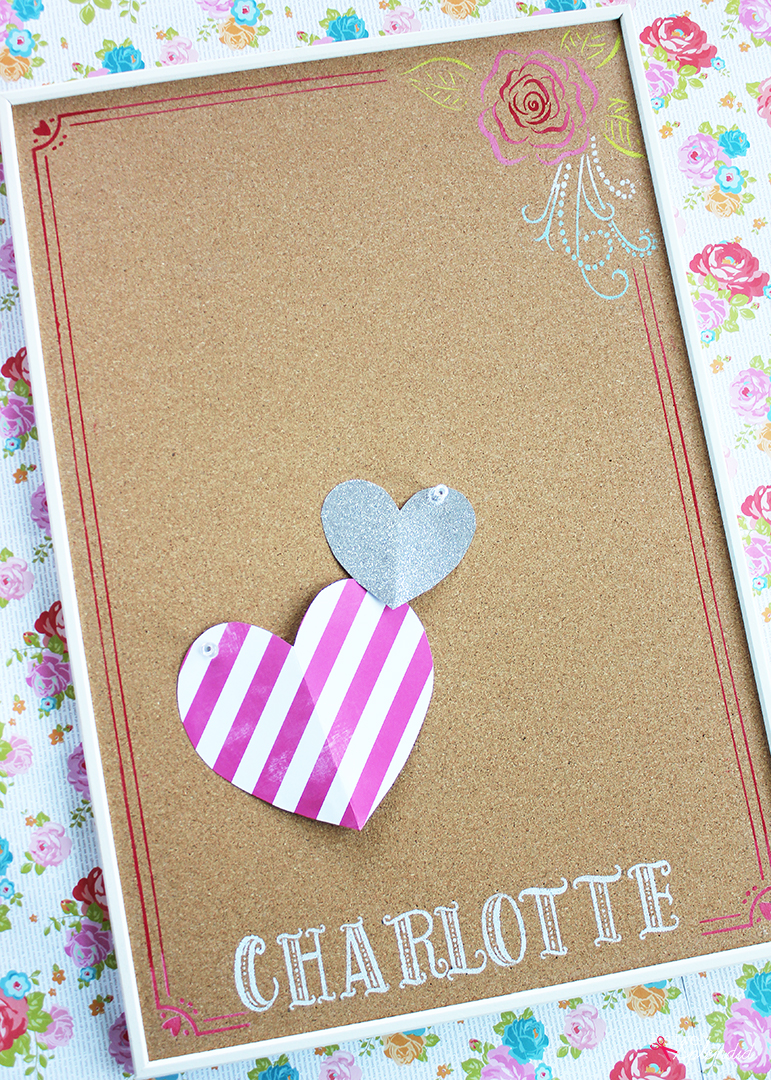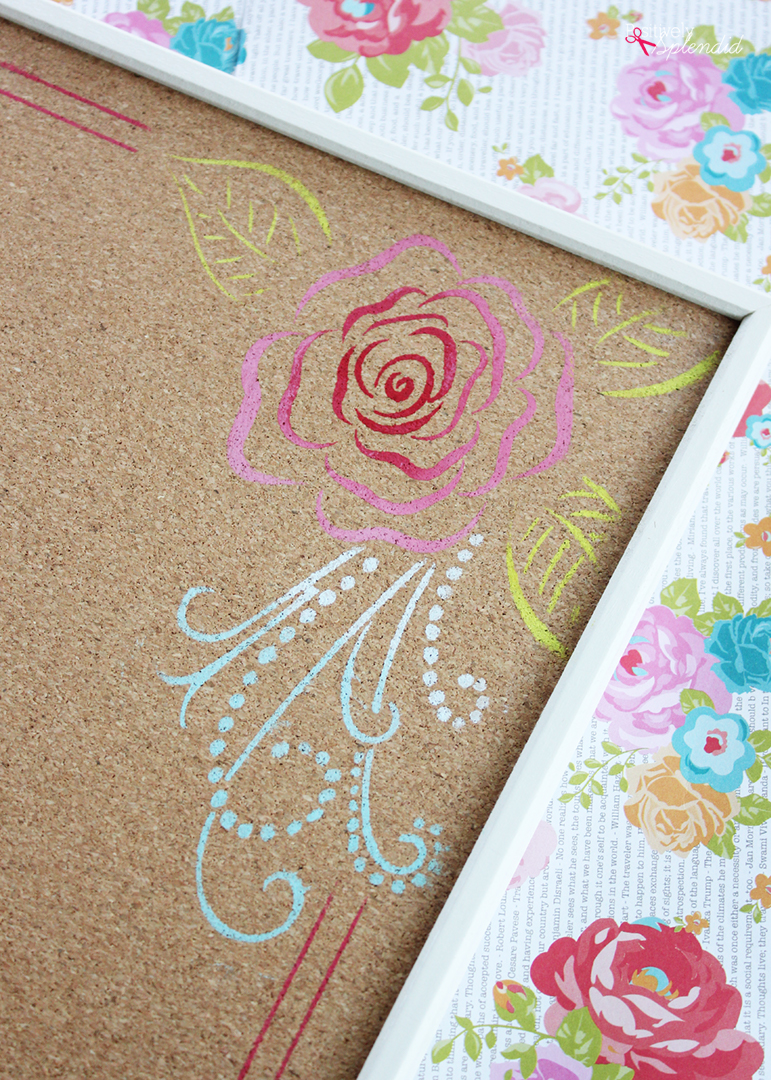 The Lily & Val stencils are not only perfect with acrylic paint, but they are the perfect way to create pretty chalkboard lettering designs to make signs and more using FolkArt Liquid Erasable Chalk. If you've always loved the look of chalkboard lettering but aren't fond of your handwriting, this is a great way to get professional chalkboard lettering results on your DIY projects. The chalk paint applies with a foam spouncer and can be used with any of the Lily & Val stencil designs to give the appearance of handcrafted chalk art. It is durable, smudge-proof and long-lasting, but when you want to change the look, the paint washes away with a damp sponge, leaving no shadow behind!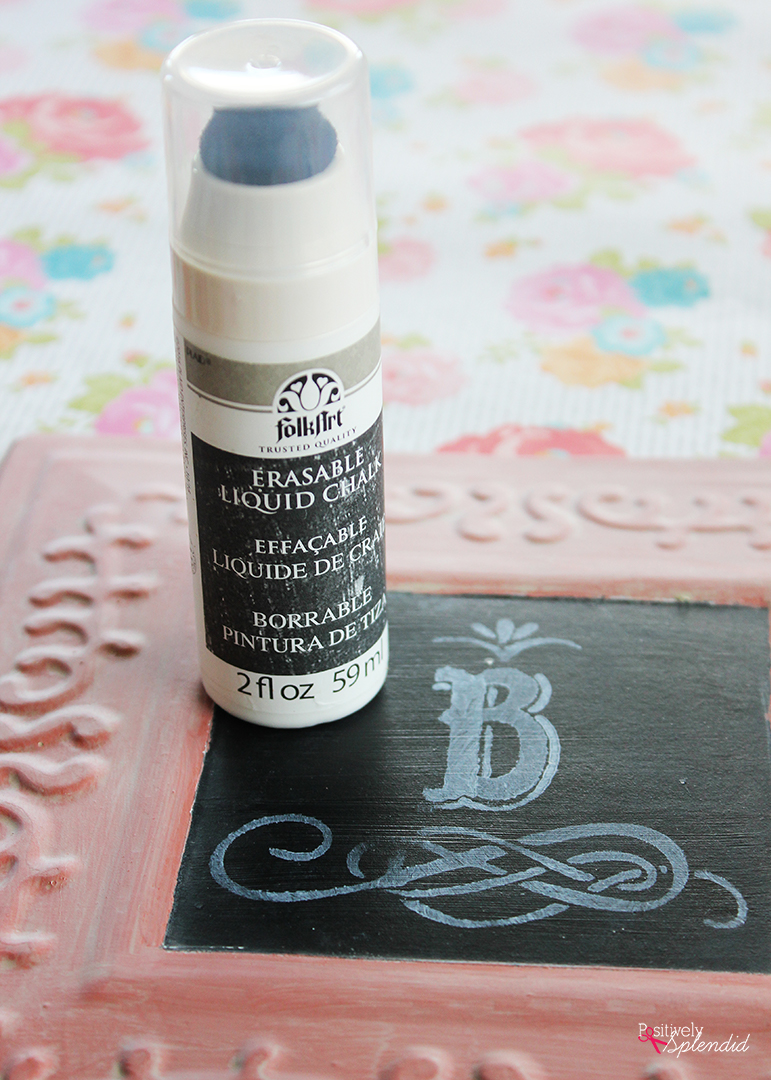 Find even more great inspiration by following Plaid on Facebook, Pinterest and Instagram!
Having grown up in a home brimming with sewing notions and paintbrushes, Amy has a deep love for all things creative. On any given day, you'll find her knee-deep in her latest creative endeavor, with projects ranging from sewing and crafts to home decor and kid-friendly ideas. Amy believes that everyone, regardless of skill level or experience, possesses the ability to create something beautiful, and Positively Splendid was born of her passion for helping others harness their innate creative potential.