For more months than I care to even admit, I scarcely looked at my scrapbooking desk, much less sat down to finish a page. I was absolutely overwrought and overwhelmed by the desire to keep up with the latest of everything: events, photos, industry trends. It honestly got to be more exhausting than rewarding, so I dropped it for a while.

I mentioned in a previous post the 52-week challenge going on on Janna Wilson's blog. She is such a talented, grounded woman, and I am so enjoying playing along! And I am only behind by one layout, which is really saying something. 😉
Now that I am back in the swing of things, it is such a terrific feeling to have a fresh start. And I am setting my goals very realistically. I am not even going to feign to attempt an album for each child. I know I am probably breeding future resentment by committing myself to just one album for the entire family, but that is honestly all I have in me right now. There simply aren't enough hours in the day to do everything I would love to do! And the pages I do complete are going to be far simpler. Total time for each of the pages I have completed for the challenge so far was one hour, max. I like that.
One of the challenges (week 3?) was to play around with some creative title work. I honestly intended the title of this page to be far fancier, but my original idea fell flat. I guess mixing a couple of different alpha sets is ambitious enough. 🙂

Journaling: Curls and cowgirl boots–A little sassy and a lot sweet. A heart as big as Dallas (and a chile pepper temper!). Miss Charlotte is a living, breathing Texas Tornado. This girl is…Really Somethin'
Last week's challenge was to use a color scheme that isn't the norm for us. I tend to be a bright, showy kind of girl when it comes to crafting (just look in my girls' closets for evidence of that ;), so the somewhat muted blues and greens here are way out of my comfort zone. I have to say, though, that I am as pleased as can be with how this page turned out! I really love how the green/blue combo here is so surprisingly soft and feminine.
Journaling: Our sweet Cecily Evelyn. Named after her great-granddad Cecil and her great-grandma Evelyn, her name connects her to two amazing members of our family tree. But often, the perfect fit in a name emerges as a child grows & changes…Her name is Cecily Evelyn, but…We call her Lily.
For Lily's page, I decided to put one of my old sketches to good use.

This week's challenge is to document me, right here, right now. Should be fun!
As always, thanks so much for stopping by.
Happy weekend, y'all!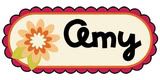 Having grown up in a home brimming with sewing notions and paintbrushes, Amy has a deep love for all things creative. On any given day, you'll find her knee-deep in her latest creative endeavor, with projects ranging from sewing and crafts to home decor and kid-friendly ideas. Amy believes that everyone, regardless of skill level or experience, possesses the ability to create something beautiful, and Positively Splendid was born of her passion for helping others harness their innate creative potential.