Another week gone by, and I have a few marked off items to show for it! For more on what this journey is all about, see this post on my Thirty Before Thirty list, and this post from my progress in week one.
My Thirty Before Thirty
1. Go on a date night with my hubby.
2. Cook something with an ingredient I've never used before.
3. Treat myself to a manicure and pedicure.
4. Write letters to those I love.
5. Update our framed photos.
6. Spend a day totally unplugged from the internet.
7. Finish organizing my craft closet.
8. Do something special with Jack.
9. Do something special with Charlotte.
10. Do something special with Cecily.
11. Buy an outfit for the new baby.
12. Buy lunch for a stranger in a drive-through.
13. Watch fireworks.
14. Eat breakfast in bed.
15. Read a book.
16. Relish a New Mexico sunset.
17. Get my house professionally cleaned.
18. Call my grandparents.
19. Learn to use my serger.
20. Can some of my hubby's salsa.
21. Buy something on Craig's List.
22. Paint my hutch.
23. Make s'mores.
24. Run through the sprinklers.
25. Try a new type of cuisine.
26. Buy a new camera.
27. Enroll in a photography class.
28. Surprise a friend by picking up her kids to watch for the morning.
29. Take an afternoon to go thrifting.
30. Eat the hottest hot wings I can find.
No. 7
Finish organizing my craft closet.
Done! And the results are absolutely terrific! More details on this little endeavor will be coming in the upcoming weeks, but suffice it to say that taking the time to get organized has revolutionized my creative life! No kidding.
No. 10
Do something special with Cecily.
This is probably going to sound silly, but my special something with Cecily has been going on for the last week and a half, with my oldest kiddos in swim lessons. Every day while they are in their class, she and I have had the best time palling around together! We've read stories, played at the playground and done all the things I've been wanting to have time to do with just her, but never can manage to with the others in tow. It has been so wonderful!
Miss Priss finally has enough hair for piggy tails! 🙂
No. 11
Buy an outfit for the new baby.
So, I'm going to fudge a little on this one. I didn't buy an outfit for Baby Cuatro, per se, but I did buy some darling fabric to make him/her a little Halloween overall outfit, since my due date is at the beginning of November. I plan to use my favorite baby pattern, the Baby Overalls pattern by Jackie Clark. I can't wait to sew something so teensy again!
No. 12
Buy lunch for a stranger in a drive-through.
I love to think of the customer at McDonald's on Monday who was surprised to find out his or her lunch had been taken care of. What a fun thing to do. (The kiddos were delighted by it, too!)
No. 13
Watch fireworks.
While enjoying a cookout at our friends' home this weekend, some of their neighbors were setting off fireworks. An early 4th of July celebration! Because of the drought conditions present where we'll be spending the 4th, there will be no huge fireworks display for us this year, so I was really pleased by that serendipitous little spray of color in the night sky!
No. 15
Read a book.
Done! I cannot say enough what a compelling read Room by Emma Donaghue was. I highly, enthusiastically recommend it!
No. 29
Take and afternoon to go thrifting.
On Saturday afternoon, I stole away for a few hours to hit some of my local antique stores and flea markets. We have been looking into buying a new chair for our living room for, um, something like six months now, so when I stumbled upon this funky, retro jewel displayed in the front room of one of the stores, I knew immediately that she needed to come home with me! The color scheme is bright and vibrant, perfect to go along with some recent redecorating I've done in that space. I am honestly shocked at what great shape this piece is in, particularly considering that I am figuring it to be in the ballpark of 50 years old! The fabric appears to be a cotton canvas with what looks to be handstitched wool embroidery in a floral pattern throughout. I have to say I am truly tickled with my find!
These pictures are lacking, to say the least, but they give you an idea of what the chair looks like. And see that hutch peeking out in the background? That's what I want to tackle for goal #22!
***
I think that does it for my progress this week! This has already been such a motivating journey – and it's only halfway through! Thanks so much for letting me share it with you.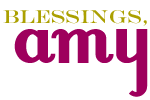 Having grown up in a home brimming with sewing notions and paintbrushes, Amy has a deep love for all things creative. On any given day, you'll find her knee-deep in her latest creative endeavor, with projects ranging from sewing and crafts to home decor and kid-friendly ideas. Amy believes that everyone, regardless of skill level or experience, possesses the ability to create something beautiful, and Positively Splendid was born of her passion for helping others harness their innate creative potential.