Whew! What a week!
We just said good-bye yesterday to the contractors we hired for the baby's room after a week of them working to complete the space. The nursery has been seamlessly added to our upstairs, and it looks terrific!
I didn't accomplish as much on my list this week as I had hoped I might, what with wrangling three children with drywall mud and wet paint abounding just down the hall from their bedroom. But, I did manage to get a few things done and/or started, and that is a satisfying feeling!
My Thirty Before Thirty
1. Go on a date night with my hubby.
2. Cook something with an ingredient I've never used before.
3. Treat myself to a manicure and pedicure.
4. Write letters to those I love.
5. Update our framed photos.
6. Spend a day totally unplugged from the internet.
7. Finish organizing my craft closet. – In progress.
8. Do something special with Jack, just the two of us.
9. Do something special with Charlotte.
10. Do something special with Cecily.
11. Buy an outfit for the new baby.
12. Buy lunch for a stranger in a drive-through.
13. Watch fireworks.
14. Eat breakfast in bed.
15. Read a book. – In progress.
16. Relish a New Mexico sunset.
17. Get my house professionally cleaned.
18. Call my grandparents.
19. Learn to use my serger.
20. Can some of my hubby's salsa.
21. Buy something on Craig's List.
22. Paint my hutch.
23. Make s'mores.
24. Run through the sprinklers.
25. Try a new type of cuisine.
26. Buy a new camera.
27. Enroll in a photography class.
28. Surprise a friend by picking up her kids to watch for the morning.
29. Take an afternoon to go thrifting.
30. Eat the hottest hot wings I can find.
No. 2
Cook something with an ingredient I've never used before.
I find such inspiration from the comments y'all leave, and last week when a reader suggested I should use the Indian spice blend Garam Masala as my new ingredient, it piqued my interest. I looked up an intriguing recipe for
Chicken Tikka Masala,
and last night, I flexed my culinary muscles and got cookin'. Oh my word. It was so, so good! Spicy, tangy and sweet, all in one amazing package. I highly recommend it!
No. 30
Eat the hottest hot wings I can find.
Mr. Splendid is somewhat of a connoisseur of hot food. Our refrigerator is a veritable replica of the hot sauce aisle in our supermarket, so when he saw #30 on my list, he was more than excited to help me in my quest. Last Wednesday night, he brought me home a boatload of the hottest wings from World of Wings, and I set to work. They were delicious! Of course, once I had finished, he had the gall to make the comment that the Blazin' wings at Buffalo Wild Wings are far hotter. So, it's looking like there will be a round 2 for this one, just so I don't have to take any flack from the hot wing expert himself. I'm still marking this one off, though, because it's my list, by golly, and it makes me happy. 😉
No. 7
Finish organizing my craft closet.
So. I'm making progress here, although I'm not to a point where I can mark it off the list just yet. And to see where I started, that is really saying something! There is work yet to be done, but I am already so enjoying not having to dig through a mess any time I want to tackle a project. In my defense, the photos below were of the ugliest part of the organization process, the worse-before-it-gets-better phase. But still – how on earth did I ever function like that?
No. 15
Read a book.
A few weeks back, my sweet hubs was nice enough to redeem a prize won at work for a Kindle for me. I am now about 80% through my first Kindle book:
Room by Emma Donoghue.
Wow – what a read! Something about the 5-year-old narrator's voice has me absolutely captivated, probably because it makes me think of my own sweet son. If the somewhat dark plot of this one leaves you squeamish, I urge you to give this a shot. This is the type of book that lingers with you even after you've put it down. With as hooked as I am at this point, I think I'll be able to mark this number off my list by the end of the weekend!
***
One week down, three to go! Here's to a productive upcoming week!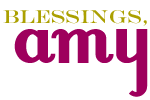 Having grown up in a home brimming with sewing notions and paintbrushes, Amy has a deep love for all things creative. On any given day, you'll find her knee-deep in her latest creative endeavor, with projects ranging from sewing and crafts to home decor and kid-friendly ideas. Amy believes that everyone, regardless of skill level or experience, possesses the ability to create something beautiful, and Positively Splendid was born of her passion for helping others harness their innate creative potential.