via Celebrations.com
So, I'm turning the big 3-0 this year. 
Wow – really? 30? I have become that person, the one who wistfully tells a teenager, "My goodness, it feels like it was yesterday that I was your age…" Which, it really does. 
That actually happened last night, as we were out to dinner with friends, and their daughter, a high school junior, joined us. And I could tell that I have been officially relegated to fuddy-duddy status by the overly polite smile she shone after I made that little comment. As if to say, "Suuuuure, it feels like yesterday. And I bet there wasn't even such a thing as the internet when you were little." 
Yes indeed. I'm getting old. 😉
Late yesterday afternoon, I stumbled upon a gorgeous blog that was entirely new to me. (I love it when that happens!) I have to say I love the name, Hello, Splendor, for obvious reasons.

(Aren't the splend- words marvelous? Splendid, splendor, resplendent…)

But, aside from that nerdy word obsession thing, the thing I loved most of all was a little series she recently did called Thirty before 30.
How did I go this long without knowing there was this little movement going on for those of us facing the reality of our mortality blessed trip into this new phase of life? Type the phrase "30 before 30" into Google, and you'll be inundated with matches. 
The concept is simple: 
Make a list of 30 things you want to accomplish before you turn 30. 
They can be grandiose, or they can be gloriously mundane. The choice is yours.
Do I love this idea? Be still my heart – yes! The moment I finished reading through the archives of Beth's Thirty before 30 journey, I set to work creating my own list. I can already tell this will be a work in progress for a little while before I am ready to commit to a final version.
Here is my list so far…
 (as well as some of the things I thought of that got nixed about the moment I penned them 😉
1. Cook something with truffles.
2. Submit an article for publication.
3. Run a marathon.
3. Run a half marathon.
3. Run 5 miles.
4. Finally finish reading Anna Karenina.
4. Finally finish reading any book that will make me more interesting to talk to at a dinner party.
5. Go on a romantic overnight trip with my hubby.
6. Donate hair to Locks of Love.
7. Throw a dinner party.
8. Invest in a fab pair of shoes.
9. Buy something on Craig's List.
10. Go on a beach trip, just the five of us.
11. Make myself a coat.
12. Have a spa day with my mom.
13. Pursue a new philanthropic endeavor.
14. Play a round of golf.
15. Learn the art of canning.
16. Make a snow angel.
17. Frame family photos (this is actually something I stole outright from Beth's list).
18. Build a furniture item from scratch.
19. Take the plunge into the wide world of DSLRs.
20. Have portraits done of our family (another item from Beth's list I had to sample).
21. Eat breakfast in bed.
22. Learn to use my serger.
23.
…
So, I still have a few items to go. And, as I said, some of these might or might not make it to the final version.
Something that has dawned on me as I've typed this list is that this would be a great thing to do at the beginning of each new year, regardless of the number of candles that will be on my birthday cake. How about Eleven in '11, Twelve in '12, etc.? (I suppose that list might be a little daunting by the time, God willing, I reach 2050 or so. 😉 What a motivating thing to have a set of goals to work toward each year!
Have any of you done something similar?
Do you have any suggestions for things to round out my list?
Thanks so much for stopping in!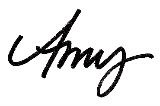 If you enjoyed this post, subscribe to Positively Splendid 
to receive updates, and join us on Facebook and Twitter!





Having grown up in a home brimming with sewing notions and paintbrushes, Amy has a deep love for all things creative. On any given day, you'll find her knee-deep in her latest creative endeavor, with projects ranging from sewing and crafts to home decor and kid-friendly ideas. Amy believes that everyone, regardless of skill level or experience, possesses the ability to create something beautiful, and Positively Splendid was born of her passion for helping others harness their innate creative potential.