One of my continual challenges is finding ways to maximize the limited creative time I have at my disposal. Between cleaning house, playing with my kiddos and keeping up with my blogging business, sometimes it seems as though there aren't enough hours in the day to fit in any creative time at all!
Fortunately, when it comes to sewing, I have learned a few tips and tricks to streamline the creative process to maximize the amount I can accomplish even in very small bursts of time. Today I am sharing my seven favorite time-saving sewing tips, which will enable you to streamline sewing projects so that you can accomplish more than ever before even in a limited amount of time!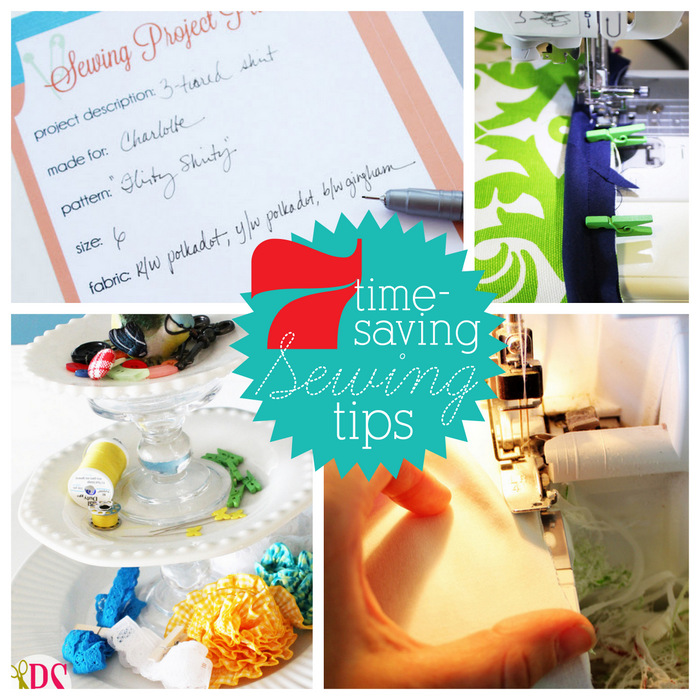 Trick #1 – Use pattern weights.
If you are still using pins when cutting out projects, trust me: you are wasting precious time and energy! Pattern weights serve the same purpose to prevent puckering and shifting as you cut, but they take mere seconds to lay out. If you are interested in making some of your own, check out my DIY pattern weight tutorial. They are so easy to stitch up! (If you don't have a fancy set of weights at your disposal, butter knives work fantastically for this purpose, too.)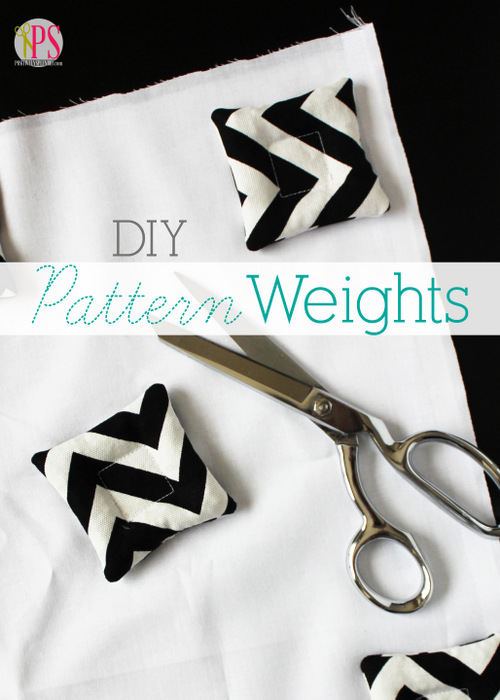 Trick #2 – Use a rotary cutter and mat.
When a pattern calls for strips of fabric cut at different dimensions, using a basic ruler and a pair of scissors is not only tedious and difficult, but it also risks putting you in a bind later if your measurements happen not to be accurate. Using a rotary cutter and mat is simple, quick and accurate, and it can greatly expedite the cutting process, especially for projects that require multiple cuts of various dimensions. I use it so much, my rotary cutter and mat made an appearance on my list of 12 must-have crafting tools.
Trick #3 – File away paper patterns for repeat projects.
I love to make pillow covers to switch out with each season. Because each of my pillow inserts is 18″, I made a reusable pattern out of Kraft paper for each of the three pieces I need for each pillow cover I make. (For the full details for how to make pillow cover patterns of your own, check out my tutorial here.) This prevents me from having to pull out my rotary cutter and mat each time I want to make a set of pillows, and it makes the cutting process take a fraction of the time. This same process could be used for anything you make multiple times, including accessory items like my portable manicure and pedicure kit or my portable first aid kit, or home decor items like my quick and easy table runner.
Trick #4 – Use mini clothespins instead of straight pins when sewing bindings and piping.
One thing that can make sewing projects with bindings or piping unnecessarily time-consuming and difficult is trying to negotiate all those pins as you stitch. I have discovered that mini clothespins (found in the office supply section of many stores) keep all layers lined up nicely without the hassle and time spent pinning and repinning. This is one of my new favorite sewing tricks, which I recently discovered while making a set of pillow covers for my master bedroom.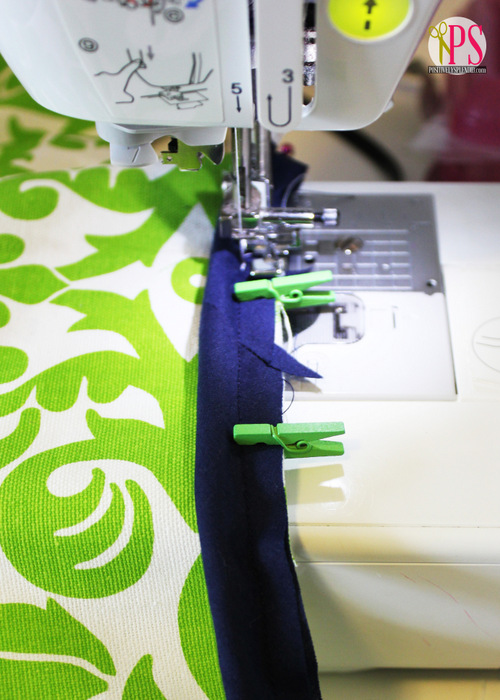 Trick #5 – Serge to stitch and finish seams at the same time.
If you are fortunate enough to own a serger, consider yourself the lucky owner of one of the greatest sewing time savers of them all! Using an overlock stitch can allow you to stitch and finish seams in one fell swoop on many projects, and especially in home decor and garment sewing. Talk about a time saver! I have had my serger for two years now, and I honestly can't imagine how I ever lived without it.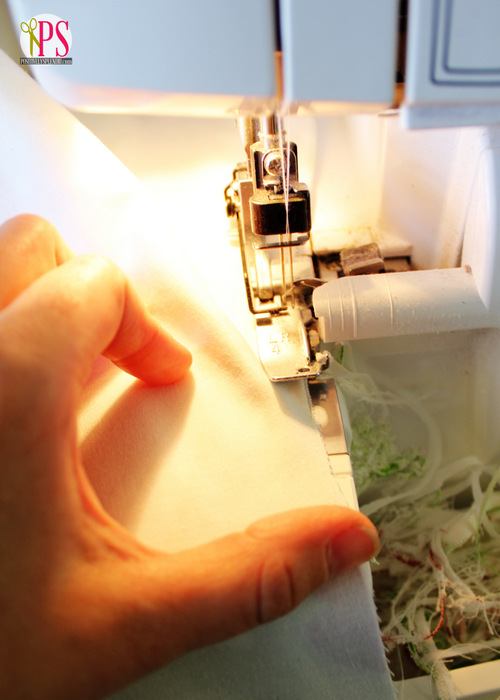 Trick #6 – Keep supplies organized.
Nothing can sabotage the ability to create in a timely fashion more quickly than a collection of sewing tools and supplies that are in a complete state of disarray. Trust me: I have learned this from experience! If your sewing supplies are a mess, take some time to purge, clean and organize your notions, tools and such so that the next time you sit down to sew, you can spend more time creating and less time hunting for that one supply you know you have, but can't seem to locate. My sewing room and home office post is full or great ideas for keeping your supplies organized, even in the smallest of spaces.
Trick #7 – Keep a sewing journal.
I started a couple of years ago keeping a sewing project planner/journal for my projects. (I have a free copy of the printable for the Sewing Project Planner you can download here.) As I work, I take notes of different adjustments and tweaks I make to patterns, along with any comments relating to the overall creative process so that the next time I sit down to complete that same project, I won't have to reinvent the wheel. This takes a bit of time up front, but it pays off greatly in the long run!
Do you have any great time-saving sewing tips? If so, feel free to add to the conversation in the comments below!
Having grown up in a home brimming with sewing notions and paintbrushes, Amy has a deep love for all things creative. On any given day, you'll find her knee-deep in her latest creative endeavor, with projects ranging from sewing and crafts to home decor and kid-friendly ideas. Amy believes that everyone, regardless of skill level or experience, possesses the ability to create something beautiful, and Positively Splendid was born of her passion for helping others harness their innate creative potential.