A question I often hear from my readers is regarding which sewing machine I use. Truly, when purchasing a machine, nothing is more helpful in selecting and buying a new sewing machine than the advice of a friend, so today I thought I would tell you a bit about my machine, the Brother SE-350, and some of the pros and cons of this particular machine.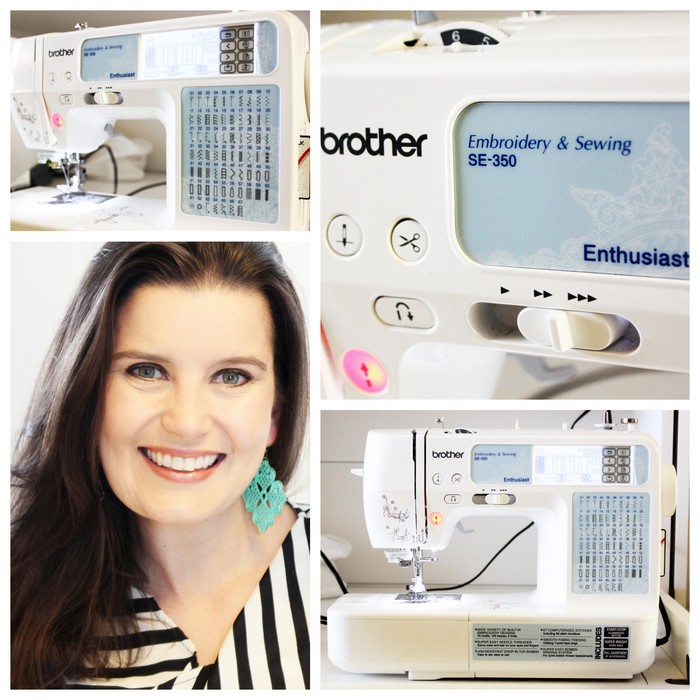 I was lucky to inherit this machine from my mom four years ago when she purchased a new machine of her own. Purchased new, the current model of this machine (the SE-400) will run you around $350.
After a number of years of consistent use, this machine still works really well. I have pushed it to its limits in stitching up a number of sewing-intensive projects, including the ruffled crib skirt for my son's nursery, curtains for my home's kitchen, and a slipcover for my office chair.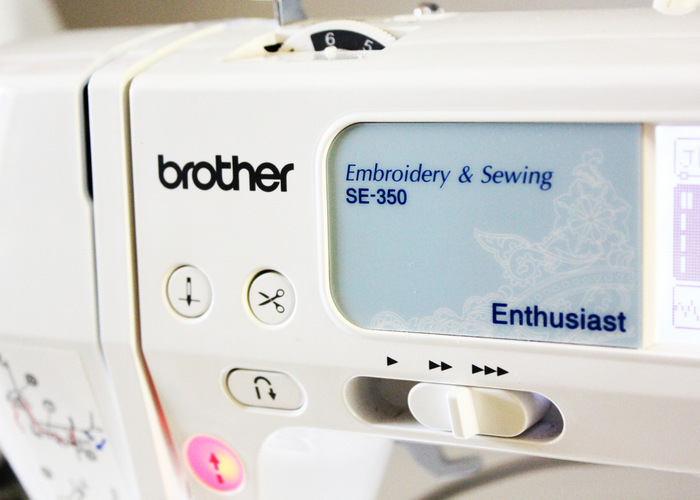 First things first, what do I like about my machine? I am so glad you asked!
The top-loading bobbin is extremely easy to use, and winding bobbins can be done at the touch of a button.

Although I enjoy the digital functionality of the machine, I like that it gives you the ability to decide between a digital/button operation or a standard pedal operation.
There are many different stitches to choose from, and the automated button-hole function is extremely easy to use.
The machine is lightweight and easily stored away for those without a permanent sewing space.
Because it is a sewing and embroidery machine, this machine gives you dual functionality at a relatively low price point.
New components for the machine (feet, parts, etc.) are very reasonably priced.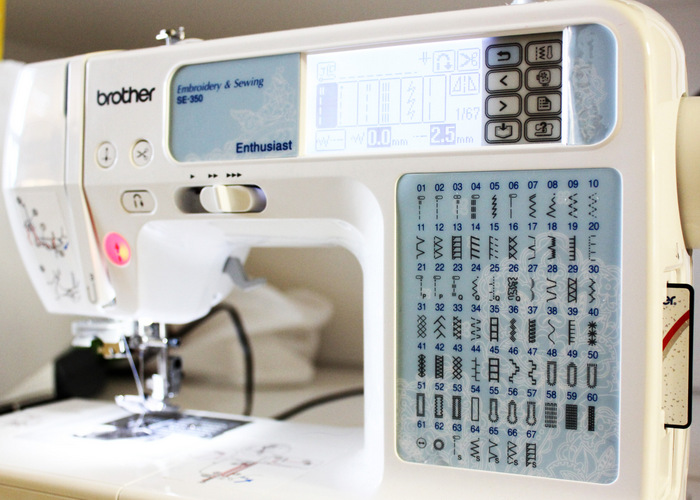 Now, a reality check. Some cons of this particular machine, as I see it:
This machine lacks the workhorse capabilities of more high-dollar machines. When sewing through particularly thick materials, I have experienced my fair share of broken needles. I will say, though, that although it does have its limits in sewing many tough materials (including leather and vinyl), it has performed admirably for a machine in this price point.

The beeping noise made each time the machine stops and stars can be irritating, but that default setting can be turned off in the machine's settings.
Occasionally, the automatic thread cutter (a great feature!) stops cutting, and the machine needs to be rebooted in order to get it to function again.
For embroidery enthusiasts, the hoop included with this machine is fairly small, limiting the scope of the designs you can stitch.
Overall, I would recommend this machine to anyone wanting a great machine at a reasonable price. The intuitive controls and ease of use for this machine makes it suitable for beginning sewists, but the functionality and versatility of the machine makes it equally appropriate for experienced sewists, as well.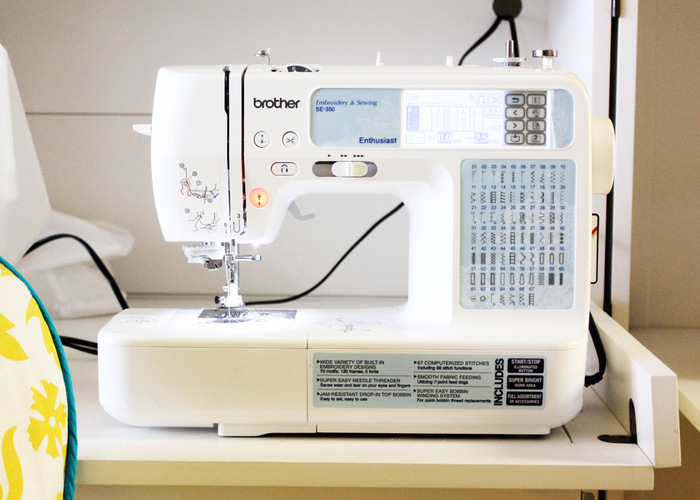 What type of machine do you use? Do you like it? Love it? Wish you could replace it?
Better yet, what is your dream sewing machine?
Thanks so much for stopping in! Feel free to add to the conversation or ask any questions you might have in the comments below.
Having grown up in a home brimming with sewing notions and paintbrushes, Amy has a deep love for all things creative. On any given day, you'll find her knee-deep in her latest creative endeavor, with projects ranging from sewing and crafts to home decor and kid-friendly ideas. Amy believes that everyone, regardless of skill level or experience, possesses the ability to create something beautiful, and Positively Splendid was born of her passion for helping others harness their innate creative potential.