"M
ama, why are we the only ones on our street who don't like Halloween? Everyone else has decorations."
Ouch. 
Having a house on the market this time of year makes my typical Halloween decorating completely out of the realm of possibility, but after my older monkeys came in and walloped me with that little declaration, I decided enough was enough. Home selling be darned, I have to get my Halloween on. 🙂
The idea for this little project has been dancing around in my head for some time now. What a fun concept: stretch out the fun of Halloween by creating a
Trick-or-Tree
with a goody bag to open each day leading up to the big day.
Some of the bags will contain treats
(candy, small toys and other fun items)
and the others will be filled with mischievous "tricks"
(whoopie cushions, funny face glasses, and creepy critters, just to name a few). I had initially planned to make this happen by using a real tree of some sort to hang all of my goody bags from, but because I am trying hard to keep things clutter-free around here, I opted instead to go with a setup using the mirror over my kiddos' dresser. Here's how I did it!
Before I move on, though, two comments about the pictures I managed of this project:
1. It is downright hard to manage good photos of anything involving a mirror!
2. I am full aware that I am biased because she is mine, but is that surprised "ooh" face of Charlotte's cute, or what? And it was entirely unprompted!
For this project, you will need:
My Halloween Goody Bag tutorial, to make numbered goody bags from 1 to 10 (my countdown will start today and run through the day before Halloween)
Black and white adhesive vinyl
Scissors
Small suction cup
"Tricks" and "Treats" to fill your goody bags (see my suggestions above)
Trace a large oval onto the back of your white vinyl. (I used my word processing software to create a template.) Cut this piece out and set it aside. Use a ruler to draw an angular trunk and branches for your tree onto the back of your black vinyl as shown. Cut this image out as well.
Adhere your vinyl pieces to a mirror, using a credit card to smooth out any bubbles. Use a dry-erase marker to further embellish your mirror with the wording of your choice, as shown. Apply your suction cup to hang one goody bag for each day so it appears to be dangling from one of the branches of your tree. 
You will switch out the goody bags each day, filling them with the items of your choice. Your little ones are sure to love the surprise of wondering what to look forward to next!
Love this idea, but don't have time to put together a set of handmade goody bags? Buy ready-made bags from your local craft store to use for the same purpose, and you're all set!
A little leery of adhering the vinyl to a mirror because of the hassle of removing it later? Adhere it instead onto the glass of an empty frame to achieve a similar look and have the same dry-erase functionality.
My kiddos and I are off to the pumpkin patch today for a school field trip. Fun!!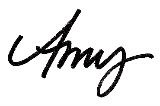 Linking this to…

If you enjoyed this post, subscribe to Positively Splendid 
to receive updates, and join us on Facebook and Twitter!





Having grown up in a home brimming with sewing notions and paintbrushes, Amy has a deep love for all things creative. On any given day, you'll find her knee-deep in her latest creative endeavor, with projects ranging from sewing and crafts to home decor and kid-friendly ideas. Amy believes that everyone, regardless of skill level or experience, possesses the ability to create something beautiful, and Positively Splendid was born of her passion for helping others harness their innate creative potential.