Each year around this time, after spring break but before school lets out for the summer, I always get the itch to do some spring cleaning around my home. No doubt that raising kids is a messy business, as my walls, appliances and just about every surface in my home can attest! In addition to the more common places I always tackle when spring cleaning (baseboards, blinds, and ceiling fans), I always add some not-so-obvious cleaning tasks to my routine, as well, to remedy the messes left behind over time by my four kids.
Today, I've partnered with HEB and their new Guide to Clean to share 7 of my MUST-DO spring cleaning tasks for families with kids. These ideas will help you get every room in your home back to tip-top shape, and (best of all!), many of them are easy enough for your kids to help with, too. Read on for all the details.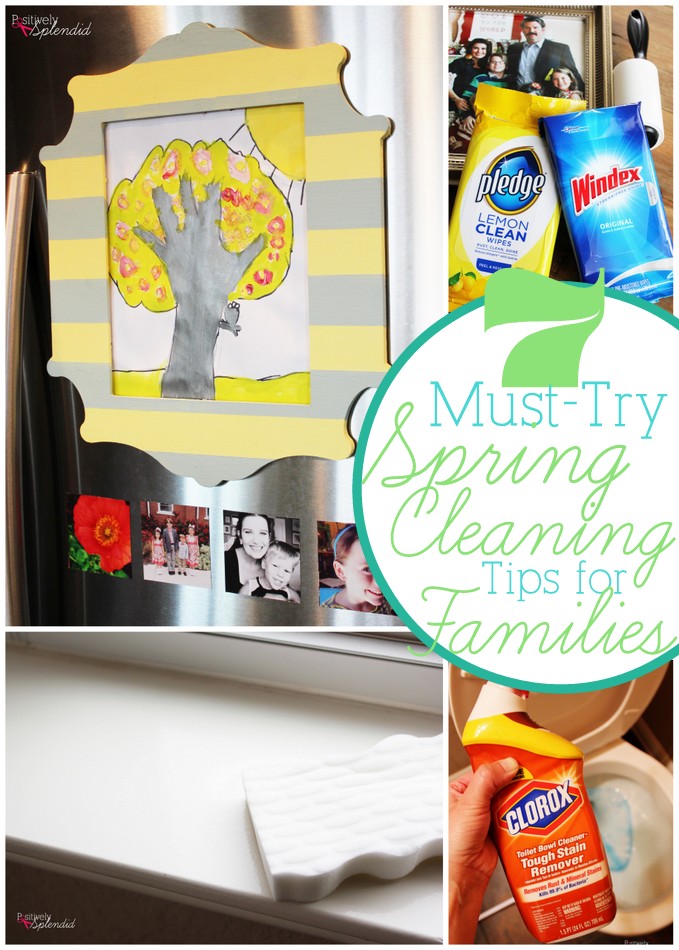 This post is brought to you by HEB. All opinions are entirely my own.
7 Spring Cleaning Tips for Families
Task #1 – Walls and Window Sills
Take a look around any home with kids, and it's likely you'll see plenty of tiny finger and handprints on the walls and window sills in your home, especially in high-traffic areas like hallways and stairs, or in any area where food is served or eaten. For cleaning the walls and window sills and getting rid of these smudges and stains, my go-to secret are Extra Durable Magic Erasers. As the name implies, these guys really are magical when it comes to getting rid of messes that nothing else can touch, and they hold up even better than other Magic Erasers!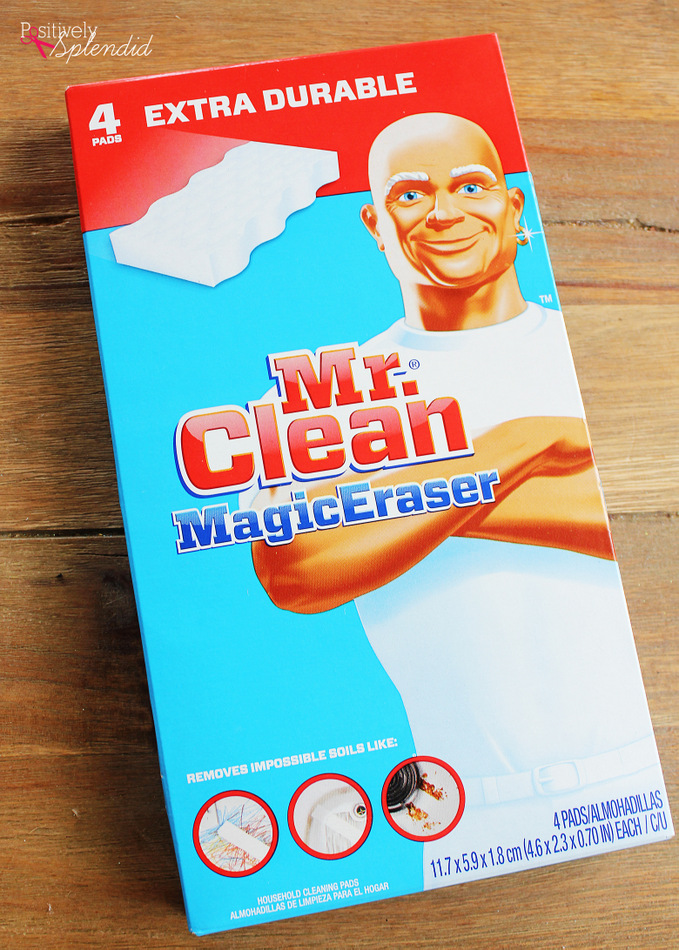 Fill a small bucket with warm water a grab a couple of Magic Erasers before making a pass through each room in your home, gently scrubbing away any residue on the walls and window sills that you encounter. It's amazing how this instantly freshens up any space!
Note: If your walls are covered in flat paint, be very careful when using Magic Erasers, as they can remove some of the paint.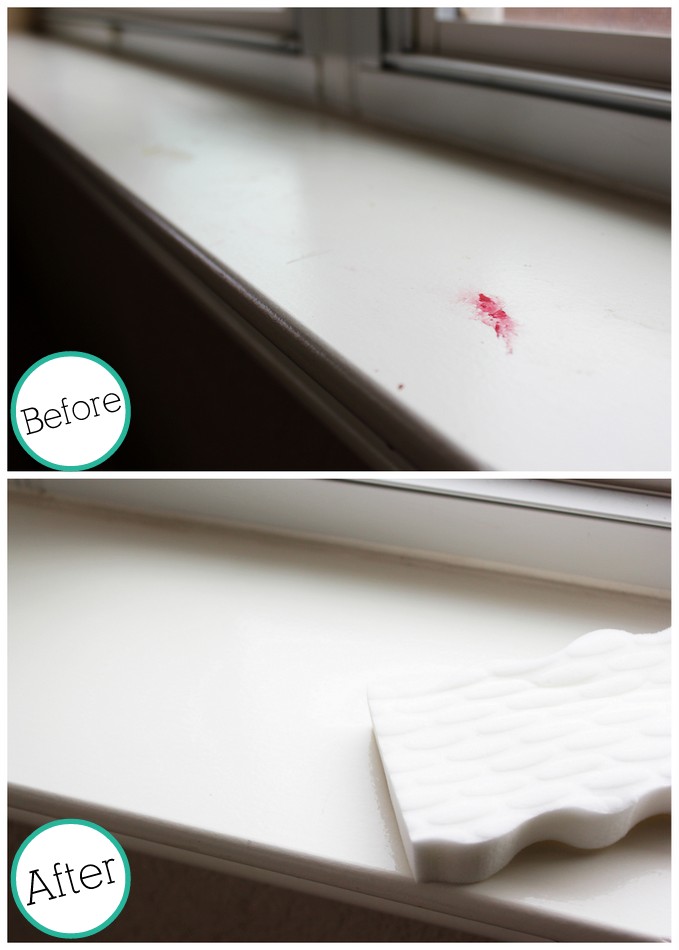 Task #2 – Doorknobs
No doubt about it: doorknobs in any house get a workout, but especially in a home with kids who are constantly moving from one room to another! Over time, knobs and levers can become hotbeds for all sorts of unsavory stuff, and especially on those in bathrooms. Grab a container of Clorox Wipes and give all of the knobs in your home a good scrubbing to remove germs and make them shine.
Task #3- Cabinets
Just like our home's walls, the cabinets in our kitchen and bathrooms are subjected to a serious workout on a daily bases, being covered regularly in spills, smudges of food, and dribbles of toothpaste. (Yuck, I know!) Although I regularly give my cabinets a wipe-down each week when I clean, in the spring I really like to give them some TLC with a polishing product to keep them protected so they can hold up for many years of use. My favorite product for this job is Method Wood for Good Polish. The almond smell is absolutely lovely, and it makes the wood look shiny and new!
Task #4 – Light Switches
Related to #2 above, there are simply some surfaces that are magnets for the many not-so-appetizing things kids can be carrying around on their hands. Light switches are certainly one of those! Over time, these can become grimy and covered in any number of messes, making them another hotbed for germs that can make your family sick. For my light switches, I like to scrub off any major messes with a Magic Eraser before giving them all a thorough wipe-down with a Clorox Wipe to remove germs and make them sparkle.
Task #5 – The Fridge
Take a look at our family's refrigerator on any given day, and you are likely to notice a number of things: 1) Stainless steel is evidently the perfect canvas for little finger and handprints, 2) That handle is awfully sticky and 3) My kids are apparently aspiring Picassos. Although I clean the inside of our refrigerator on a fairly regular basis, I tend to neglect the outside, which is covered in smudges and way too much artwork.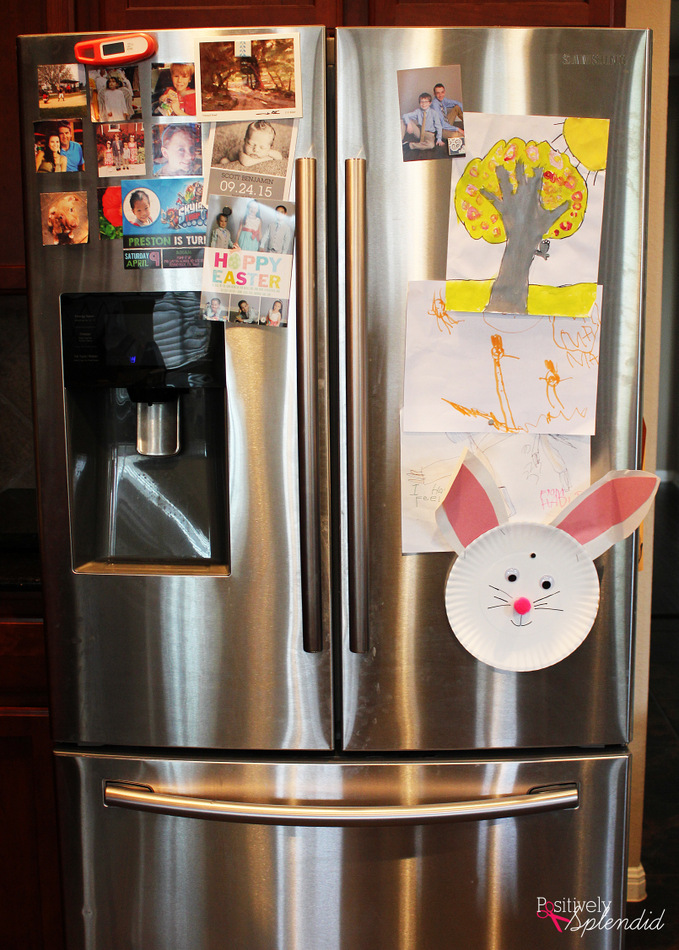 Start by removing every single piece of art, paperwork, calendars, photos, etc., that are hung on the fridge front and sides. Next, using an all-purpose spray or, if you have a stainless fridge like we do, a stainless steel cleaning spray, give the entire fridge (including the top!) a thorough cleaning. For all of my stainless appliances steel front, my go-to is Sprayaway Stainless Steel Cleaner and Polish. Note: Be sure to use a lint-free cloth for this task so you don't create a mess as you work.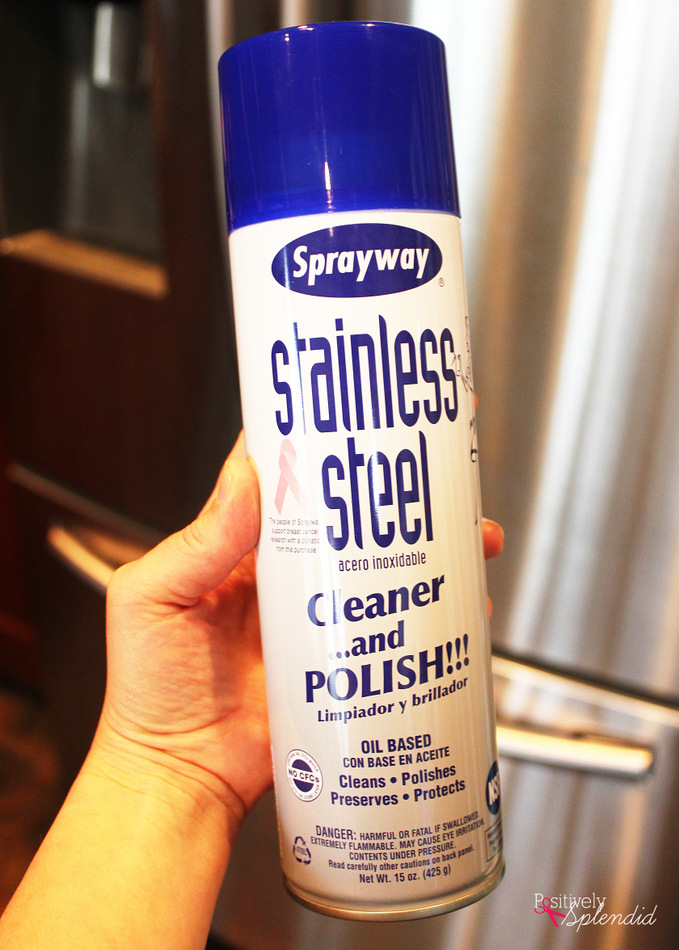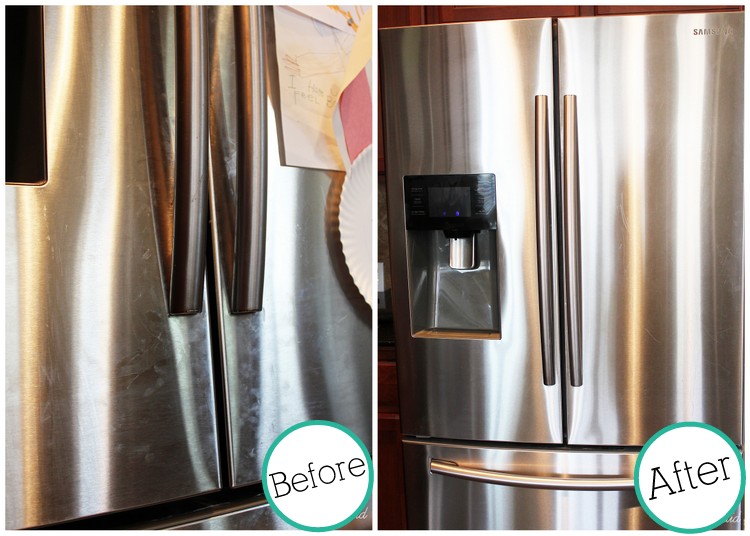 Once the fridge is sparkling clean, I like to select just one piece of art to display from each child and file away the rest. To display them, I couldn't live without my handy refrigerator art frames, which keep the fridge from looking cluttered.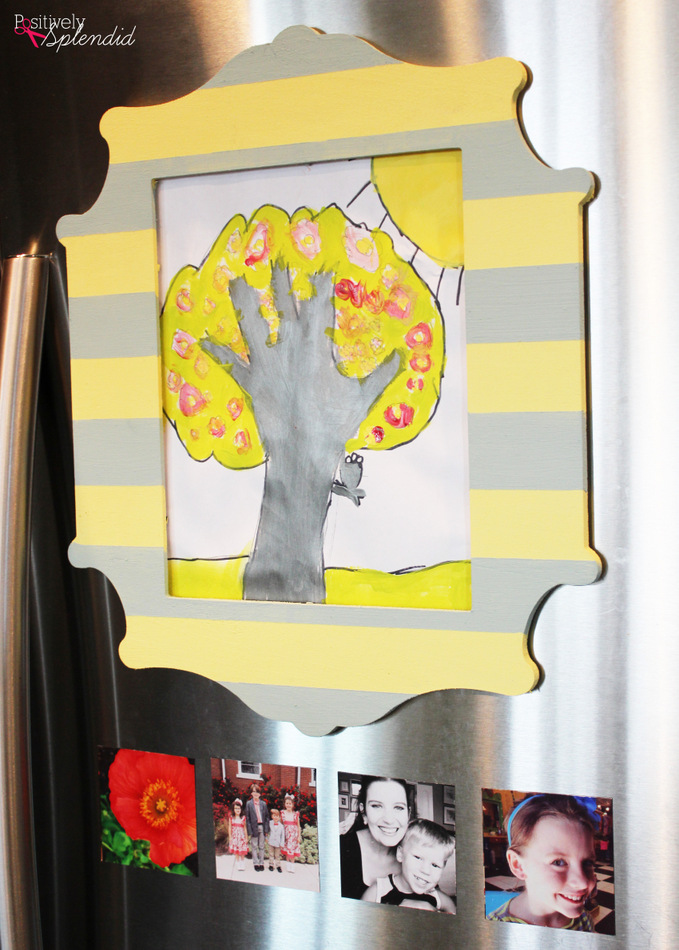 Task #6 – Toilets
Without a doubt, one of the very nastiest places in any home with kids are the toilets. Yuck! I regularly clean the entire outside and inside of our commodes each week, but when it comes to spring cleaning time, I really give them a thorough scrubbing! Believe it or not, your best secret weapon for this task is a handy toothbrush. Armed with that and some Clorox Disinfecting Bathroom Cleaner, spray down the entire outer surface of the toilet, including all around the base, and then start scrubbing with the toothbrush, paying close attention to the caulking around the base and the hinges that connect the lid to the toilet. Use a rag to wipe down the entire surface of the toilet until it shines.
In our neck of the woods, hard water can leave unsightly stains in the bottom of the bowl no matter how hard I scrub each week, so I finish off by scrubbing the inside of the bowl with Clorox Toilet Bowl Cleaner Tough Stain Remover. It works like a charm and leaves everything sparkling clean!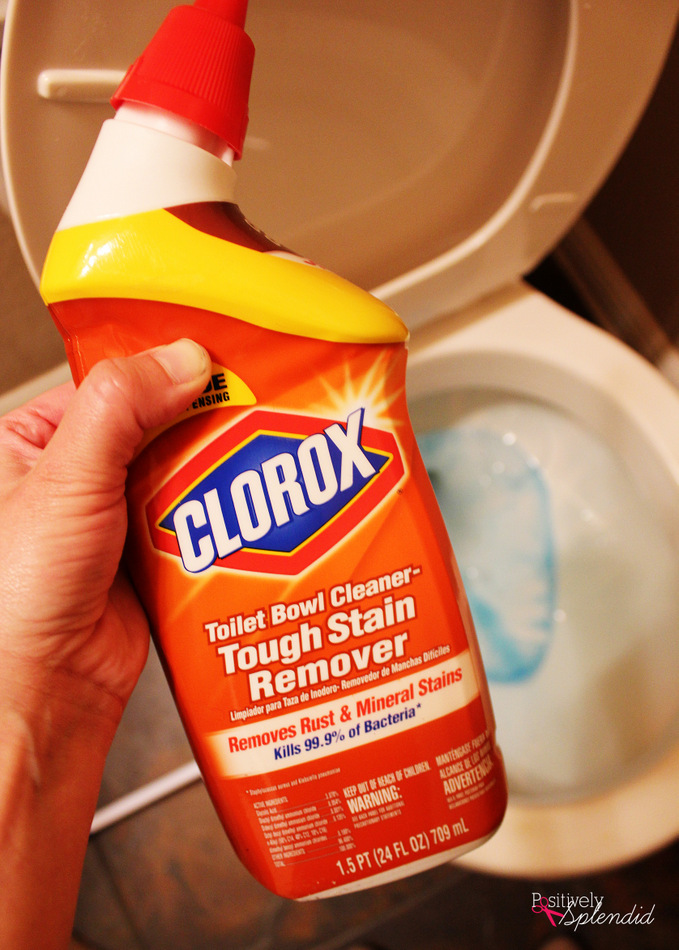 Task #7 – Picture Frames
In a home with kids, you're sure to find plenty of frames filled with precious, smiling faces. Although I dust the picture frames in our home each week, they tend to become dusty and grimy over time. If your frames are the same, start by removing the back of the frame and the photos and glass. Wipe down the glass with a Windex Glass and Surface Wipe and set it aside to dry completely. For frames with a velvet back, use a lint roller to remove any excess dust. (Lint rollers are one of my other favorite secret cleaning weapons!)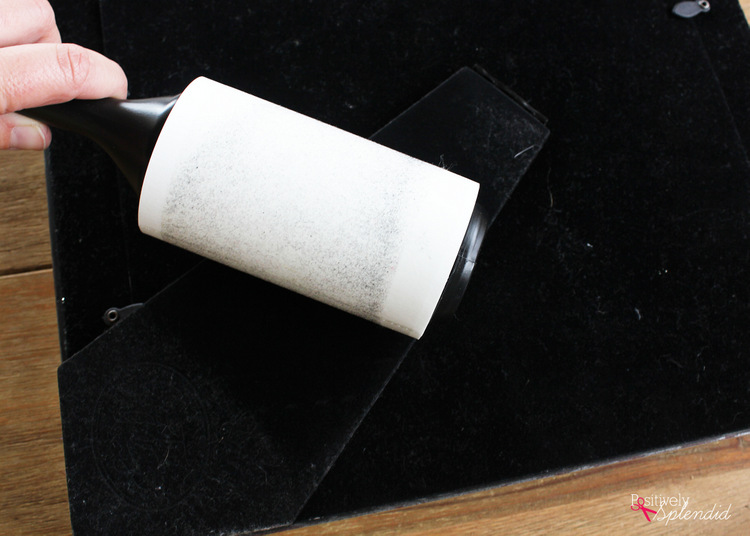 Finish by cleaning the frame itself with a Pledge Wipe before popping the glass and photos back into place.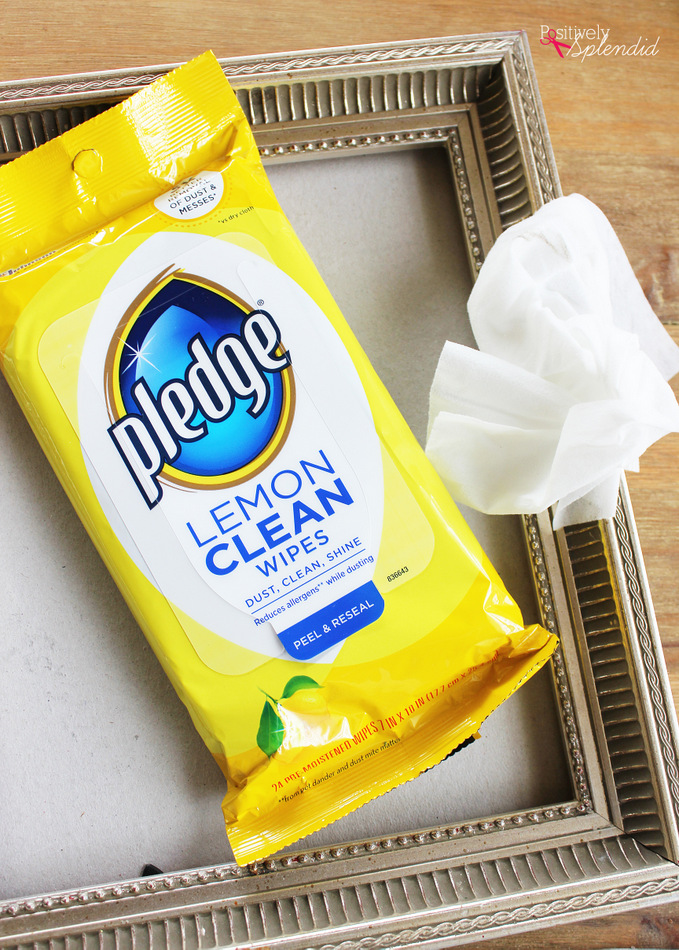 Now you can look at those smiling faces without the smudges!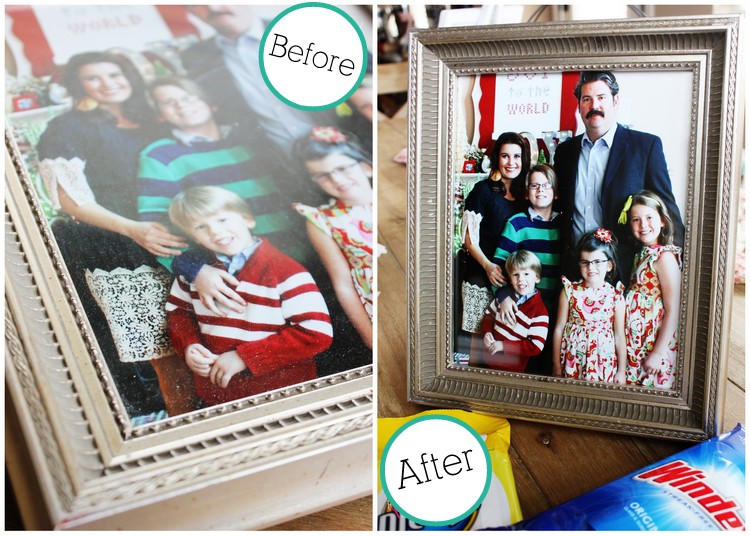 Any home with kids is filled with fun, joy–and messes! These simple spring cleaning tips will help take care of some common kid-created messes so you can enjoy both a clean home and happy children.
For even more terrific spring cleaning tips, be sure to check out the HEB Guide to Clean, which is brimming with ideas for every space in your home.
Giveaway Time!
Itching to do some spring cleaning of your own? TWO lucky readers are going to win a $50 HEB gift card PLUS a terrific prize package of cleaning goodies!
To enter, simply share your favorite spring cleaning tips with the hashtag #HEBSpringCleaningTips on Twitter, Facebook, or Instagram (you must tag @HEB in your post). Then, add the link to your shares in the Rafflecopter below so you can be entered to win! Yay!
This giveaway closes at 12:00 AM on April 18, 2016. You can enter up to one time per day per social media account, so the more you share, the better chance you have of winning!
Having grown up in a home brimming with sewing notions and paintbrushes, Amy has a deep love for all things creative. On any given day, you'll find her knee-deep in her latest creative endeavor, with projects ranging from sewing and crafts to home decor and kid-friendly ideas. Amy believes that everyone, regardless of skill level or experience, possesses the ability to create something beautiful, and Positively Splendid was born of her passion for helping others harness their innate creative potential.