Oh, how I love continuing traditions with my family throughout the years, and especially during the holidays! No doubt, one of the things we look forward to together most each year is our Advent Christmas book countdown, which begins on December 1st and runs through Christmas Eve. Our favorite Christmas books are wrapped up and numbered and then placed under the tree, so that each evening, we unwrap the book for that night to read together as a family. Some of our most precious family Christmas memories have been made with this little tradition! If you're interested in starting a Christmas book countdown tradition with your own family, I'm sharing the answers to many questions you might have for how to do so, including a list of our favorite books, some of my best gift-wrapping tips, plus a set of free printable Christmas countdown tags to use on your wrapped books. Let's get started!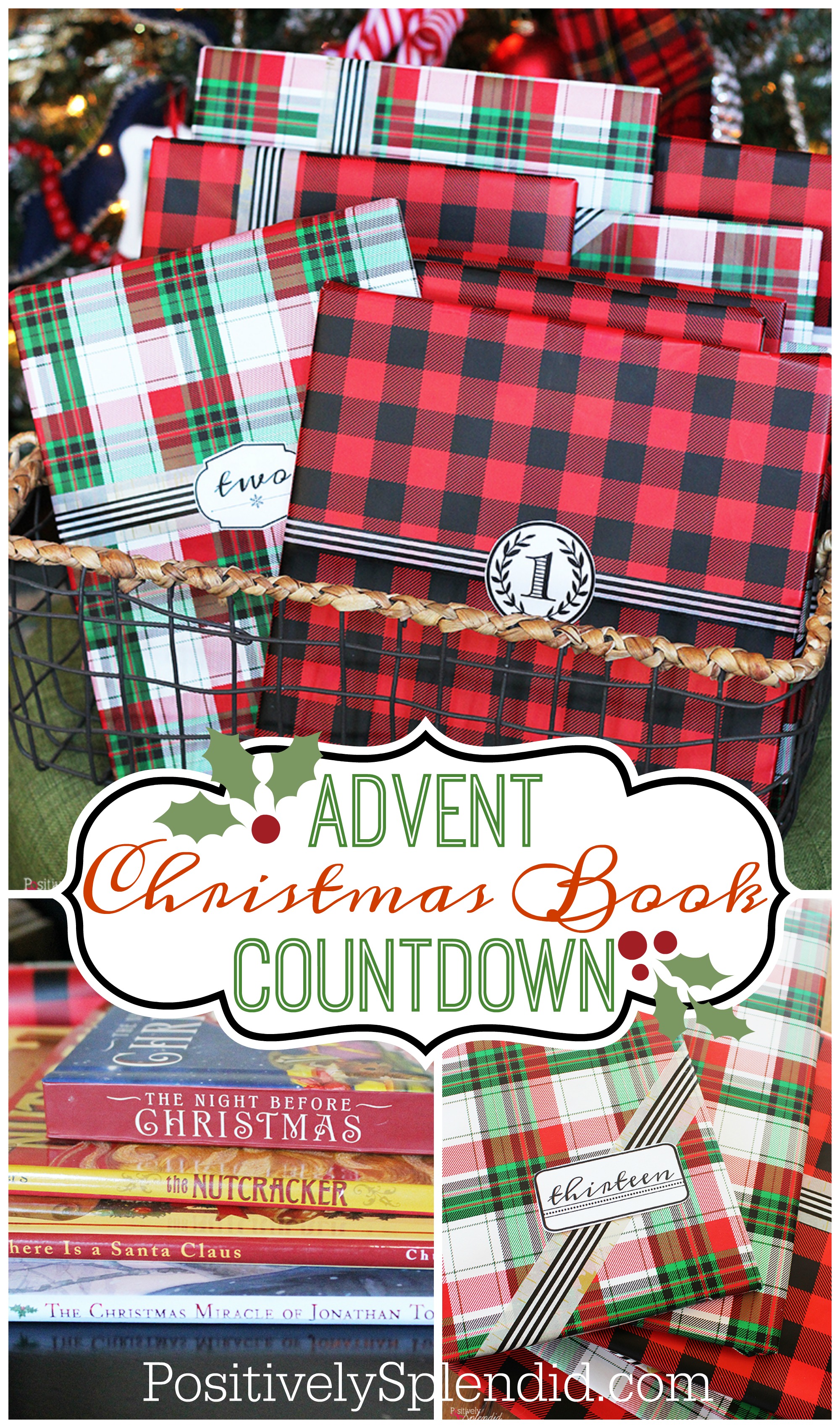 What are your favorite children's Christmas books to include in a Christmas book countdown like this one?
One of the things I love about this concept is that it allows you to use books you already have in your library and present them to children in an exciting way, making old book favorites truly come alive again! Each year, too, I love to add 2-3 new titles to the mix. When those books are unwrapped, the kids are always so excited!
These are the books that are making an appearance in our countdown this year. Since my children range from late elementary school to pre-school age, there is a wide variety of different books in our list, ranging from sentimental to funny and just about everything in between!
Note: This list contains affiliate links.
Day 1: The Elf on the Shelf
Buddy, our Elf, makes his first appearance of the year on December 1, so this book is always our first book of the countdown.
Day 2: Santa Duck
My littlest ones, especially, giggle at this silly book about a Duck masquerading as Santa.
Day 3: How the Grinch Stole Christmas
I always try to time this book in our countdown to coincide with a weekend, so we can also watch the movie on the same evening!
Day 4: Snowmen at Night
As Texans, my children love to imagine this world of snowmen, since a white Christmas here is only something in our dreams.
Day 5: The Legend of St. Nicholas
Each year, my children leave their lists out for Santa in their shoes the night before St. Nicholas Day (December 6), and he comes and takes the lists back to the North Pole, leaving little treats behind in their stead. This book tells the story of St. Nicholas and how this tradition, which is very common in Germany, came to be.
Day 6: Mr. Willowby's Christmas Tree
A delightful book about sharing Christmas joy. We all love this one!
Day 7: The Christmas Wish
A sweet book about a little girl who wants to be one of Santa's elves. The photographs in this little story are absolutely lovely!
Day 8: Frosty the Snowman
We all love to sing along to this one when it appears in the countdown!
Day 9: One Snowy Night
A sweet little story about a red hat and how it winds up being found by just the right little hedgehog.
Day 10: The Poky Little Puppy's First Christmas
My youngest son loves this book so much, I always have it nearly memorized by the end of the Christmas season! This is a sweet story with a great message about it being more important to give than to receive.
Day 11: Room for a Little One
This is such a beautiful story about the kind animals in the stable making room for two weary travelers and their brand-new baby boy on Christmas. Truly, this is one of our all-time favorites!
Day 12: 12 Days of Christmas
The gorgeous illustrations by Jan Brett in this version of a familiar classic are just wonderful.
Day 13: The Littlest Angel
The ending of this classic about a little angel in heaven at the time of Jesus' birth is sure to touch your heart. Be sure to get out the tissues with this one!
Day 14: The Polar Express
A classic I loved as a child, and that my children now love, as well!
Day 15: Yes, Virginia, There is a Santa Claus
This is a wonderful book to read with older kids, especially, who might be wondering if the magic of Santa Claus is truly real.
Day 16: The Nutcracker 
This is my favorite picture book version of this classic tale. The illustrations are just gorgeous!
Day 17: The Legend of the Poinsettia
Teaching children about the Christmas traditions of other cultures is such a wonderful way to enrich the season. Tomie dePaola's books all have lovely, lively illustrations, and they tell informative stories in an engaging way. This one about the legend of the poinsettia is one of our favorites!
Day 18: Merry Christmas, Stinky Face
If your kids love the "Stinky Face" books, this is a sweet Christmas version that is sure to elicit plenty of giggles.
Day 19: The Berenstain Bears and the Joy of Giving
I have loved sharing the Berenstain Bears books with my kids since they were tiny, and this particular book is a fantastic lesson on the joy of being generous during the holiday season.
Day 20: The Christmas Miracle of Johnathan Toomey
Everything about this book–the beautiful illustrations, the touching story about a widow and her son and a wood carver that comes into their lives–is absolutely wonderful.
Day 21: The Crippled Lamb
As the mom of a special needs daughter, this book is particularly poignant. A sweet story about how God accepts us just as we are, the finale of this one is sure to touch your heart!
Day 22: Too Many Tamales
As native New Mexicans, my husband and I always eat New Mexican food on Christmas Eve. This book about something very important being lost in a batch of Christmas tamales is a delight!
Day 23: The Animals' Christmas Eve
This was one of the very first Christmas books our family ever received as a gift when our oldest was born, and we've been reading it each and every year since then. A sweet little book, especially for younger children.
Day 24: The Night Before Christmas
Before my dad passed away, I gave him a recordable version of this classic poem to create for my children. I can't wait to hear him read it this year.
And there you have it: Each of the 24 books from our Christmas book countdown!
How can you simplify wrapping that many packages at once?
For my countdown each year, I keep my wrapping supplies limited to just these four things:
Wrapping paper (I purchase coordinating paper from the bargain section at Michaels, and 2 rolls that cost $1.50 apiece are more than enough to wrap all of the books)
Washi tape
The important thing I've learned over the years is to wrap the books so they are completely flat. With children leafing through the books each night to find the right one, any dimensional wrapping will either come off or be completely destroyed by the time you reach the end of the countdown!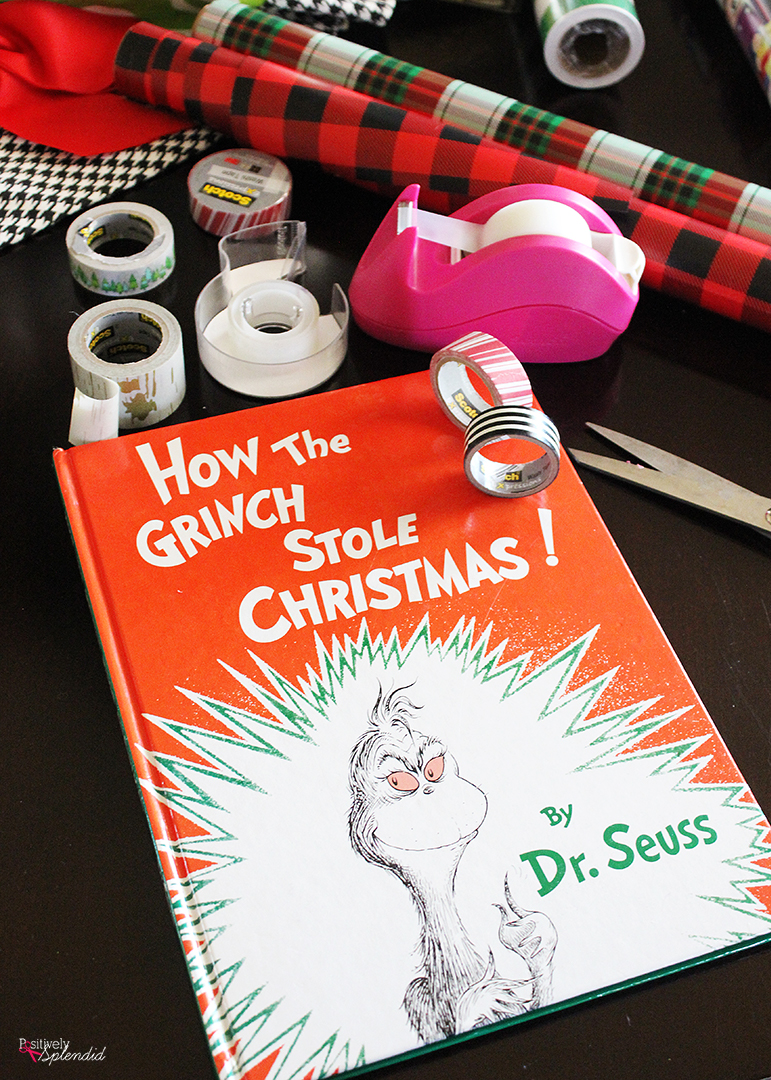 After the book is wrapped in paper, I just add a couple of decorative strips of washi tape (so much easier than ribbon!), and then affix the number tag to the front of the package.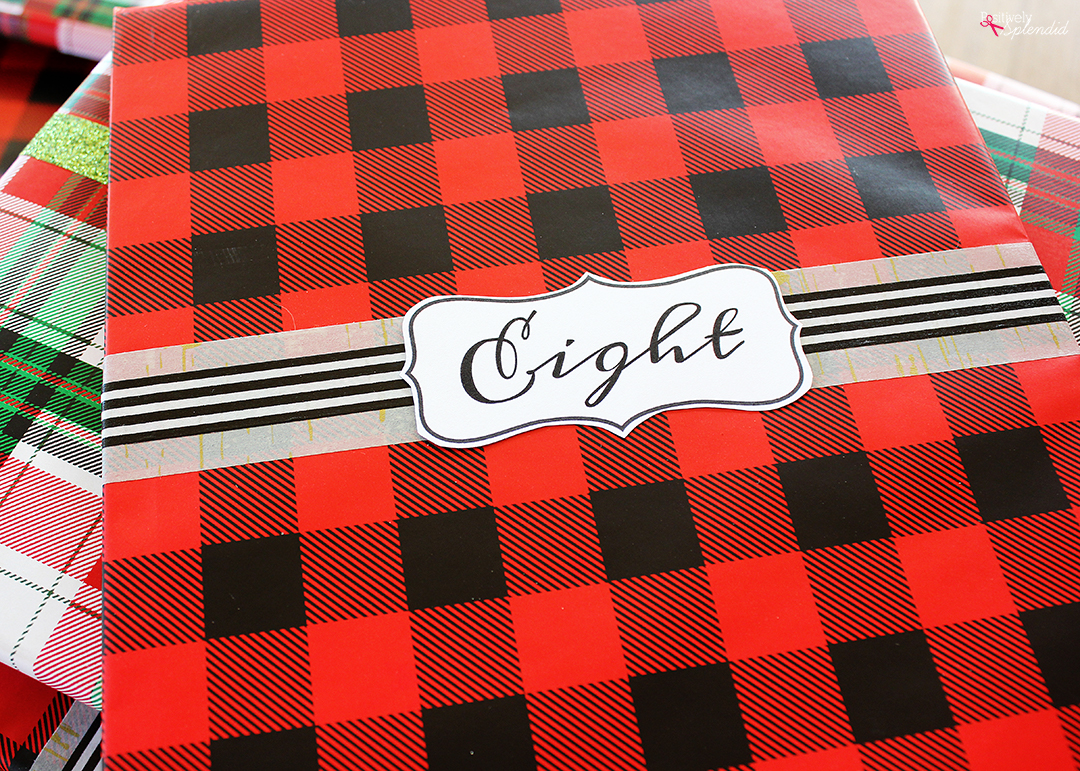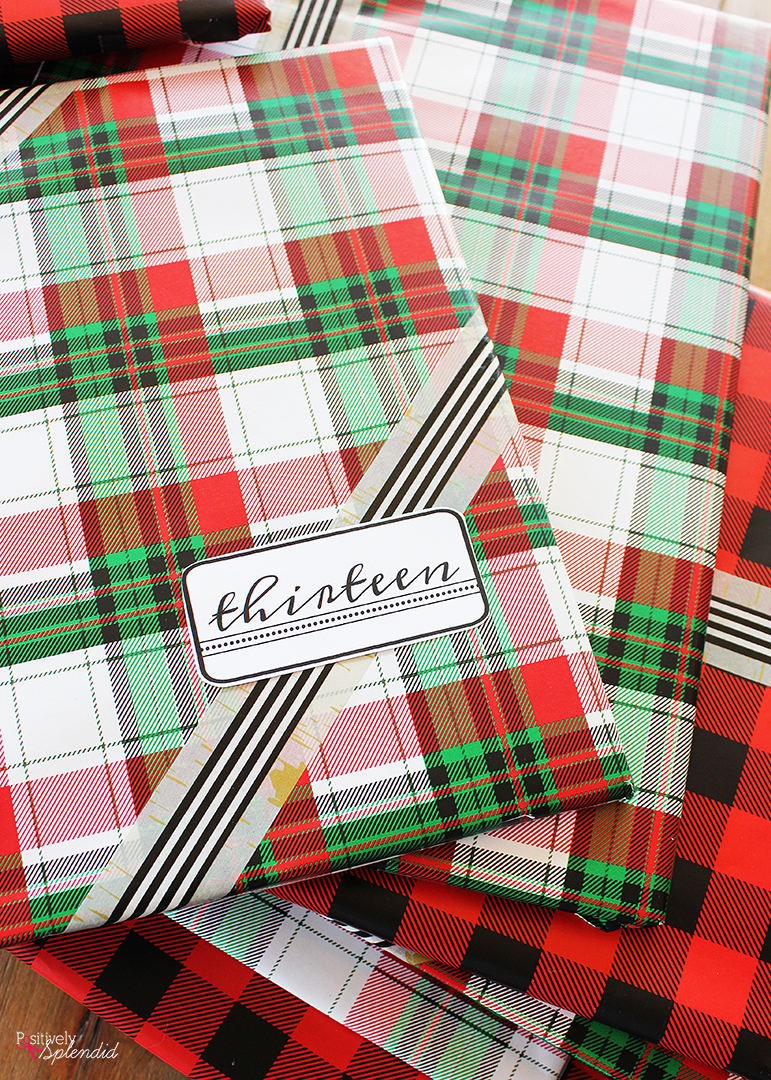 I love this idea, but I have a limited budget. Can I still make a Christmas book countdown happen for my family?
Absolutely! If you have a limited budget and you don't have a robust home library of children's Christmas books, some great options for rounding up your 24 books are to take them out on loan from the library, or possibly even to ask to borrow Christmas books from friends and family.
I would love to do a Christmas book countdown like this one, but it's already past December 1st, and I think I'm too late! What can I do?
There is absolutely no reason in the world you can't start this countdown on any day you wish in December–it doesn't have to be the 1st! Also, if you don't have time to wrap all of the gifts at once to kick off the countdown, just wrap the first 2-3 and then keep adding  more to the mix as you get time to wrap them later on.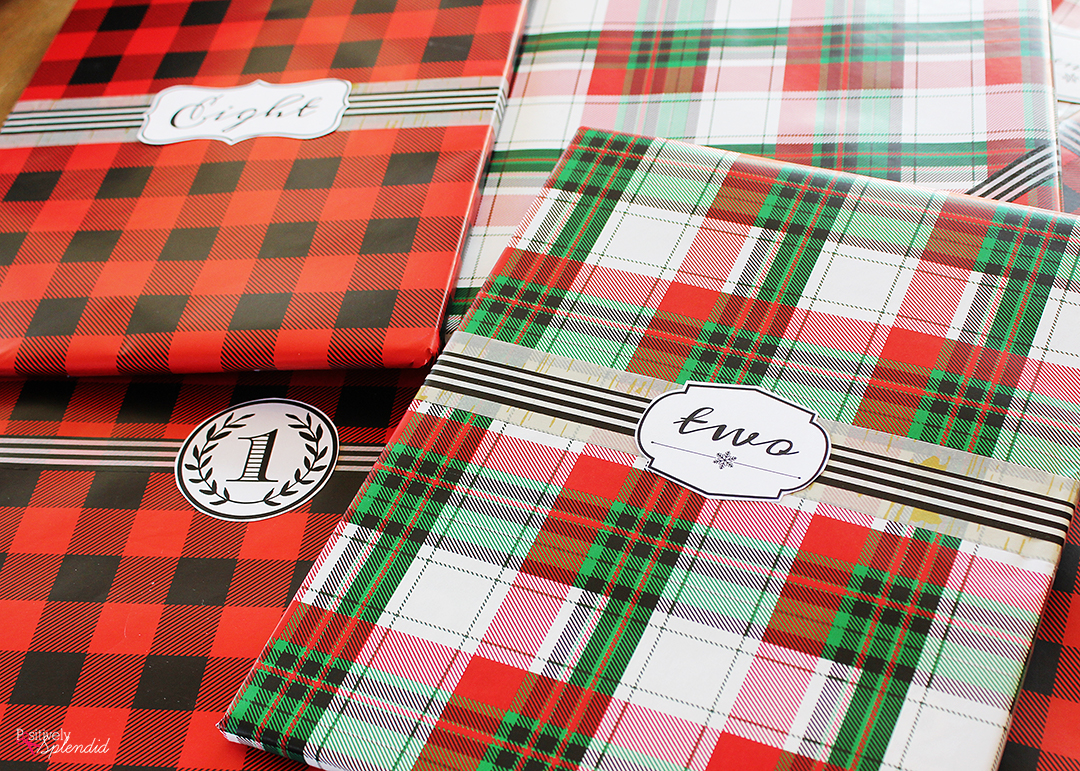 I truly hope you are inspired to start a Christmas book countdown tradition of your own this year to start making precious holiday memories like these!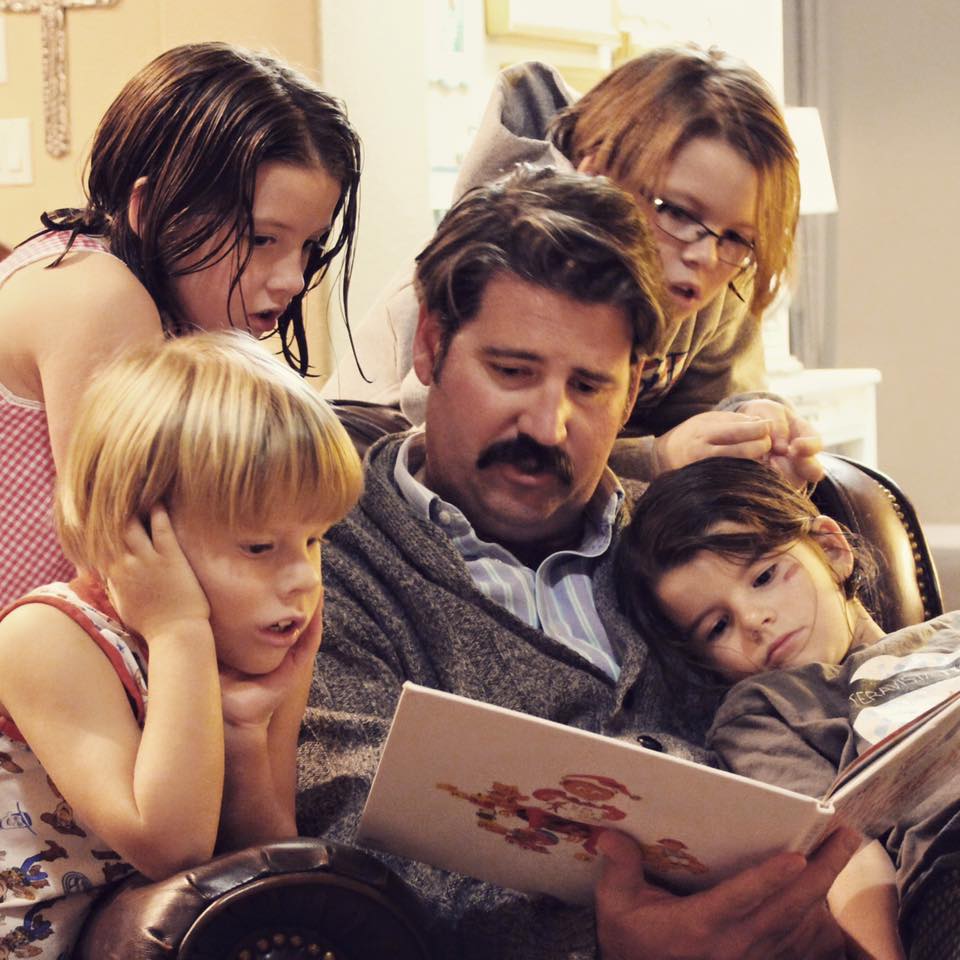 Having grown up in a home brimming with sewing notions and paintbrushes, Amy has a deep love for all things creative. On any given day, you'll find her knee-deep in her latest creative endeavor, with projects ranging from sewing and crafts to home decor and kid-friendly ideas. Amy believes that everyone, regardless of skill level or experience, possesses the ability to create something beautiful, and Positively Splendid was born of her passion for helping others harness their innate creative potential.