The moment I switch my calendar to March, I automatically shift into spring mode. All this week, I've been sharing the details of my spring mantel, which represents my first springtime project of the year. Without a doubt, the star of the display is my vibrant turquoise chalkboard picket fence pallet. 
I shared a few weeks ago the method I used for making custom-colored chalkboard paint to create a rust-colored chalkboard for my new hallway command center. I had plenty of tile grout left over from that project, so I opted to use more of it here by painting the center section of the pallet with chalk paint to enable me the the flexibility to change out the sentiment of the pallet easily. Right now, the pallet has a springtime message, but I'll be able to switch it to an Easter theme in a couple of weeks. I love this feature!
Today I'm going to share how I built my pallet. By using pickets easily found at any home improvement store and just a couple of additional supplies, I think you'll be impressed with what a genuinely easy project this is!

For this project, you will need…
(11) 3.25″ wide and 48″ long wood fence pickets
Pencil
Wood glue 
Finishing nails and hammer
Primer
Paint (I found a half-pint sample of Valspar paint from Lowe's [Simply Aqua] to be just the right amount for this project)
Unsanded tile grout
Chalk
one.
To begin, trim down your pickets (or have the kind folks at your home improvement store do so for you), using the following dimensions:
9 pickets trimmed to 36″, preserving the decorative (pointed) ends
2 pickets trimmed to 31″, discarding the decorative (pointed) ends
two.
Lay your 9 pointed picket pieces in a row on a flat surface, spacing them just shy of 1/4″ apart. Now, lay your 2 straight (31″) pieces crosswise on top of these pieces, as shown. The top edge of my upper cross-piece was 10″ from the top edge of the vertical pickets and the bottom edge of the lower cross-piece was 5.5″ from the bottom edge of the vertical pieces.
Now, use a pencil to trace above and below the line of your horizontal cross-pieces to use as a guide as you glue your pieces in place.
three.
Apply a small amount of glue within these lines, as shown, and use the adhesive to adhere your cross-pieces on top of your vertical picket pieces.
four.
Allow the glue to dry slightly, and then use finishing nails to secure the board together. I used two nails per vertical picket section along the top and bottom edge of the cross-piece. (These finishing nails will compensate for any warps in your pickets that prevent the glue from adhering thoroughly.)
Whew – the construction portion of the project is complete!
five.
Now, apply a coat of primer to your pallet, and allow it to dry completely before applying 1-2 coats of paint. Let everything dry thoroughly.
six.
Once your pallet is dry, place 1 tablespoon of tile grout in a plastic cup, and use a stir stick to carefully break up and clumps in the grout. Now, add 1/2 cup of paint to the cup, and use your stir stick to mix thoroughly. Apply this chalk paint to the section in the middle of your pallet between the two horizontal pieces, making sure the entire surface of this section is thoroughly covered with the paint. (You will most likely need at least 2 coats of the chalk paint.) If you run out of the chalk paint as you work, make more of the paint/grout mixture, 1/2 cup at a time.
seven.
Once your paint has thoroughly dried, season the chalkboard portion of the pallet by rubbing a piece of chalk over the entirety of its surface and then gently wiping it away with a barely-wet piece of cloth.
This pallet would also make a really fun photo backdrop, and I think it would be the perfect way to punch up front porch decor. What a fun way to greet guests with a personalized chalk message!
Project Notes
You can use this same basic method for creating a pallet with conventional, straight pieces of wood, too.
I opted to lean my pallet against the wall to display it instead of hanging it directly on the wall, but you could also add hangers to the back to display it if you prefer.
Sidewalk chalk is perfect for both seasoning and writing on your board.
If you enjoyed this post, I would love for you to post it to Pinterest! Do so easily by clicking the link below.
Pin It
Happy Friday, my friends!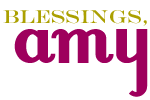 Having grown up in a home brimming with sewing notions and paintbrushes, Amy has a deep love for all things creative. On any given day, you'll find her knee-deep in her latest creative endeavor, with projects ranging from sewing and crafts to home decor and kid-friendly ideas. Amy believes that everyone, regardless of skill level or experience, possesses the ability to create something beautiful, and Positively Splendid was born of her passion for helping others harness their innate creative potential.