As y'all might imagine, with three little ones around, much of the sewing I do requires placing snaps. Whether the garment is a darling bubble or a snazzy set of overalls, snaps make these garments functional for diaper changes and trips to the potty. Anyone who has ever tried to fasten buttons on a squirming baby or toddler can attest to that!
My first foray into the world of snaps came last year when I made this darling little set of overalls for Miss Cecily. This pattern, Baby Overalls by Jackie Clark, is one of my favorites. It actually calls to use snap tape for the snaps on the inner legs, and the first few times I used this pattern, I went that route. I honestly had no idea there was another option, other than sewing each and every snap on by hand. (Which was simply not gonna happen!)
My mom is also an avid sewer, and when she called me one day to relay the details of her latest sewing gadget discovery, she was downright giddy in describing how she would never have to use snap tape again. She had purchased a snap setting tool identical to this one from the Snap Source, and with just a tap of a hammer, she was able to produce snap-outfitted garments that were as professional in appearance as they were practical. I knew at that moment that I absolutely had to get my hands on one of these jewels!
There are various sizes of snaps available through the Snap Source, but I opted for the Size 15 snaps and setting tool because that is what is most typically found on ready-made baby garments. (Think of the Carter's Sleep and Plays we probably all know and love.) In retrospect, I do wish I had gone a size up for the Size 16, as I am sure they would work just as well for the garments I make, and the Size 16 setting tool can be outfitted with an adapter to make it accommodate larger snaps, as well. There is a small hammer available for purchase on their site, but I have found my standard hammer works fine in this capacity. Just don't apply too much force!

Let's discuss the basic components of a set of snaps. Each set is comprised of four pieces: two pronged pieces, one socket piece, and one stud piece. The pronged pieces can be either open or capped. The capped pieces are terrific for snaps that show from the outside of your garment, as they add a polished look. The open prongs are what you use on the inside of your garment, or if you prefer a plainer overall look on your outer garment. Both the open and capped prongs function in an identical manner, so the choice of which to use is completely up to personal preference. (Photo: The Snap Source)
Now that we have the lay of the land as it pertains to the snap sets themselves, let's move on to how to affix them to your garment!
When the accuracy of the placement of your snaps is important (as in placing snaps at the crotch of a set of overalls like the one above, for instance) the first step to successful snap setting is to use a washable ink marker to designate the placement of each with a well-defined dot. You should make doubly sure that the corresponding marks for the socket and stud pieces are as lined up as possible. This will make for a very professional finished result!
Once those marks are made, it is time to set your snaps in place. Typically, the side of the snap that will fall on the top of your finished garment will be the socket piece, while the stud piece is on the bottom. This makes joining them together a – please don't hate me for not being able to resist the pun here – snap! There really is flexibility here, though, if you prefer to set them differently, as you'll see in the project I have planned for tomorrow.
So, that is the long and short of how to use a snap setting tool to set professional-looking snaps on your projects. Here's a
sneak peak of what is on tap for tomorrow
as we set out to put this new tool in our arsenal to good use!
Please don't hesitate in the slightest to let me know if you have any questions at all. I will be happy to clarify any of the steps to make this as easy as can be for you!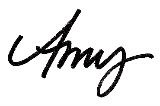 If you enjoyed this post, subscribe to Positively Splendid 
to receive updates, and join us on Facebook and Twitter!





Having grown up in a home brimming with sewing notions and paintbrushes, Amy has a deep love for all things creative. On any given day, you'll find her knee-deep in her latest creative endeavor, with projects ranging from sewing and crafts to home decor and kid-friendly ideas. Amy believes that everyone, regardless of skill level or experience, possesses the ability to create something beautiful, and Positively Splendid was born of her passion for helping others harness their innate creative potential.