This post contains affiliate links.
I absolutely love sewing, and the only thing that can sweeten my experience any time I sit down to work on a project are ingenious tools that help make any sewing task a little easier. The tools I am sharing today go beyond the tried-and-true mainstays of any sewing arsenal (you can check out my list of must-have sewing tools here), delving into the world of handy gadgets that will blow your mind with their functionality and have you wondering how you ever lived without them! If you've ever found yourself fighting the losing battle of turning a tube with a safety pin or trying in vain to keep bias tape in position bias with countless pins, you will certainly want to read on for the full list of my 6 favorite sewing tools you might not already own, but really must try!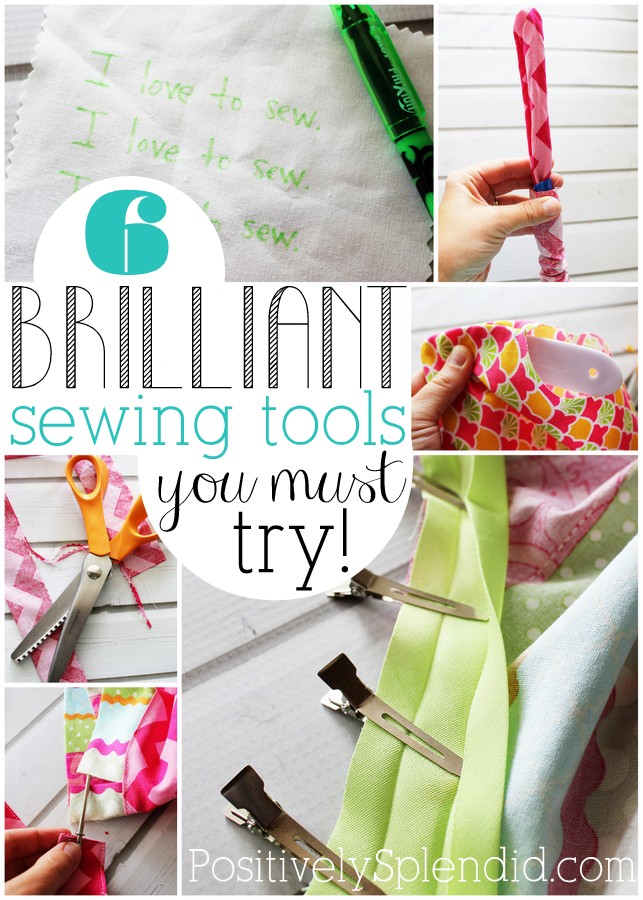 Until recently, I always used the standard blue water-soluble marking pens. Although they worked fine from a marking perspective, removing the markings was a whole other story. Even with all of the dabbing, spritzing and spraying with water, I would often find the blue color would linger and bleed, which was always a huge source of frustration.
Enter the Pilot Frixion pens. If your sewing projects include markings to designate things like buttonholes, or if you enjoy hand-embroidery projects that require transferring a design onto the fabric, you MUST try these pens! Truly! My mom gave me a pair of these as a stocking stuffer, and I will never go back to the old blue pens again.
Then pens come in an erasable highlighter variety, which is what I have here, or they also come as erasable gel pens. The interesting thing about all of the types, though, is that the ink does a very awesome thing when it is exposed to heat: it disappears!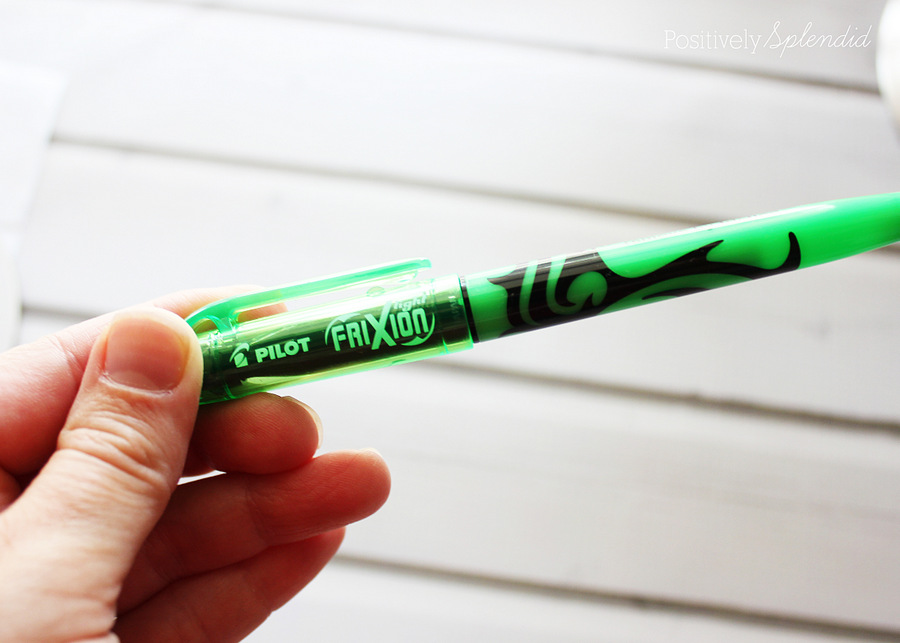 Let me demonstrate with this scrap of fabric: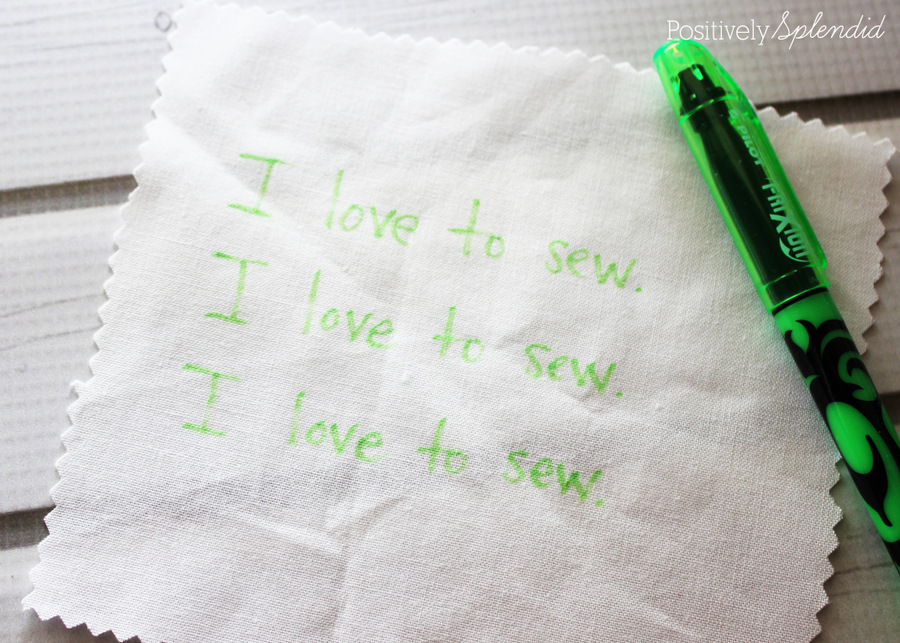 By placing the piece under a steam iron for a few seconds, the marks disappear…like magic!
Or, for an even less labor-intensive approach, the same effect can be achieved simply by popping the piece of fabric into the dryer for a few minutes.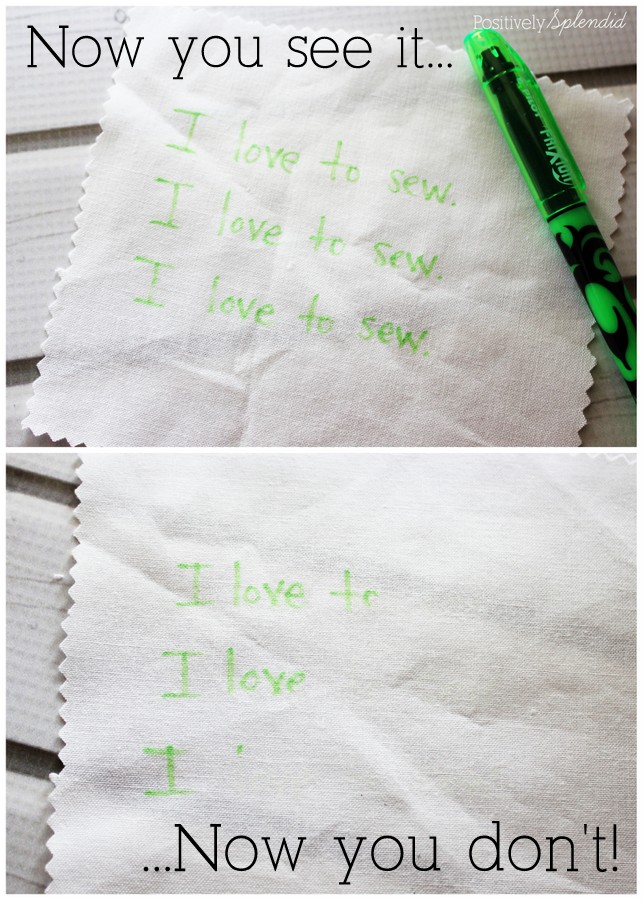 Seriously…how revolutionary is that?!
One caveat: as with any marking pen, definitely test on your particular fabric before going for the gusto and marking your heart out.
Long-time sewing enthusiasts probably consider pinking shears so indispensable, they can't imagine anyone who sews living without them. Today, though, I am always surprised at how many of my sewing friends confess that they don't own a pair. Pinking shears are absolutely perfect for jobs when you need to finish seams, but you don't want to take the time to zig-zag or serge. (I often do this when making throw pillow covers that I know won't be subjected to frequent washings.) My favorite use for my pinking shears, though, is to use them for trimming seam allowances in curves where I would otherwise have to make oh-so-tedious clips and notches. By carefully pinking around the curves with pinking shears, curved seams will lie beautifully flat when pressed, and the process takes half the time it does with conventional notching and clipping! I love my pair of pinking shears from Fiskars that have held up very well after years of steady use.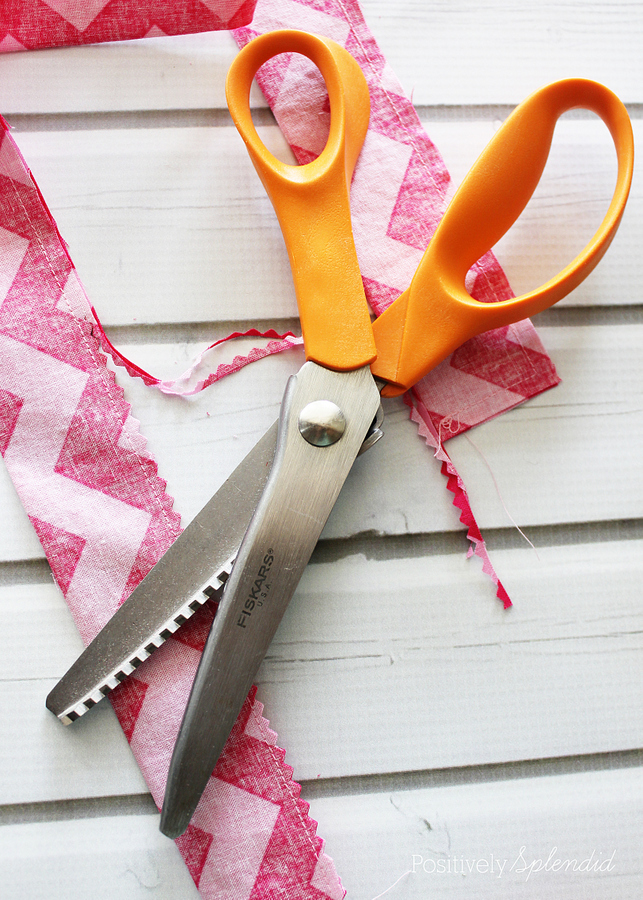 What would you say if I told you there is a way to turn long tubes of fabric for things like straps and button loops in a matter of seconds? No more struggling to negotiate a safety pin though the tube, and no more pulling your hair out!
The secret? These Quick Turn tools from Dritz. The way they work is so simple, yet so effective, you will never believe how you ever lived without them!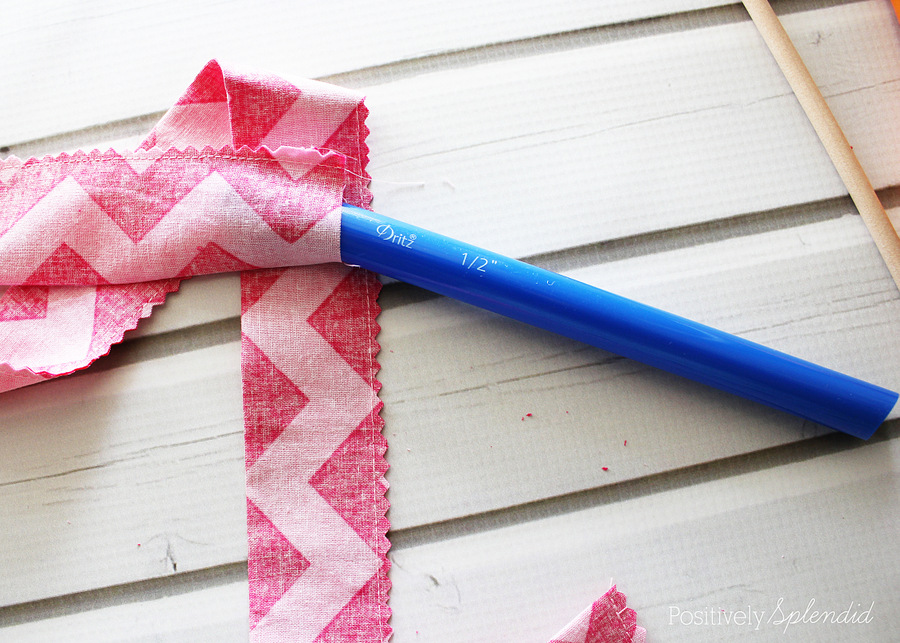 Simply insert the appropriate tool (they come in 3 different sizes to accommodate just about any project) into the tube of fabric, pushing it all the way to the very end of the tube. Next, use the wooden tool (it looks something like a chopstick) up through the end plastic tube, pushing the fabric through as you go. In a matter of seconds, the tube is turned and ready for pressing!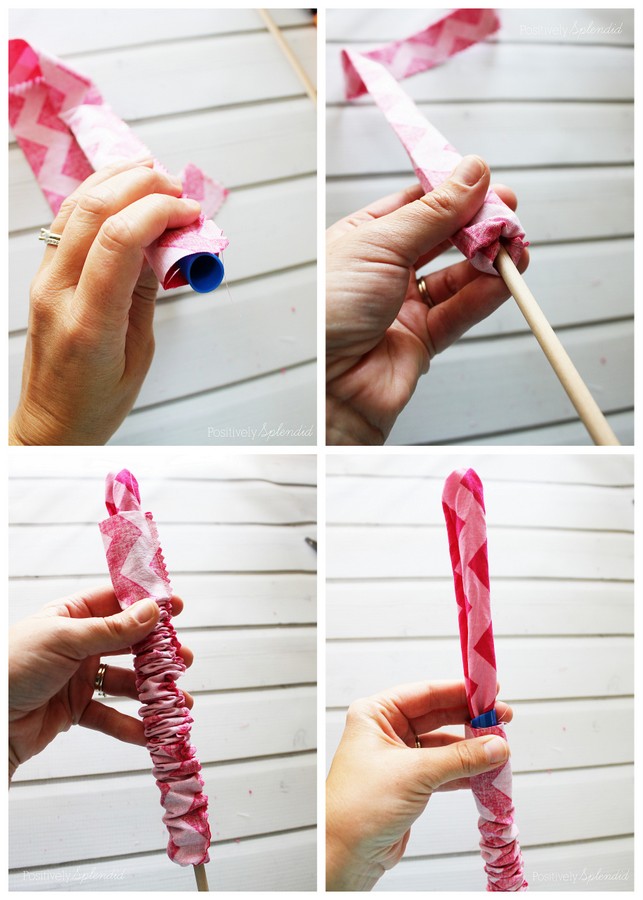 Bodkins have been around for ages, but until about a year ago, I didn't own one. Instead, I would struggle and gripe my way through the process of pulling elastic and straps through casings with a safety pin. No more!
The way bodkins work is so simple: clamp the device onto the end of the elastic or fabric piece (the bodkin has little "teeth" that helps it maintain its grip as you pull)…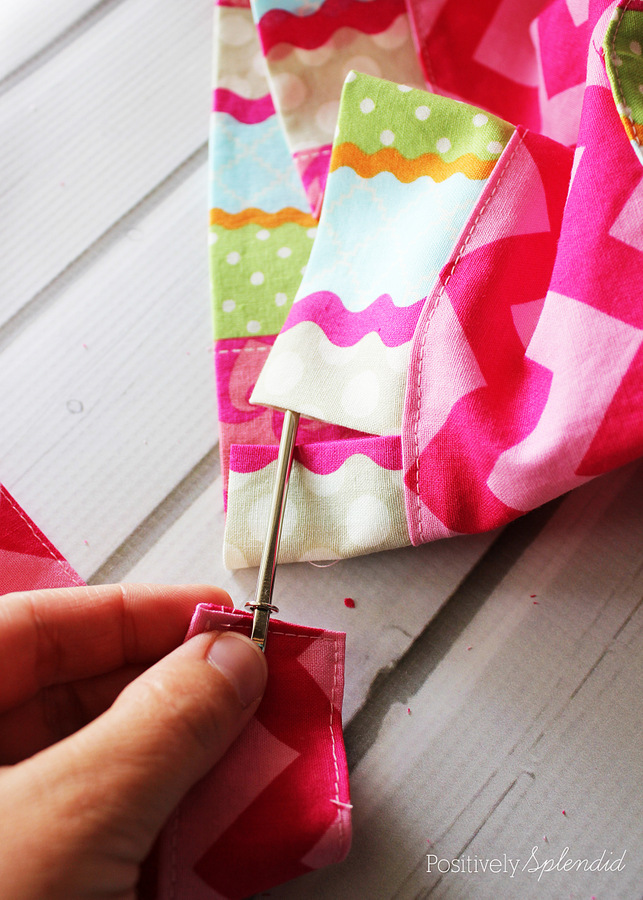 …and then pull the piece right on through! I have found using a bodkin cuts down by at least two-thirds the amount of time it takes to complete this task!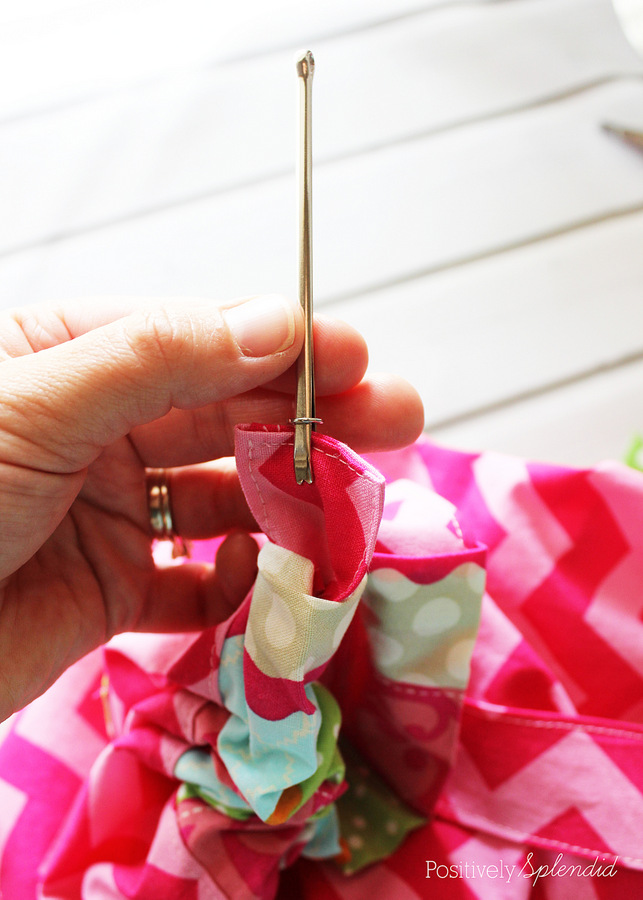 Surely I'm not the only one who has used a wooden chopstick from my kitchen to turn points on projects? That seemed to work well enough for me until one day when I inadvertently poked the stick through the corner of a throw pillow project and damaged the fabric beyond repair. That's when I invested in one of these point turners.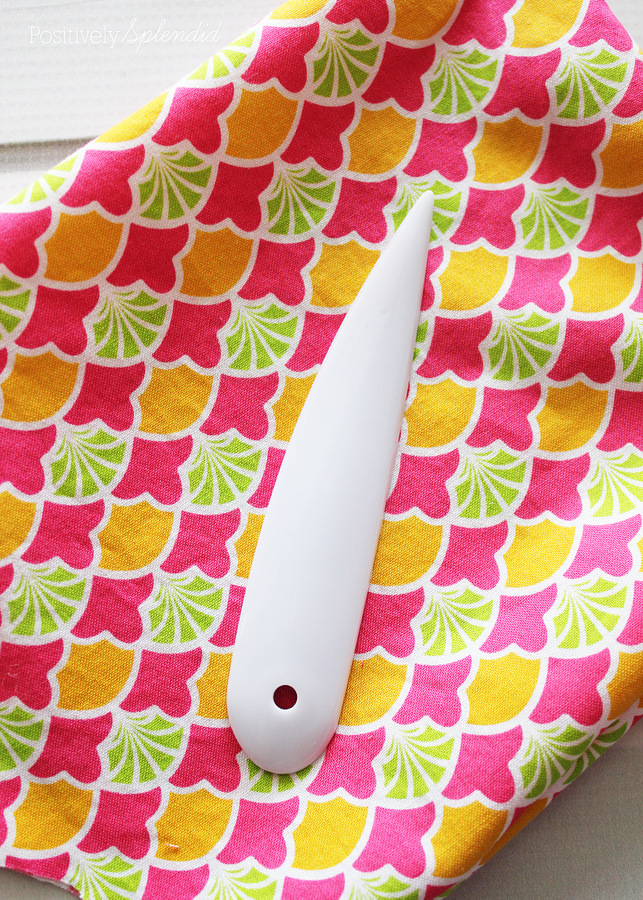 The slightly rounded tip of the tool makes it perfect for turning corners with ease, and as an added bonus, it can be used to coax out nice, crisp seams, too!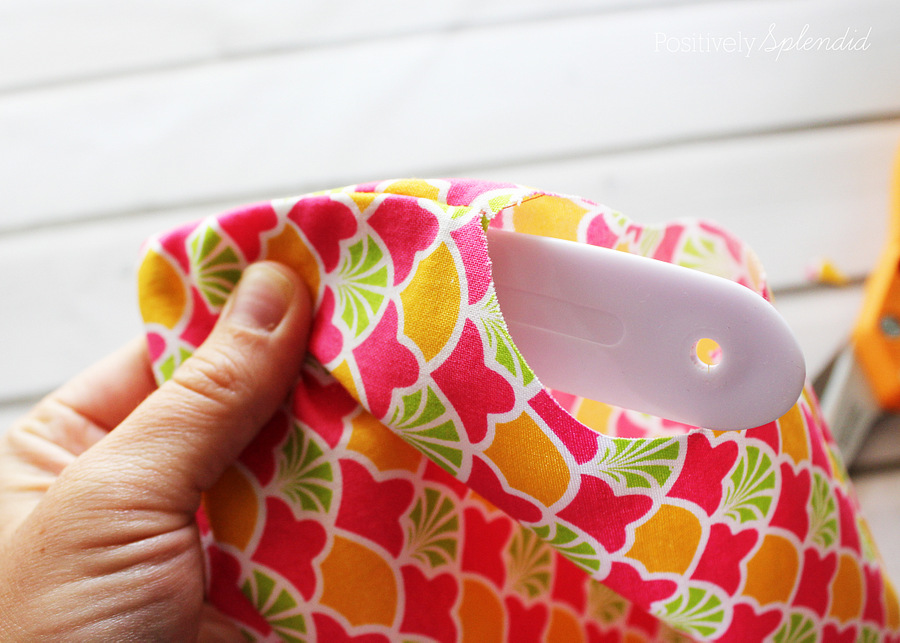 Yes–you read that right! Hair clips are absolutely, positively one of the handiest tools for sewing that you might not already own.
These gems can be used in lieu of pins to hold pieces of fabric together as you stitch, and especially when pins might cause damage to the materials (when sewing with vinyl, leather, oil cloth, etc.). My favorite use for them, though, is when stitching bias tape, piping and other trims!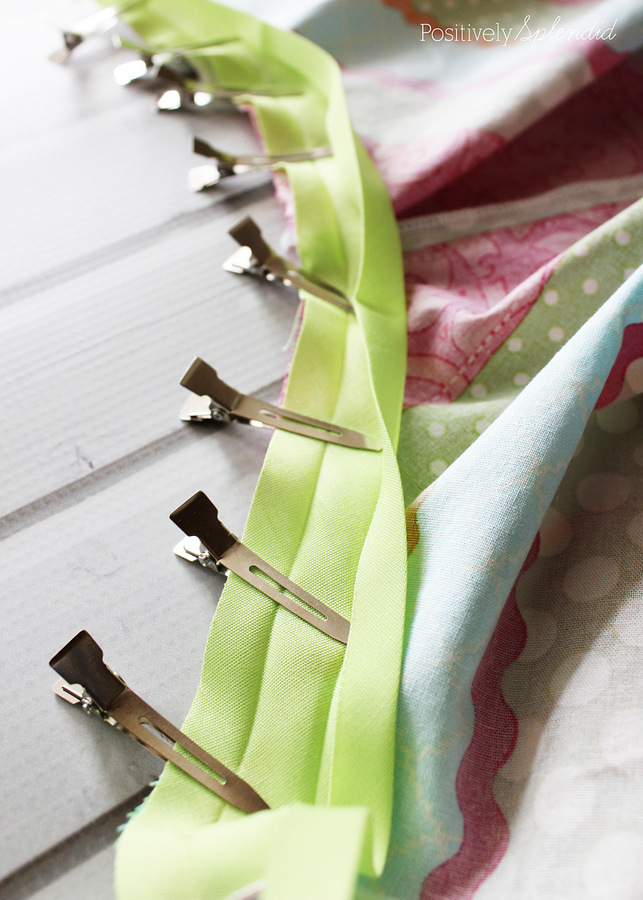 The clips are flat on one side (be sure to use only the smooth variety and not the ones with "teeth"), enabling them to slide perfectly along as you stitch, and they have just the right amount of grip to hold things together with ease. They can also be easily removed with one hand as you stitch. No more battling to keep bias positioned with standard pins or tedious stopping and starting to remove each pin as you go. I will never sew bias or piping again without them!
The proper tools really can make any project more enjoyable, with more professional, flawless results. I hope you're inspired to try out some of these tools in your next project!
Wanting even more sewing tips and inspiration? Be sure to check out these other great posts!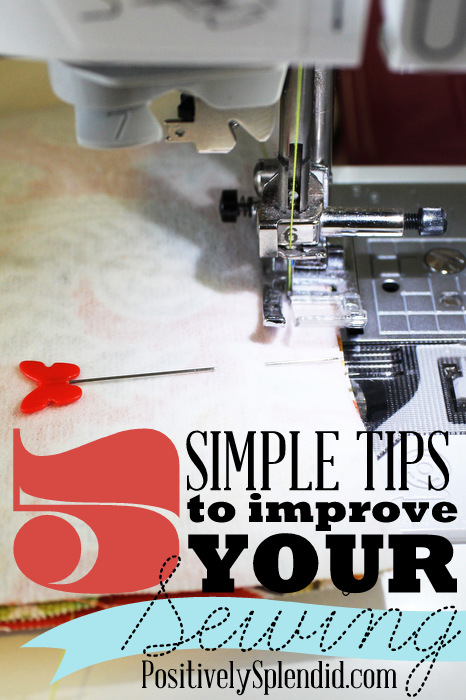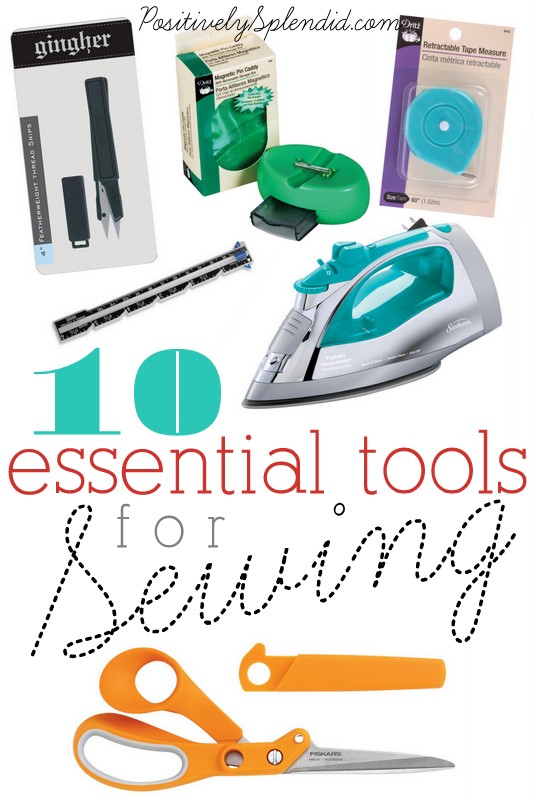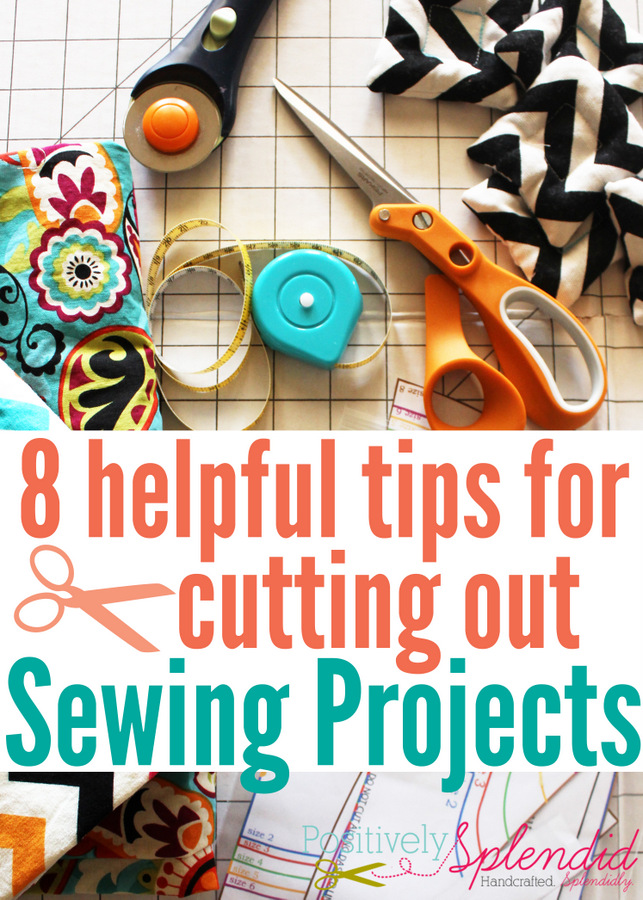 Having grown up in a home brimming with sewing notions and paintbrushes, Amy has a deep love for all things creative. On any given day, you'll find her knee-deep in her latest creative endeavor, with projects ranging from sewing and crafts to home decor and kid-friendly ideas. Amy believes that everyone, regardless of skill level or experience, possesses the ability to create something beautiful, and Positively Splendid was born of her passion for helping others harness their innate creative potential.