What I love most about blogging is being able to share and connect through this screen with all of you. My blogging journey has enriched my life in so many ways, allowing me to learn and grow through the guidance and knowledge I've garnered through the astounding abundance of kindness and talent in the blogging community. 
Something weighing on my heart lately has been to use this blog as a place where we can all interact even more intimately, sharing our experiences and thoughts together on a consistent basis. And thus, the idea for Soul-Feeding Sundays was born.
Each Sunday, I am going to share with all of you something that truly nourishes my soul: an anecdote about something that happened during my week, a quote or a bible verse, a recipe, or even a video, as I'll be sharing today. I'll share why it is meaningful to me, and then I will open the floor for all of you to share your own thoughts and insights.
We can learn and be blessed by one another's experiences!
The first time I saw the video I'm sharing with you today was during one of the panel discussions at
Blissdom 2011,
and it resonated with me in a way that few things have.
Most of y'all probably know that I just delivered a baby boy – our fourth child – exactly three weeks ago yesterday. I shared a few weeks ago
in this post
about the emotions I've experienced knowing that George's arrival signified the completion of our family, and I have since committed myself to fully, wholly experiencing the preciousness of this time with him, since each and every time he passes through a stage will signify the last I will have to enjoy those infant experiences. 
 How different I am today as a mother, wife, daughter, and friend than I was when my firstborn was placed in my arms! The experiences of motherhood – the joy and triumphs, the trials and fears – have all irrevocably changed my manner of living and my view of the world.
Which brings me back to this video, one based on the following question: 
If we could all go back and tell our pre-child selves one thing, what would it be? 
As I've gazed down at my sweet baby boy's face during all of those wee-hour feedings, I have found myself pondering that very question. My response?
Slow down.
Forget the dishes. Forget the laundry. Take note of the way they smack their lips as they dream, and memorize the precious sound of their sweet, sleepy sighs. Become enraptured by those fleeting, precious first glimpses of their little smiles as they slumber.
Slow down.
Don't try to rush them from one milestone to the next. Try not to wish your way through any phase, no matter how sleep-deprived you may be in those bleary-eyed first days, or how weary you become of dealing with a defiant toddler in the throes of his terrible two's.
Slow down.
Play that rousing game of Uno. Read that favorite story for the umpteenth time. Run through the sprinklers, and play in the snow.
Years from now, I won't regret the days my kitchen floors went unswept or the days I fell behind on laundry. Those things will always be there.
Life when children are young is a balancing act of time management, and I pray the Lord will always give me the wisdom to let the scales of my priorities tip in their precious favor.
So now it's your turn. The video I've referenced is below. I hope you'll watch it, ponder it, and then weigh in:
What would you tell yourself?
I can't wait to hear from all of you!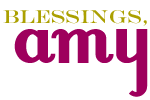 Having grown up in a home brimming with sewing notions and paintbrushes, Amy has a deep love for all things creative. On any given day, you'll find her knee-deep in her latest creative endeavor, with projects ranging from sewing and crafts to home decor and kid-friendly ideas. Amy believes that everyone, regardless of skill level or experience, possesses the ability to create something beautiful, and Positively Splendid was born of her passion for helping others harness their innate creative potential.