Today's post is sponsored by Cut It Out Frames.
There has been a little spot above our stairs that I have always wanted to use to display the most recent portraits of my kiddos, and once the hustle and bustle of the school year was done, I determined myself to create a new gallery wall there this summer. I absolutely love to use family portraits as a way to decorate my home, and swapping out the photos regularly keeps things current and fresh. The only problem with wanting to frequently change out pictures? Professional portraits can be downright expensive! Armed with nothing but my camera and a bit of stubborn determination, I decided a few years ago to start taking my kids' portraits myself, and I have never looked back. By doing so, I have been able to cut costs while still also having the abundance of photos I love–all while capturing some of the best, most natural and genuine shots of my children possible. Today, I'm sharing my best advice for taking great portraits of your kids at home, plus some ideas for how to display those terrific shots with some fun frames from Cut It Out Frames! AND one lucky reader is going to win some Cut It Out Frames of his or her own! (Yay!)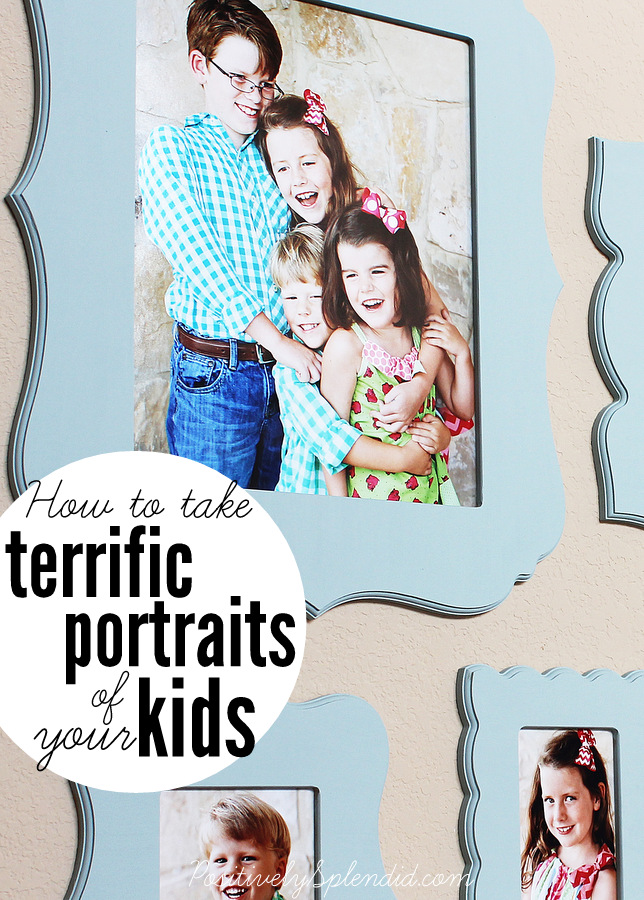 Key 1: Use the Right Camera.
When taking great portraits, the camera used makes all the difference. For this reason, if you are truly passionate about taking great photos of your kids at home, I strongly encourage you to buy a DSLR camera. A key component to great photography is using light to your advantage, and the light receptors inside DSLR's are vastly larger than those in regular point-and-shoot cameras. That combined with the superior lens quality will help you take better, more crisp and well-lit photos–even if you take the photos on automatic mode! Today's DSLR cameras are much more affordable than they were in the past, and there are plenty of great DSLR models perfect for cutting your teeth in the world of photography. I currently shoot on a Canon T2i (affiliate link), which I purchased a little over 2 years ago and absolutely love.
Key 2: Select the right spot.
The moment we moved into our new home last year, I started scoping out the perfect place to take photos of my kids. As it turned out, our front porch is just right for the task, with an abundance of indirect light and a nice stone backdrop. Plus, it is only a few steps away from a bathroom. (Which, as silly as that might sound, can make all the difference in capturing great pictures of little ones!) In your own home, take a look around and assess the areas that would work for staging portraits. Key components to any space are a nice, clean backdrop and indirect light that floods the space but does not cast harsh shadows. This could be a room with lots of windows, or a place outdoors. I have heard from many friends and professionals that some of the best light for snapping portraits is in a very unlikely place: their open garage!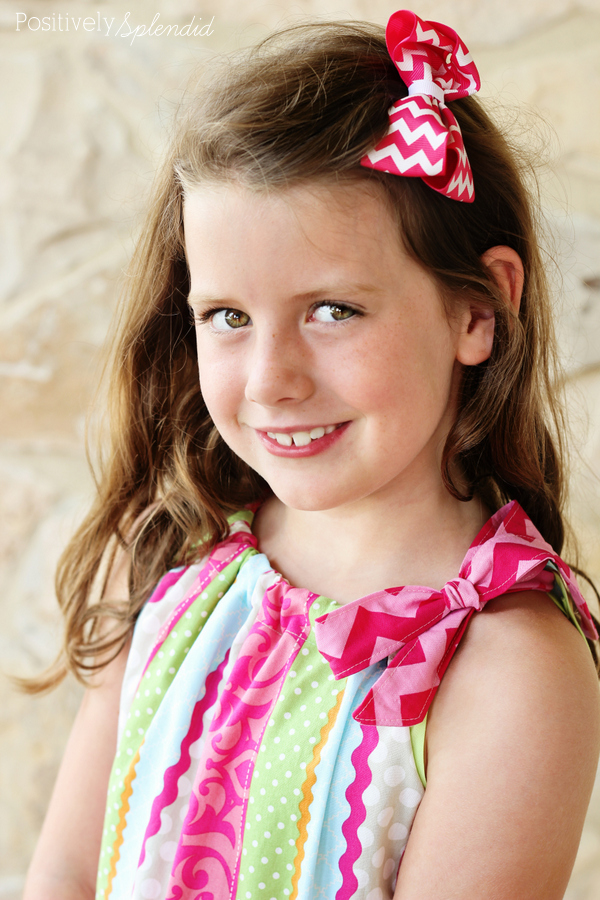 Portrait of my daughter taken on our front porch
Key 3: Keep it simple.
Although props can work well with more experienced photographers, when you're starting out with portrait photography of kids, I highly recommend keeping things as simple as possible. Dress the child in an outfit that he or she loves and feels comfortable in, stand them in front of a neutral background, and start snapping away! In my experience with my own children, the simpler the setup, the more I am able to capture their little personalities without them getting overly distracted.
Key 4: Timing, timing, timing.
Is your child happier in the morning? In the afternoon? Does he still take a nap? The beauty of taking your own portraits is that you can tailor the timing to fit your need: no appointment necessary! Aim to take photos when a child is well rested, fed and generally happy. One of my best tips: if you see that a session with your child isn't going as planned, turn off the camera. After a half hour or so, you can try again. I can't say enough how many times that little trick has helped me when photographing my own kid!
Key 5: Blur's the word.
If you are familiar with photography, chances are you've noticed certain photos where the subject is crisp, while the background is flooded with nice, creamy color. That background blur is called bokeh, and it can only be accomplished with a lens that lets in tons of light, which is referred to in camera-speak as a wide aperture/low f-stop number. (For a really great explanation of bokeh for beginners, be sure to check out this post.)
Although it is possible to create bokeh in shots with the lenses that come in the kits with DSLR cameras, there are other lenses that are far better for the job. And the good news is, many of them are quite affordable! I have always had great luck in my portrait photography with my 50mm f/1.8 Canon lens (affiliate link). If you are truly passionate about taking your portrait photography to the next lens, you really should consider investing in a little lens like this one!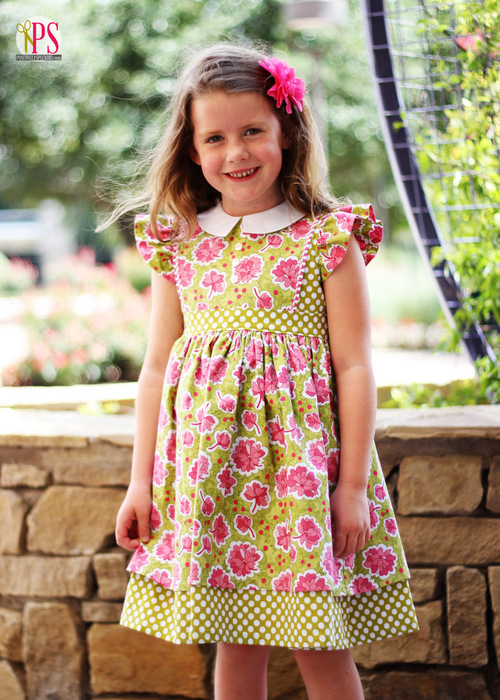 Portrait of my daughter last year featuring background bokeh, taken with my Canon 50 mm f/1.8 lens
Key 6: Show off your shots!
Once you've snapped some great portraits, it's time to show them off. And, for me, there is no better way to do so than by creating a gallery wall of my favorite shots!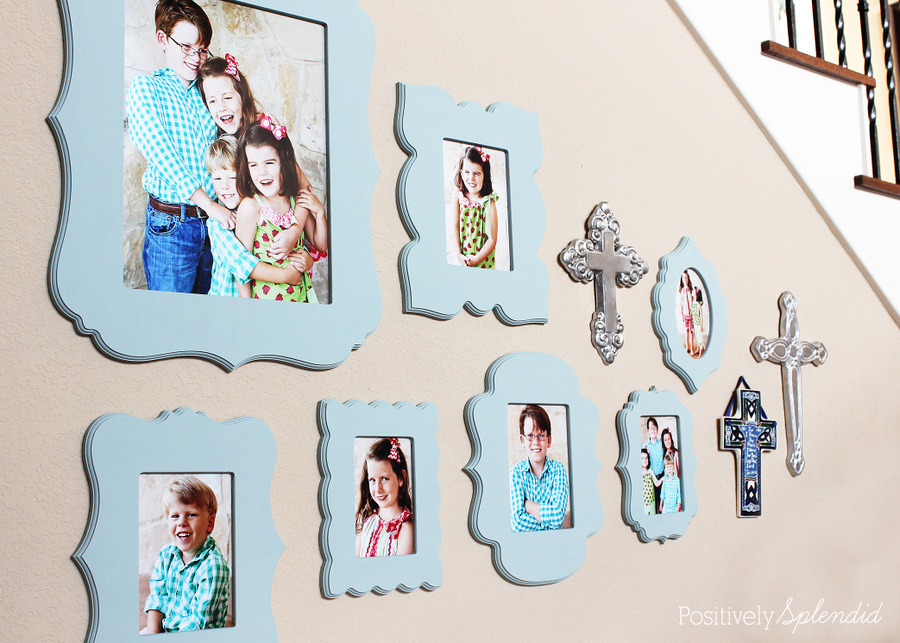 I recently had the opportunity to create a gallery wall with the fun, funky frames from Cut It Out Frames. Armed with an assortment of frames in a variety of whimsical, trendy shapes and some of my favorite chalk paint, my son and I completed this project together, and I couldn't be happier with the results!
Straight out of the box, I was really impressed with how smooth and gorgeously shaped the Cut It Out Frames Are, which truly makes them a dream to paint. We used a small container of chalk paint and a foam brush to paint ours, but you could certainly use any acrylic craft paint, or even spray paint.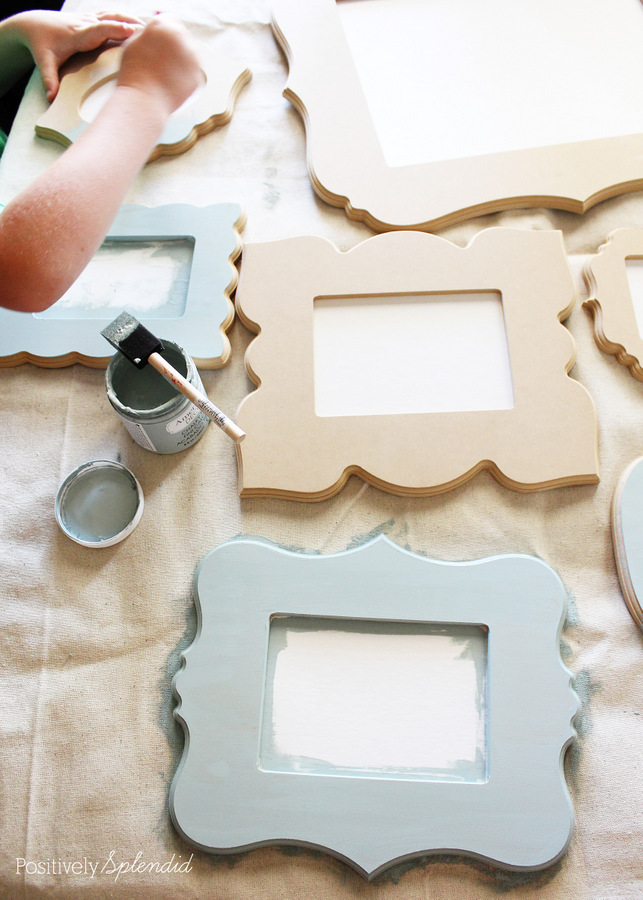 The overall effect of grouping an eclectic group of them is just what I was hoping for for the little space above my staircase. I loved how easy the hanging channels drilled into the back of each frame made hanging and rearranging the frames. It was so much less stressful than some other gallery walls I've created in the past! Another aspect I love about the frames is how easy it is to swap out photos, meaning the next time I take portraits of the kids, it will be a breeze to put the new shots on display.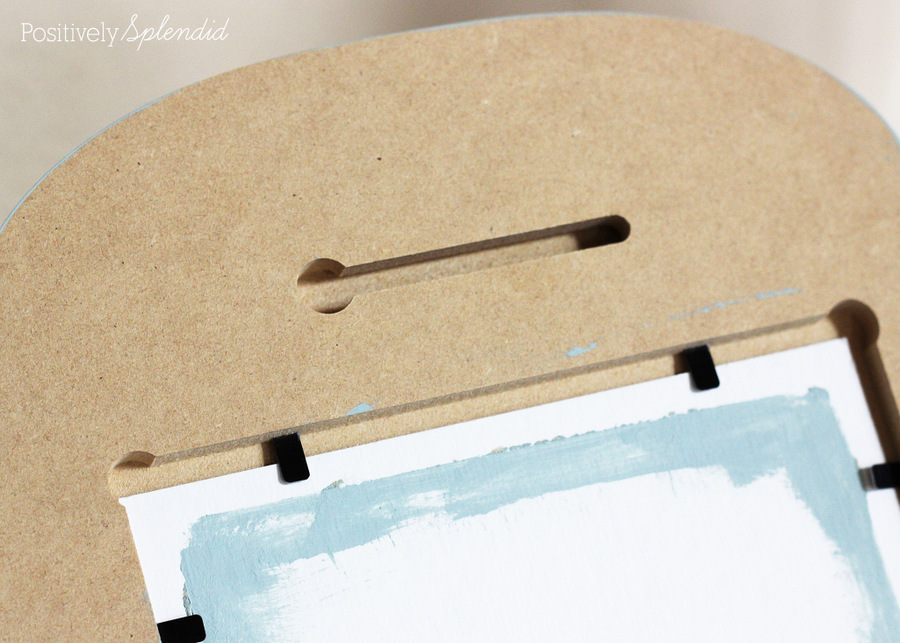 Now, every time I walk through our living room, this little gallery of photos will put a smile on my face. I honestly can't think of a better way to meaningfully decorate a home than to fill it with gorgeous photos of those you love most!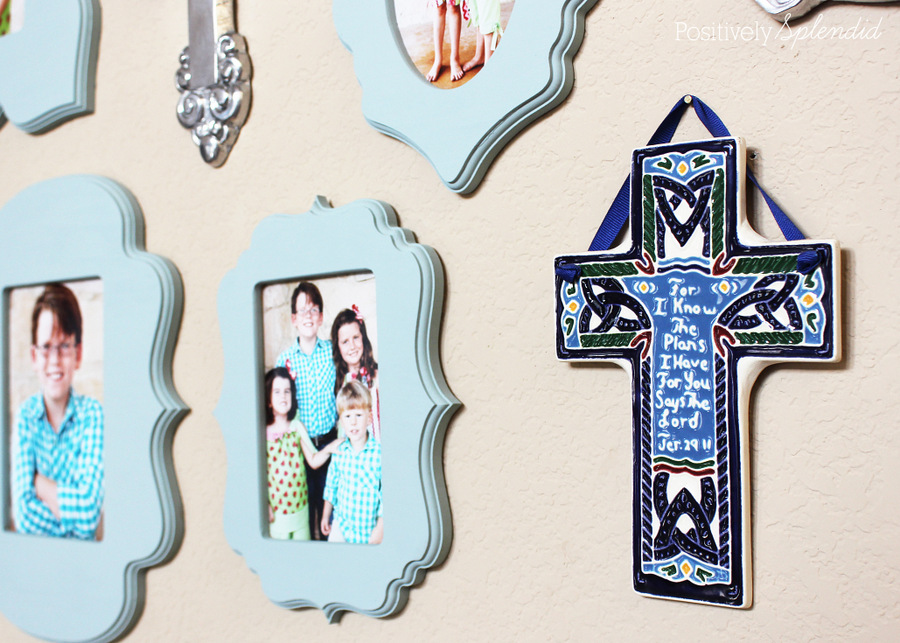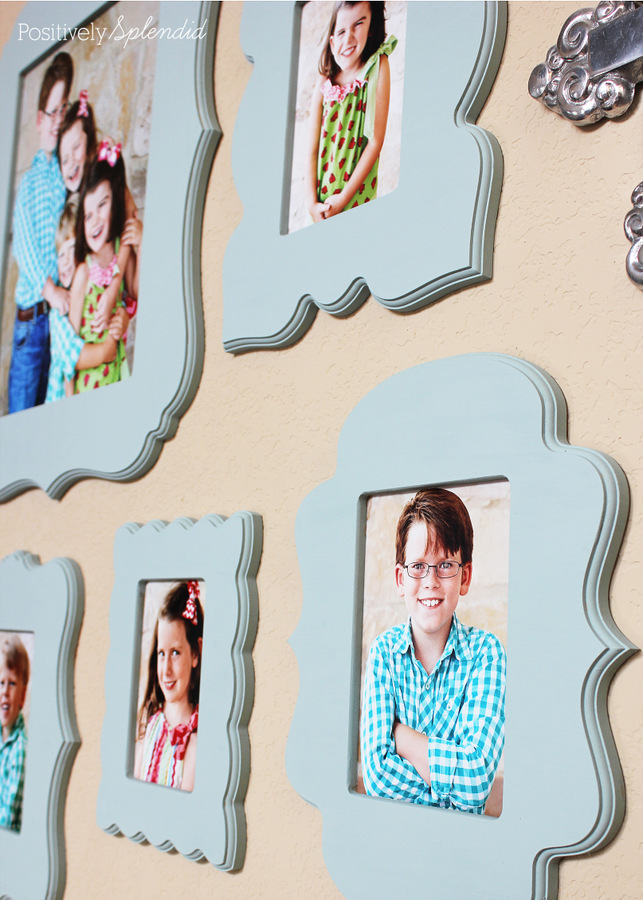 Taking great portraits at home of your children is a great way to capture terrific, authentic shots while also saving money. I hope you are inspired to grab your camera to take some photos, and when when you do, you can put them proudly on display with some fun Cut It Out!
Because–guess what?–one lucky PS reader is going to win $50 worth of Cut It Out Frames to create their own gallery wall of portraits!
(How terrific is that?)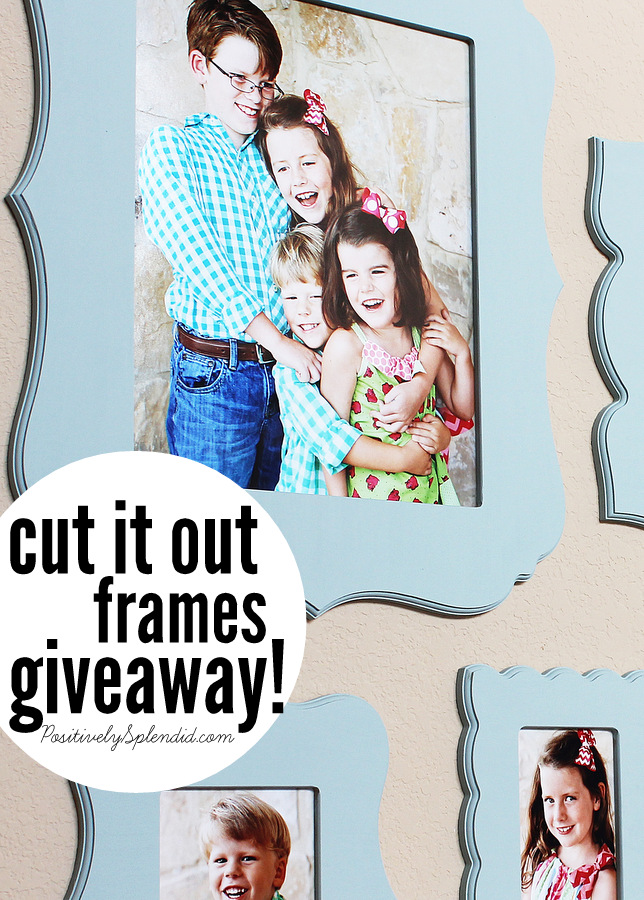 Entries for this giveaway will be conducted in the Rafflecopter below. Good luck, everyone!
a Rafflecopter giveaway
Having grown up in a home brimming with sewing notions and paintbrushes, Amy has a deep love for all things creative. On any given day, you'll find her knee-deep in her latest creative endeavor, with projects ranging from sewing and crafts to home decor and kid-friendly ideas. Amy believes that everyone, regardless of skill level or experience, possesses the ability to create something beautiful, and Positively Splendid was born of her passion for helping others harness their innate creative potential.