Got fabric scraps? Chances are, if you have been sewing for any length of time, you have a stash of small bits of fabric that you've tucked away for future use. This round-up of 25+ scrap fabric projects is the perfect resource to find inspiration for things to make with fabric scraps you have on hand. With just a small amount of fabric from your stash, you can quickly and easily make gifts, home decor, and more!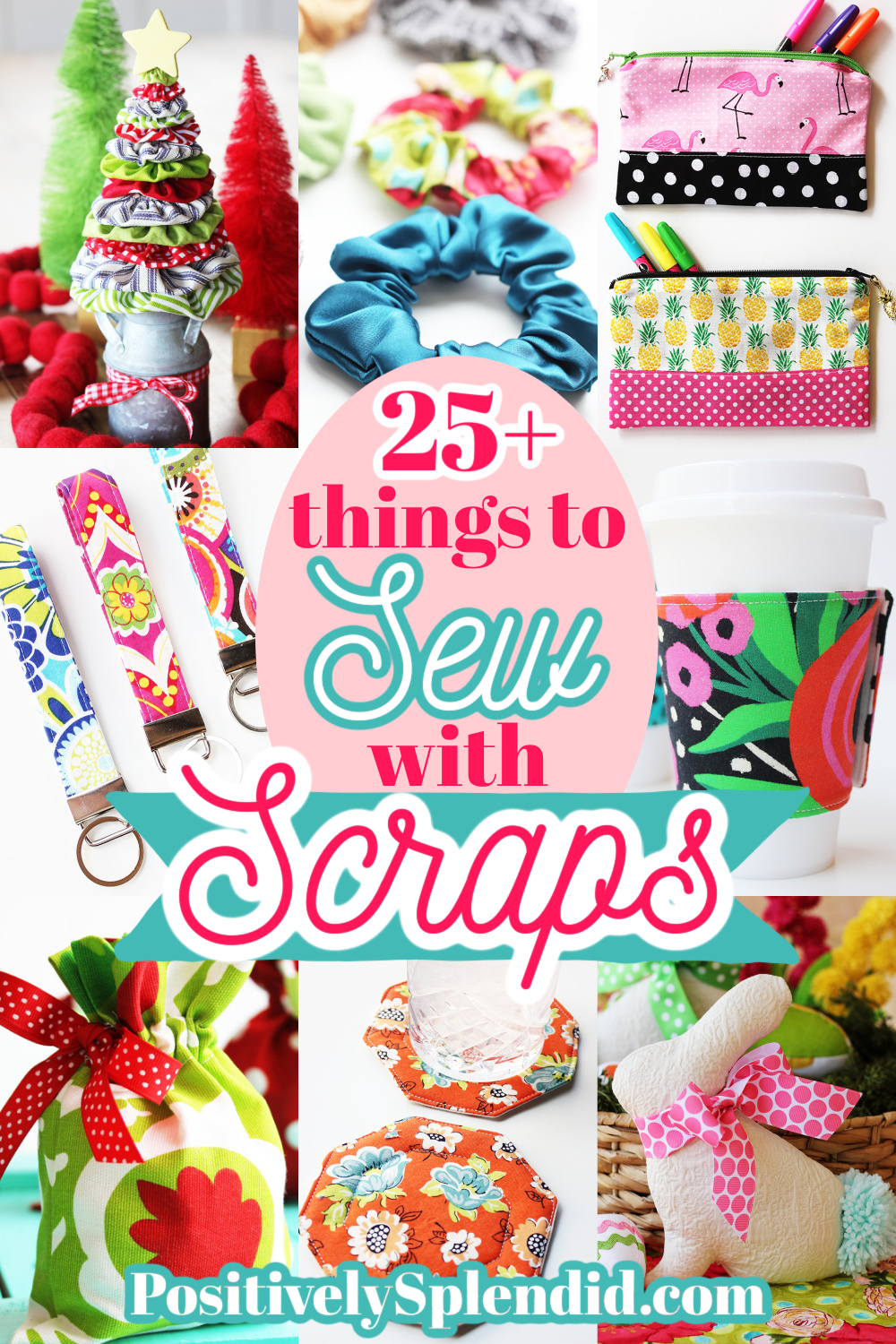 This round-up of scrap fabric projects is divided into 6 handy sections:
Scrap Sewing Projects for Gifts
Scrap Fabric Accessories
Scrap Sewing Projects for the Kitchen
Home Decor Scrap Fabric Projects
Scrap Sewing Projects for Babies
Seasonal Scrap Sewing Projects
Each category has plenty of inspiration for ways to use the spare fabric you have on hand to create handmade projects you will love. Many of these 25+ ideas are also the perfect size for using fat quarters.
And of course, if you want to use new cuts of fabric to make any of these projects, that works, too!
Even more sewing inspiration!
Gifts to Make with Fabric Scraps
Gifts for anyone on your list can be made in a snap with your stash of fabric! What I love most about the gift ideas below are that they are not only thoughtful and fun, but they are economical, too. I like to make many of these projects ahead of time, and have them on hand for last-minute birthday gifts, stocking stuffers, and more.
Scrap Fabric Accessories
Wearable items and items like totes and organizers are a terrific way to use up fabric scraps. There are so many fun ideas in this list, and each one would be a great gift idea in its own right.
Scrap Projects for the Kitchen
Make practical projects to use in the kitchen with small amounts of fabric you have on hand. It's so satisfying to make something useful out of something that otherwise might be discarded! These projects require specialty interfacings that you purchase by the yard, which means that once you've made one of these, you'll undoubtedly have extra supplies to add to your stash to make several more.
Home Decor Scrap Fabric Projects
It's easy and fun to make home decor projects with these easy tutorials, which can be tailored to any occasion or season. Incorporating fabrics with different patterns and designs really helps you personalize your space.
Scrap Sewing Projects for Babies
Sewing for the little ones in your life is such a fun thing to do, especially when you can use fabric you already have on hand to make a cute and cozy gift. These ideas are terrific for giving to new parents at a baby shower. Make several of them to bundle in a thoughtful gift package that is sure to be put to good use.
Seasonal Scrap Fabric Projects
Festive scraps of fabric become cute seasonal projects with these easy tutorials. There are so many fun ideas to choose from for any holiday or season, including Christmas, Halloween, Easter, and more!
Ready to add one of these fun scrap-busting projects to your list?
Before you sew, make sure to check out my list of 10 Essential Sewing Tools You Should Own!